I lived in Cologne, Germany, for a while after college. I went there to teach high school students how to speak English, of all things. Between taking my students on a trip to England, meeting friends from all over the world and traveling on my own, I have many fond memories of my time overseas. One of my favorites has to be when my parents and sister came to visit for Thanksgiving.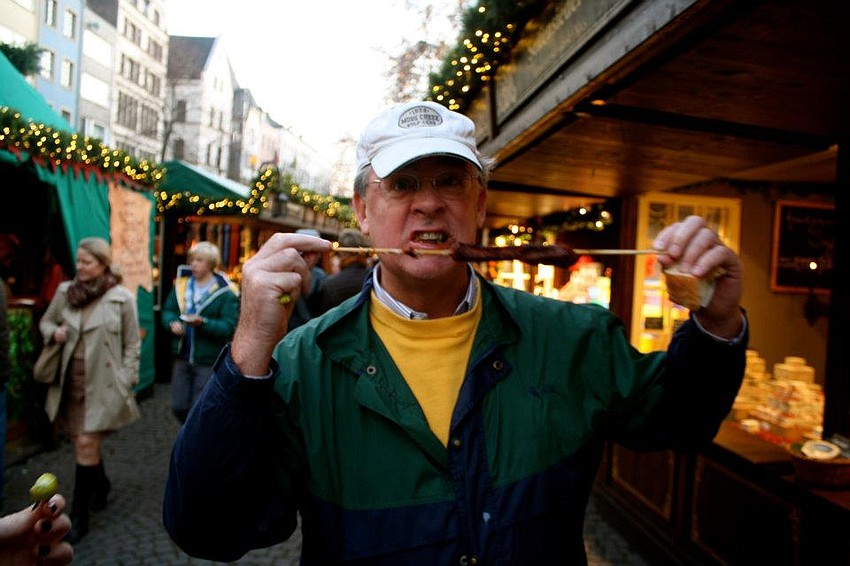 My dad took it upon himself to tap into his German roots (my grandmother's maiden name was Bach) and say "prost" (cheers) to every patron at each restaurant where we stopped in. He was determined to try every single morsel of food that he could fit in his mouth — whether he knew what it was or not — and he danced on bar counters with a boisterous voice, making up words to songs playing in the background. This Irish-German hybrid was always the life of the party, wherever he was.
To honor my late father, please raise das boot (the boot-shaped glass that many German beers are served in) or even an average-sized stein to the best local German dishes in town — just in time for Oktoberfest.
Schnitzel Kitchen
6521 Superior Ave., Sarasota; 941-922-9299; SchnitzelKitchen.godaddysites.com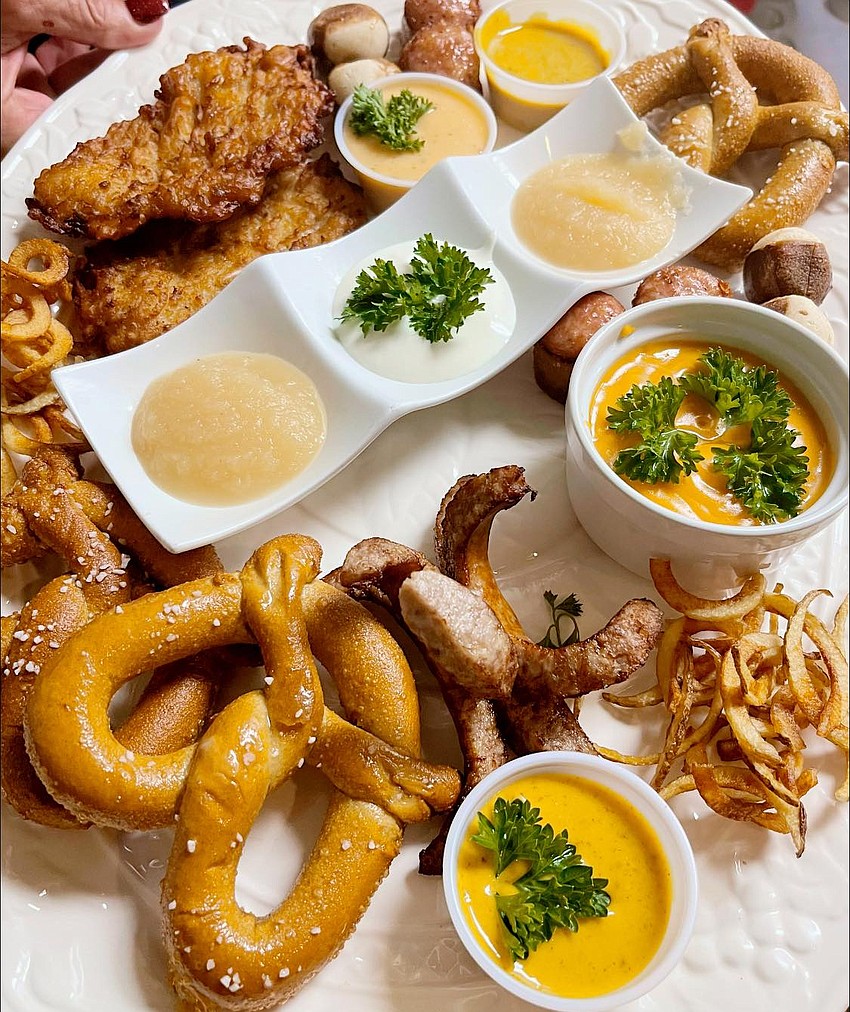 Our dear friends from Longboat introduced us to this Gulf Gate German joint where you walk through the doors into a European experience that you don't see much in our Gulf-side town. Chef Heidi and her family make you feel like part of their Teutonic tribe, and the authentic cuisine warms your heart just as much as the welcoming atmosphere.
Ich liebe dich (I love you): Bratwurst ($13) boiled in German beer, pan fried to perfection and topped with homemade mustard or curry sauce are some of the best in the world. I'm telling you right now, foodies, the well-seasoned and luscious curry is my choice and I won't ever look back. I wish I could bottle it up and top it on almost every meal I make.
I'll Have What John Had: We couldn't go to eat at a German restaurant without ordering at least two orders of potato pancakes with apple sauce (or sour cream, if you prefer). My Dad could shovel these scrumptious snacks at Schnitzel Kitchen ($7) quicker than he could get the waitress to fall in love with him, which was always awfully fast once the jokes started flying over the rounds of beer. While he made friends, my dad always looked at the dessert menu before dinner. This is the place to dig into decadent desserts. Choose from Black Forest cake ($8.50), plum cake ($8.50), apple strudel ($7.50) or all of them, just like Dad would. He claimed to be ordering a few "for the table," but we all know what John Kelly would do. That's why we called him "hoover."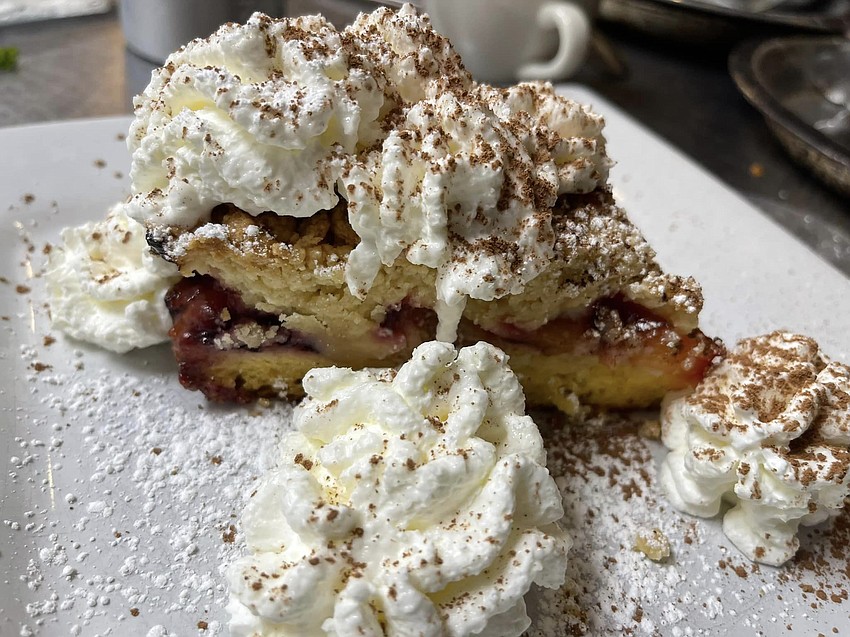 Prost Pals: While the list of beers is impressive, there is one that makes me feel like I'm right back in Cologne, drinking in the streets during Carnival — I mean, sitting at restaurant with my pinkies up. Schöfferhofer Grapefruit is crisp yet bitter, tart yet scrumptious.
Restaurant Edelweiss
611 Manatee Ave. E, Bradenton; 941-748-3838; EdelweissBradenton.com
I love a good hole-in-the-wall restaurant more than most upscale eateries — and so did Dad. Any place where we could show up in comfy clothes (me in leggings and Dad in Tommy Bahama pajama pants), meet the owners and exchange life stories while listening to music and drinking an iced cold adult beverage was our type of place. Restaurant Edelweiss ties it all together in a köstlich (delicious) bow.
Ich liebe dich: Schnitzel (some versions offered gluten-free). I've tried making my own and it doesn't come close. It doesn't equal the crunchy yet tender, juicy yet crisp and overall mouthwatering meal served in Bradenton. To make your decision more difficult, there are 10 different styles ($21-$24) on their dinner menu, ranging from the hunter with creamy mushroom sauce or the kaiser with lemon-caper sauce.
I'll Have What John Had: My dad and my husband bonded over many things: their love of history and the Greatest Generation, their Midwestern roots, the show Yellowstone and how the new Major League Baseball rules don't make sense. They also agreed, that no matter what anyone at the table says, a pretzel must be ordered at a German restaurant. Be like John and Patrick. Order the pretzel stand ($12) served with three dips — honey mustard, beer cheese and the unique orange garlic dip.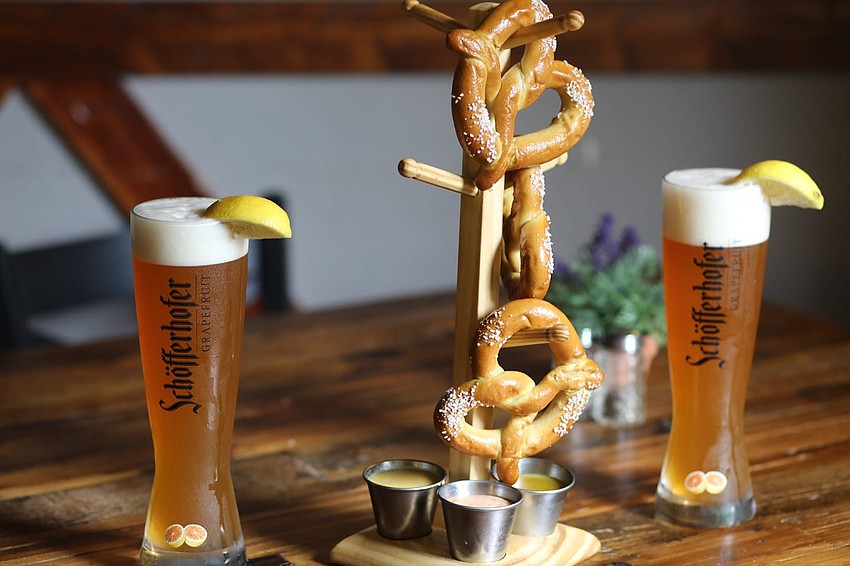 Prost Pals: I know you expect me to mention beer in every single one of these sections, but the German sangria served at this spot is special. I opt for the red wine blend ($9) but you can choose from the champagne-fruit punch pour too.
Siegfried's Restaurant and German Biergarten
1869 Fruitville Road, Sarasota; 941-330-9330; Siegfrieds-Restaurant.com
Owners Kim and René moved to Sarasota from Germany in 2018 and followed their dream of bringing Rhineland culture to our community. I'm saving this one for last, not only because I lived close to Erkelenz, Germany (their hometown), and not only because they are genuine humans serving terrific plates. It's because I will cherish forever the memories I have of sitting in the beer garden with Dad. Thank you, Siegfried's, for all the great times I shared with my hero.
Ich liebe dich: Friday at the Biergarten because it's haxe day. René and his team serve house-made pork hock with miraculously mind-blowing mashed potatoes, bacon and love-it-or-leave-it (I love it!) sauerkraut. The first time my husband ordered this, I thought he was crazy for not ordering off the regular menu, but now we go to Siegfried's on Friday's.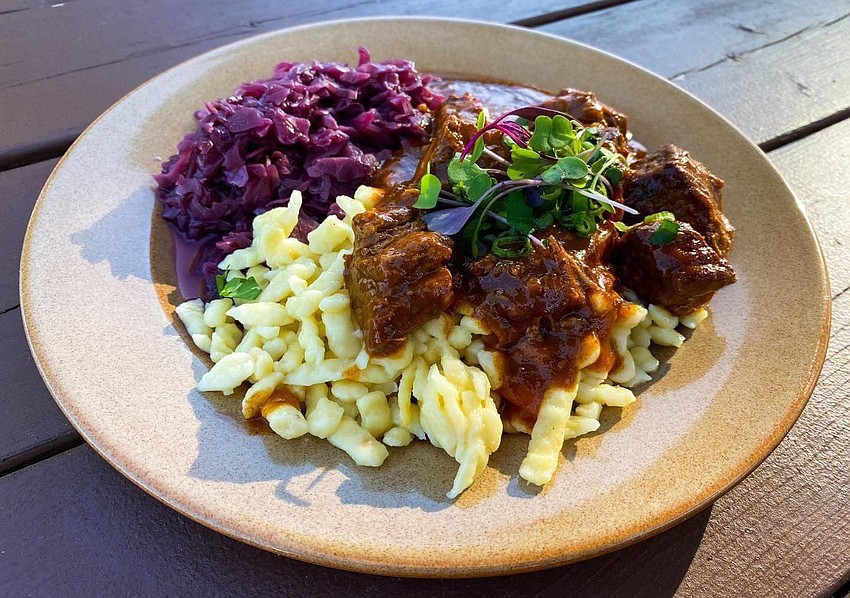 I'll Have What John Had: There wasn't a plate that Dad ordered that didn't have him smiling from ear-to-ear after the first bite. From the wiener schnitzel original style, ($25.90) to which he would always add the homemade Jägersauce ($3.50), to the Rheinische sauerbraten, beef eye round ($24.90) served with potato dumplings. When it came to side dishes, Dad said Siegfried's had the best in town and that he wished we could go to this spot every night. The spaetzle — a type of egg noodle, for those who don't know — red cabbage and the cucumber salad ($5 each) were a few of his favorites. 
Prost Pals: Have a pep talk with your tummy to make room for the one, the only das boot ($25.90). Choose from one of four draft beers from Bitburg, two from Munich and one from right here in the U.S. Treat yourself like you are right in the midst of Oktoberfest. If that amount of beer scares you, as it did my dad, there is a smaller boot for you to try on. The beer garden also offers red, white, rose and sparkling wines, plus an assortment of international and local beers. In the colder months, there's glüwein, my personal pick of poison.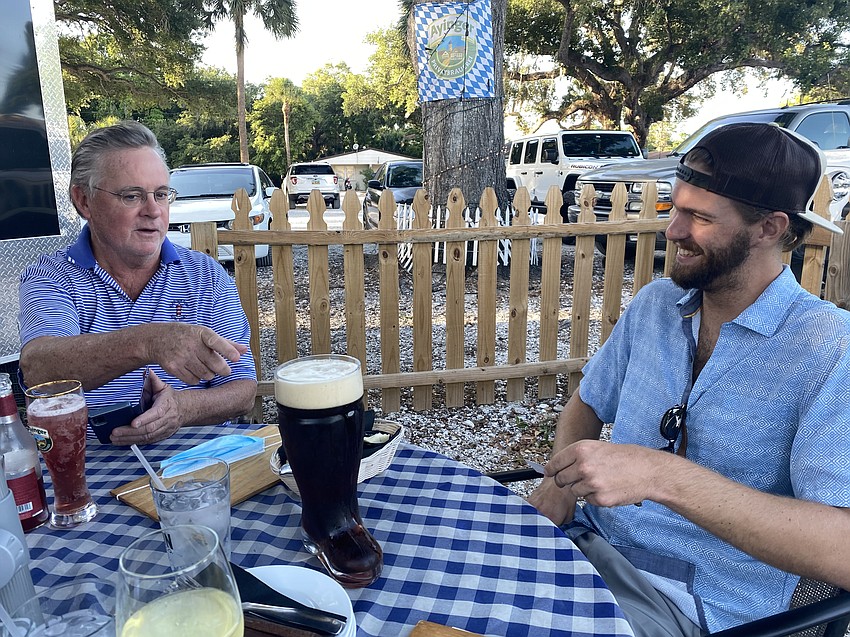 Cheers to you and yours this Oktoberfest season!