He plays fetch. He takes naps and loves a good belly rub. But Wallace is not a dog, he's a warthog.
Wallace the Warthog of Myakka is a 2-year-old TikTok influencer with nearly 100,000 followers. Wallace has become so popular on the social media platform that he now brings in a little paycheck each month. In time, it should cover the costs of all the drywall he destroyed as a young "wart-dog."
"Because he was with the dogs, he just accepted their behavior," Wallace's owner Greg Para said. "He laid on the blankets with them. He played with the stuffed animals. If they had a bone, he wanted his bone to chew. They got up on the couch, he'd hop up on the couch. And now, he's a 300-pounder who hops up on the couch to watch a football game."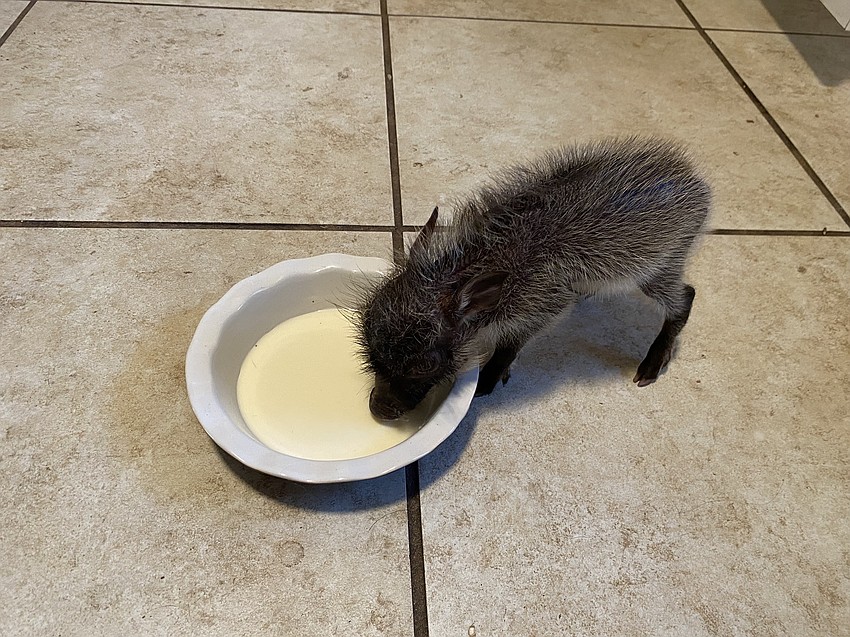 Para adopted Wallace when he was only 3 weeks old, so it's likely the baby warthog imprinted on him. He follows Para everywhere he goes, which is not unusual behavior for his age. In the wild, warthogs stay with their mothers until the age of 2. 
Wallace doesn't just roam outside on the 2 acres that are fenced within the 5-acre property, he has a bowl on the kitchen floor like the dogs do.
His "pack" includes two Jack Russell terriers and a Weimaraner, plus a horse, a donkey, a duck, a goose, a slider turtle, two tortoises, two pigs and about 70 parrots. Para, 60, founded the Sarasota Parrot Conservatory and his home also serves as a sanctuary. He doesn't adopt out the animals he rescues.
Wallace and the terriers are the only animals that are not rescues, but it's much easier to find a puppy than a warthog piglet. Para said even his friends at Big Cat Habitat couldn't find one, but in December of 2020, he got a call from a man in North Florida who had two. The female didn't survive, and he offered Para the male. 
Para has dreamt of raising a warthog since he was a little boy watching "Animal Kingdom," but his youngest daughter, 22-year-old Madeline Para, is responsible for Wallace's fame.
"My daughter showed me how to do it (navigate TikTok). I had no clue," he said. "But now, every month, he makes a little bit of money on it, so it helps feed the animals. Normally, it's $40 or $50. But last month, he made $177." 
With worldwide fans, Wallace receives gifts in the mail and is building a line of merchandise. T-shirts are on sale now. You can't mistake the front from the back when putting one on. The front of the Wallace shirt shows his tusks; the back shows his tail. Coffee mugs and hats are in the works. 
Madeline Para is an artist. Para sends her the ideas, and she creates the images and designs. But Wallace creates the magic that has garnered over 1.9 million likes on his videos. On top of his kind nature that allows the birds to perch and the terriers to nap on his back, Wallace the Warthog is a bit of a Dennis the Menace character. 
He's been known to yank the tablecloth down to the floor during dinner. He pulls the trays out from the bottom of the bird cages to eat the leftover seeds. And he sticks his snout into just about everything. 
Para calls him curious and finds it amusing. His four children are grown and out of the house, and while Para has a girlfriend, they don't live together. As he understandingly put it, "It's a lot." So it's just Para, Wallace and about 80 other animals living in harmony in Magnolia Hill.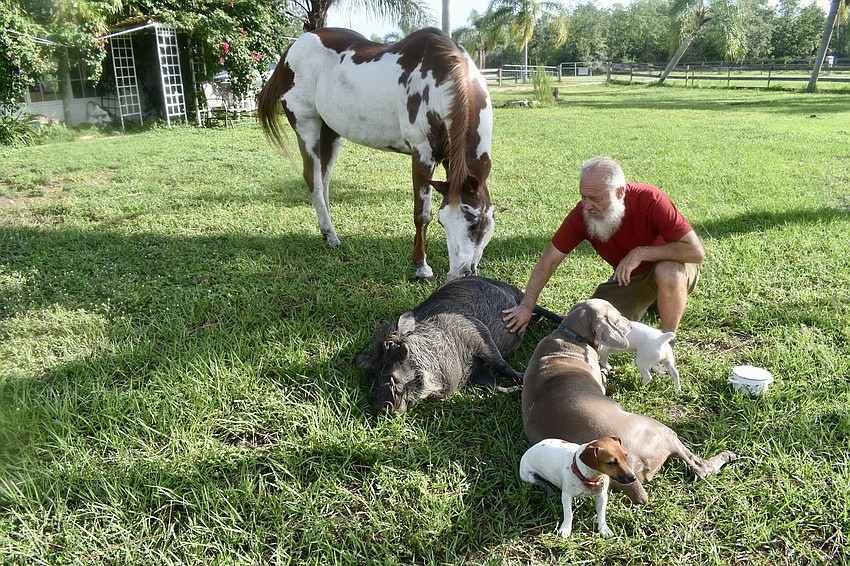 "I get up in the morning, the light goes on so I can make my coffee, and the donkey sees me first," Para said. "The donkey starts braying, which causes the horse to start neighing. Then, the goose starts going to town, and by the time the coffee's brewing, the two pigs are waiting to be fed. It's hilarious."  
Wallace rolls out of bed from his "Pigloo," an igloo-style dog house. Warthogs back into their dens to protect themselves and their piglets from incoming predators. Before the indoor and outdoor pigloos, Wallace was backing into some tight spots around the house. 
First, he found a spot between the dryer and the wall to sleep. When he outgrew that tiny nook, Para spread out the washer and dryer to give him a bigger space in between. Then, Wallace moved to a larger nook in the bathroom between the toilet and the sink until his growing size started pushing the toilet over. His final sleeping spot was underneath an antique organ until Para bought the pigloos.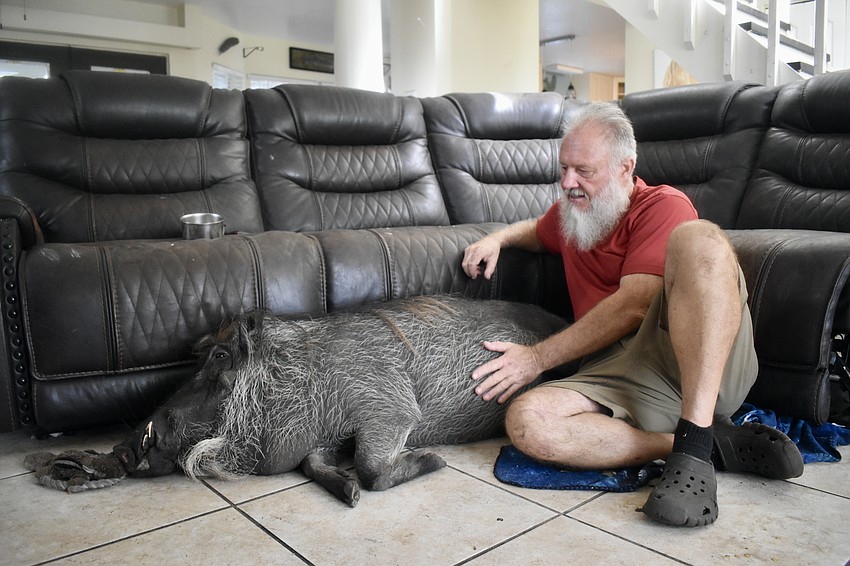 He also figured out that the easiest way to get dirt off Wallace is to use the hose of a Shop-Vac or brush him off with a broom. Wallace loves both. 
His antics have TikTok followers invested. In April, and again in August, Wallace went missing for a few days. Followers posted hundreds of messages, eagerly hoping for Wallace to return home safely. 
"There are many people across several continents whose thoughts are now with Wallace, hoping that every moment he will be found safe and sound," A user named Phil wrote. 
Para thinks Wallace found a place in the brush to sleep and wonders if he might start preferring to sleep outside as he gets older. Only time will tell.
What is certain is that Wallace has developed a dedicated fan base. 
"People are coming to Florida, and they want to come meet Wallace," Para said. "So they come and meet him and say it's the highlight of their trip." 
Meet and greets are available by appointment only. Call 962-2176.