The crowd at The Out-of-Door Academy football game against Santa Fe Catholic on Sept. 29 knew what it wanted. 
"What time is it?" a lone voice said during the second quarter, followed by the voices of hundreds in response — "Hammer time!" 
The hammer, in this case, is ODA's offense, particularly its rushing attack. Since Head Coach Rob Hollway took over prior to the 2022 season, the Thunder have executed a run-first offense that incorporates elements of old school Wishbone and Wing-T offenses.
ODA often has multiple runners in the backfield and utilizes pre-snap motion, followed by a lot of misdirection. The defense might know a run is coming, but it doesn't know where it is going or who is getting the carry.
There's a good reason for ODA (3-2) using this style of attack. For a smaller school, ODA has the benefit of a big offensive line, where all five starting linemen are 6-foot-2 or taller and 265 pounds or heavier. That mass wears down opposing defensive lines, allowing ODA running backs like sophomore Allen Clark and senior Jack Meyers to burst through holes. Once in the open field, they are tough to bring down.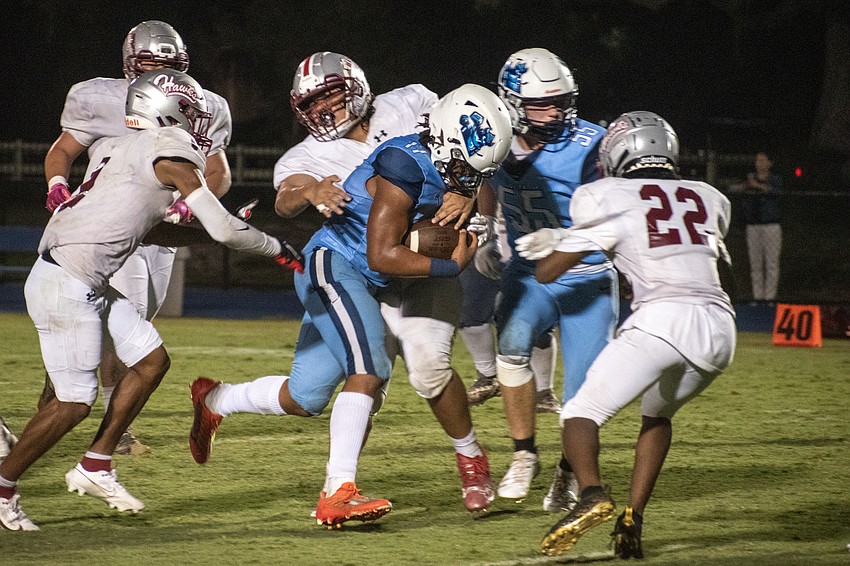 This season, though, ODA has also tried to implement more of a passing game. Junior quarterback Jackson Roth, who moved to the area from Ontario, Canada, during the offseason, has a strong arm, and Hollway said he has a high ceiling as he continues to develop. 
The changes in the offense, as well as some key injuries, have brought growing pains. After a season-opening 42-0 win over Berean Christian, there were two consecutive losses, a 16-7 loss to Oasis High (4-2) and a 21-7 loss to Saint Stephen's Episcopal (4-2). 
In those two games, the rushing attack accounted for zero points, and the passing offense just seven. ODA's other touchdown came on a fumble return for a touchdown by senior linebacker Jack Taraska. The Thunder averaged 3.94 yards per carry in the two losses. In the process, the team lost sophomore running back/cornerback Dylan Walker and senior offensive tackle Blaine Bentley to injuries.
An off week followed those two disappointing performances. Since returning from the break, ODA has done more of what its fans expect. ODA beat Faith Christian Academy (2-2) 40-22 on Sept. 22, running for 305 yards and four touchdowns in the process. The Thunder then beat Santa Fe Catholic (1-3) 33-26 on Sept. 29. Again, ODA ran for four touchdowns — though it was aided by having some short fields in the first half. The Thunder struggled to put long drives together until it started running the ball more. After doing so in the third quarter, on a drive capped by a three-yard Clark touchdown run, a member of the crowd shouted "That's what we do!"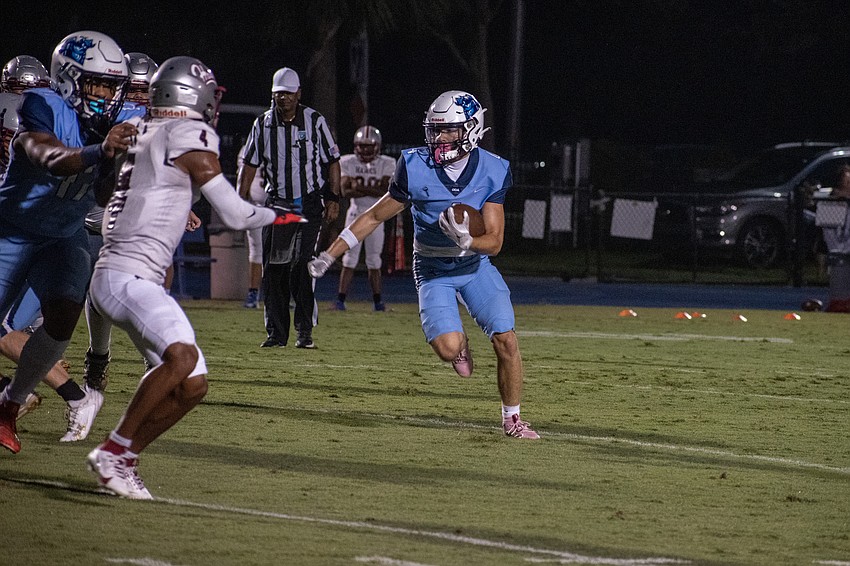 Meyers, who had a rushing touchdown and a receiving touchdown against Santa Fe, said the off week allowed the team to reevaluate itself and find a new perspective. 
"I think it was a mental thing," Meyers said of the early-season struggles and the recent resurgence. "We realized we don't have some guys we had last year and other guys had to step up. We had to come together. I'm just trying to lead and get everyone to work hard and prepare for the next couple of weeks." 
Meyers is one of those guys stepping up. Clark, who has seven touchdowns in 2023, is another. They work well in tandem, with Meyers being a shifty back who can the the ball outside, and Clark being a bruiser who can carry multiple defenders on his back for extra yardage. 
The passing attack is still a work in progress. Roth threw two interceptions in the red zone against Santa Fe, but he didn't get much help. Thunder receivers dropped four passes in the open field that would have been big plays, possibly touchdowns. ODA also has to cut back on penalties. Often against Santa Fe, a nice run would be offset by a holding or false start penalty, halting any momentum gained from it.  Hollway said cleaning up those penalties will be an area of focus going forward.
He's also optimistic about the direction of the offense. Despite the two-week rough patch, Hollway is confident that the unit is on the way to where it needs to be for the postseason. He's going to continue to give the passing attack a chance to gel, but he also knows he's got the running game to fall back on. As long as it does not beat itself, ODA has advantages that few schools of its size have. 
"When we put four quarters together, in all three phases of the game, we're a team nobody wants to play," Hollway said. "We have some stuff to clean up, but we have weapons in spots that are challenging (to defend). We just have to make plays when we get the opportunity. We've got big horses up front and we play tough defense. That's a good recipe." 
ODA will have a chance to continue the trend at 7 p.m. Oct. 6, in a road game against Bell Creek Academy (1-3).