The question of "whodunit?" is spreading in the Sarasota-Bradenton area, thanks to hospitality company Pineapple Kitchen, which is expanding its murder mystery dinner shows to new locations. 
The east Manatee County-based business is run by husband-and-wife team Mike and Jenny Schenk. 
Pineapple Kitchen, which also provides culinary education and gourmet products, will start hosting murder mystery dinners at the Even Hotel in Lakewood Ranch and Hotel Indigo in downtown Sarasota beginning in November. Currently, the dinners are limited to its Lakewood Ranch Lena Road location. 
Guests become characters and suspects during the three-hour, four-course dinner show as they race to figure out who committed the hypothetical murder.
A show's audience ranges from between 20 to 30 people. According to the website, shows cost upward of $120 per person.
The theme at the hotels will be "Pineapple's Speakeasy." Guests will encouraged to dress as gangsters and flappers for a Roaring Twenties vibe. The shows will run every weekend, sometimes including Thursdays. 
All of the murder mystery shows come with custom scripts, not just for the improv actors hired to play an investigator who helps move the story along. Scripts are provided for every guest as well, because everyone is a character in the show. 
With the growing interest in their murder mystery dinner shows, the Schenks have ambitious goals. They hope to eventually expand to Naples or Tampa and maybe even outside of Florida.
Their original plan was to produce new shows in Lakewood Ranch quarterly to entice previous guests to come back. But when "The Mystery at the Pineapple Inn" hit the website, it sold out — fast. 
"Our intention was to change it over in March (2023)," says Mike Schenk. "Because of the popularity of that show, we decided to continue it. It continued to sell out two or three months in advance. We carried that show for seven months." 
The same thing happened for their recent '80s-themed show in August. "It got to the point where our customers were saying, 'well, we wanted to do this, but it got sold out,'" Jenny Schenk says. 
After mulling over advice from three advisers, they began looking for small boutique hotels to accommodate their intimate shows. 
Knowing the hotels would take over food service and give them more space, they decided it was the best choice. They looked for hotels with spaces that accommodated no more than 45 guests to keep the intimate feel of the shows.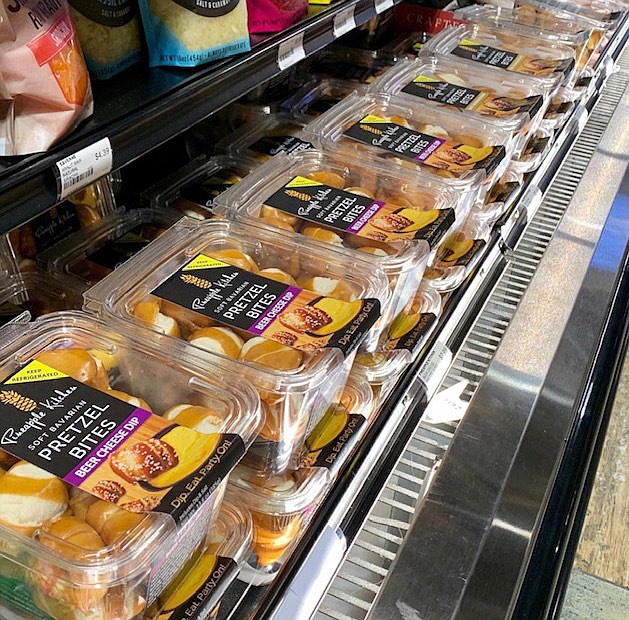 The Schenks, celebrating 35 years of marriage this year, have worked in the hospitality industry since they were in their twenties. Their first product under the Pineapple Kitchen brand was a soft pretzel bite with dip they launched in 2019. Not long after, the pandemic hit. But the Schenks were still able to get their pretzel kits into over 300 stores nationwide. 
Since then, they've added a tasting room, the culinary theater and new product offerings, including Pineapple Kitchen charcuterie trays, gourmet meats and cheeses and an extensive selection of sauces. 
One of their most successful lines is the Kitchen Kids camp. It teaches kids basic kitchen skills they use to serve their parents in their own pop-up restaurant. 
Between the culinary theater, the product line and tasting room, things are getting a little cramped on Lena Road. In the next year or two the duo plans to explore opening a second location in Lakewood Ranch area. 
Pineapple Kitchen is now looking to expand in distribution. The Schenks have hired a food broker to help them get on the shelves of larger retailers, including the Holy Grail for small food purveyors: Publix.
Will they pull off their culinary caper? Stay tuned. For more information, visit pineapplekitchen.com.
This article originally appeared on sister site BusinessObserverFL.com.