Just a mention of honey-baked ham gets Lakewood Ranch High senior wrestler Tommy Bisordi's mouth watering. 
"Man, that sounds good right now," Bisordi said, shaking his head. 
Normally, Bisordi would see his craving sated on Thanksgiving. His extended family comes from New York to Florida each year, he said, and with family roots stemming from Italy and Malta, the food spread is immense.
Turkey, stuffing, the aforementioned ham, various desserts — the Bisordi house has it all. 
Bisordi himself won't be eating much of it this year, however. 
Like many wrestlers, Bisordi is in the middle of a weight-cutting journey. Bisordi, who also plays on the school's football team as a defensive lineman, finished the football season at 185 pounds. His best weight class figures to be 175 pounds, and his target is to get there by Dec. 1. 
Bisordi has cut some weight in wrestling each season since eighth grade. He wears sweatshirts and sweatpants while training to as much water weight as possible. He rides the Mustangs' exercise bike and he runs a lot.
But the biggest factor in cutting weight is his diet. 
During the football season, Bisordi said, he would go out to eat with teammates three days a week — usually to get something as delicious as it is unhealthy. Now that wrestling season is here, Bisordi has changed his habits. 
"I just started eating salad for the first time," Bisordi said. "I'll have one of those for lunch to be healthy." 
Being weight-conscious means Bisordi will watch what he eats on Thanksgiving. The piles of food many of us consume are off the table for him. Even adding a pound or two could throw off his weight-cutting schedule and cause him to miss his target date.
He will have a reasonable holiday plate instead, filled with more protein than fatty or carb-heavy sides.
Bisordi put his mental fortitude to the test early, when his family hosted a "Friendsgiving" celebration with other households. At that gathering, which similarly was full of flavorful yet potentially ruinous foods like pigs in a blanket, Bisordi was able to hold off from gorging. 
If he sticks to the plan during the main course portion of Thanksgiving's food schedule, he said, he will be able to treat himself at the end of the night. 
"It won't be too crazy, but I'll have a small slice of pecan pie or something," Bisordi said. "I have to cheat a little bit, you know?" 
Not all wrestlers have to make this type of sacrifice. Some, like Mustangs senior Will Moran, are in the opposite situation. They are trying put on pounds to move up a weight class.
In Moran's case, he's at 230 pounds, but he wants to complete in the Florida High School Athletic Association's heavyweight class, which has an upper limit of 285 pounds. As he's in no danger of hitting that limit this season, Moran wants to put on as many pounds as possible. 
For him, Thanksgiving is not a hinderance, but an opportunity. 
"There's nothing I'd rather be doing on Thanksgiving than stuffing myself anyway," Moran said. 
Moran's taste in Thanksgiving steers to the classic dishes — things like turkey and potatoes — but he has a particular fondness for cranberry sauce, since this is the only time of year many people use it. Moran said he plans on having several plates at his family's gathering, and you can be sure that cranberry sauce will cover a lot of it. 
Moran was not alone in looking forward to the holiday. Junior wrestler Andres Anastasi said his family makes chicken and rice each Thanksgiving, which he finds delicious. Sophomores Luke Rodriguez and Heath Phillips also expressed excitement about the holiday. Not just eating great food, but getting to spend time with family and throwing the football around the backyard.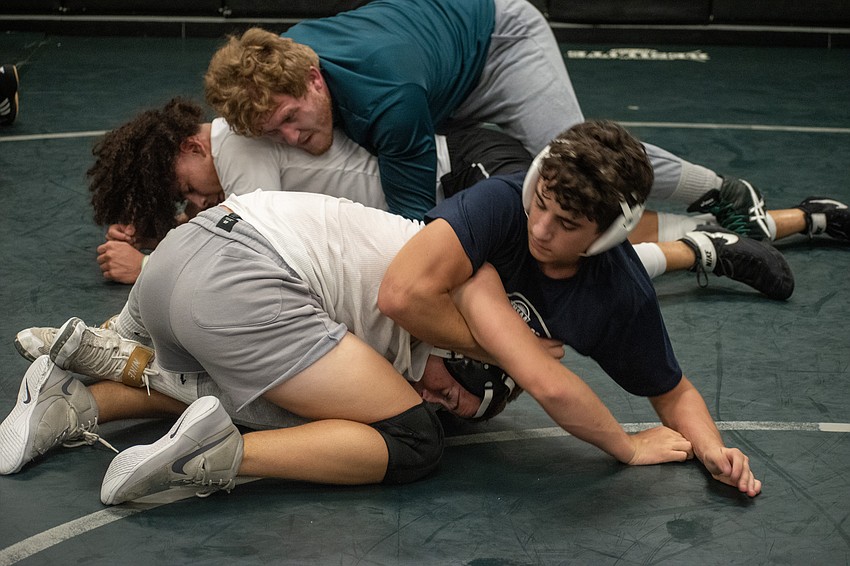 For all three of them, as well as for Moran, the day is going to be about relaxing and enjoying. But for Bisordi, the day will be about restraint. He knows this going into it.
He said it will be less fun than usual, but he's OK with that. 
"The sacrifices are absolutely worth it," Bisordi said. "I would not trade it for anything. I mean, all summer, I could have been doing whatever I wanted. I went to clinics at Ohio State (University) and West Point (New York). I worked a lot on my takedowns because I do a lot throws, Greco-Roman stuff, and I wanted to improve my folkstyle (leg attacks) stuff. I went to a tournament in Orlando. Wrestling took up my whole summer. But I wanted to get better. I want to wrestle well this season."
Wrestlers are no turkeys. They will reshape their bodies in order to find success. Compared with the routines that Bisordi and others put in daily, holding back during one holiday feast is small potatoes. 
Still, it is a sacrifice all the same, and the rest of us shouldn't take the holiday for granted. Eat and drink to your heart's content while you can. Just pretend you're one of the wrestlers looking to add pounds, and you should have no problem meeting your goal.