Although Toys for Tots began as a program to ensure that every child has a toy at Christmastime, it has grown into much more, said coordinator Desiree Jennings.
Essential to all its year-round programs, she said, is a warehouse — a space large enough not only to store toys given out throughout the year, but also large enough to make the items accessible. 
But when Toys for Tots departs its current warehouse space, which it must vacate by Dec. 15, the organization will be without a way to host its programs unless a solution is found, Jennings said.
"I'm not going to let it fold — that's not an option," said Jennings, who has worked with Toys for Tots for over 30 years. "'No' is not in my vocabulary, and impossible is not in my vocabulary. I've been doing this way too long."
The organization does not disclose the address of its space until toy distribution begins.
Some of the programs offered by the organization, which is operated by the U.S. Marine Corps, include literacy programs, as well as initiatives to benefit nonprofits, adoption centers, children in foster care and victims of any type of emergency, such as a hurricane or a house fire.
Last year, the nonprofit offered a total of 28,833 toys to 8,153 children.
One program Jennings hopes to host again next year is the Back to School program, held in conjunction with Hugs and Smiles by Eternal Bread of Life Outreach Ministries.
"That was a huge success; we helped so many families," she said of the program, which provided 514 backpacks as well as other needed items like uniforms, notebooks and socks.
To continue to offer these programs, she said, Toys for Tots will need a warehouse space that is centrally located, from about as far north as Proctor Road, to about as far south as Sarasota Square Blvd., but Jennings said she has found no options thus far. 
While the organization has acquired a donated space in Venice, it is around 2,000 square feet, she said, making it just large enough to store toys. 
The required amount of space is about 5,000 to 8,000 square feet. The location needs to be large enough to allow easy access to the toys, with 8,000 square feet being the preferred figure, as the organization would ideally like to distribute the toys and operate from the space, she said.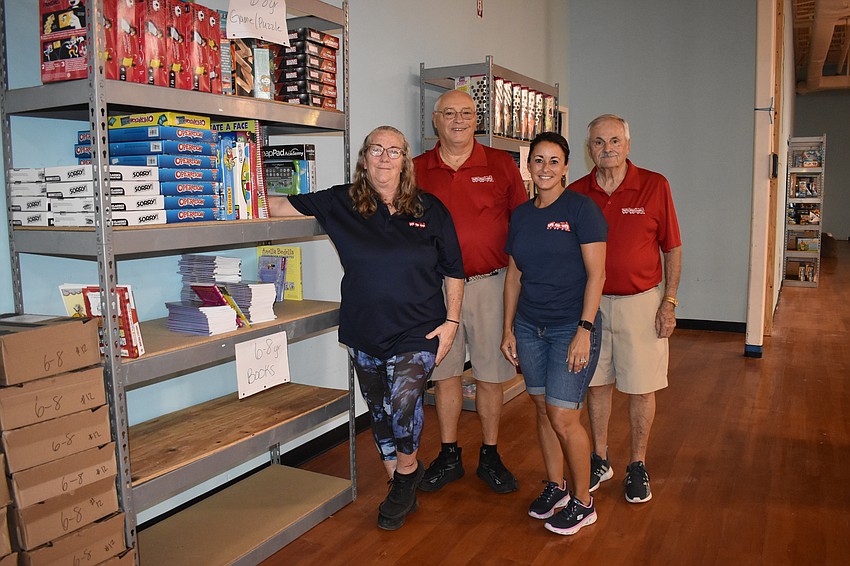 Furthermore, 80% of clients live in North Sarasota County while nearly all staff live in Nokomis, making a centrally located warehouse an essential need, she said.
Running water and a bathroom are necessary features for the warehouse building, she said. The organization carries its own liability insurance, which it can use in any case where space is donated to it, with the renter receiving a tax write-off on the unit. It also will pay electric costs if needed.
The many toy donations throughout the year help greatly with the overhead costs, she said. 
"We have a very giving community, we really do. We're very fortunate. It's fortunate we don't have to spend money on toys," she said.
Although Jim Lamb, the previous coordinator of Toys for Tots, stepped down in April after over 20 years with the organization, Jennings said she can still count on him for help.
"I've always been there for Jim each step of the way and he's always been there for me," she said.