When gallerist Andrew Chasen was growing up in New Jersey, the charity organization his mother was president of held an annual arts and crafts sale the first weekend of December. It was an exciting time for the young Chasen because his mother, Beatrice Chasen, would allow him to choose his favorite piece of art and she would buy it for him.
"I've been collecting art since I was 8 years old," said Chasen during an interview at his new Chasen Galleries @ The Mark at 99 S. Pineapple Ave. The beautifully appointed downtown space is the third Sarasota gallery for Chasen and his life and business partner, Marc Cates, but it is their first dedicated exclusively to glass.
The glass gallery in the Mark also has two other partners: James Lamantia and Sharmila Ruder-Amico, who own Lamantia Galleries in Raleigh, North Carolina, and Northport, New York.
Chasen originally thought he would follow his father into the record business, but his dad walked away from his chain of eight record stores in the early 1980s as changing technology left vinyl and later CDs behind.
After a stint as a sales rep for a New Jersey alcohol wholesaler, Chasen found his true calling selling art, with a business in New Jersey that focused on Southwestern art and posters, both of which were "big in the '80s," he notes.
Chasen has had a presence in the Sarasota art scene since 1994, when he moved here and opened his first gallery on Palm Avenue. He sold that gallery in 2002 and moved to Richmond, Virginia. Chasen returned to Sarasota in 2017 with a new gallery, which was run by a friend until he moved here permanently in 2018 and took over management.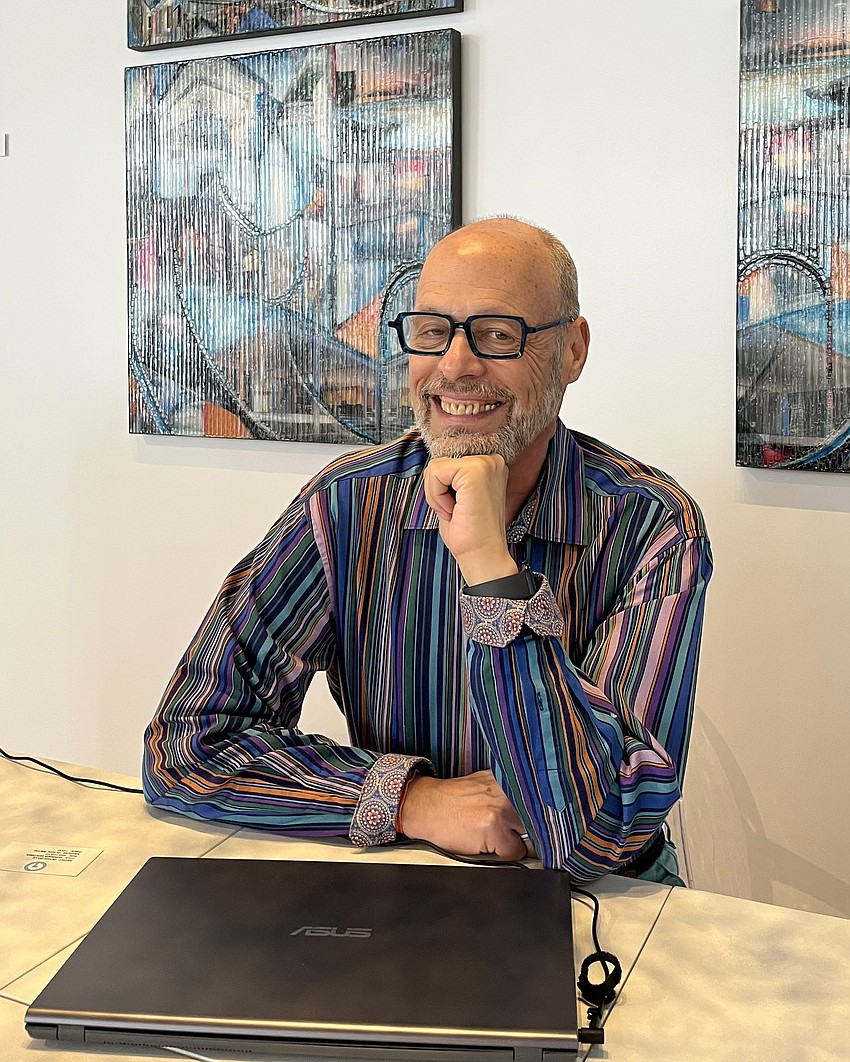 Two years ago, when The Mark opened downtown, Chasen and his partners decided to buy a street-level space. They signed the papers in August 2021. It took more than two years to build their space out. "We literally got a dirt floor," Chasen says.
One reason why the build-out of Chasen Galleries @ The Mark took so long is that its owners wanted the highest-quality lighting and fixtures. They got the high-tech accoutrements they wanted by working with SmartHouse Integration, a Sarasota firm that specializes in designing and installing home electronics, energy management, entertainment and safety systems.
Chasen Galleries @ The Mark had its soft opening on Oct. 16 because that was Beatrice Chasen's birthday, according to Andrew Chasen. It officially opened to the public the first weekend in November after receiving a certificate of occupancy.
When Chasen and Cates bought the space in The Mark in 2021, they didn't originally plan to open an all-glass gallery. They decided to go all in on glass because of the growing popularity of contemporary glass art, which fits nicely in the modern-style skyscrapers going up around downtown.
Chasen himself has one of the mesh glass hangings by Renato Foti that hang on the wall of Chasen Galleries. He chose it for the entryway in his home because he likes the way it changes according to Sarasota sunlight. 
Other glass artists from around the globe represented by Chasen Galleries include Victor Chiarizia, Caroline Milne, Rosetree Glass, Will Dexter and Ed Branson, to name a few.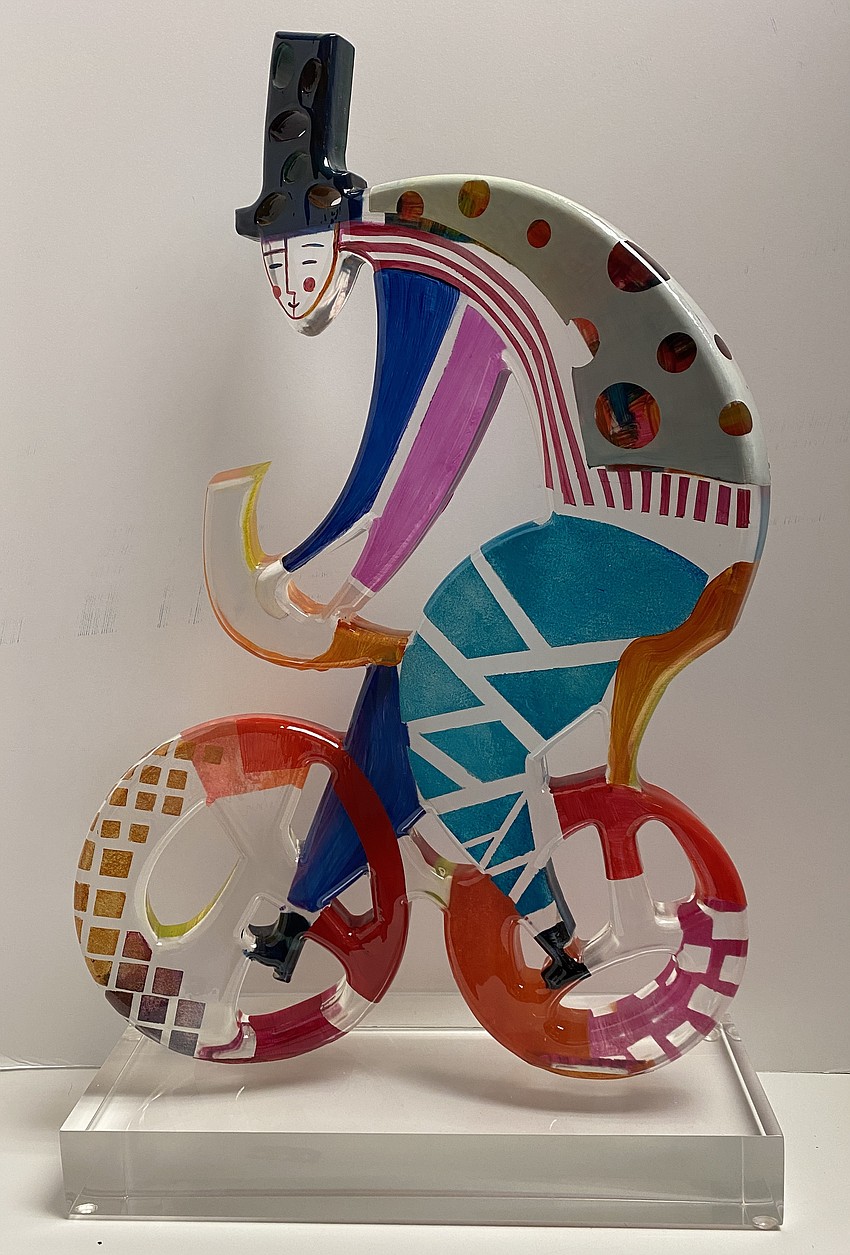 Chasen was inspired to open an all-glass emporium after glass grew to become 50% of its sales at its gallery at 1830 Osprey Ave. in Southside Village. 
There is also a small Chasen space in The Crossings at Siesta Key. Like other tenants in the mall, its long-term future is unclear because of new owner Benderson Development's plans to redevelop the mall into a mixed-use space with a large residential component. 
To hear Chasen tell it, the trailblazer in Sarasota's art glass was the Joan Hodgell Gallery at 46 Palm Avenue, which opened in 1976. The Hodgell Gallery was later owned by Kate O'Donnell, who bought it in 1989. That gallery closed a few years ago, and there has been a gap in the Sarasota art scene ever since, he says.
As a result, some buyers of art glasswork travel to St. Petersburg to make their acquisitions. With Eckerd College, the Museum of Fine Arts, and the Imagine Museum dedicated solely to glass art, St. Pete has emerged as a destination for glass artworks.
While the Cultural Coast is able to handily fend off competition in performing arts, Sarasota's visual arts scene still gets a run for its money from St. Petersburg.
With the recent opening of Define Gallery, Mara Gallery and Chasen Galleries @ The Mark downtown in the last few months, arts buyers will have more reason to stay in town when they outfit their newly acquired properties.