Several hundred Sarasota residents of all races, religions and creeds gathered at Hart's Landing on Sunday for a March Against Hate, not only in support of Israel but also in support of the local father and stepmother of a 35-year-old man taken hostage during the Oct. 7 Hamas raid.
Leading the march over the Ringling Bridge were Jonathan Dekel-Chen and Gillian Kaye, the father and stepmother of Sagui Dekel-Chen. The family holds dual citizenships in the U.S. and Israel, and own a home in a kibbutz a mile from the Palestinian border. 
That's where Sagui Dekel-Chen had just begun his workday when the compound was breached by Hamas terrorists.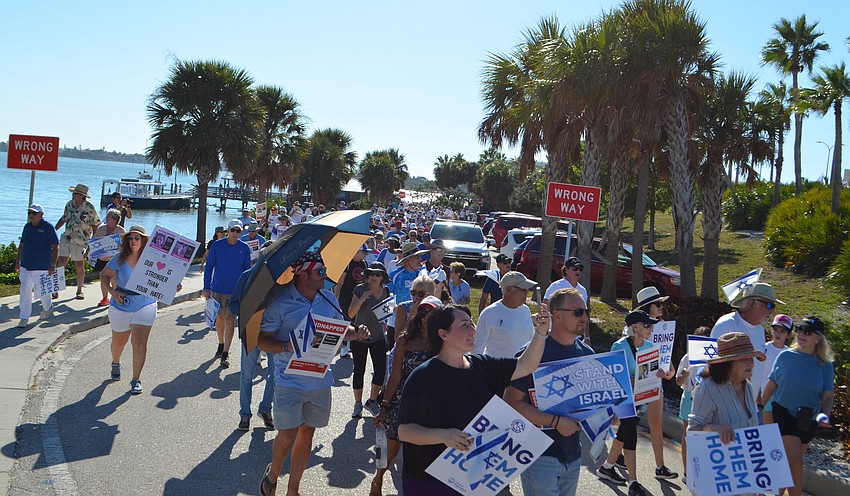 "There are 240 hostages currently being held by Hamas somewhere in Gaza. Sagui is  one of them," said Dekel-Chen, who along with Kaye live part-time in Sarasota. "He is 35 years old, a father and his wife is pregnant with their third child and will be giving birth in about a month."
Since the attack on the kibbutz — a collective community unique to Israel and traditionally rooted in agriculture — Dekel-Chen and Kaye have been unaware of the location or condition of Sagui.
"We have had no information or certainly no proof of life," said Dekel-Chen. "He is an American-Israeli as I am, and there are 10 U.S. citizens among the 240 hostages. There are roughly 30 other dual citizens and foreign nationals among the rest of the hostages, so it is an international humanitarian issue, not just a Jewish or Israeli crisis."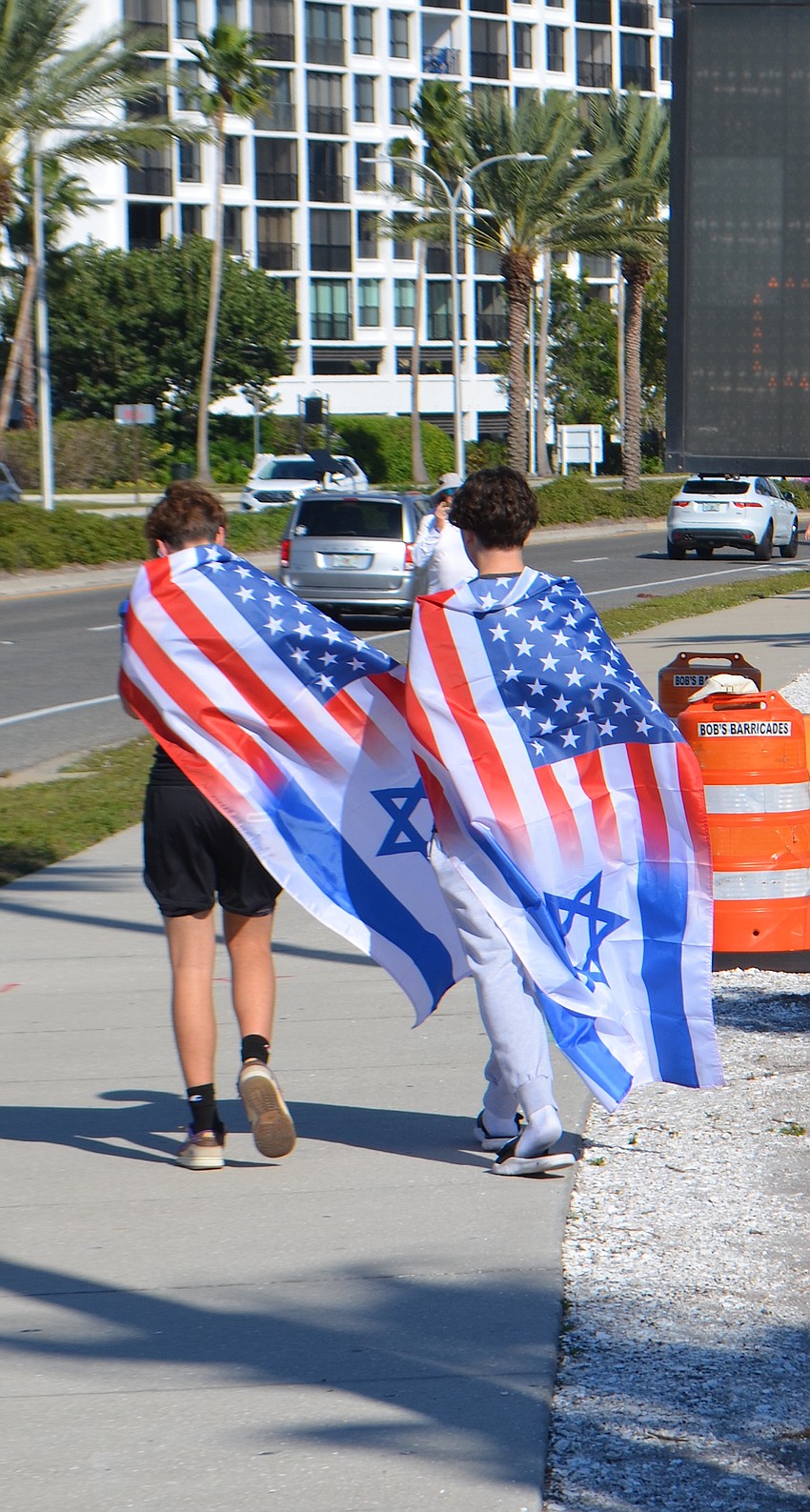 Since Oct. 7, the couple have been busy traveling between Sarasota, Washington, D.C., and Israel, and happened to be in town at the same time as Sunday's event. They joined local Jewish and Christian leaders at the head of the march.
They described the horror experienced by the kibbutz residents on Oct. 7.
"It was one of the most savage scenes of the whole invasion," Kaye said. 
Added Dekel-Chen, "They were inside our kibbutz after having broken through a barrier, which was supposed to be impenetrable, but because they were on motorcycles and in pickup trucks they inside our kibbutz in about a minute and a half."
From there, the attack was brutal.
"There were 400 people in there on Friday, Oct. 6, and only 160 people were left to go to a refuge," Kaye said. "That's how many people were killed or kidnapped in the community. It was like if they went into Gillespie Park and went into every house systematically, one by one, shot people or tortured them, killed them or abducted them, and then set all of the houses on fire."
Since the invasion, Jewish Federation of Sarasota-Manatee CEO Shep Englander said his organization has been occupied with supporting Israel and disseminating information about the plight of the hostages. He was pleased his organization was approached by other groups to organize Sunday's march.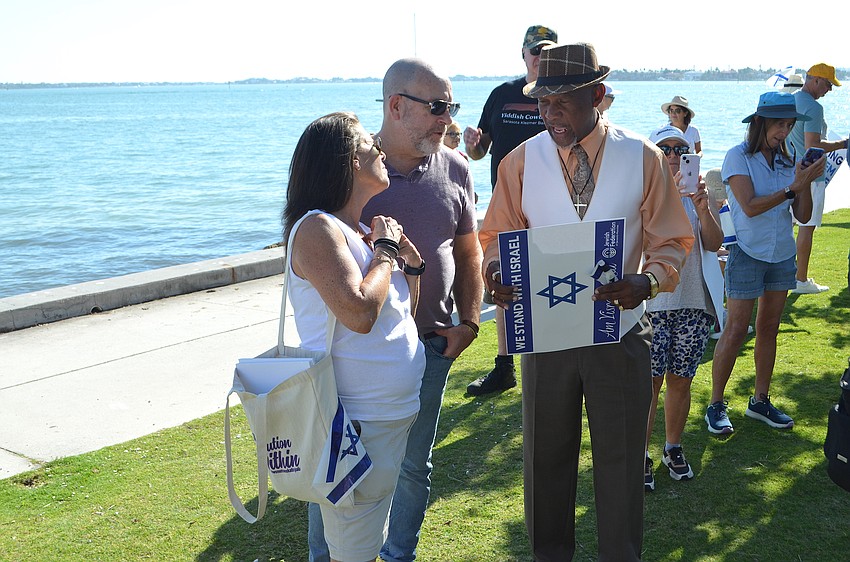 "What's unique about this march is that the co-sponsor is actually not even a Jewish organization. It's the Sarasota Ministerial Association," Englander said. "All the events up until now have been organized by the Jewish Federation, and we are very pleased that our friends beyond the Jewish community have asked how they can help."
In addition to the Sarasota Ministerial Association, the march was sponsored by the Sarasota-Manatee Rabbinical Association and Aviva Senior Living. 
Kaye said the multi-faith participation in the march is consistent with the overall community support.
"I was invited by the Federation to speak at a rally a week ago and to tell our story, and I walked in and there were 1,200 people in that room and I was blown away," she said.  "There were hundreds of people, and not just Jewish, and it's overwhelming. One of the main messages that Jonathan and I both carry, as do all the families of the hostages, is that it's not just a Jewish issue. This is a global humanitarian issue. There are 30 different nationalities and 15 different religions represented in the hostage group."