Carmine Ussano is the co-owner of Osteria 500 at Waterside Place in Lakewood Ranch. His three partners include Andrea De Dominicis, Giuseppe Del Sole (the co-owner of Napule), and Salvatore Scaccino. These Italian expatriates are fiercely proud of their heritage. Their menu proves it. From pizzas to pasta, to pistachio biscotti, it's as authentically Italian as it gets. That old-country tradition doesn't mean they're living in the past. According to Ussano, the partners embrace Italy's futuristic side as well. As he sees it, the future looks good. 
The essence of Osteria 500 is …
Authentic Italian tradition. We're making the recipes that our grandmothers used to make. I like to tell my customers: "If you're thinking of going to Italy, just come to our restaurant. Open the door, and you jump into Italy without taking a plane. We won't even ask for a passport!" 
"Osteria" means …
It comes from "oste" — the Italian word for a host or innkeeper. In Italy, the original osterias were family-run restaurants that served traditional recipes with wine. "Osteria" is part of our name because it's a good match for our old-school, Italian hospitality. 
The "500" in our name comes from … 
The Fiat 500. My partners and I have fond memories of this classic car. We were crazy enough to buy one in Italy, bring it here, and put a wood-fired oven on top of it. It fit perfectly! To us, the Fiat 500 stands for Italy's inventive, creative, futuristic side. It's new-school Italy, and that's also part of Osteria's personality. 
We turned a blue Citroen truck into an outdoor cocktail bar because …
We wanted to create different ambiances throughout the restaurant. One day, we decided to buy a vintage truck and refit it as an outdoor bar. Another crazy idea, hmm? But the concept behind it isn't so crazy. Like Italy itself, it's different wherever you go.
We opened in Waterside Place because …
We met with the developers and they shared their vision. There was a beautiful location — with an amazing view of the lake. The project they planned would make the most of the site. So, even before they built Waterside Place, we knew it'd be perfect for Osteria 500.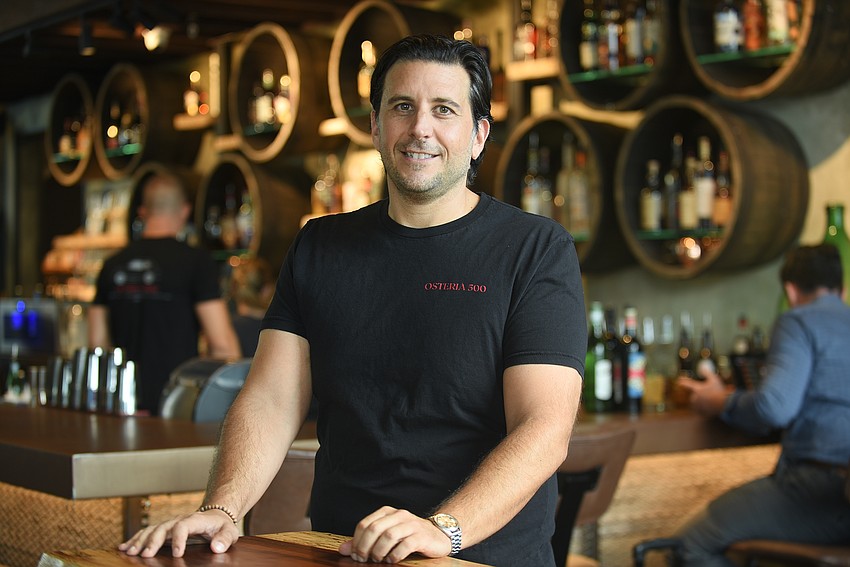 Our recipes have been passed down from our families.
Our menu's filled with dishes from our mothers and grandmothers. We were born and raised with their recipes. What else would we put on our menu? 
A little-known fact about Osteria 500 is …
We don't buy our pasta. We make it all on-site with our imported Italian pasta machine. All the flour we use is imported from Italy, as well.
The secret of Osteria 500's popularity is …
Love. To do what we do right, you need to have a love for this profession. You need to have a love for food, for wine and for the customers you serve. That's true for any great restaurant, and it's true for us. At Osteria, we also love the Italian culture that we share. That's what we bring to the table. 
Don't leave Osteria 500 without trying …
Our homemade, fried zucchini flowers. They are really, really, really, really good. Our charcuterie board has a fantastic selection of imported Italian cheeses and meat. It's really, really, really good, too. Customers say it's addictive. They're right. But try it anyway! 
Our favorite customers are the ones who …
Ask questions. They're not just hungry for food — they're hungry for knowledge. Telling the story of our cuisine is the fun part of my job. I get to point out where things come from on a big map of Italy. 
When I'm not at work, I like to …
Spend time with my girlfriend. I'm also a big soccer fan, but I can enjoy that when I am at work. Osteria has two big projectors. On game days with Italian soccer teams, we play the matches on our two big screens.
My top three culinary heroes …
All come from the Campania region of Italy — which is where I came from. I have a lot more heroes than three! But Aunt Rosaria was my first inspiration. She was a true artist in the kitchen. Everything she cooked was so amazing. On my birthday, I'd ask my other family members for presents and toys. When it was my aunt's turn, I'd only ask for food from her.