Watching a half-inning of a softball game was all it took for Anna Kimbrell to know what she already suspected: it was not her game. 
Kimbrell was a baseball player at heart. 
It had been that way since she picked up a ball at Springmap Beach in South Carolina at 2 years old. As her family tells it, Kimbrell had spotted a man and a woman tossing baseballs back and forth. She was drawn to that, and collected a loose ball, which she threw to her parents. The next thing she knew, she was playing T-ball at a local recreation center. She hasn't stopped in the years since. 
But she had friends who played softball. Once, after a baseball practice, she and her parents decided to check out a softball game one of Kimbrell's friends was playing in at the same facility. Three outs later, Kimbrell had seen enough. 
"Every batter hit the ball right back to the pitcher, a weak ground ball," Kimbrell said. "That was it. Baseball is more spread out. There's more opportunity for hits. I don't know if that's the only reason for it, but I've always loved baseball more ever since then." 
For the sake of her educational opportunities, Kimbrell played softball in college, starting at Samford University and finishing at the University of Alabama-Birmingham, but she quickly rejoined the baseball ranks upon graduation. The decision to stick with baseball has worked: Kimbrell, 33, will be one of 52 players participating in the All-American Women's Baseball Classic, which will be held Nov. 17-19 at Ed Smith Stadium.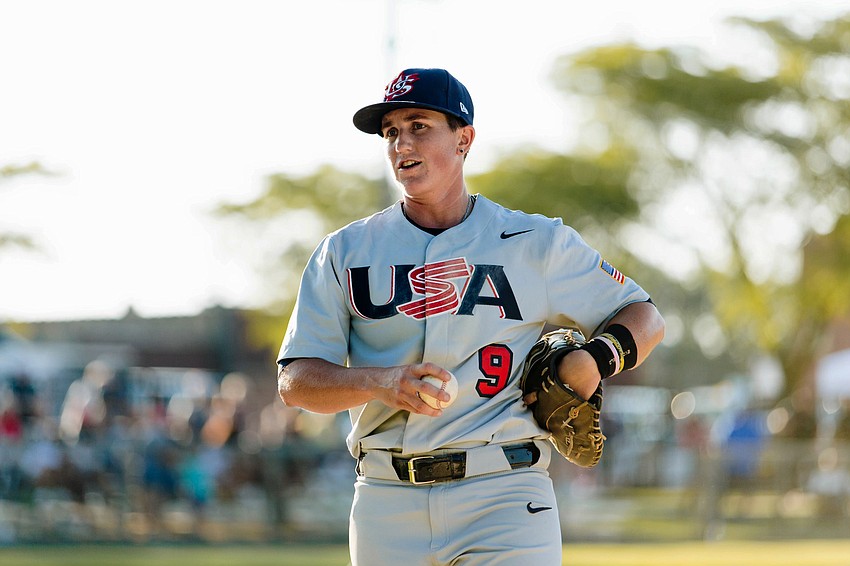 The 52 players will be broken into four teams, each of which will be given a name honoring teams from the All-American Girls Professional Baseball League of the 1940s and 1950s: the Rockford Peaches, South Bend Blue Sox, Racine Belles, and the Kenosha Comets. 
Sue Zipay, the founder and president of American Girls Baseball, said the event "(aims) to provide new opportunities to train, participate, and compete in the game of baseball" at every level, including high school, college, and professional. 
"Having played for the Rockford Peaches in 1953 and 1954, I've been on a mission my whole life to create a professional baseball league for girls and women who want to have a future in this sport," Zipay said.
The event is a step toward that goal, and it will feature the best talent the sports has to offer. 
Among the 52 players participating are members of the U.S. National Team — including Kimbrell, who has been on the team since 2008. Kimbrell, a catcher, helped the team to a gold medal at the 2015 Pan American Games held in Toronto, hitting .294 with nine RBIs and four runs scored in eight games. 
Kimbrell said she hopes the event provides entertainment, but also gives young girls the push they need to play baseball over softball if that's what they want to pursue. 
Kimbrell played the sport throughout her childhood, even changing youth leagues after years of her local rec league assigning her to a softball team instead of a baseball team as her family requested. Kimbrell said the new league was accepting of her desire to play baseball, as were her male teammates — after they saw that she could more than hold her own on the diamond, of course. 
"The biggest thing was knowing they had my back," Kimbrell said.
Kimbrell hopes to pass on that feeling of belonging to as many young women's baseball players as she can. To that end, Kimbrell and some of her teammates will stick around Sarasota for an extra day to put on a free skills clinic for youth women's baseball players 16 and under in the area Nov. 20. 
Kimbrell said sharing her love of the game with young players is one of her favorite things to do, and she hopes it helps the game continue to grow — not just in the U.S., but around the world. 
Later this month, Kimbrell and other members of the U.S. National Team will head to Uganda to hold youth clinics there, focusing on the fundamentals of the game. Kimbrell was part of a group that went to Uganda in 2019 and is looking forward to returning. Kimbrell said Uganda held a national tournament for young women's baseball players in August, a big step forward for the sport. 
"It's cool to go back over there and teach more girls the game that I love," Kimbrell said. "It has given me so much, and it gives those girls a lot of opportunities to travel and to stay in school." 
Kimbrell said she hopes the Women's Baseball Classic inspires kids in the area to chase their baseball teams as far as they can go. 
"When one door closes, another opens," Kimbrell said. "As long as you keep working hard and you are enjoying the game and trying to be better every day, you can achieve anything."