While Vickie Oldham had heard about Peg Green's new art quilt, she didn't experience the emotional impact of the piece until she visited Green's house to see it for herself. 
The quilt was a sign, said Oldham, that her own work in telling the story of Newtown, a large, predominantly Black community in Sarasota, was leading to progress.
"It made me feel like we're going somewhere. This work is really transformative," said Oldham, who is president and CEO of the Sarasota African American Cultural Coalition and leader of the project Newtown Alive. "When I see this work that Peg did, I know that (the story) is transforming more people than just me."
The quilt, titled "Leadership: Vickie Oldham, Newtown Alive," was created using a wide range of fabrics, including individually-made squares depicting locations in Newtown.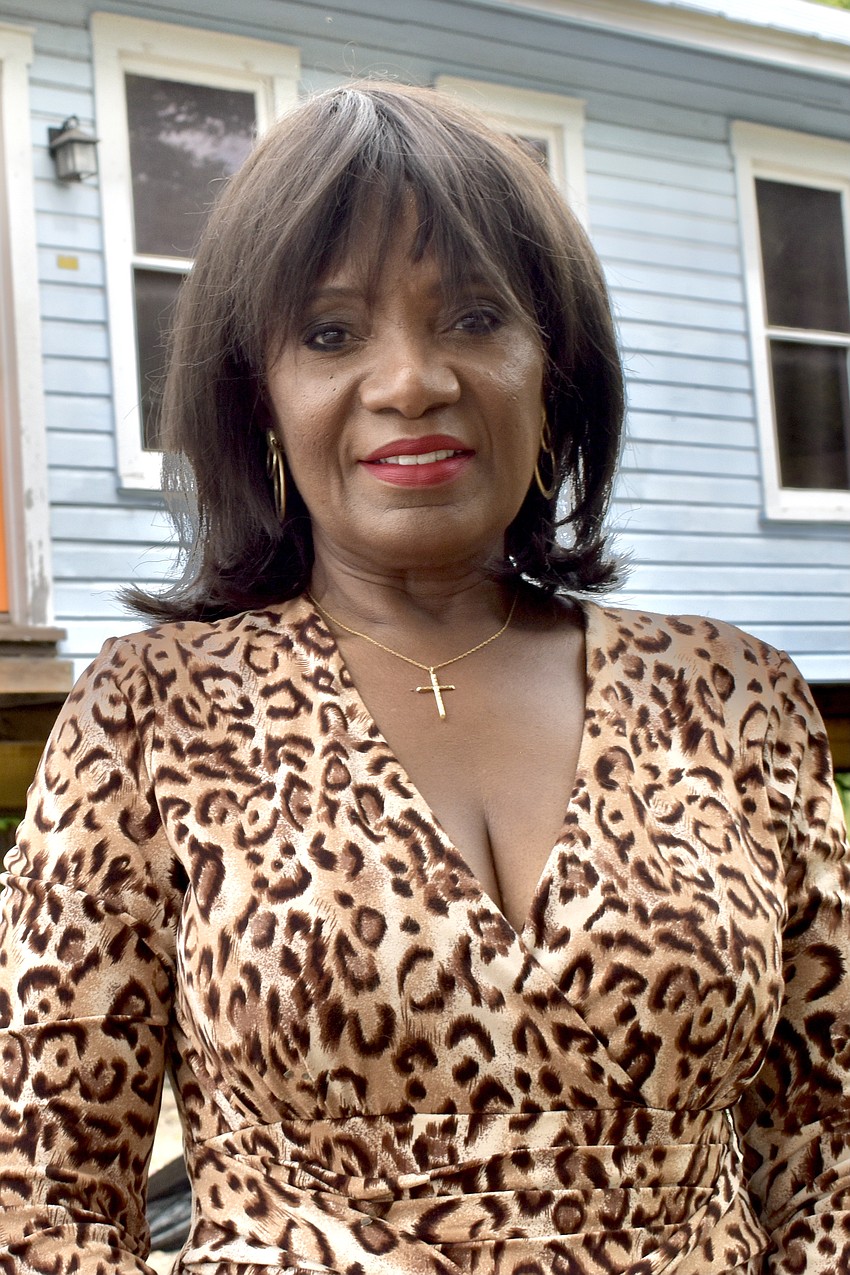 At the center of the scene, is Oldham herself. 
"It touched my heart deeply, that Peg would be inspired and want to spend all those hours taking photographs, cutting out little pieces of fabric and stitching them together, figuring out what goes where. And that fact that she put me in it was overwhelming," Oldham said.
Creating art for the community 
Peg Green, an artist specializing in art quilts, said when she took a trolley tour of Newtown with Newtown Alive, she related to the neighborhood's story because of its sense of community.
"The history of the Black community in the Sarasota area is so strong," Green said. "There's this strong community feeling, and connection, and vocalization. They have not been quiet. They have been active and significant and successful in many things along the way."
Green said her discovery of a community in the Unitarian Universalist Church 30 years ago, when she was about 50 and living in Colorado, inspired her artwork, while she also found community in a co-housing neighborhood she helped found and while working for the Peace Corps in Mongolia.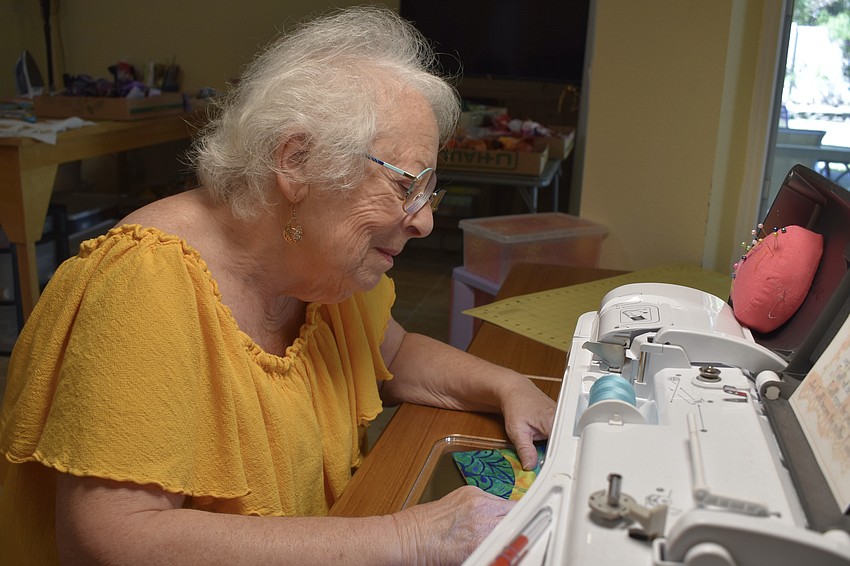 Green connected with the principals and values of the church, which places an emphasis on social justice she says this is exemplified in her exhibition featuring the Newtown quilt, "Witness!" at the Unitarian Universalist Church of Sarasota.
"My concept here is that there are things in the world we don't talk about, and things that happen, where our being witnesses to them and making them public, and demanding accountability is a process towards justice," she said. 
After joining the church, Green became an active member, even helping to found a church in Colorado Springs. After moving to Sarasota 10 years ago, she joined both the Unitarian Universalist Church of Sarasota and Manatee Unitarian Universalist Fellowship.
Some major subjects featured in her artwork are icons related to spirituality; social justice; the flaming chalice, which is the symbol of the Unitarian Universalist Church; dancing sprites and archaeological goddesses, or depictions of "Venus" figurines from ancient cultures throughout the world. 
Celebrating Newtown 
After Green came away from the trolley tour feeling inspired, she began to delve further into the story of Newtown. 
She read a book Oldham co-wrote with Rosalyn Howard, "Newtown Alive: Courage, Dignity, Determination," the Newtown Alive website, and a report by Oldham that was also part of the Newtown Alive project.
Then, she traveled the area, taking photographs she could use to create her quilt designs. 
The quilt includes an overview of numerous locations significant to the history of Newtown.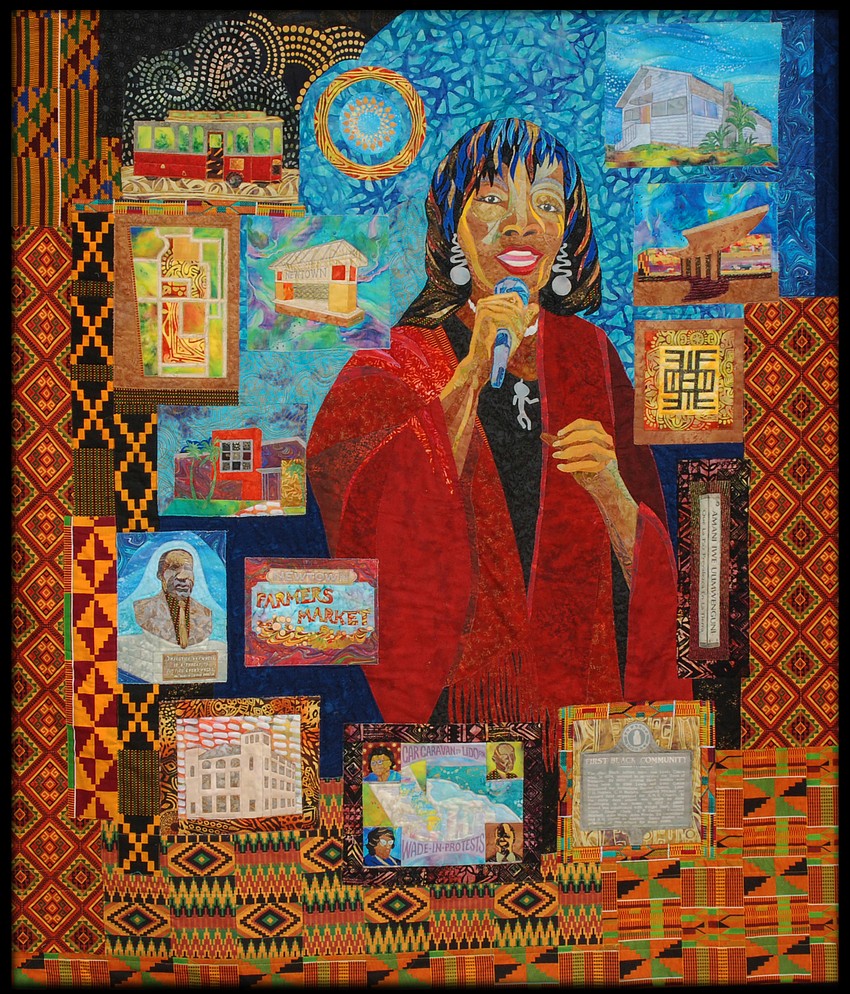 One item is the desegregation of Sarasota's beaches, which began with wade-in protests in 1955. 
"They didn't do it violently. They did it with such dignity. They did it with pride. And they did it week after week after week after week. And it got attention. And the laws were made that allowed them access," she said.
This event is represented by her depiction of a mural on the pavilion at Lido Beach. The mural was painted in 2020 alongside a mural of the Lido Casino at the location, which was already planned to feature a historic mural, following advocacy by members of Sarasota's Black community.
Green's inspiration to include Oldham came from a series of quilts she had created that focused on ancient goddesses, having even held an exhibition of goddess quilts at the Sarasota church in 2017.
"I started moving into modern women who have the power of goddesses, in their presence, in their power in the world," she said, noting she created quilts of activist and former member of the Georgia House of Representatives Stacey Abrams and of a church member whose presence she found powerful.
The quilt also includes other important aspects of Newtown, including a map of the community from 1917, the Leonard Reid House, the Betty J. Johnson Library, the African American Cultural Resource Center, Booker High School and the trolley tour. Topping the scene, depicted as a sun, is the circular logo for Newtown Alive.
The process of quilting 
Once the photos were taken, the project of the quilt was just beginning.
Green creates her quilts in her home, from a stock of about two-thousand different fabrics she keeps on hand. However, sometimes she still finds herself heading to the store.
For the framing around the edges of much of the Newtown quilt, she realized she would need Kente cloth, a Ghanaian textile.
Although at first she wasn't successful in finding the cloth at the local department store, she had a chance encounter with Newtown's Elouise Sheffield, who knows Oldham and showed her where the textile was located in the store. 
Sheffield also offered her a few scraps of cloth left over from a fashion show she had held at her church, which Green was able to incorporate into aspects of the quilt, like the door on the trolley bus and the back of the quilt.
To start the design process, Green will use graphic design software to adjust the contrast and coloration on her photographs, until she finds a version she likes. Then, she will print the photos, cutting them into pieces from which she can shape the different cloth components she will stitch together.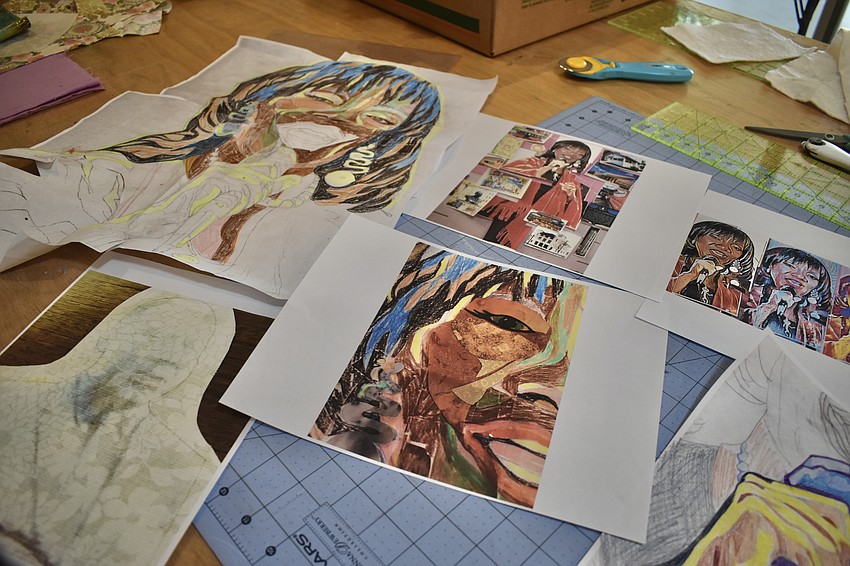 For smaller pieces of cloth, she will use a glue sheet with a paper backing that can be ironed onto the fabric. 
When she is finished, she will be left with an oddly-shaped assortment of cloth scraps, but she will simply gather them together for use by participants in workshops.
It takes Green an average of one-and-a-half months to create a quilt.
The quilts Green creates showcase a series of different but related themes.
For instance, some of her work focuses on biodiversity. One piece in her exhibition, titled "Harmony," is built around the melody of the hymn "For the Beauty of the Earth," with each section representing a syllable in the song, using only colors she assigned to the notes of the chords in that syllable.
Another quilt depicts James Reeb, a white Unitarian minister who was murdered while participating in the 1965 Selma to Montgomery marches, and for whom the Reeb Room at the church is named. 
"He was just this beautiful soul," she said.
Currently, it remains to be determined where her piece on Newtown will ultimately be placed. 
Green said the Betty J. Johnson North Sarasota Public Library, and Friends of Betty J. Johnson North Sarasota Public Library are both interested, as are seven or eight organizations outside of Newtown.
Whatever its home may be, Oldham emphasized her gratitude that someone like Green, who does not live in Newtown, has joined the initiative to tell the community's story.
"I had hoped that people like Peg would take the ball and run with it, and use their expertise in art, talent, whatever they were skilled in, to tell this story," Oldham said. "To see that quilt was the fulfillment of the vision I had. A quilter came along. I couldn't have done it. I'm not a quilter. But what a powerful story she shared with those images, using her art. That touched me."