Q: What do a musical about the history of the Congo, a tribute to electronic dance and a circus comedy show featuring kitschy snowbirds from Quebec have in common?
A: All of these shows and others coming to The Ringling's Historic Asolo Theater (HAT) have the blood of France running through their veins, Mon Ami!
There are some performances in the 2023-24 season that have a Spanish influence, but it's a Francophile season at the HAT. That's by design, according to Elizabeth Doud, the Currie-Kohlmann curator of performance programs at The Ringling.
Since her arrival in 2019 from Miami, Doud has been orchestrating a rebranding program to get folks to call her performance venue the HAT, and with good reason. Many people confuse the Historic Asolo Theater, a jewelbox within The Ringling, with the Asolo Repertory Theatre, just around the corner. 
The two Asolos differ in size and types of entertainment, but they share a parking lot at 5401 Bayshore Road. If you're a newcomer to Sarasota, it's easy to get confused.
Part of the HAT marketing campaign is a colorful postcard with a flamingo wearing yes, a hat, emblazoned with the words "Greetings from the HAT." It looks like something that members of La Famille Golden Crust, the Quebecois comedy troupe coming to the HAT from April 18-21, might send the folks back home in the Great White North.
Doud arrives for an interview at the HAT with a book of the funky postcards, one for each show in the 2023-24 schedule. In case you missed it, the HAT kicked off its French-flavored season with a wild white party hosted by La Dame Blanche, a Parisian born in Havana.
Known in real life as Yaite Ramos Rodriguez, the cigar-smoking La Dame is the daughter of one of the members of the famous Buena Vista Social Club and is a poster (make that postcard) girl for female empowerment. 
Sources say La Dame Blanche received a sizzling welcome for her performance of hip-hop, dance, flute and percussion in the Museum of Art Courtyard on Oct. 20. We'll admit we missed that show, but we'll wear red, white and blue (Mais oui, those are the colors of the French flag, too!) to some of the HAT's other Francophile festivities.
But first the questions of the hour: Why France and why now?
Scouting for talent in exotic locales
According to Doud, whose job description includes traveling to exotic locales such as Tenerife, in Spain's Canary Islands, to scout for talent, she's had her eye on La Famille Golden Crust for some time. 
When their schedule finally aligned with an opening in the HAT's trailer park, so to speak, Doud was inspired to add other performers with French roots to the HAT's lineup. Unless you've met some real-life Canadian snowbirds, the Golden Crust show may be when you learn that not everybody who speaks French is sophisticated or rich. 
All French speakers aren't funny, either. But the members of Famille Golden Crust definitely have a sense of humor and residents of a circus town like Sarasota are bound to appreciate their antics. The troupe has connections to Cirque du Soleil, which got its start in the early 1980s in the streets of Baie-Saint-Paul, a small town near Québec City.
Humor is also a big part of the show coming up next in the HAT's book of postcards. Congo Jazz Band by Les Francophonies tells the history of the Congo and its strongmen leaders Leopold II and Patrice Lumumba through vignettes and popular Congo music. 
A Belgian king, Leopold II was responsible for the murder of 10 million Africans during his colonial rule of the country now known as the Democratic Republic of the Congo. It's hard to see the humor in that, but director Hassane Kassi Kouyote´ pulls it off, Doud says. 
Start the day off with a morning show at the HAT
To make the HAT's eclectic offerings accessible to people of all ages, some of its shows are held at 11 a.m. When an interviewer expresses surprise about the time, Doud says it allows students to arrive at school before they are taken by bus to HAT shows. 
If there was ever a show to transport you to another time and place, Congo Jazz Band by Les Francophonies is one.
At the very least, audience members will learn that there are two Congos in Africa — The Democratic Republic of the Congo, a former Belgian colony, and The Republic of the Congo, a former French colony. With a little luck, HAT patrons will also figure out the difference between the Historic Asolo Theater and the Asolo Repertory Theatre.
But wait, the French fun is just getting started. On Feb. 15-16, Miami's Creole Soul comes to town, bringing Etienne Charles's lush sound and exciting grooves. A native of Trinidad, Charles and his band will be making their Sarasota debut.
That show will be the aperitif for the electro sounds of Rave Lucid by Mazelfreten, which comes to the HAT from Feb. 22-24. You can get your rave on early in the day if you'd like because this run also includes an 11 a.m. show.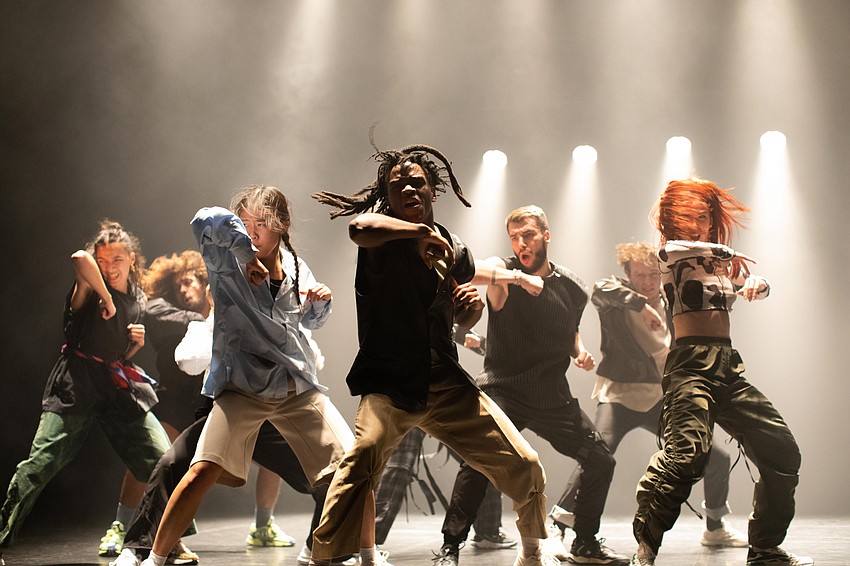 The band will also be giving a master class in their hypnotic arm movements that help them achieve a trance-like "lucid" state. Even if you can't speak French, you can learn how to bust a few French moves. Bien sur!
You don't have to be French to love France
It's back to the islands in March, when Be´lO, hailed as "Haiti's ambassador to the world," takes the stage at the HAT. The singer-songwriter wears his Haitian colors proudly. There are bound to be a few Haitian flags in the crowd when word gets out among the diaspora in South Florida. 
The appearance of Sarasota's EnsembleNewSRQ on the HAT's 2023-24 schedule proves you don't have to be from France or one of its former colonies to make the Francophile cut; you just have to love France. 
EnsembleNewSRQ co-founders Samantha Bennett and George Nickson bring a four-concert series called "Parisian Refraction" to the HAT over three days, May 9-11. The contemporary classical music ensemble has been conducting bold experiments lately with electronic music in their Sarasota concerts. 
The tinkering continues with this series, which explores works that symbolize the City of Light, have been commissioned by Paris electronic music proponents EIC and IRCAM or are inspired by Paris. 
Although a French accent dominates the HAT's latest season, there is still room for a little Latin flavor, such as the band Santa Cecilia on Dec. 12, the feast of Mexico's Our Lady of Guadalupe, and martial hijinks from Argentina's Un Poyo Royo on April 6-8.
Doud's international resume, which includes a PhD in Performing Arts from the Federal University of Bahia, Brazil, and her own eco-performance factory that toured South Florida, Brazil and Cuba from 2015-18, promises Brazilian entertainment in the years to come. Note to self: There's still time to learn the samba.
Like every arts programmer who started a new job in 2019 with high hopes, Doud has seen her fair share of canceled performances and plans gone awry due to the pandemic and its aftermath. Nevertheless, her enthusiasm for her role and the funky future of the HAT isn't diminished.
Following a photo session where she poses with her legs outstretched flaunting colorful footwear, Doud preaches the gospel of play. "Everyone needs to have more fun!" she proclaims. 
At first, the joyful sentiment seems too rowdy for a rarefied environment like The Ringling Museum, filled as it with classical European art and artifacts. But on second thought, there's no doubt the cri de joie would be heartily endorsed by the museum's circus magnate namesake and benefactor.