The holidays are here. So are your out-of-town guests. 
No worries, we've got you covered. 
There's a lot going on in Lakewood Ranch. Want to keep them busy over a long weekend without straying too far? Here's a plan. Consider it our holiday gift to you.
Friday
8 a.m.: Get Juiced
At Crop at Waterside Place, enticing aromas of coffee and donuts fill the air. Resist temptation and raise a glass of cold-pressed juice instead. Crop's "Blast Off" is true rocket fuel; a locally grown "Tokyo Bekana" cabbage is its power source. Astronauts on the International Space Station also hope to send it to Mars one day. This homegrown cabbage just might go where no cabbage has gone before.
9 a.m.: Get Pumped
Now that you're vitamin-fortified, take a 30-second stroll to 3Form Fitness for a power workout. Options include group classes and one-on-one training. Call before you go to set up your custom power hour. 
10:30 a.m.: Lickety-Split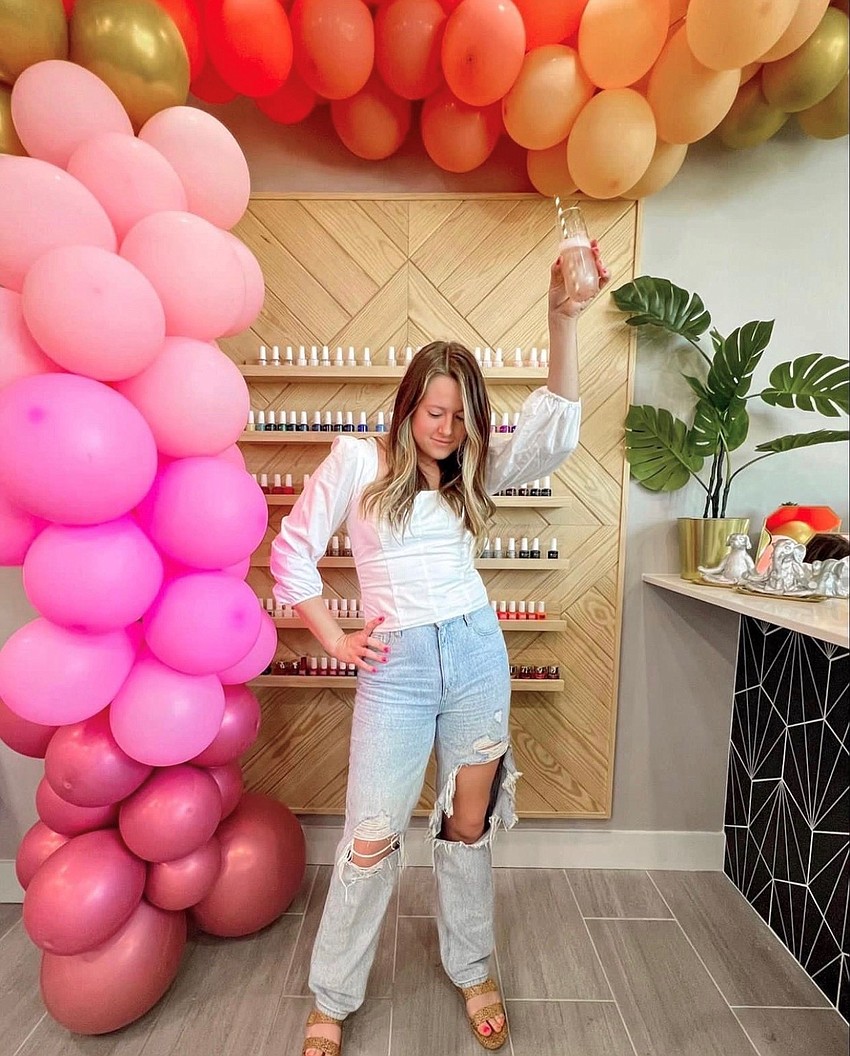 Treat your guests to a "Lickety-Split" mani/pedi at Paint Nail Bar, also at Waterside. Fun fact: Pedicures not only prettify your feet; they're also good for your health and can improve circulation, prevent infection and, yes, make you look fabulous. Or try this: Males in your entourage might prefer the Mancave, where they can enjoy a cut, color, shave, facials, massage, beard trimming and more. Did we mention there's beer?
12:30 p.m.: Fresh Fish 
Head to Lucky Pelican Bistro for a taste of Florida's famous fresh fish. Enjoy a taste of the gulf with fresh oysters (or get them fried for those who are squeamish about downing them raw), get your appetite revved up with smoked fish spread and some scallop "poppers" before diving into a lunchtime salad topped with your choice of grilled or blackened fish. 
2:30 p.m.: Walk in the Park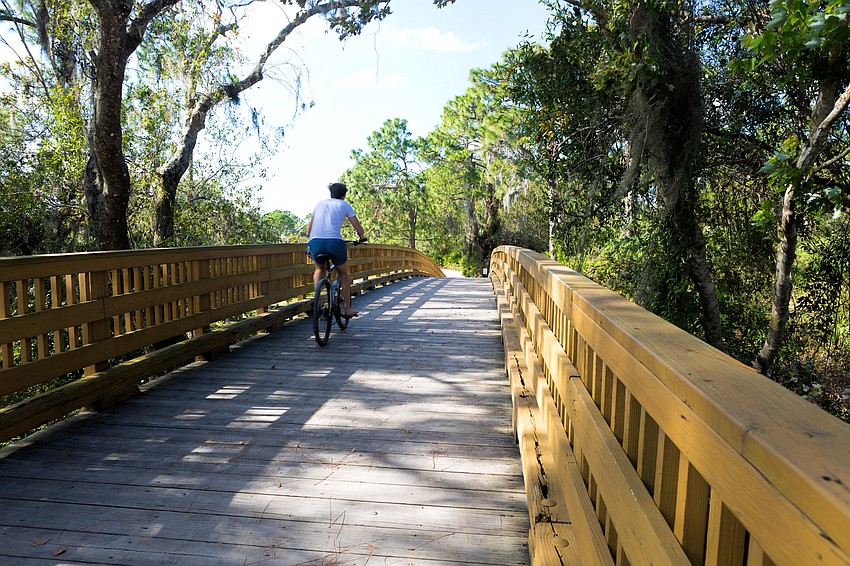 It's time for a walk or bike trek at Heron's Nest Nature Park, a 110-acre nature retreat. Meander the pristine trails or bring your pole and go fishing at one of the sparkling lakes. Birdwatchers will also enjoy spotting their fine feathered friends in this avian habitat.
4 p.m.: Say Ahhhh….
If your walk in the park made your muscles complain, pop into Sirius Day Spa for serious pampering. Its Amma massage is a synthesis of traditional healing techniques from Japan and China — a blissful mix of pressing, stroking, stretching and adjusting of the body's acupressure points. 
6 p.m.: Fabulous Fungi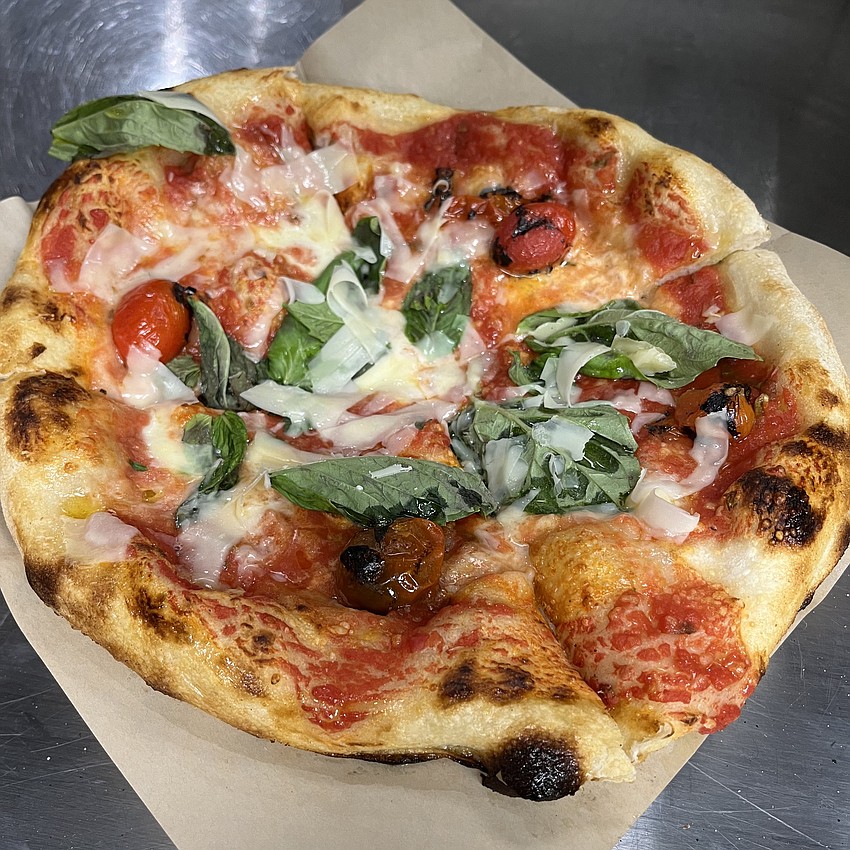 In the daytime, Atria Café offers artisanal sourdough bread and pastries, specialty coffees, salads and sandwiches. When night falls, it's all about pizza. Its pizza crust is made in-house from fermented sourdough. The crusty result is delicious — and easy on the tummy. Try the "Fun Guy" pizza. It's made with, you guessed it, fabulous fungi.
6-9 p.m.: Move to the Music
On the first Friday of every month, Music on Main is the main attraction. Lakewood Main Street becomes a block party, replete with live music, food trucks, drink vendors, vendor booths, kids' activities and canine companions all having fun. 
Saturday
7 a.m.: Go Birding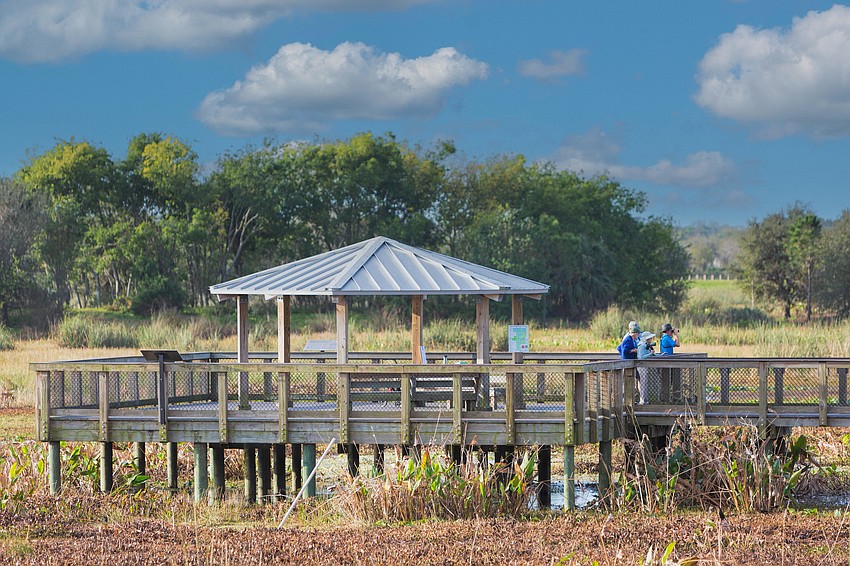 The Celery Fields is a mecca for birders. A host of species make their home in its 400-plus acres of wetlands. You can also hike trails that wind through open marshlands, ponds and canals. And don't miss the Sarasota Audubon Nature Center, an ornithological oasis.
9 a.m.: Dine with Santa
If your younger guests believe in Santa, they're in luck because they can meet him in person at Remy's On Main (Dec. 2; 9-11 a.m.); Grove (Dec. 9; 9-11 a.m.); McGrath's (Dec. 16; 11 a.m.-2 p.m.); Forked (Dec. 16; 9-11 a.m.); and Good Liquid Brewing Co. (Dec. 23; noon-2 p.m.).  A photo op with St. Nicholas is always jolly. Along with abundant holiday spirit, each restaurant offers a variety of hearty breakfast and brunch fare.
10:30 a.m.: Shop Local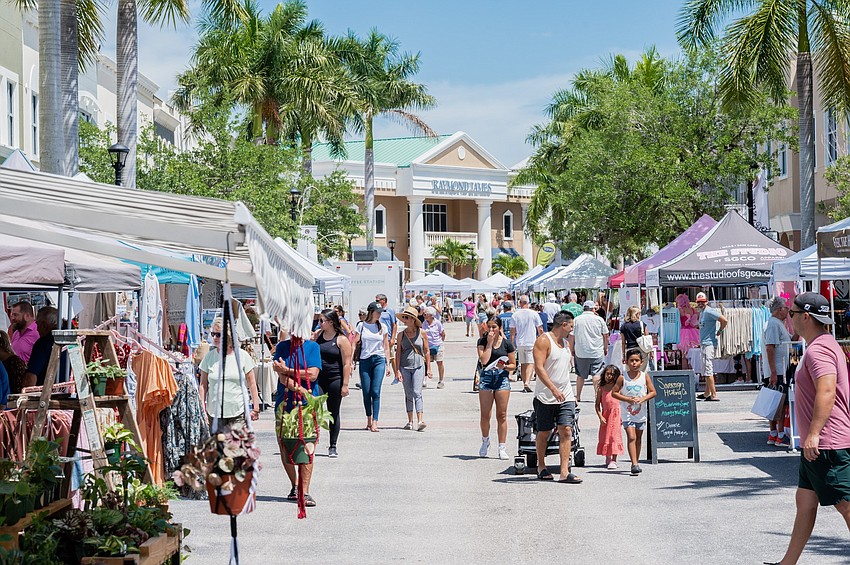 On Dec. 16, more than 70 vendors share their creations with you at the Main Street Small Business Market (10 a.m. to 2 p.m.). Their wares include art, handmade jewelry, food, plants, and more. Stroll the street and meet the makers and biz owners who created it all. (And maybe pick up a gift for your hosts; wink, wink, nudge, nudge.)
Noon: Solomon's Castle
Howard Solomon was a sculptor, painter, author and fanciful humorist. Such dreamers often build castles in the sky. Solomon built a literal castle in Ona, about an hour from Lakewood Ranch. His daughter, Alane Solomon, grew up in that aluminum-clad dreamworld — a treasure house of her father's exuberant stained glass windows and whimsical metal sculptures. Today, she keeps her father's memory alive and leads tours through this kingdom of the imagination. 
4 p.m.: Jazzercise at Waterside Place
Ready to move and groove for 60 minutes? These free Jazzercise sessions at Waterside Place combine dance, Pilates, yoga and kickboxing for a full-body workout that burns up to 800 calories an hour. You'll definitely work up an appetite if dining out tonight is part of your plan.
6 p.m.: Dinner at Korê or Osteria 500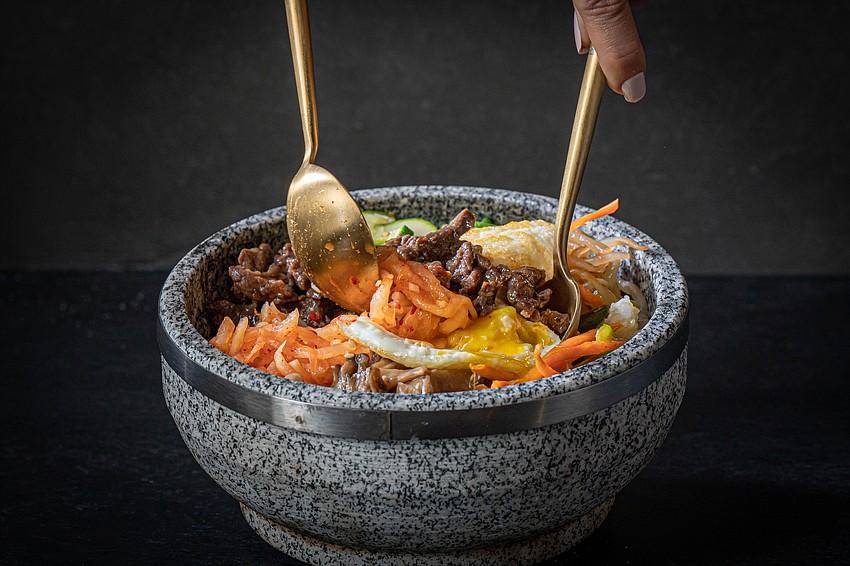 If you're seeking authentic Korean barbecue and other traditional dishes, you'll find it at Korê Steakhouse. You can feast on N.Y. strip, ribeye, or pork collar grilled at your table or dig into a bowl of hearty bibimbap. Feeling more like pasta? Osteria 500 is the real deal. Its menu offers wood-fired Neapolitan pizza, fresh pasta, seafood and an inspired selection of Italian wines. Fill your glass and raise a toast to the magic all around you.
7:30-9:30 p.m.: Let There Be Light!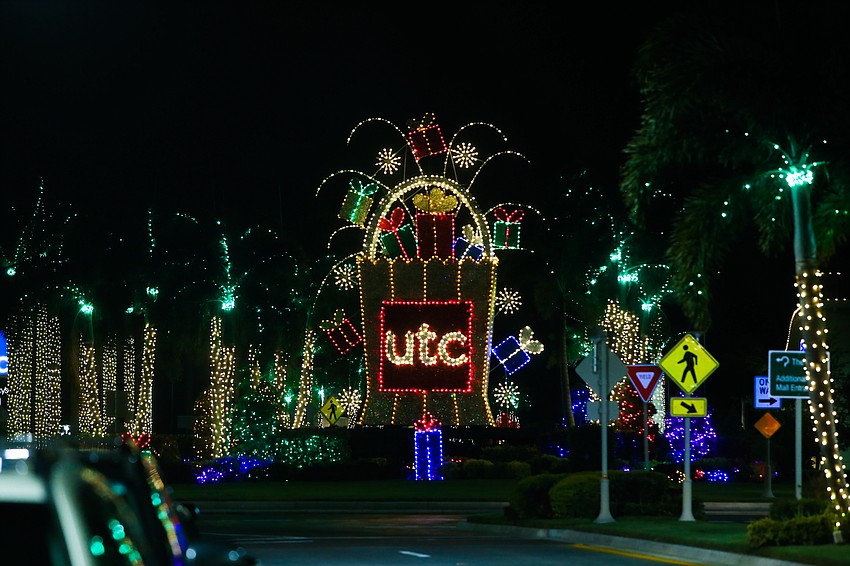 The Festival of Lights illuminates the Mall at University Town Center from early December to Jan. 3 with light shows every half hour. Guests seeking gifts for their hosts are also in luck. The UTC district has more than 250 shops. 
10 p.m.: Nightcap
Top off the night with a nightcap at Good Liquid Brewery and Distilling Co., where the alcohols and liqueurs are distilled on-site. Cool off with a Watermelon Crush (vodka, orange liqueur and watermelon juice) or a Beet the Heat (agave spirit, fresh citrus, honey and beet juice) and enjoy the water views and good vibes.
Sunday
9 a.m.: Sunday in the Park
Practice your downward facing dog and other poses at the free Yoga in the Park at Waterside Place's Island Cove Terrace. Yoga Shack Florida hosts these free entry-level classes every Sunday morning. It's an energizing way to start any day! 
10 a.m.: Meet at the Market
More than 100 vendors bring their bounty to Waterside Place's award-winning Farmers Market. Their fare includes farm-fresh produce, prepared foods, and a spectrum of goodies and gifts. Cajun specialties, baked goods, cigars, teas, candies, jewelry, honey, empanadas and bagels are just some of what you'll find.
Noon: Brunch at Grove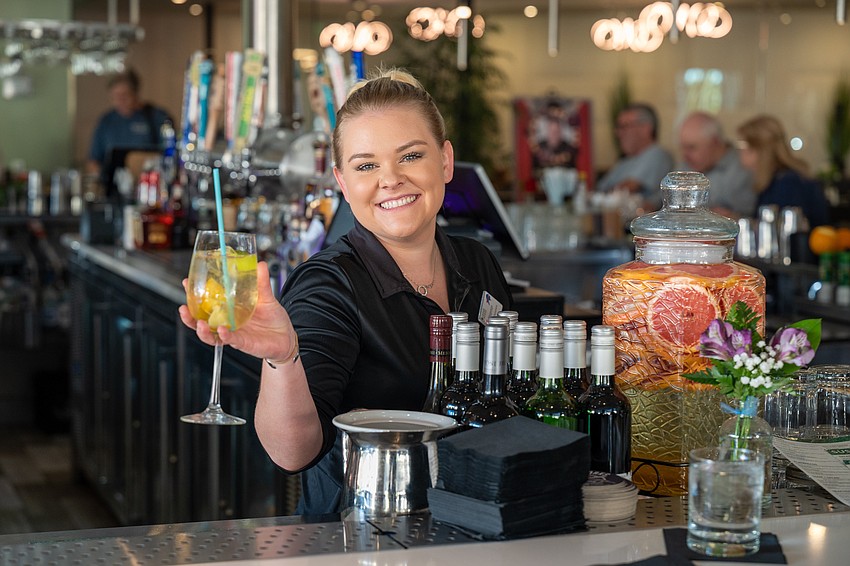 Grove's brunches are legendary; their endless Veuve mimosas are, too. Foodie faves include the grouper artichoke gratin, powdered beignets (don't forget to dip 'em in the fresh berry coulis), shrimp and grits, croque madame, cheese blintzes and the smoked salmon omelet. 
2 p.m.: Back at the Park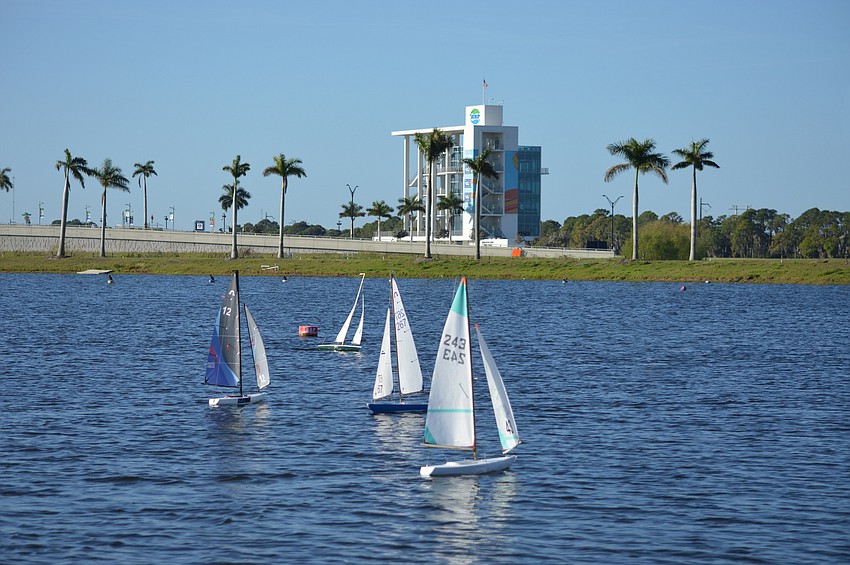 Enjoyed your power brunch at Grove? A power workout at Nathan Benderson Park is the ideal follow-up. This 600-acre park includes a lake for rowing, kayaking and paddle-boarding, and its seven miles of trails are ideal for running, walking or cycling. If you feel like watching other folks work up a sweat, the park also hosts rowing regattas, races and other water sports competitions. There's also a shaded children's playground and canopied picnic areas. Relax or burn calories — this park offers myriad options either way. 
4 p.m.: Showtime!
You've pleased body, mind and soul. Now sneak away to the movies and please your inner cinephile. Sarasota Film Society (SFS), a member-supported nonprofit, showcases critically acclaimed American and foreign films at its two area movie theaters. The one in downtown Sarasota specializes in lesser-known gems. The one in Lakewood Ranch always has plenty of blockbusters in a range of genres. With six screens to choose from, there'll be a flick for everyone's tastes. 
6:30 p.m.: Peruvian Fare
It's your guests' final night. Treat them to a Peruvian-themed feast at Inkawasi Peruvian Restaurant on Main Street. Its menu boasts such Peruvian perennials as lomo saltado (seared beef stir-fried with veggies and served over rice), ceviche, chupe de camarones (shrimp chowder), empanadas and fried yucca. 
8 p.m.: Miniature golf, anyone?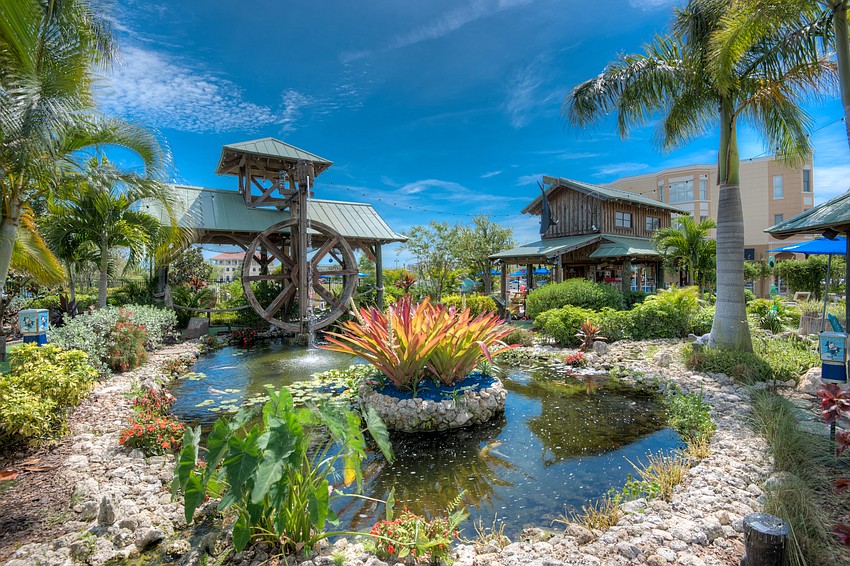 The Fish Hole on LWR Main Street offers up 18 holes of pure fun, with turtle and Koi ponds along the way. But don't forget this whimsical sport's serious history. Miniature golf originated in the late 1800s in Scotland, because women had been banned from playing the "manly" sport of golf. To get around it, the Ladies Putting Club of St. Andrews built the first-ever mini-golf course. Their invention lives on at the Ranch today.