Ava Krug was all smiles. 
The day had finally come. 
On Nov. 9, Krug signed with Duke University to play women's tennis. Krug, 18, is rated as a five-star player by the Tennis Recruiting Network and has been given the "Blue Chip" designation.
Krug has spent the majority of 2023 recovering from a wrist injury she suffered in March after falling during a match. The rehab time has seen Krug fall out of the organization's national recruiting rankings, but prior to the injury, Krug sat at No. 7 in the class of 2024.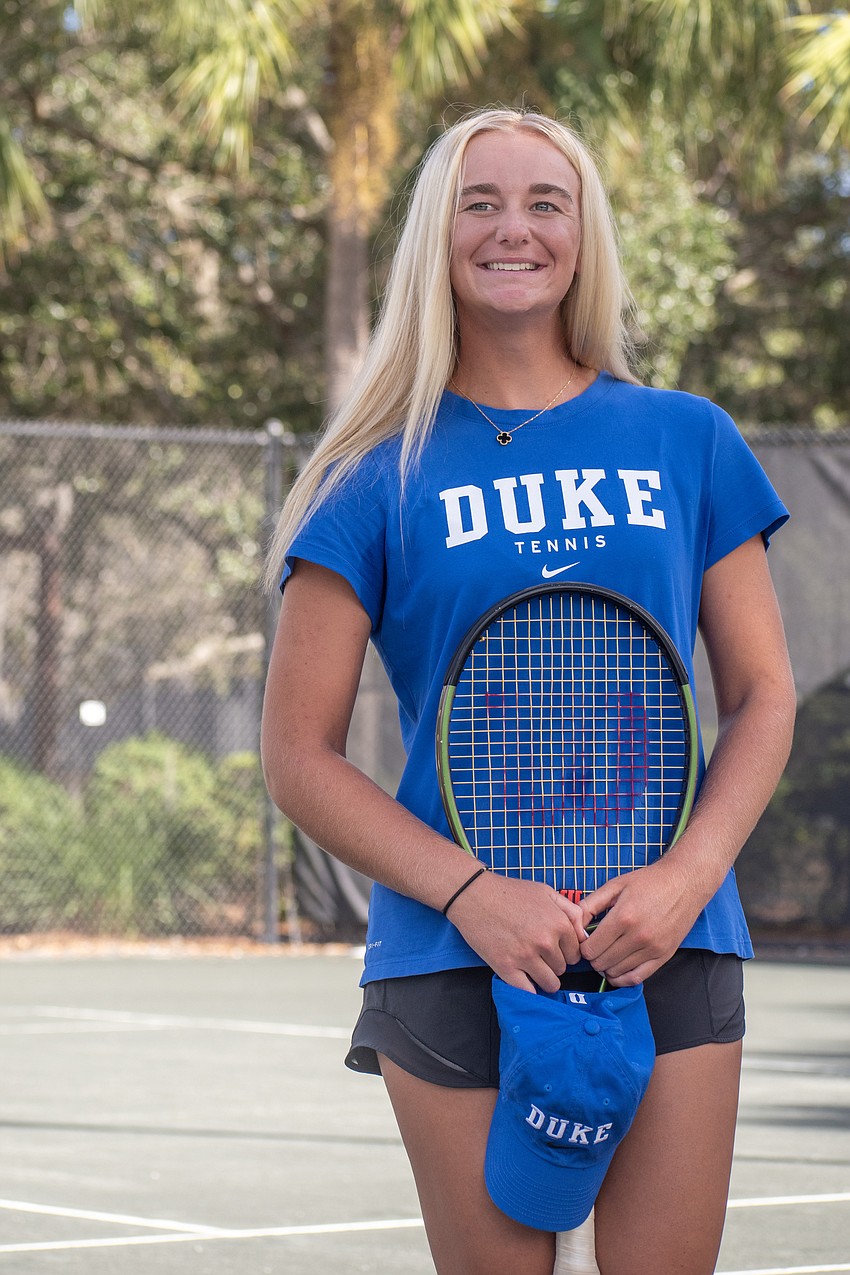 Krug, 18, originally committed to Duke in October of 2022. Just over a year later, she made things official, signing her letter of intent while flanked by Duke-branded cookies and a Blue Devils teddy bear among other merchandise. Krug will join a Blue Devils program that has found consistent success under Head Coach Jamie Ashworth. In 2023, the Blue Devils had a 23-5 record and were a No. 6 seed in the NCAA tournament. 
"Coach Ashworth has done an incredible job with the program," Krug said. "I'm excited to join the program and learn from him and the rest of the staff. I can't wait to join the team."
Krug has been a nationally-ranked tennis player since she was 12. She also played soccer as a kid, she said, but ultimately chose tennis for the individuality of it. Win or lose, it was all on her. That's still what she likes about it, she said, but she's also excited to get to know her teammates. 
With the Blue Devils, Krug will join her brothers Jake and Connor Krug, who play on the Duke men's tennis team. Ava Krug said she talked extensively with her brothers about the university before making her decision final. 
"They had nothing bad to say," Ava Krug said of her brothers. "They love their experience. (They said) it is a smaller school, but you still get to meet a lot of people, and the students are all engaged during class."
Krug said she plans on following in family footsteps academically. Her father, Thomas Krug, is a judge and attended law school. Ava Krug said she wants to double-major in economics and political science, then attend law school herself upon graduation — unless a professional tennis career comes calling. 
Krug's coach, Mauricio Hadad, said he believes Duke to be the perfect spot for her to land. Hadad said he has coached Krug for approximately three years, after previously working with her brothers and professional players like Maria Sharapova. Hadad said Krug's ground strokes are one of her biggest strengths, as well as her will to win and to get better. 
"She has discipline," Hadad said. "She has a commitment to training and to competing. That is what makes her the player she is." 
Following surgery to repair the wrist, Hadad said, Krug never showed frustration during her rehab back to the court. She only wanted to improve each day. In the last three weeks, Hadad said, she's shown the ability that she had pre-injury and will soon begin playing major tournaments again. 
At her signing, Krug was surrounded by family — her father Thomas Krug, her mother Sherri Vitale Krug, grandparents Dick Vitale and Lorraine Vitale, and aunt Terri Vitale. Sherri Vitale Krug said the family wanted to hold the signing at the Lakewood Ranch Golf and Country Club's tennis center because it is where Ava Krug and her brother got their start in the sport, learning under coaches like Chris Marquez.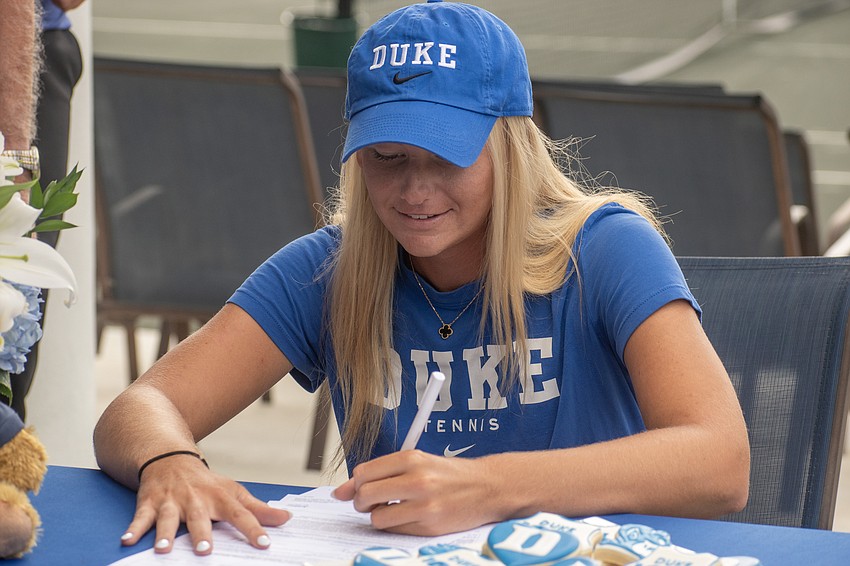 "It allowed them to get the bug for tennis, the passion for it," her mom said. "Eighteen years goes by in a flash. We're so proud that Ava has taken that love of tennis and combined it with her academics. She's ready to move on to the next level at Duke. We could not be happier for her." 
Dick Vitale, who is attempting to rest his voice when possible following treatment for vocal cord cancer, said he watched one of Ava's recent practices and was proud of the work she has done this year to get back to form. 
"She (initially) had to practice with one hand," Vitale said. "It was a tough situation. But she's back now." 
By becoming a college athlete, Krug is carrying on a family legacy. Not only are her brothers already at Duke, but Thomas Krug was a quarterback for the Notre Dame Fighting Irish and started the 1996 Orange Bowl against Florida State. Sherri Vitale Krug and Terri Krug both played tennis at Notre Dame. Her cousin Sydney Sforzo also played tennis at Notre Dame while cousin Ryan Sforzo plays lacrosse for the Irish. 
No matter what happens next, Ava Krug has now achieved a childhood dream. The resulting feeling was as sweet as the icing on the Duke cookies that adorned her signing table.