Riding the waves and enjoying the ocean breeze will soon be a new method of transportation around the Manatee County Gulf islands. And Longboat Key may be a future destination.
The Gulf Islands Ferry is getting closer to opening to the public, but first a special inaugural trip is scheduled for Nov. 20. The event will include a blessing of the fleet and a roundtrip ride to the Anna Maria Pier. 
Currently, sign installation is being finalized, and ramps need to be brought up to the standards of the Americans with Disabilities Act. For now, the two 49-passenger ferries are docked at Twin Dolphin Marina in Bradenton.
Falcione said the ridership of Manatee County and Sarasota County residents is critical to the success of the service, with the goal of getting at least 30% of the ridership from residents.
He also said interest in the ferry system is growing.
Two years ago, a third-party firm conducted a survey that showed about 34% of people were interested in a ferry service. But Falcione said recent surveys from the past couple months showed interest is up to 61% of people.
Reliability, Falcione said, is another aspect his team is trying to ensure.
"It's got to be user-friendly. People have to have confidence in it," Falcione said.
According to Falcione, the ferries will be tracked by users via GPS and a smartphone app. People can then see how far away the ferry is and plan their activities accordingly.
At the start, the service will operate from 10 a.m. to 9 p.m. Fridays through Sundays. But Falcione said that come February or March, the service may run seven days a week.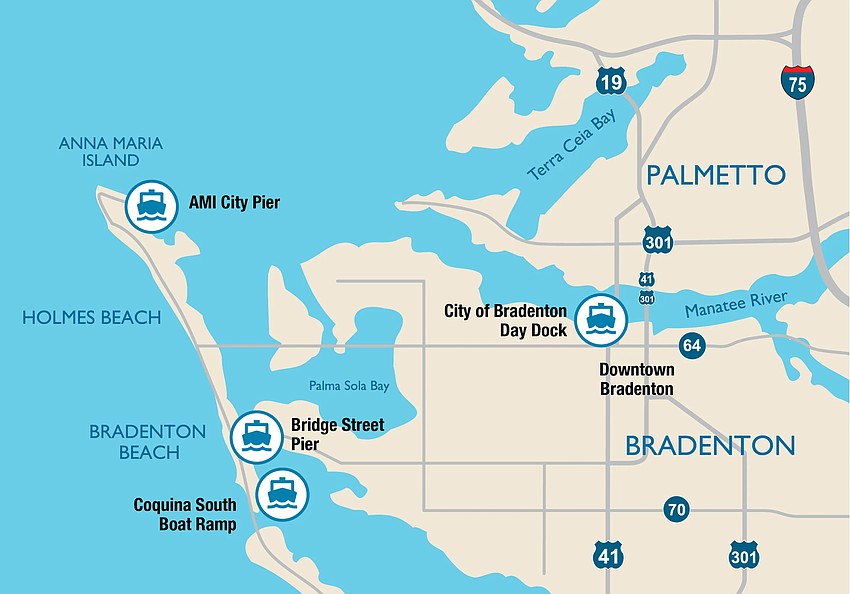 Another possible idea Falcione presented at the Oct 31. joint meeting was an express ferry for service workers on the islands. If the idea were to come to fruition, Falcione said the system would leave Bradenton at a set time in the morning and then leave the islands at a set time in the evening.
Overall, the service has taken a lot of work to get going, and the timeline has been pushed back from its original start date of summer 2023.
It's been a real learning lesson, Falcione said.
The service will start with ramps at the city of Bradenton Day Dock, the Anna Maria Island City Pier and the Bridge Street Pier. Soon after the launch, an additional stop at the Coquina South Boat Ramp will be added.
Depending on weather conditions, Falcione said the trip from downtown Bradenton to the AMI pier will take about 30-35 minutes.
In the future, Falcione thinks a stop could be added in Longboat Key, and he said he has already had some "informal" conversations with Longboat officials.
Longboat Key Mayor Ken Schneier shared the interest and asked Falcione if his department could send the town a detailed report of the exact qualifications for a ferry dock. That way, town officials could start looking into potential locations.