The ambassadors of beauty — whether they be on the stage, in front of the camera or on the catwalk —sometimes hurt themselves in order to achieve the physical ideal demanded of them. Tales of dancers, models and actors who have tried to stay thin by smoking, taking drugs or depriving themselves of food line the biography section of bookstores and stream regularly on Netflix and other online movie channels.
Most of these stories don't have the fairy tale ending expected in Hollywood. But dancer Kate Flowers has defied the odds. She is living happily ever after in Sarasota despite a history of eating disorders that threatened her arts career and even her life.
Along with Martin Roosaare, Flowers has founded Azara Ballet, a nonprofit professional contemporary ballet company described on Facebook as "focused on mental health and body positivity."
Azara Ballet isn't just dedicated to maintaining the well-being of its troupe. It is also reaching out to children with autism, adults with Parkinson's and others whose lives can be enhanced through dance classes and performances.
Members of the public can get their first glimpse of Azara on Nov. 17, when the company makes its debut at the SCF Neel Performing Arts Center in Bradenton with the program "Expressions," a collection of four short contemporary ballets.
Flowers said she decided to name her company "Azara" after Googling the origins of the name Sarasota. "We have a Sarasota Ballet and a Sarasota Contemporary Dance," she said during a recent telephone interview from her home near Myakka State Park. "I wanted something different." 
Flowers got her inspiration from Googling and also from a chalk sidewalk artwork that references Azara near Project Coffee's Burns Court location on South Pineapple Avenue. 
We'll leave it to the historians to debate how Sarasota gots its name. (There a few theories.) But when you Google "Azara" by itself, you get search results informing you that it's a woman's name of Hebrew origin that means "help."
Given the company's mission and the role that its formation has played in the life of Flowers, Azara would seem to be a perfect name.
But perhaps "perfect" is a word best avoided when talking about an artist recovering from an addiction to perfection. To hear Flowers tell it, that dangerous habit began early in her dance career when she lost her appetite — and weight — after a traumatic romantic breakup.
"Suddenly, I was getting all the parts I wanted," she says. The Ohio resident had set her sights on leaving the Buckeye State and joining the Joffrey Ballet in New York City. But suddenly her life went into "a downward spiral when I was 19. I wasn't able to sustain my lifestyle."
About a decade later, Flowers got the opportunity to dance one season with De La Dance Company in Cincinnati despite her somewhat advanced (in dance circles) age of 28. It was an exhilarating experience, but the old demons came back to haunt her. This time, Flowers resolved to hang up her toe shoes for good.
Following the ancient advice of "Physician, heal thyself," Flowers set out to build a career of promoting healthy lifestyles and try to live one herself. Her goal was to devise nutritious plant-based recipes that would satisfy the appetite. Along the way, she honed her social media skills, learning how to write snappy copy, take eye-catching photographs and make enchanting videos. 
Over the course of its lifetime, Flowers' online business grabbed a following of 400,000 people with over 40 million total views on YouTube, according to her website.
"Please don't call me a social influencer," Flowers pleads.
Flowers first came to Sarasota in 2012 and "fell in love with the place," noting that was "before there was a reality TV show with the name Siesta Key in it." 
As Flowers healed from her eating disorder and followed her entrepreneurial bent, two themes kept coming to mind. "I wanted dance to be a major focus of my life, and I wanted to live in Sarasota," she says.
Together with Roosaare, a veteran of BalletMet in Columbus, Ohio, and the Nashville Ballet, Flowers formed Azara Ballet in 2022. Roosaare, who is on the autism spectrum, helped open her eyes to the power of dance as a tonic for neurodivergent people.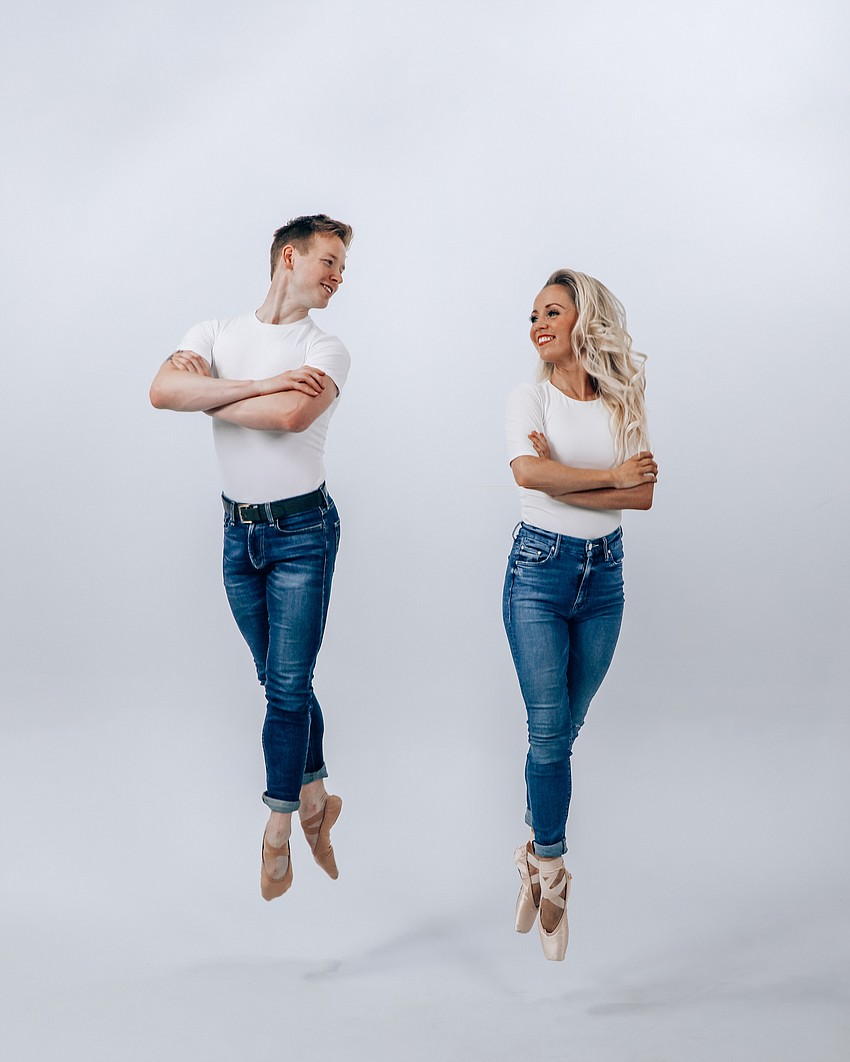 In Florida's "Cultural Coast," which is filled with hundreds of arts organizations of all sizes, Azara Ballet has managed to make a name for itself, even before its first performance, and to attract funding. 
Last week, the Charles and Margery Barancik Foundation announced that its board had approved $5 million in grants. Among them was an award of $180,000 to Azara Ballet for operational support to hire staff in its inaugural season and prepare for its second season.
Stories of the generosity of Sarasota's philanthropic community are legion, but for a small arts organization — Azara Ballet has just 14 members — the Barancik Foundation grant was the equivalent of winning the cultural lottery. 
The statement announcing the grant noted that Azara "emphasizes mental well-being for dancers, promotes body positivity and inclusivity, and offers outreach programming for neurodivergent communities."
Worthy efforts to be sure, but the level of professionalism Azara has brought to its marketing campaign is noteworthy itself. Flowers says that Roosaare does a lot of the choreography for the dance company, but that she wears "a lot of hats, including marketing director." 
In a crowded media world where arts patrons and donors are flooded with videos, websites and emails in an effort to stand out, Azara has created a memorable presence.
Still, no interview would be complete without asking Flowers the obvious question: Is there room for a third dance company in the Sarasota area?
Without a doubt, she replies. 
Azara's focus is more contemporary than Sarasota Ballet's, Flowers notes, while Sarasota Contemporary Dance doesn't perform en pointe. Most importantly, Azara will be a safe place for performers who do not fit the traditional dancer mold.
On the creative side, Flowers and Roosaare are determined to distinguish themselves from other dance companies through storytelling and the emotional connection they establish with audiences who may not have been exposed to dance and its healing power. 
Azara plans to hold performances at Resilient Retreat, which has focused on helping first responders recover from on-the-job-trauma; The Haven, which offers programs for children and adults with disabilities; and Easterseals Southwest Florida, which serves special needs kids and adults at its Happiness House.
What if you're not a philanthropist with deep pockets? How can you help support Azara? By attending one of its performances, of course. And there's always merchandise. The "All Bodies Are Dancer Bodies" hoodie, at $56.97, makes a great holiday present and a year-round statement.