After the Parrish Community High football team's 43-6 win over George Jenkins High on Nov. 3, the Bulls players celebrated for only a minute. 
They spiked footballs and hugged each other, but quickly settled down to watch the school's band perform, sitting in the end zone. As the music from the band blared, Parrish coaches came around and congratulated each player individually. 
The win gave the Bulls a 7-3 record and all but guarantees the team a spot in the Florida High School Athletic Association Class 3S postseason. The top eight teams get berths and Parrish has been ranked in the top four. The brackets will be officially released at 10 a.m. Sunday.
If they receive the bid, it will be the Bulls' first trip to the postseason in program history. Under first-year Head Coach Dylan Clark, the Bulls' 2023 win total of seven matched the program's win total from its first three varsity seasons combined, in which the team went 7-16. 
To reach this point, the Bulls leaned on a group of players from the East County area, including senior quarterback Jackson Volz, senior tight end Lane Tomlinson, senior offensive lineman Carter Dietz, senior offensive lineman Jimie Roden, senior linebacker Holten Graham, senior defensive end Dustin Springfield, junior defensive end Ashton Springfield, junior linebacker Sean Crowley and junior cornerback Bryson Bender.
Those players came up through the East Manatee Bulldogs youth football organization based in Lakewood Ranch. Tomlinson said youth football is where the bonds of the group began to form, though the early days of Parrish football, when the program's foundation was still being built. The program tested the group's mettle and determination.
Tomlinson said the Bulls did not have a lot of team spirit before this season and they did not have confidence in themselves to win tough games. But because the East County contingent kept working together as they wanted to help the program rise.
The early struggles were partly because of the team's makeup. The East County members had been playing football for years, but others — athletic as they may have been — had never played the game. Volz said it took time for those players to feel comfortable and understand the game on the level necessary to have success.
For a month in 2022, it appeared a corner had been turned. Parrish started the season 4-0, but lost its final five games. They had the fundamentals down by that point, Volz said, but they still needed to get stronger, and they needed to believe in themselves. 
A coaching change sparked a shift. During the offseason, Clark took over the program from former Lakewood Ranch High Head Coach Chris Culton, who led the Bulls for its first three varsity seasons. Tomlinson said Clark immediately put a focus on the weight room as well as being more organized in general. 
Clark said his plan to take the Bulls to the postseason was built on details and hard work, and that work was not just being done on the football field. His players show up to every practice and meeting on time; they will be dressed appropriately for whatever the occasion may be; and when on the field, they will give a limitless effort. If a team gets the little things right and out-works the opposition, they are likely to win, Clark said. 
"We call it 'The Process,'" Clark said. "We do those things every day. We concern ourselves with being the best version of us."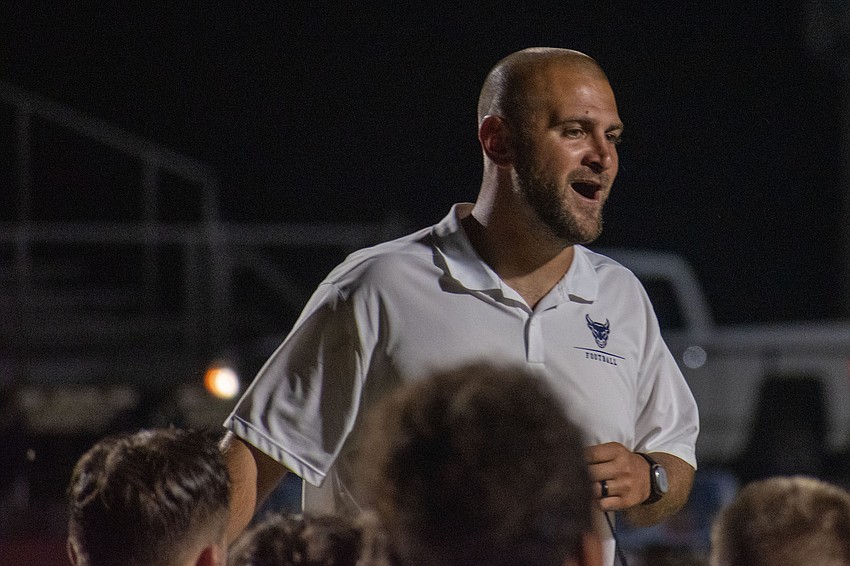 The 2023 season has proven Clark correct. The Bulls have outscored their opponents 303-217 this season. Their only losses have come against Lemon Bay High (9-1), Cypress Creek High (9-1) and Port Charlotte High (8-2). On offense, the team uses a balanced attack to keep defenses guessing. 
Volz has thrown for 1,583 yards, 15 touchdowns and five interceptions. He has also run for 209 yards and four touchdowns. Tomlinson has caught 28 passes for 490 yards and three touchdowns, and is used as a goal-line running back, having received seven carries for 36 yards and four touchdowns. Junior running back Jermaine Edwards leads the Bulls with 595 rushing yards and three touchdowns while senior running back Jerone Turner has 450 yards and six touchdowns. 
On defense, junior linebacker Gage Cameron leads the team with 102 tackles while junior Ashton Springfield, an East County player, has a team-high 17.5 tackles for loss. Springfield and his brother, senior Dustin Springfield, each have 5.5 sacks. East County player Bryson Bender, a junior defensive back, leads the team with three interceptions.
Tomlinson said a 35-28 win over Braden River High (5-5) on Oct. 13 was the proof the players needed that Clark's system was working. Braden River has typically been one of the premier programs in Manatee County, even reaching the Class 7A state championship game in 2015 before falling 27-10 to St. Thomas Aquinas. 
To beat a program like that, Tomlinson said, showed the Bulls how far they had come. 
"That was the big one," Tomlinson said. "It is a rivalry and last year it was a tough game (a 31-21 Braden River win). This year, it was like, 'Are we going to the playoffs or not?' We knew that game could determine it. We came back from a two-touchdown deficit to win. That was a big shift for us. After that, we thought we could do it.
"This feeling is amazing. Setting history for the school, after the struggles we went through, this is awesome." 
Now that the Bulls have a taste of winning, they want people know they're not done yet. No matter who Parrish plays next, they will not be intimidated.
"We're putting the area on notice," Volz said. "This isn't the old Parrish anymore. We're growing higher and higher. We are improving every week. We come in Monday through Thursday and practice hard, then we come out here at game time and show what we have got."