My dad always told me: "You only have one body. It's your temple. Make sure you treat it right." So before I prepare to go up a pant size, find all the oversized shirts that my online carts can handle and gorge on a plethora of holiday feasts, I thought I would listen to my dad's mantra and treat my body right before utterly destroying it with butter, sugar and carbs for two months straight.
What better time to plan my work and work my plan than in November, World Vegan Month? Whether you believe me or not, based on my previous articles about all things non-vegan, my household has a few staple vegan products that I always buy. In my opinion, Country Crock plant butter is truly better than most dairy-based butters, HIPPEAS Chickpea Puffs in vegan white cheddar flavor is a superb snack, and given the opportunity, I could take down an entire Daiya vegan New York cheesecake in one sitting.
Vegan offerings in our community are popping up more and more as each year passes. Here are my favorite meals at just a few of those eateries.
Ka Papa Cuisine
1830 S. Osprey Ave., Suite 104, Sarasota; 941-600-8700; KaPapaCuisine.com
After discussing the menu, owner Kim and I got to talking about the loss our fathers. She lost her dad in 2018 and honored him with the name of her restaurant — Ka Papa is Hawaiian for Papa's. "By choosing this name, he is always with us!" says Kim.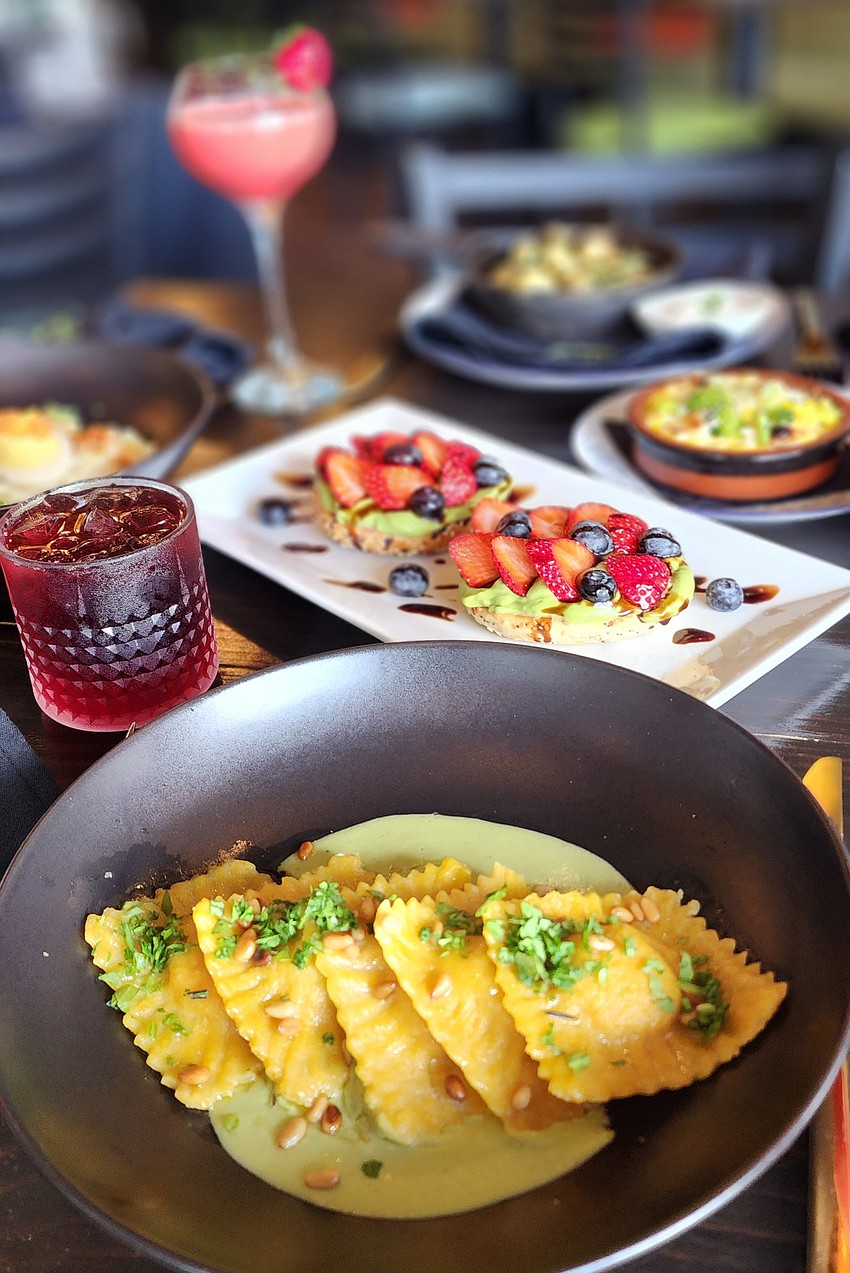 Brunch Please: Ka Papa has started serving brunch on Sunday from 11 a.m. to 2 p.m., in addition to its Tuesday to Sunday dinner service from 5-9 p.m. Dig into pancakes, poached vegan "eggs" and house-made ravioli (prices vary).
Virtuously Vegan: With 90% of the menu being gluten-free or gluten-friendly, this menu has an option for all diners. However, the small plates at Ka Papa would have even made my dairy-loving father fill up while grinning. The new warm "brie" ($22) made with cashews, a house-made mango chutney, walnuts and balsamic drizzles, the new charcuterie board for two ($30) with a selection of "cheeses" and dips with house-made ciabatta and the crock of French onion soup ($11) are all fabulous starters. But, like Dad, don't forget desert. With cake, cookies, strudel and more, your sweet tooth will surely be satisfied.
Palmer's Nutritious You
3501 S. Tamiami Trail Unit 305, Sarasota; 941-554-4528; 6583 Midnight Pass Road, Sarasota; 941-203-5203; NutritiousYou.com
Offering whole food plant-based, kosher and gluten-free food options, this cafe prides itself on not using any animal products on their healthy menu. Between breakfast sandwiches, delicious burgers, juices and more, there is something for everyone.
Kale, Yes: I am a huge advocate of all things kale, and this selection might be my favorite. The kale salad ($13.95) is mixed with carrots, sesame seeds, chopped apples, cabbage, infused with vegan sweet Dijon mustard dressing and topped with maple pecans and sunflower seeds.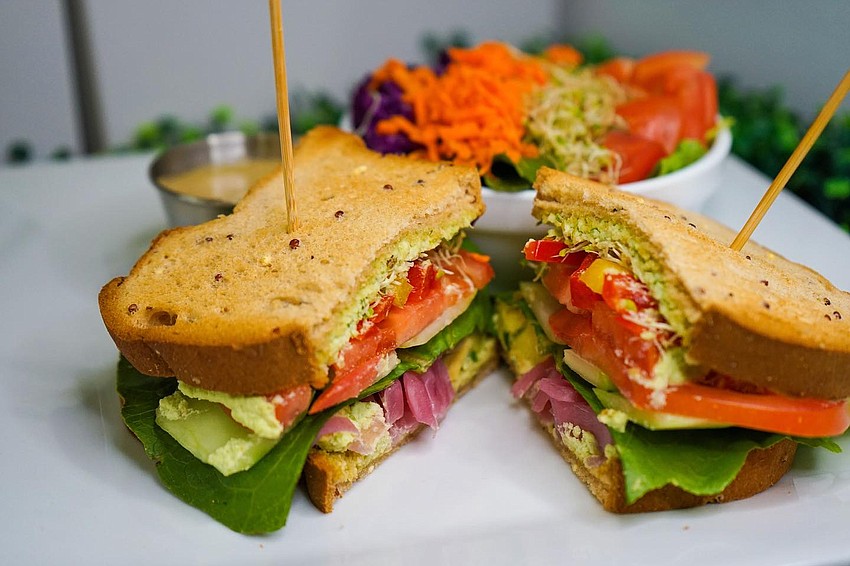 Vibrantly Vegan: Tired of being tired after lunch? This sandwich revitalizes you unlike the other sammies you might be used to. The garden veggie sandwich ($13.95) is made with gluten-free bread, hummus, lettuce, sprouts, tomato, pickled onion, cucumber, avocado and peppers. It will definitely not leave you needing to take a nap under your desk or leave you with that "2 o'clock feeling."
Hummus Bay
7307 52nd Place E., Bradenton; 941-251-5607; HummusBay.com
Since February 2022, this modern Mediterranean restaurant has been offering customizable meals for vegan and non-vegan eaters. Huddle around the table and hoist hummus into your foodie mouths (and other highly delectable protein-based dishes as well).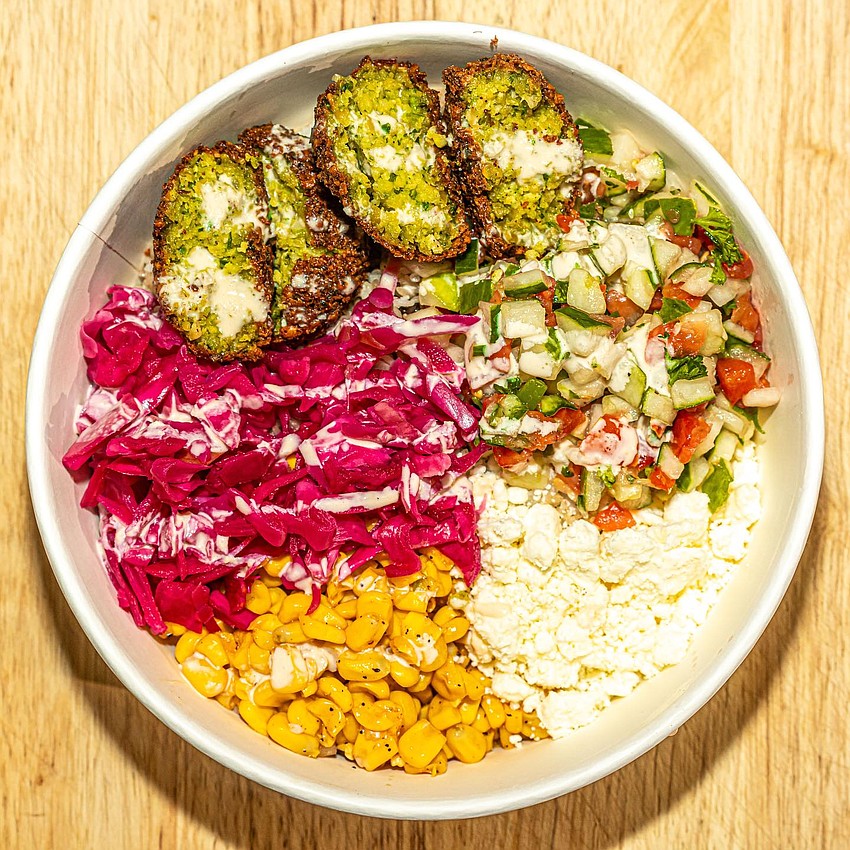 Behold the Bowl: Build the bowl ($13.95) of your dreams or make it a wrap or salad if you wish. Pick one of two vegan options like the falafel made with fresh ground chickpeas, onions, parsley, cilantro, garlic, salt, herbs and spices fried golden brown or the cauliflower lightly spiced with sumac and salt. Here is everything on the menu that you can add to your vegan-based bowl: basmati yellow and lentil rice, hummus, baba ghanoush, tomato and cucumber salad mix, purple cabbage, sumac onions, Mideast pickles, signature turnips, feta cheese crumbles, garlic sauce tahini or rosemary red vinaigrette.
Vegan Victory: Vegans will feel victorious in this spot and with these sides ($4.95-$11.95): hummus, fries, pita chips, lentil soup, pita bread and all the above add-on's for your bowl.
Ionie
1444 First St., Sarasota; 941-320-0504; Ionie.com
Ionie stands for "Intelligence of nature in everyone," and the all-natural, plant-based, clean-eating dishes being constructed here really do make my brain feel educated and my belly feel energized.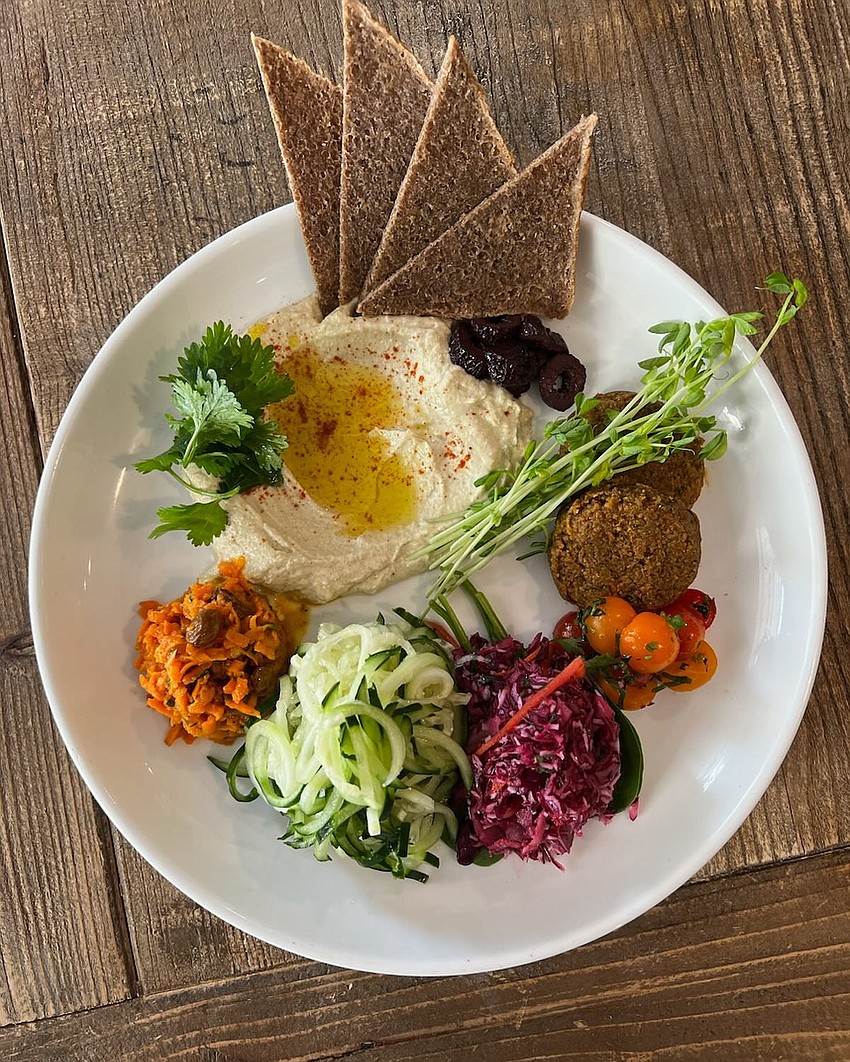 Munching on Mezze: Served as specials like the Mediterranean citrus salad ($13), Jamaican mushrooms ($16) and Green Goddess salad $15), the Mezze platter ($17) with falafel, hummus, cucumber, olives, pink slaw, Moroccan carrot salad and buckwheat walnut zucchini bread in a spread is a dish that I just can't say no to.
Versatilely Vegan: This is the real vegan deal. Ionie's cheesecake ($8.50) with rotating flavors such as strawberry, pumpkin, caramel apple, mocha and so many more will make non-vegan eaters wonder why they aren't eating clean in the first place. Maybe you aren't in the mood for the "cheese" cakes baked in house? Pick up a pumpkin spice glazed chocolate doughut ($7) while you can.
Happy Soul Goodies
323 10th Ave. W., Suite 104, Palmetto; 941-932-7320; HappySoulGoodies.com
The thing I love most about this column, other than shoving my face with local eats, is writing about businesses that you've probably driven past or never even heard of. This is one of those spots. Far from Palmetto? Make the drive; you won't be disappointed when you arrive at Happy Soul.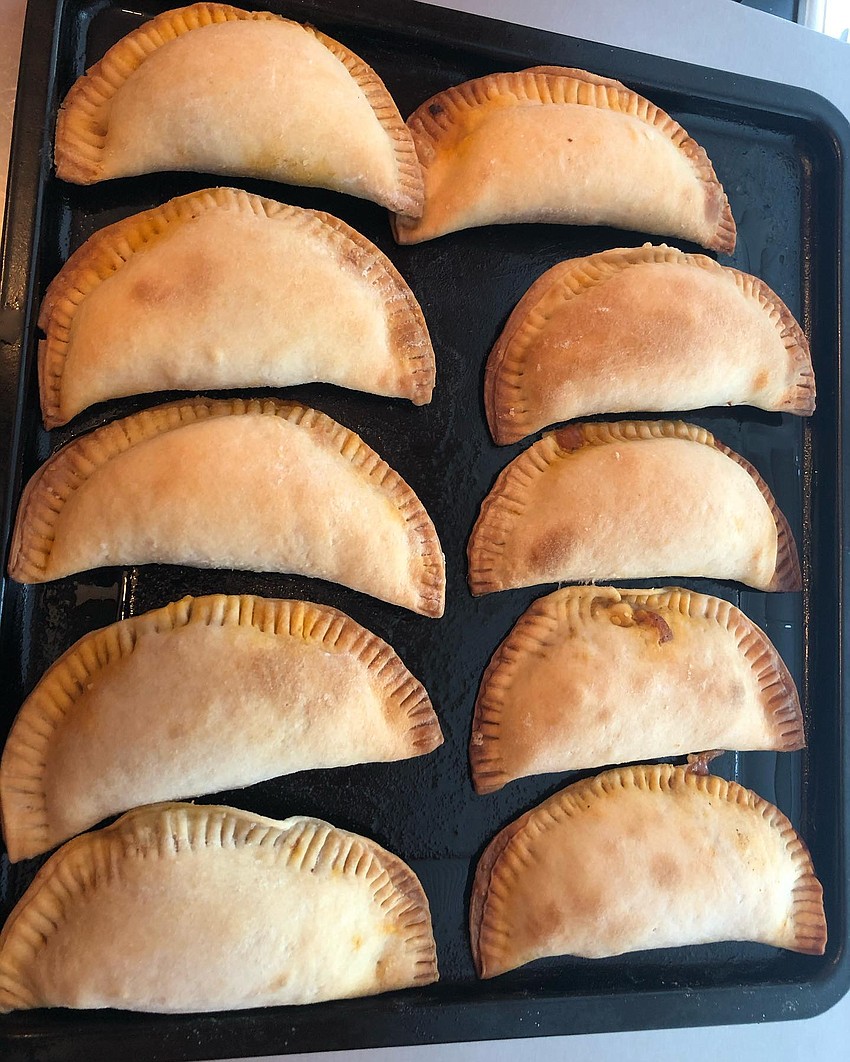 Let Me Fill You In: Whether you go for the BBQ Jackfruit, Jaffe burger, meatloaf, sandwich, wrap, special or anything in between, the sides served with your entrée will truly feed your soul. My personal favorite has to be the empanadas ($5) that fill me right up — but the Jerk Chik'n eggrolls ($5) leave me feeling just as happy.
Vegan Visionary: Baked goods that vegans will rejoice over! From cakes ($60) to doughnuts ($2.50) and cupcakes ($5), Happy Soul knows how to treat you well. In fact, my husband and I are getting our own personal wedding cake (for our round two wedding in 2025) from owner Paula and her team! The flavors are bold, and the bites are fantastic. You would never have any idea that they are gluten-free, vegan and/or sugar-free!
Crop Juice
2480 Stickney Point Road, Sarasota; 941-923-8640; 8211 Tourist Center Drive, Bradenton; 941-358-8182; 1580 Lakefront Drive, Suite #100, Sarasota; 941-263-2040; CropJuice.com
Karen, a former oncology nurse, created a solution to her cold-pressed juice problem in 2013. She created the juice of her dreams, an ultra-premium, delicious and nutritious drink, and Crop was born. But Crop is so much more than juice — plant-based, gluten-free nutrition comes in smoothies, meals, treats and more.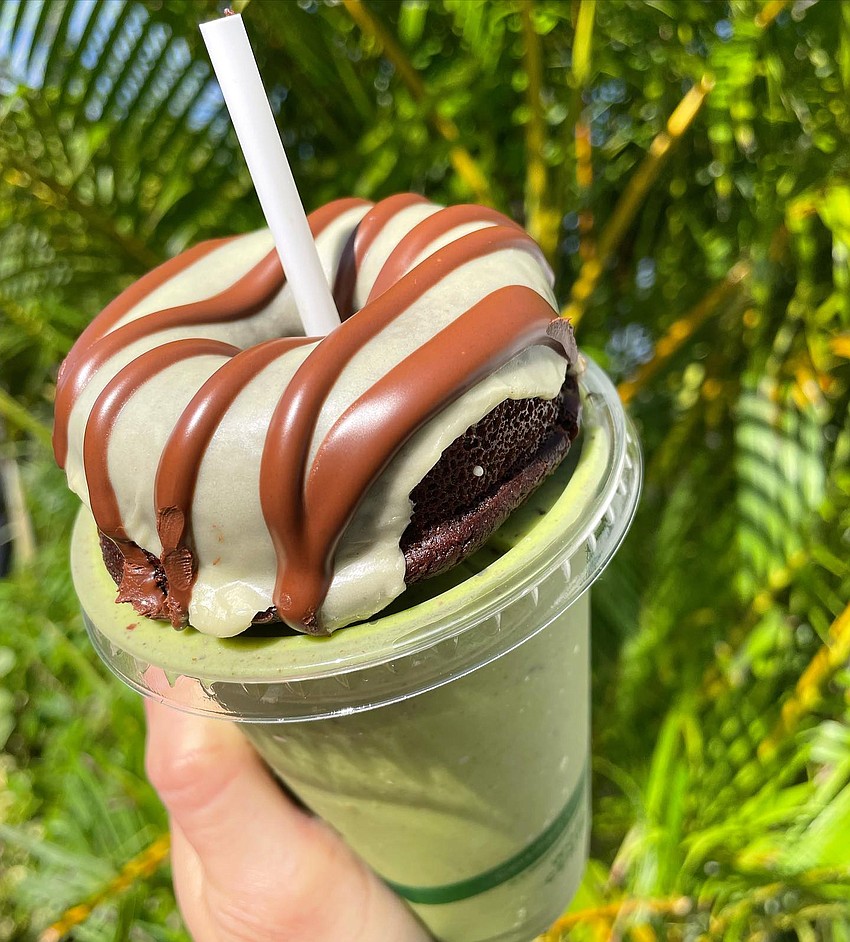 Juice Me: Start with the brainchild of Crop, the juice. This time of year? You can go with the classics, but you can find me sippin' down the Cinnful Cider ($11.50) made with all organic ingredients: red apple, green apple, ginger, lemon and cinnamon.
Vivaciously Vegan: With over 20 smoothies to choose from, you might be staring at the menu for a while, so let me help you out. The mint chip ($15) is a choice you will make over and over again. It's made with vanilla almond milk, avocado, spinach/kale pulp, banana, almond butter, dates, lucuma, cacao nibs, peppermint and Himalayan salt. Other amazing flavors with stellar names include Cinna-nana Bread, Pulp Friction, Imagine Dragon and Good as Gold.