There's nothing opposing defenses can do. 
Not when the Rams' offensive line is capable of pushing people downfield and each member of the line is hungry to hunt down a second or third block after finishing an initial one. Not when junior running back DJ Johnson, a shifty runner, is making people miss by cutting a different direction on a dime. Not when sophomore running back Isaiah Belt, a workhorse on the field and in the weight room, is hitting the hole exactly when and how he is supposed to hit it, exploding through it for a burst of yardage.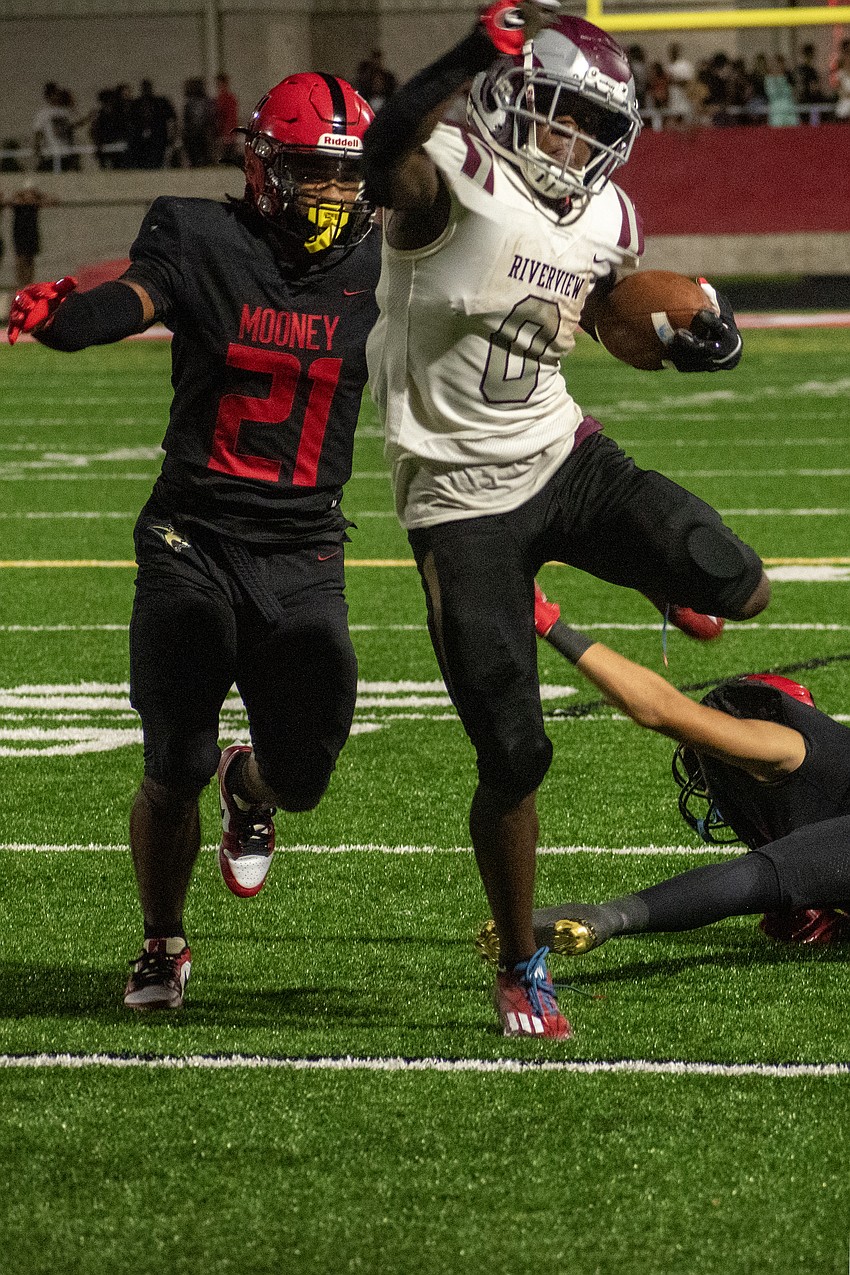 This formula — switching between Johnson and Belt to fit the team's given situation — has been overwhelming for defenses to handle in 2023. Under new offensive coordinator Brody Wiseman, the former head coach at Sarasota High, the Rams have taken a leap on the ground. They have rushed for 2,232 yards as a team through nine games. Johnson is responsible for 1,137 of those yards; Belt has 838 yards, with other players divvying up the rest. It has been a consistent split nearly all season: Johnson has six games of more than 100 yards, while Belt has five. 
It is a similar formula Wiseman used at Sarasota High in the past, with his 2022 Sailors team rushing for 1,762 yards. But it has been even more effective with the Rams. That is in part due to the stout work of the offensive line, which was complimented by Johnson and Belt. But it is also due to the individual talent of the running backs themselves. 
"DJ is dynamic," Wiseman said. "DJ can get stuff done unconventionally sometimes. He can make something out of nothing. I've never really coached a back that plays like him. And Isaiah is to-the-book. If we call a run play here, it is going here, and he's going to be patient and get the job done. So there's a bit of a contrast. But I have a lot of confidence in whoever we put in there."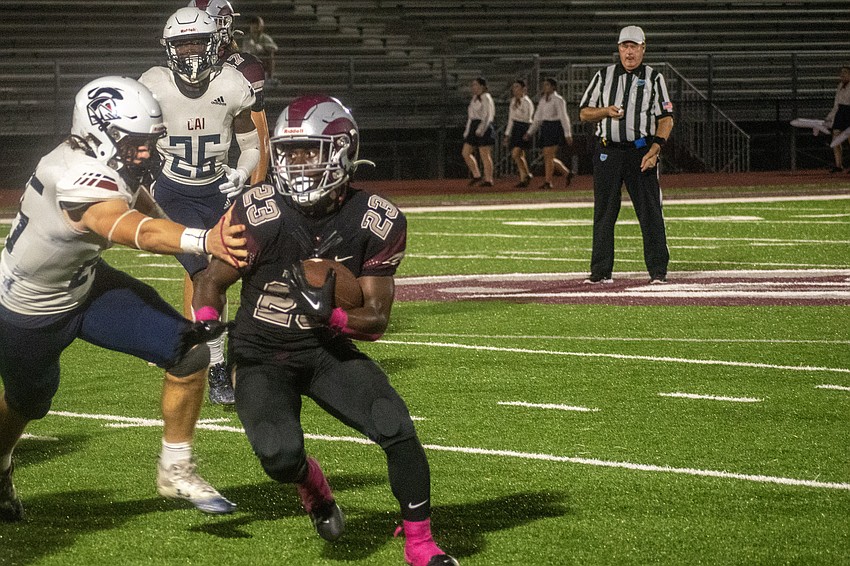 Johnson broke onto the local scene in 2022 when he rushed for 661 yards as a sophomore to lead the team. Belt, a freshman in 2022, was only promoted to the varsity team at the end of his first season, finishing with eight carries for 35 yards. But that time was valuable for Belt, who said watching Johnson helped him learn what it takes to succeed at that level. That brief start helped the duo gain chemistry going into the offseason. Johnson said he now views Belt as a younger brother. Both Johnson and Belt said they do not get upset when called to the sideline during a game, as they know their replacement is just as capable of getting the job done. 
"We trust each other," Belt said.
They also trust the big bodies up front. Wiseman said offensive linemen Aljonon Oliver, Weston Gruttadauria, Malik Byrd, CJ McCutcheon, Grayson Martin and Julius Edwards, plus tight end Christian Leetzow, make things easier for Johnson and Belt and complimented assistant coaches Ty Renick and Mike Gruttadauria on the job they have done with that group. 
The success on the ground has helped the Rams to a 5-4 record entering the final week of the regular season. Riverview will close the season with a 7:30 p.m. home game against Charlotte High (4-5) on Nov. 3. Wiseman said he's been pleased with the team's effort all season long and called the 5-4 record a result of playing a lot of top-level teams, something that will help the team in the postseason. Entering the final week, the Rams are winners of two-straight games, a 21-14 win over Manatee High (7-2) and a 48-6 win over rival Sarasota High (1-8). 
Johnson and Belt said they believe the Rams have the talent to compete with anyone on a given night — the Manatee game was proof of that — provided they come into the game with the right level of focus. Wiseman said the team's plan is the right one for this group of kids and what they do well. 
"We just have to keep perfecting it," Wiseman said. "When we get into those (big) moments, we have to be disciplined enough to make plays."