It's no secret that Sarasota loves its yoga offerings. 
However, while the area's beachside and bayfront settings may lend themselves to a meditative and tranquil experience, the opportunities do not end there, with some more unusual forms of the practice to try as well.
So, would you try it…
On a paddleboard?
SUP Yoga SRQ: 9 a.m. to 11 a.m. Wednesday and 10 a.m. to noon Saturday. Sunset classes Thursday once monthly. Private bookings available. Visit SUPYogaSarasota.com.
Many people believe they will find themselves swimming more than relaxing with paddleboard yoga, yet the reality is different, said Stephanie Ouellette, owner of SUP Yoga SRQ.
She said the boards, which are specifically designed for yoga, ensure the activity is accessible, while anchors keep participants in place throughout the experience, ensuring they can focus on their poses.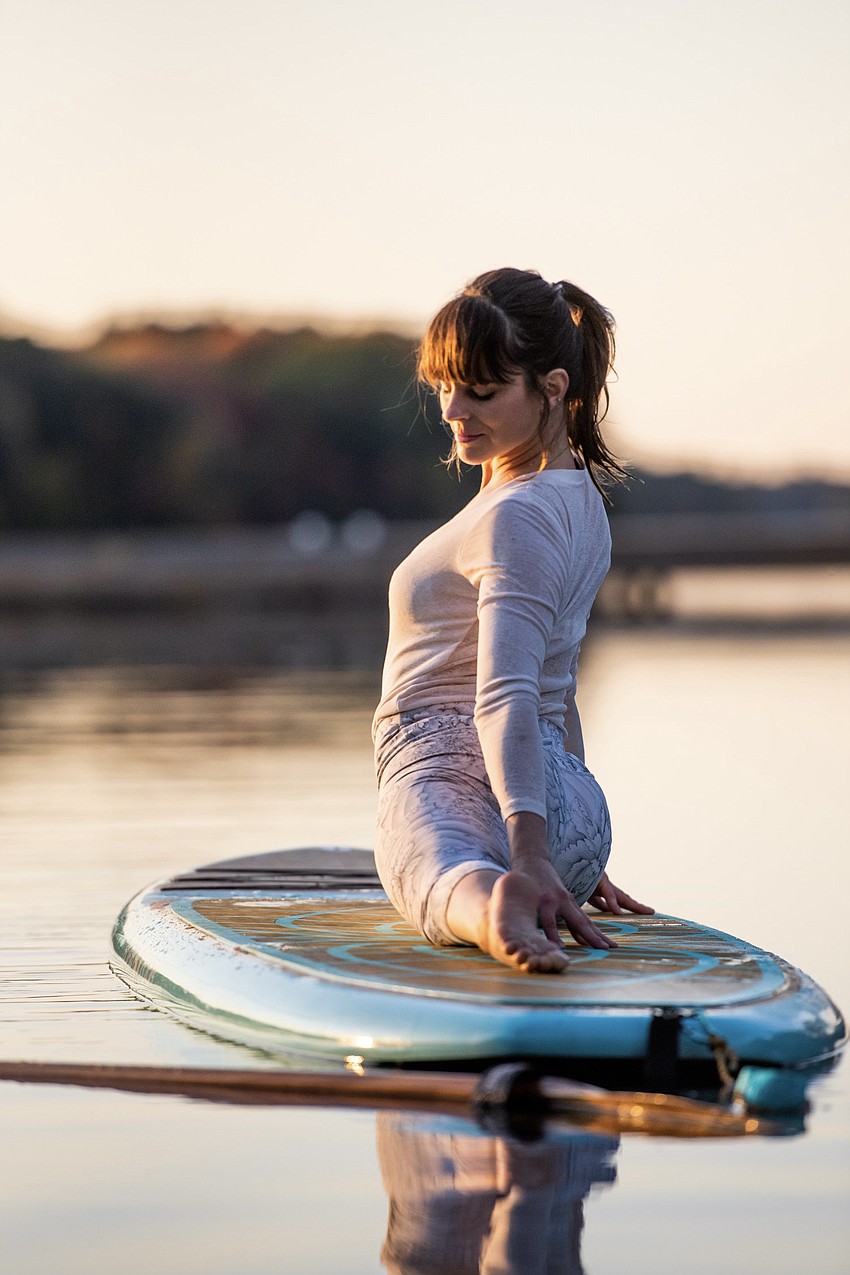 And then, stand-up paddleboard yoga also has the benefit of immersion in the natural world, with potential sightings of animals like dolphins and manatees. 
Once during a class, a cormorant decided to perch on Ouellette's board beside her, she said.
"It's a really great opportunity to practice yoga and connect with nature, and really just have a special experience," she said. 
That isn't to say that taking yoga into the water changes nothing about the practice.
Since every pose and transition involves balance, participants must take the time, as they move, to feel their center of gravity, which results in what Ouellette calls "a totally different experience."
"With a practice that's on land, you get so much stability from the ground, but when you're on the water, you don't get any of that, so you really have to create your stability from the inside out," she said. 
Nonetheless, beginners need not be discouraged. 
Ouellette encourages participants to think of the sessions like an all-you can eat buffet. As people move along the line, they can skip some of the options, or they can try them all. 
And even if a certain pose doesn't work out for someone, it's part of the experience. 
"We live in Florida, and frankly, falling in is really nice, a lot of the time anyways. And that's a great lesson, too — to wiggle, wobble, fall off, climb back on, try again."
On the wild side?
Wild Yoga at Big Cat Habitat and Gulf Coast Sanctuary: Various times at 7101 Palmer Blvd. Private bookings available. Visit BigCatHabitat.org.
Tracy Feldman hasn't been able to get enough of the wild yoga programs offered at Big Cat Habitat.
She has attended all of the offerings including fox yoga, yoga beside the tiger enclosures and, on two separate occasions, lemur yoga.
"For me, it's bonding and it brings energy. It's about seeing different species getting along and respecting them," said Feldman, who likes to support the organization, which houses exotic animals in need of homes.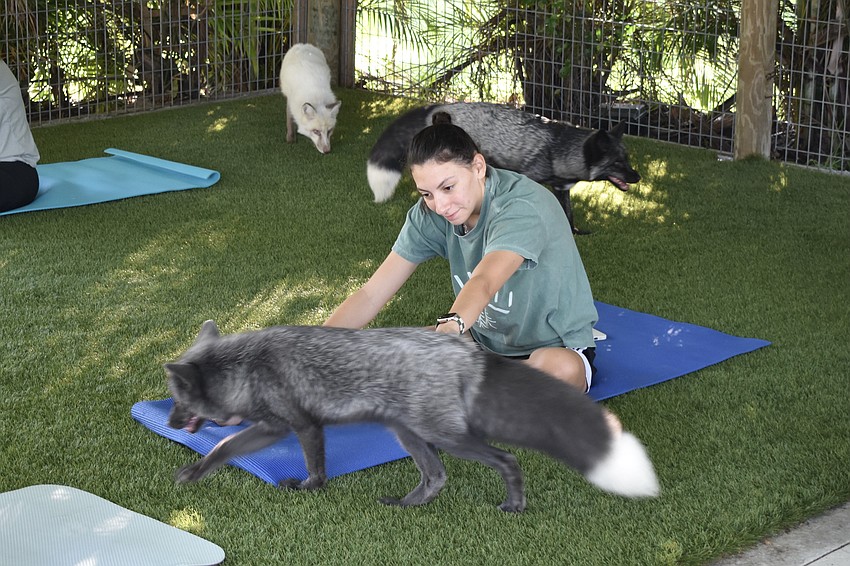 Feldman said during the fox yoga sessions, she enjoys observing the behavioral differences between foxes and dogs. 
The silver foxes, said Big Cat Habitat staff, are always attentive and on alert, due to having to hunt for food, and being prey to other animals in the wild. 
"This is better than going to a spa," said Reni Papalexiou following a fox yoga session. "You come here, you get relaxed, and the money's going to a good cause. It's a win-win."
Feldman also said she also loves the personalities of the lemurs, who enjoy jumping on their human visitors. 
"The lemurs ages are very energetic, and can't help but make you smile," said Feldman.
After leading yoga sessions at Big Cat Habitat for four years, instructor Erika Cain said she has found the energy of the animals synchronizes with that of the classes. Physical activity seems to awaken the animals, while their behavior winds down alongside that of the people. 
This is true of the tigers, she said, who will roar as they observe the sessions from their enclosures, with the vibrations felt throughout a person's body. 
"It's a true synchronized-energy experience," she said. 
In addition to the set class times, private sessions for specific groups and families are available to book as well. 


With a goat?
Goat Yoga at Fruitville Grove: Saturdays at 11 a.m. Nov. 16 and 25 and Dec. 23 and 30 at 7410 Fruitville Road. Visit FruitvilleGroveFarm.com/GoatYoga.
Goat yoga has become popular in fitness circles nationwide, and in 2017, instructor Michelle Leon decided that Sarasota needed a chance to experience the practice as well.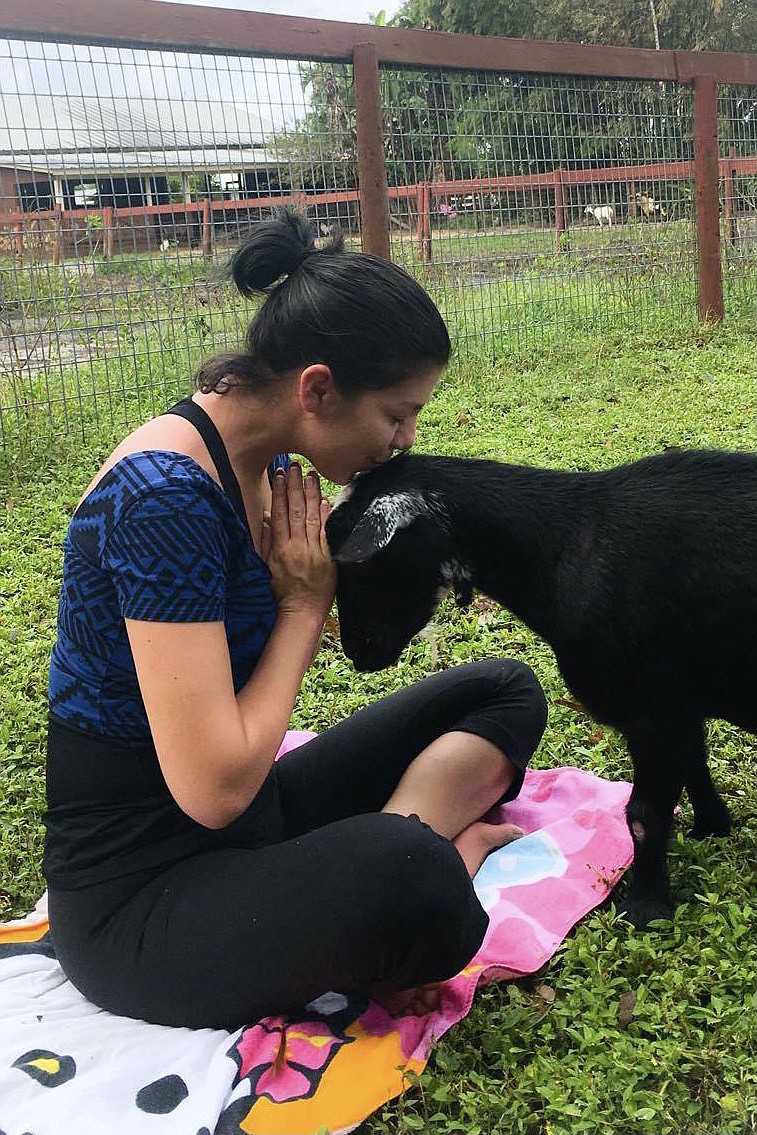 On a whim, she established Goat Yoga on the farm at Fruitville Grove.
"You've got goats and young people and older people … that can all enjoy the farm and the animals," Fruitville Grove owner Kim Crofut previously told the Observer. "It's like a perfect storm."
Fruitville Grove is preparing for a new round of goat yoga classes this month, beginning on Nov. 16.
During the class, goats have been known to crawl on and cuddle with participants.
Leon previously told the Observer that the addition of goats results in a less-than-serious yoga experience where contrary to the usual expectations, selfies are encouraged. 
"You're not going to come and have a one-hour serious power flow," she said. 
In the air?
CircuSoul Yoga: Various times at 4141 S. Tamiami Trail Suite 6. Private bookings available. Visit CircuSoul.com.
Danielle Dupont said the sessions at CircuSoul Yoga are supportive in the sense of more than just the hammocks levitating participants above the ground. 
"You just feel safe, loved and supported," she said, complimenting the gentle encouragement of the instructors and staff.
She said as a result of their approach, she has been able to reach a level she had not expected. 
"I love the challenge. I love exploring your body, the freedom you get once you're comfortable in the hammock. It gets to the point where you can do poses when you never thought you could do them," she said. 
The aerial yoga sessions at CircuSoul Yoga, a hot yoga and aerial yoga studio, incorporate a range of poses through the use of hammocks, which the practice says help in decompressing the spine, enhancing flexibility and building strength. 
Participants can be seen resting upright in the hammocks, performing flips, hanging upside down and more.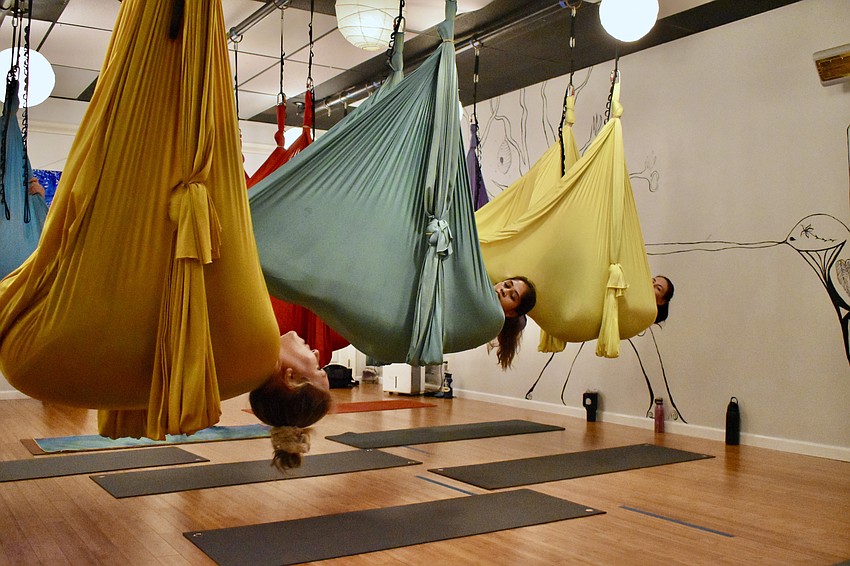 Instructor Cara Levitt said the practice makes the exercise aspect of yoga into a fun experience that also allows participants to overcome their fears. 
"They don't realize they're working out, or they're working muscles or they're holding poses, because of the fun element that is created," she said. "And, it's also a really great way to conquer some fears. You're a kid again, you're playing, we do somersaults, we do flips, we go upside down."
Dave Wallwork attends the class two to three times each week, seeking a different yoga experience. 
"It's just a lot of fun, just being able to be in the air and do the different flips and tricks," he said. "I do a lot of regular yoga, so it's a nice change. It works your upper body differently."
With butterflies?
Yoga with the Butterflies: 9:30 a.m. Tuesdays and Thursdays at butterfly enclosure, Fruitville Grove, 7410 Fruitville Road. Private bookings available. Visit YogaWithButterflies.com.
When sessions of Yoga with the Butterflies begin in the morning, the butterflies are still roosting in a large tree on the side of The Butterfly House at Fruitville Grove. 
However, as the sun rises, the light spreads across the tree, and slowly the butterflies begin to flutter around everyone present.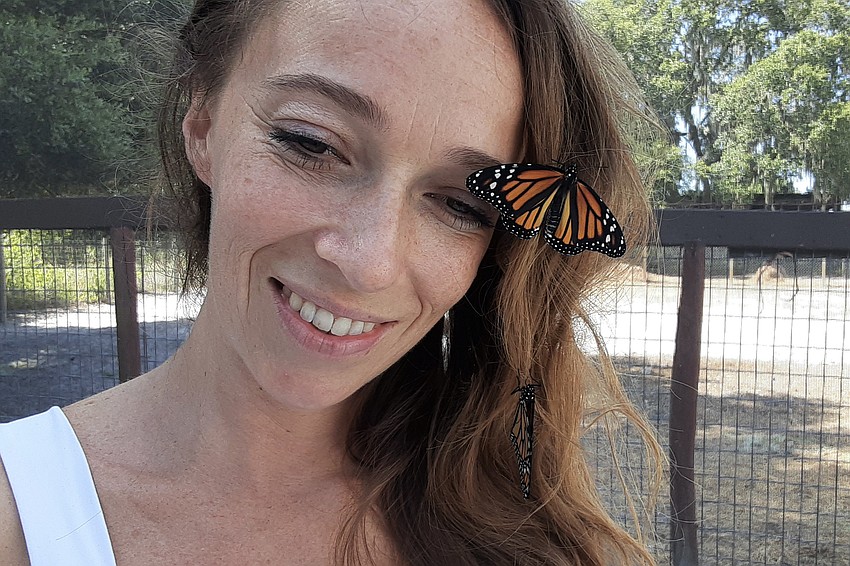 "Everybody needs yoga, all the way down to little children," said butterfly farmer Cathleen Strong. "But but the benefit of the butterfly yoga is that they actually are out out in nature, with the butterflies."
She calls the experience of interaction with the butterflies extremely peaceful. Last week, she said, a friend had a butterfly perch on her, or her mat, for the entirety of the class. 
The lessons are for people of all skills levels, she said, and sessions can even be booked privately to accomodate needs such as disabilities, through a range of instructors who can be brought in.  
She thinks that just like yoga, participants will find butterflies transformative. 
"As a breeder of butterflies, I'm still shocked every time I see them change from a caterpillar into that chrysalis," she said. 
She thinks the animals even posses a spiritual significance. 
"Most people see butterflies as spirit animal," she said. "When a butterfly lands on them, they relate it a family member or a loved one who has passed. I think there's a whole mythology around butterflies because they are so transformative."
Correction: This story has been updated to correct the spelling of Whitney Stetler.