Rita Lewis sat in front of her home on an oak bench that provides a reminder that hurricane season is something to be taken seriously.
Lewis became the owner of the Linger Lodge restaurant last August, and was only open for weeks when Hurricane Ian ripped through the area in late September.
With June 1 being recognized as the start of hurricane season, Lewis was busy going into her first full summer as the restaurant's owner. but she took time to talk about that very special bench where she was seated at her home that is connected to the restaurant.
Lewis saved a huge chunk of the old oak tree that Hurricane Ian uprooted and toppled on top of the restaurant's roof, once again causing the restaurant to temporarily close.
It wasn't just any tree.
The oak already was mature when Lewis first took a job as general manager and chef at Linger Lodge in 2004. She said the majestic tree helped define the restaurant so when Linger Lodge changed hands in 2016 and the new owner, Austrian businessman Franz Hartl, considered cutting the tree down, she and her husband Jeff pleaded for the tree to remain.
It did.
After Jeff Lewis died of heart failure in 2021, the tree was a daily reminder of him for Rita because that tree meant so much to them both.
But the hurricane knocked it down.
"It was horrible," Rita Lewis said upon seeing the fallen tree. "My heart was broken."
She hired Rod Green. a master wood carver from Myakka City, and his artwork now is another piece of Linger Lodge lore.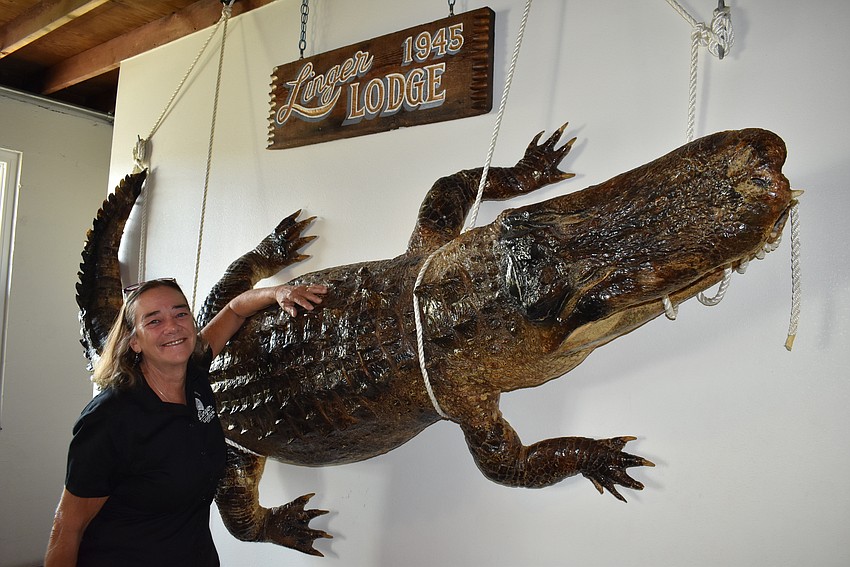 Lewis said those stories, all the taxidermy, and the somewhat crazy menu, make Linger Lodge an unusual, and delightful, stop for residents and those who visit the area.
Some of her favorite moments at the restaurant have come when patrons question her about the section on the menu titled, "Road Kill."
People are intrigued when the menu — tongue in cheek — offers "Chunk of skunk," or Smidgen of Pigeon," or the "Bag 'N Gag" luncheon special such as "Anything dead on bread."
"People ask if it is true," Lewis said with a laugh. "They love it. I always say, 'it depends on what the chef found this morning."
It is just one of the oddities that makes Linger Lodge different, and another reason while Lewis fell in love in the place the first day she arrived in 2004.
Rita and Jeff Lewis were snowbirds, and they would alternate between the Sarasota area and Newberry, New Hampshire, working in restaurants as cooks in each place.
Over the years, they made a pact with each other than they would do whatever they could to someday own a restaurant. On that first day Lewis came to Linger Lodge, that's the one she wanted to own.
That's not to say the restaurant didn't have some problems at the time.
"I fired everyone but two people," Lewis said. "They were not up to my standards."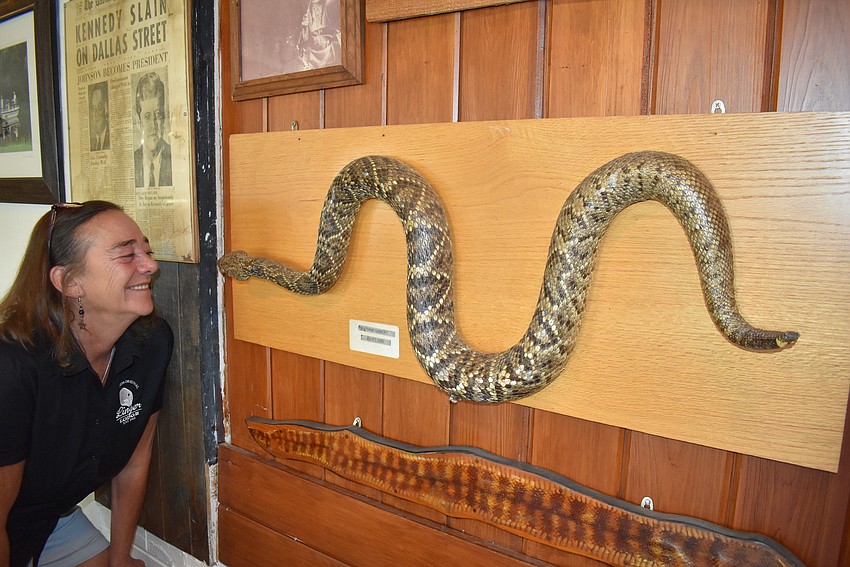 Despite that introduction, Lewis said she knew the restaurant was special.
"It was mystical and magical," she said. "It was very unique and I never saw anything like it. But we needed to clean it up a little."
Jeff Lewis joined her at the restaurant and they were off and running.
Those early years, the restaurant featured the taxidermy of its owner Frank Gamsky, who bought the property in 1968 and, at 92, still frequents the restaurant. Filled would actually be a better word than featured.
"Frank kept adding, and adding," Rita Lewis said. "And he had such compassion (for wildlife)."
A 2017 renovation of the restaurant removed much of the taxidermy, but now that she owns the place, Rita Lewis is bringing back bits in pieces that had been stored in a closet at her home.
"I just brought back some deer heads," she said, pointing at a wall.
Other changes have been expensive. When she became owner last August, the restaurant had been closed for two years due to a renovation of the RV park. She said Hartl's River Loft LLC wanted to concentrate on running the RV Park and then sold the restaurant to her.
She said she went through "thousands" of dollars getting the kitchen equipment back up and running properly. She upgrade the restaurant's food supplier as well. For a while, she said she was just "stepping over" broken equipment.
"It was hard," she said.
But she said the charm still is there.
Sometimes that charm leads to odd circumstances.
"Some people walk in and say they can't sit (in the main dining room) with all the snakes on the walls," Lewis said with a laugh. "We put them on the lodge deck."
She buries herself in her work to keep her mind from focusing on how much she misses her husband of 47 years. 
"He was my best friend," she said.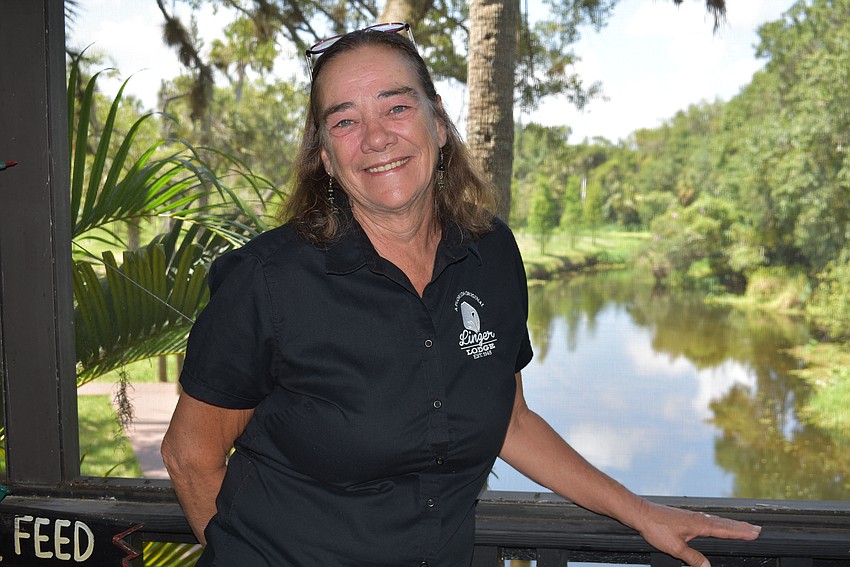 A smoker sits out in front of the restaurant, but it hasn't been used since Jeff died.
"He was the pit master and he ran the smoker," she said. "I have to think, 'Do I want somebody back there?'"
However, she said it probably won't be too long until she finds a perfect fit to run the smoker.
It will be one more reason to visit the restaurant.
"Look at it," she said of her restaurant. "This is old Florida."
What makes it old Florida?
"I guess it's the fish-campness of it," she said. "This is a destination and it always has felt like home to me. This was the goal for my husband and I, to open a restaurant in our name."