If you missed the Longboat Key Chamber of Commerce ribbon-cutting for Cariloha Sarasota on May 4 at St. Armands Circle, then shoot!
All the products at Cariloha are made from viscose bamboo.
While St. Armands has had a Cariloha retail store since 2019, the May 4 event marked the store's grand reopening under its new owners Jeffrey Snell and Robin Snell.
They bought out the previous ownership at the end of January, explained Jeffrey. The new owners then embarked on a remodel, which was recently completed ahead of the ribbon-cutting.
"We're fully stocked with product," said Jeffrey. "We have sheets, mattresses and a clothing line. We're testing a bedding line as well." 
Jeffrey and his wife, Robin, bought their first Cariloha store in Naples five years ago, which they continue to run.
Jeffrey explained that when he was an airline pilot, he had back issues that gradually progressed until he couldn't pass the medical test to remain a pilot.
"I had to pivot to a different career. We went on a cruise to the Caribbean in 2018 and saw they had cruise ports with Cariloha stores. That's when it started. We are one of the only private owners of Cariloha," said Jeffrey. "With our backgrounds, it went well."
Jeffrey has a retail background, and Robin was a director of financial aid at the University of North Dakota for several years.
Jeffrey and Robin explained that the benefits of bamboo outweigh those of cotton.
"It's twice as soft, it's cooler than cotton, and it's thermoregulating," said Jeffrey. "It's extremely sustainable. Think soft, cool and clean."
Jeffrey explained that bamboo also keeps bedbugs away and is hypoallergenic.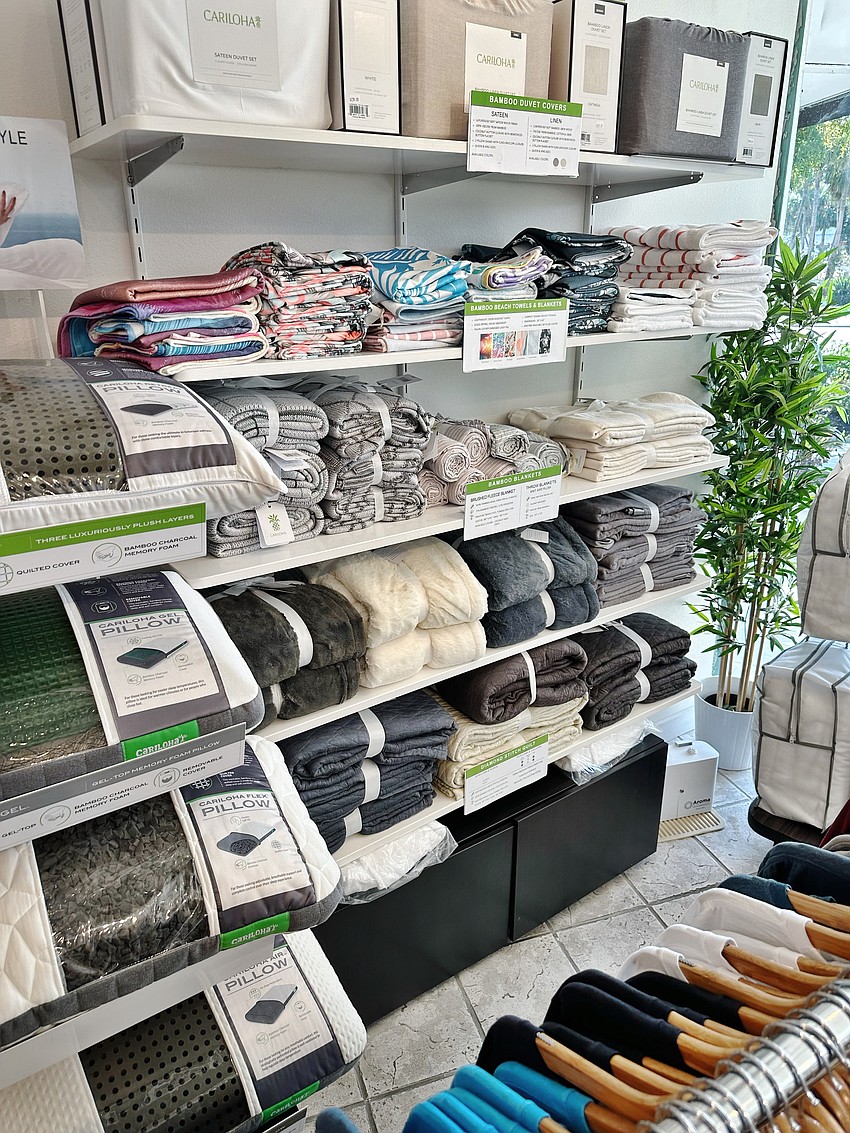 "The toughest thing right now is that we are not allowed to have a website or a landing page because we're private owners," said Jeffrey. "Robin created a loyalty program where customers can sign up and we can tell them ahead of time about new products and when the sales are. I'd recommend customers to go to the website and pick out what they'd like and call us, directly telling us what they'd like, or come in. We tell customers how to take care of their bamboo products as well and how to wash it."
The loyalty program is free, but Jeffrey cautions customers that if they do buy a Cariloha item from the company's website, they cannot accept any returns.
"If they go to Cariloha's website, it's not us. So if they purchase something on the website, and they want to return it, they'll have to ship it back in the mail because we can't accept those returns."
Jeffrey explained that their Cariloha store in Naples ranked No. 1 in sales for resort stores in the company.
"Cariloha is great because there's no chemicals in any of the products," said Jeffrey.