"Historic preservation is good for communities, and it's essential to great cities," said Lori Muldowney, president of the Sarasota Alliance for Historic Preservation, explaining that was why the alliance held the 2023 Sarasota County Heritage Awards.
More than 120 people turned out May 6 at the Van Wezel Performing Arts Hall for the ceremony, which was hosted by John McCarthy, vice president of regional history at Marie Selby Botanical Gardens.
The awards spanned residents' accomplishments in multiple categories, including adaptive reuse and historic collections preservation, with some projects impacting the Sarasota area itself.
During her remarks, Muldowney described a "painstaking" process in the restoration of the Eagle House by Carrie and Ken Cox that involved replacing the windows and even giving up bedroom space to restore a garage.
The result, Muldowney said, was a structure that impressively retained the character of the 1949 home. 
Along with visual character, other reasons to preserve buildings, Muldowney said, are the interest they can generate in a city, the jobs in restoration they can provide, and the environmental benefits of retaining old buildings.
The McCulloch Pavilion
As Cindy Peterson drove past what is now known as the McCulloch Pavilion at 265 S. Orange Ave. "day and night," she experienced a vision.
"I liked the honesty of the structure," she said, stating that its largely glass walls made it seem inviting.
Commissioned in 1959 and established as the Scott Building, the pavilion once housed a showroom for the Barkus Furniture Co., but Sarasota County bought it in 1999 and converted it to a print shop.
When Cindy Peterson began the renovation project in 2011 with her husband, renowned architect Guy Peterson, the building was a mail room with reflective film on the windows and spikes on the roof to deter birds. As of 2015, it now houses Center for Architecture Sarasota, a nonprofit which preserves the legacy of Sarasota architecture.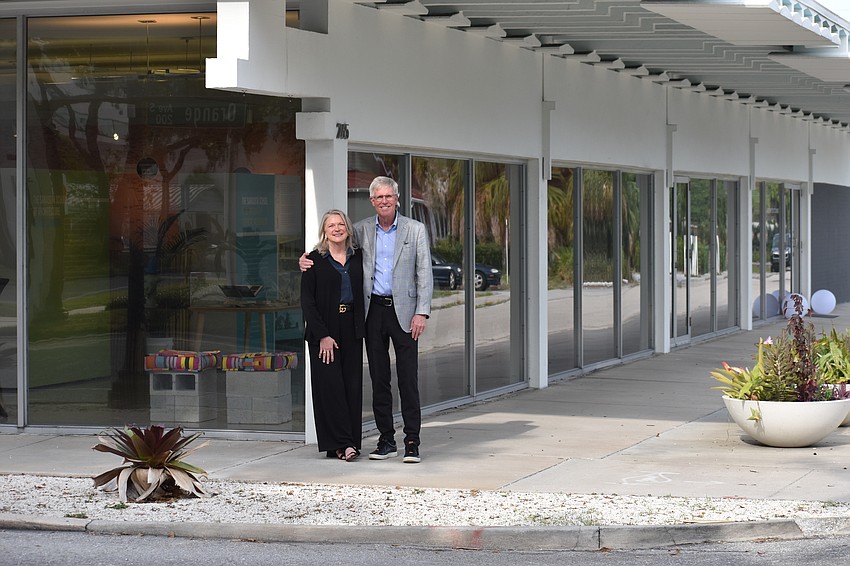 Guy Peterson said the building is an example of modernist architecture because of its transparency, its use of concrete and its terrazzo floors. In fact, Cindy Peterson said current building codes would not allow it to be built today because of its extensive use of glass.
The county was highly receptive to her goal, she said, offering a long-term lease with the condition that it be restored and only used for nonprofit purposes.
The vision further materialized as the couple managed to contact Joseph Farrell, who designed the building alongside William Rupp. Guy Peterson said it was an incredible experience to work with a living architect on the project.
"It was a great comfort for me as the restoration architect to be able to get his blessing," he said, noting that Farrell, who he said was very eager to be involved, never objected to any decisions.
"This wonderful Heritage Award heightens the importance of this building to the community. It is a community building — it was built by the community," said Cindy Peterson.
The first donor was Heather Chapell, whose late husband, Don Chapell, was a major architect in Sarasota, while the last was Nathalie McCulloch.
The Petersons believe the pavilion to be the first retail and commercial building in Sarasota to be fully restored and placed on The National Register of Historic Places, as well as the only cultural institution in Sarasota's Downtown Core.
Cindy Peterson said the center hosts a "wonderful litany" of renowned speakers and noted that in the past it also hosted CityLab-Sarasota, a satellite program of the University of Florida.
The Eagle House
After Carrie and Ken Cox received word of a historic home at 2516 Mulberry Terrace being sold in 2019 as a tear-down, the two preservationists visited the site and found it unlike any other Sarasota home.
Carrie Cox said the home's builder, Nate Eagle, a Ringling Circus barker and ringmaster whose wife was Muriel Eagle, participated in the country's major world's fairs, at which the architectural style was Streamlined Moderne.
This, she said, might explain how that style, which emerged in the 1930s, ended up being used for a 1949 home, which Muldowney called transitional between that style and a ranch house.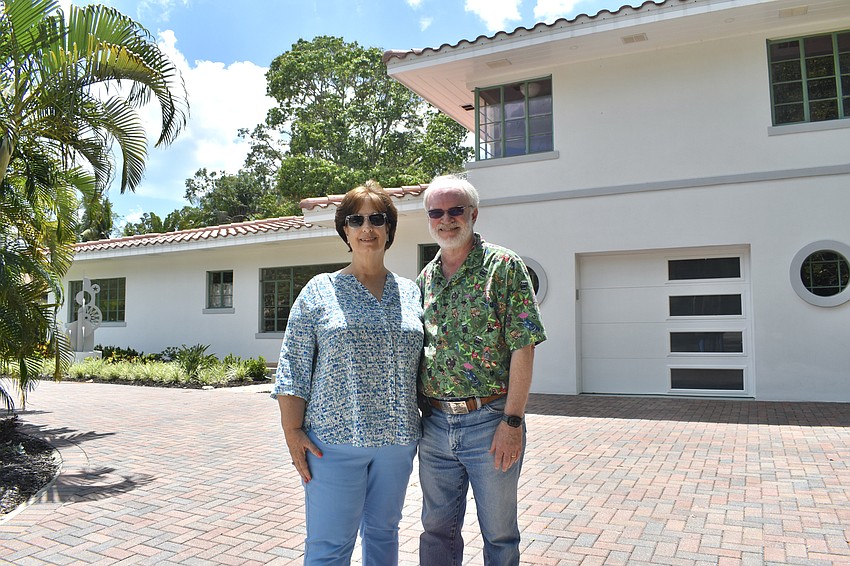 "My imagination has he and Muriel strolling around the grounds of the World's Fair saying, 'Someday we can build our house; we want it to look like one of these,'" Cox said.
Streamlined Moderne blends the Art Deco style and its more elaborate designs with the austerity and industrialization that arose in the 1930s with the Great Depression. Some features that exemplify the style are the home's steel-frame windows and porthole windows, Cox said.
The window frames have been repainted to match their original green color and the glass replaced with tempered glass, while the original windowsills and door handles remain in place. They also removed previous modifications to the home, including a 1960s fireplace and a conversion of the garage to a bedroom. However, they raised the ceiling to provide a more vaulted appearance.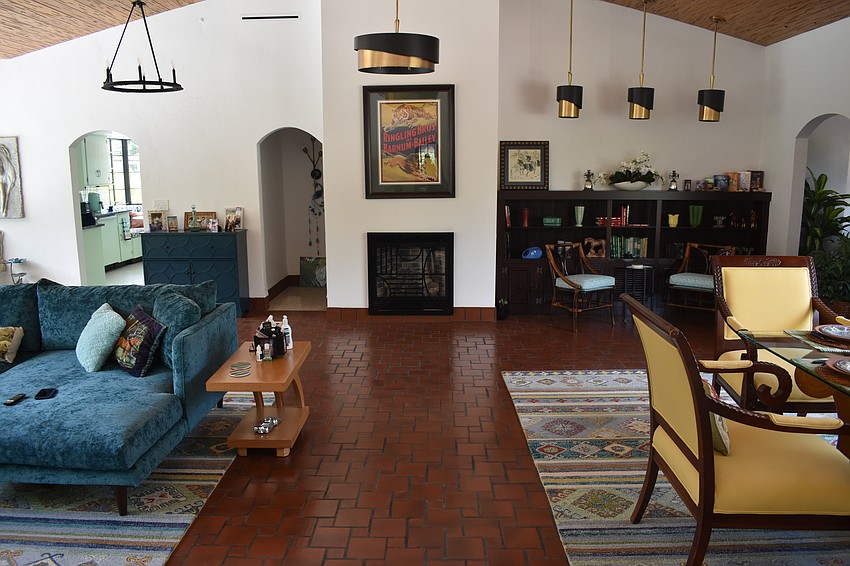 The home's floors are original, and Carrie Cox said the intricate, hand-applied terrazzo on some sections of the floor is unique to the home.
Artist John Pirman provided a finishing touch, with a sculpture representing both the home's circus connection and Streamlined Moderne. The home is now inhabited by Ken Cox's sister, Brenda Cox.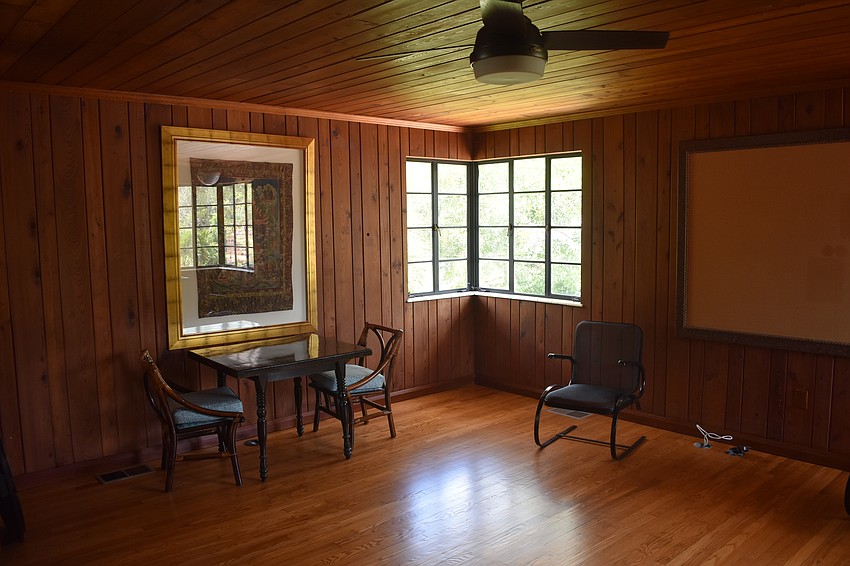 Carrie Cox said they were thrilled to receive the award and that it would increase the home's recognition in the community.
"It's the kind of house in Sarasota that is too easily torn down. We would encourage more people in Sarasota to save more houses, because there are a lot of great ones."
New College collections
Ana McGrath, a digital imaging technician at Jane Bancroft Cook Library at New College of Florida said interest arose in the college's collections during Architecture Sarasota MOD Weekend in November.
Specifically, there was interest in possible materials in the college's archives concerning Philip Hanson Hiss III, an influential real estate developer in Sarasota.
"When this question arose, it was like, 'These are really here; this is really interesting, really exciting. We've got to try and make it available for people," said McGrath, who holds a master's degree in library and information science from University of South Florida.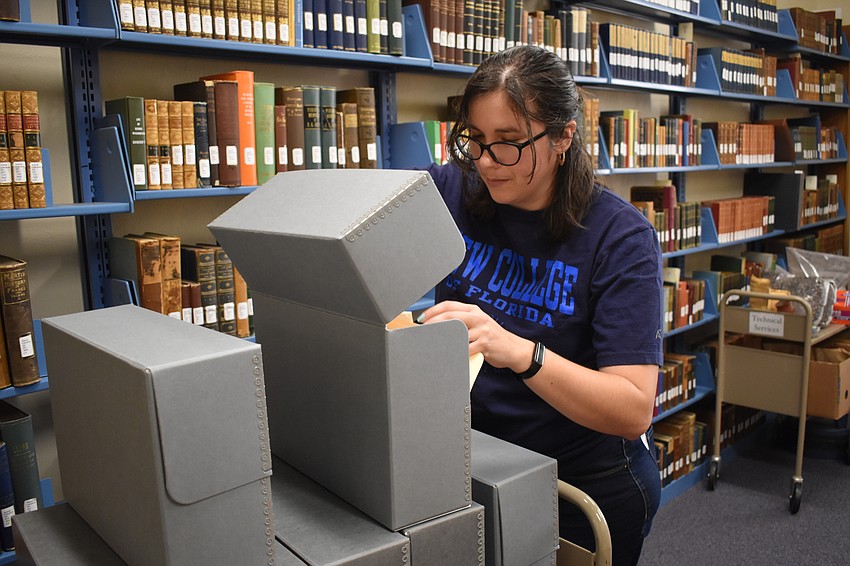 A member of Sarasota's school board, Hiss oversaw the building of nine new schools in the area and was also chairman and trustee of New College, which he helped found.
The materials, she said, contained several binders of Hiss' manuscripts for a pre-published book, "Architecture and/for Education," as well as transcribed interviews with architects including I.M. Pei and Louis Kahn, and correspondences by Hiss.
Over a period of five months, McGrath verified what materials were present, added them to the library catalog, and moved the collections from old binders to folders, which she placed in archival boxes.
She called the materials "a really fascinating window into educational objectives at the time, and how architecture played into that, and also how that informed decisions specifically relating to New College as well."
She said it was her supervisor, Tammera Race, who nominated her for the award.
"I was very surprised, and also very touched," she said.
Muldowney said this project showed the understanding that "preservationists and archivists cannot not do their work without collections."