The Out-of-Door Academy baseball team's offense has gone batty. 
ODA, searching for the program's third-straight trip to the state semifinals, has started the 2023 season with a scoring onslaught. The Thunder has scored 50 runs through its first four games as of March 4 (12.5 runs per game), winning all four games.
Last year, the team scored 20 runs during the same opening stretch. In 2021, when the team won the Class 1A state title, the team scored 29 runs during the stretch. 
While ODA Coach Mike Matthews would not go as far as declaring it is the team's best offense under his three-year watch — he gave deference to the state title-winning team — he said he's pleased with how the lineup is performing top-to-bottom. 
"What I'm most impressed by is how we are working all fields," Matthews said. "Then, when we get to two strikes, we have an approach to put the ball in play. The guys have done a great job buying into that and the results are coming."
That the team's offensive outbursts have been consistent not just game-by game, but inning-by-inning, bodes well for the team keeping the production up. The ODA players have scored at least one run in 18 of the 23 innings they have played.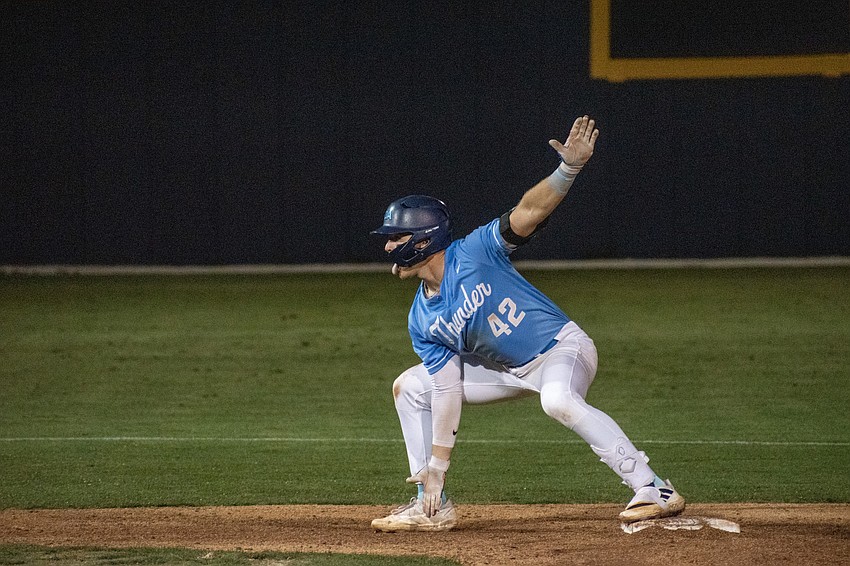 It's a signal the team is not reliant on one or two players, but rather every player is a threat to drive in runs.
After the team's 7-4 home win over Gulf Coast High on March 1, Matthews said newcomers Griffin DeRusso, a senior transfer from California, and Chase Taraska, a junior transfer from Parrish Community High, have been strong offensive additions to the program, giving the team two high-contact players. Yet Matthews also said neither player had his best game against the Sharks. The team scoring seven runs despite those players having an off day is a testament to the lineup's strength. 
"That's what depth is for," Matthews said. "One thing about these guys is they don't panic. If one guy doesn't do well, another guy steps in and does the job." 
Against Gulf Coast, the guys stepping up included senior Nevan Hernandez, who hit a two-run homer to right field in the first inning, giving the Thunder an early 2-0 lead, and senior Jack Hobson, who doubled home a run in the fifth inning and closed the game on the mound with a scoreless seventh inning.
Hernandez said he credits the team's early offensive success to the players working to form a tight unit. Hernandez said the team's seniors have taken it upon themselves to make sure everyone is playing not for themselves, but for the guys next to them. That means more traditional outings like team meals, but also things like pickleball tournaments, where players can let their competitive side loose. 
"We all love each other," Hernandez said. "We're going to compete and we're going to make sure every single one of us does the job. That's how we make sure we get back there (the state semifinals)."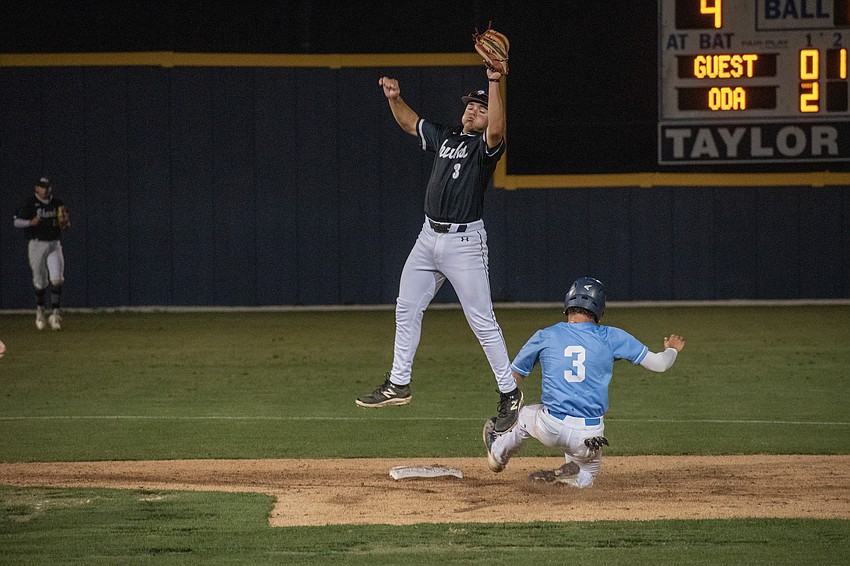 It's not just at the plate where ODA's offensive magic happens. Under Matthews, the program has adapted an aggressive style, stealing whenever a player sees an opportunity and running hard on the base paths to take extra bases on every ball in play.
Against Gulf Coast, a first-inning steal by junior Nolan Naese put scoring-position pressure on Sharks pitcher Presley Woodson before Hernandez launched a home run, and steals of second and third in the third inning set up a sacrifice fly from senior Luca Marino. 
As solid as the team's offense has been, the pitching staff is a work in progress. The program graduated reliable left-handed starter Josh Cone, who is now a freshman pitcher at the University of South Florida, as well as other bullpen pieces. Some of Cone's responsibilities will fall on the shoulders of senior Luke Geske, who is committed to Florida SouthWestern State College, one of the top junior college programs in the country. Geske, a 6-foot-2 right-hander, threw 3 2/3 innings against Gulf Coast and allowed one run with seven strikeouts before giving way to the bullpen. 
One exception to the inexperienced bullpen is Hobson, who pitched in 13 games last season with three saves. Though many of the pitchers behind Geske lack experience, he's confident that they will be ready to step up when their names are called. 
"My job is to go as deep into games as I can by throwing as many strikes as I can," Geske said. "But I think our first guys out of the pen are just as good as anyone who's been here before. We all want to win and we're going to make sure that we do what we need to do. So don't sleep on us."