Summer is here, and it's sweltering, but the sports scene hasn't been killed by the heat — at least not completely. 
This week, I've broken up my column into three sections: one on some actual, live games that you should make time to see; one on the latest updates from a big-time basketball prospect who once called Riverview High home; and one on a local baseball alum who continues to be a lesson in perseverance.


The FGCL begins play
If you're not ready for the diamond sports to be over, look no further.
The collegiate Florida Gulf Coast League's softball division began play last week at Lakewood Ranch Park. Since the league began play in 2020, taking in a game here and there has become one of my favorite ways to spend a few hours on a beautiful summer day. No, the games are not technically in Sarasota proper, but I think the quality of the action is worth the drive.
Not only are the FGCL rosters filled with some of the best softball talent in the country — including players from three-time defending NCAA National Champion Oklahoma — but some of it is local. Riverview High alum Shelli DiPuma, who played at the University of Central Florida in 2023 but is currently in the transfer portal, is on the Manatee Squeeze. Through four games as of June 19, DiPuma has just one hit, but she also has three runs scored, one RBI and two stolen bases. Plus, it's a small sample size. I am confident her offensive output will increase as the summer season goes along.
Playing in the FGCL certainly helped one notable Rams alum in the past: Current Florida State University star Devyn Flaherty played in the FGCL in 2021 to keep her hot streak alive after reaching the NCAA Women's College World Series finals. It worked: Flaherty had her best offensive season in 2022, and she wasn't bad this year either — finishing with a .317 average, 12 doubles, 26 RBIs and a spot on the All-Atlantic Coast Conference second team — while helping the Seminoles to yet another WCWS Finals appearance. (Oklahoma was just too good.) While it's unrealistic and unhelpful to put those kinds of expectations on a player, it would not shock to see DiPuma follow a similar path and improve greatly in 2024. 
FGCL softball games are free for fans to attend, which is a steal. They are high-level action, yet because they carry lower stakes than an NCAA game, you can tell the players are enjoying themselves while playing. It's a great vibe.
An update on a talented former Ram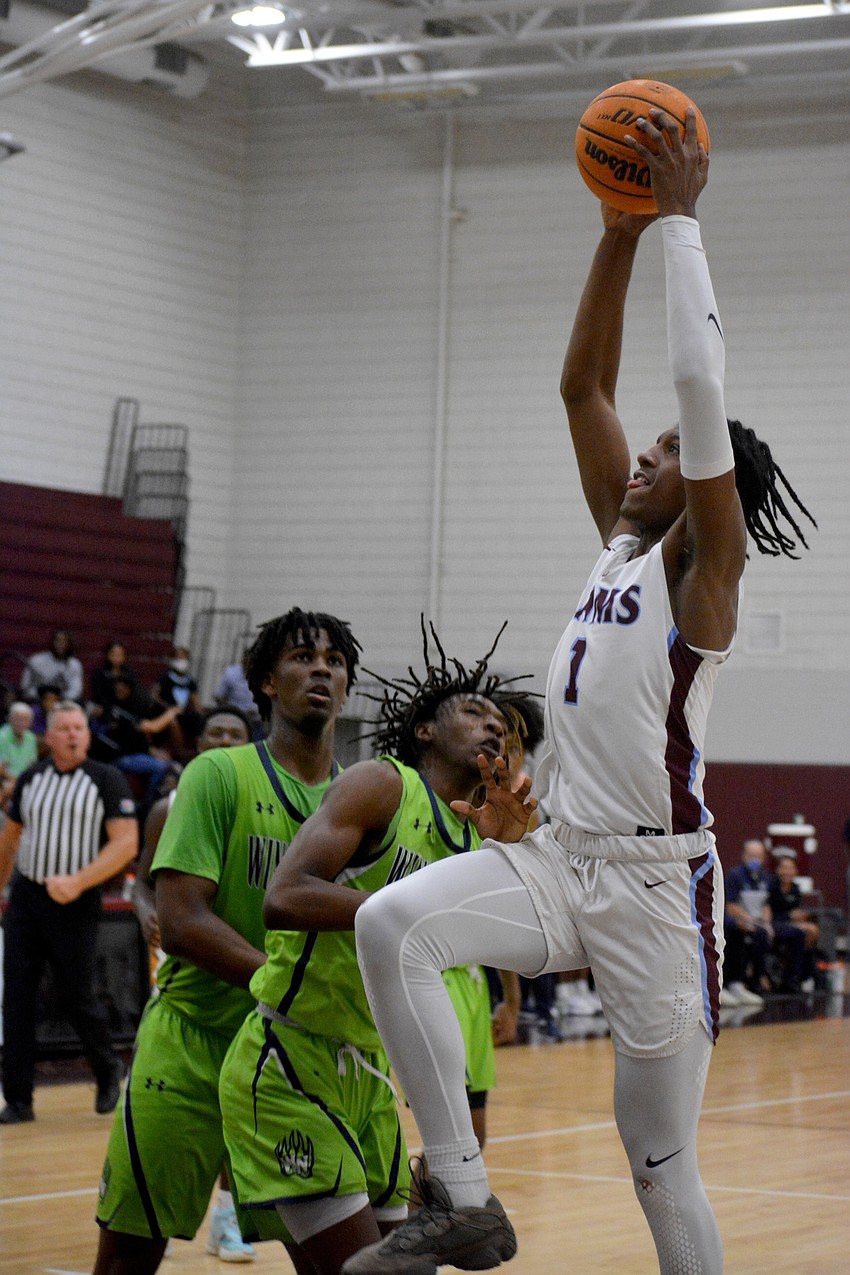 Since former Riverview High boys basketball player Jamier Jones transferred to IMG Academy last offseason, I haven't been following his day-to-day updates as much as when he was dunking on people's heads as a Ram.
The preternaturally gifted wing is still doing his thing, though: Jones, 6-foot-6, is ranked as the 11th-best player in the national Class of 2025 by the 247Sports Composite and is the No. 1 wing. A quick Google search will bring up dozens of his highlight reels. As soon as I saw him play once as a freshman, it was obvious he was destined for big things. The offers he's now receiving are big time: Jones recently told 247Sports that he's received offers from the universities of Kansas, Texas A&M and Houston. 
Jones may not play in Sarasota anymore — or Bradenton, for that matter, as he recently announced that he's leaving IMG for Oak Ridge High in Orlando — but he was born here, and he wore a Rams uniform, which means, at least in my book, that once Jones reaches the college ranks, and probably the NBA, the sports community can claim him as our own. 
Casey Kelly's Korean baseball career
I continue to be inspired by the story of former Sarasota High pitcher Casey Kelly, whose career has had ups and downs but ultimately turned into a beautiful story of redemption. 
If you're a local, you probably know the story. If not, here's a quick refresher: Kelly was a high school phenom and was selected in the first round of the 2008 MLB Draft by the Boston Red Sox. Kelly was expected to do big things in the MLB, so much so that other teams were willing to give up a lot of proven talent to gain his prospective future returns. He was the centerpiece of the trade that sent All-Star first baseman Adrian Gonzalez to Boston from the San Diego Padres after the 2010 season. 
But Kelly never lived up to his lofty expectations; after going through Tommy John surgery in 2012, he appeared in 26 total MLB games with the Padres, Atlanta Braves and San Francisco Giants, holding a career ERA of 5.46.
After the 2018 season came and went with little progress, Kelly opted to try his luck in the Korea Baseball Organization League, known as the KBO, instead of staying in America. He signed with the LG Twins in 2019 and he has not looked back. Kelly has a career 3.08 ERA in the KBO and holds a strong 69-35 record. He's also, for some reason, become something of a folk hero to KBO fans. Maybe it's his bushy beard, or his absurdly long hair, or the fact that he's from the U.S. Maybe it's just because he's a good pitcher. Whatever the reason, he gets a warm reception over there. He's even received big-time endorsements: On June 1, Kelly posted a picture to his Instagram showing him standing in front of a billboard for Hanmac beer. His face is plastered all over it. 
Even though 2023 has not been Kelly's best KBO year — his ERA is 4.69 — who cares? The guy has made something of himself and seems to be greatly enjoying his time in the KBO. Isn't that what all of us ultimately want: to find stability and happiness? 
That, to me, is the mark of success.