After 17-year-old Claire Christofori took her first underwater breaths in the swimming pool at Arlington Park & Aquatic Complex on June 17, she said she was looking forward to something even bigger: a body of water like Sarasota Bay where she might encounter marine life — maybe even a sea turtle.
The Diveheart Scuba Experience had left her feeling "confident," she said.
Her mother, Dawn Callahan, said that while Christofori, who has cerebral palsy, is unable to walk, she can enjoy freedom of movement and weightlessness in the water. As a result, Callahan began searching for a way Christofori could learn to scuba dive, eventually discovering Diveheart and its programs.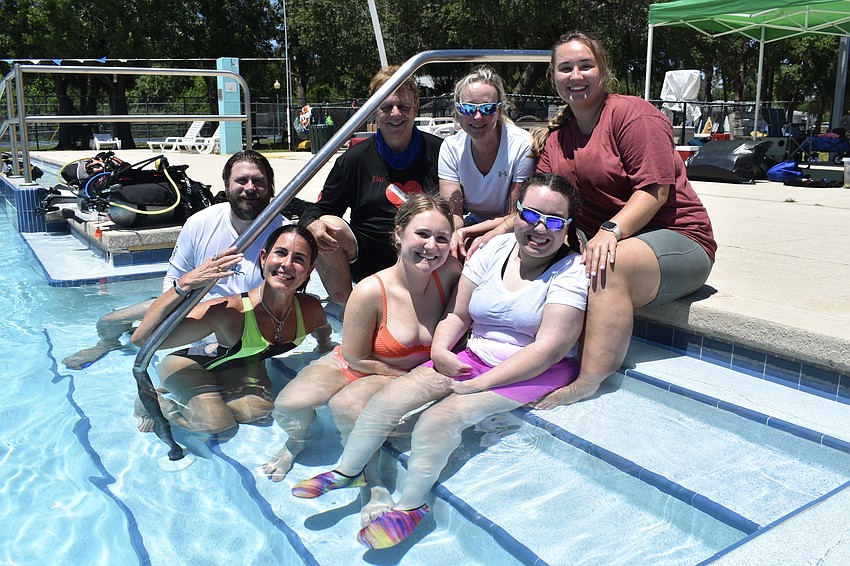 Corissa Leung, the leader of the Diveheart Suncoast Team, said rarely does a medical condition prevent someone from being able to take advantage of the organization's programs, which include paid dive certifications in adaptive scuba (scuba for those who cannot obtain a traditional certification) and paid certifications for dive buddies.
"There's very little where we say no, in terms of people who can dive," she said. "There are a couple of medical challenges that prevent diving, but for the most part, anyone can do it."
The nonprofit's Sarasota events, held twice a year at Arlington Park, are free to the community and offered to participants ages 10 and up who have physical or intellectual disabilities.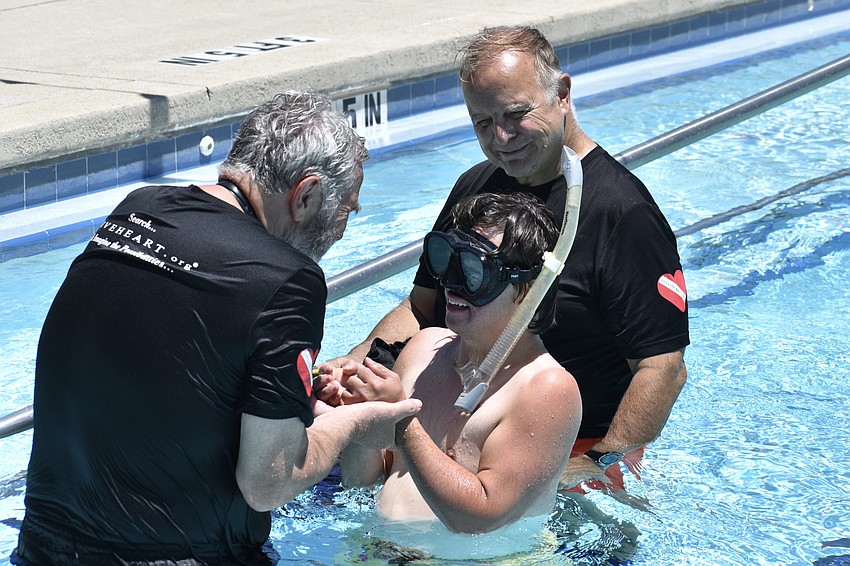 Making it possible is a three-way partnership. 
Andrea King, Therapeutic Recreation and Americans with Disabilities Act coordinator for Parks, Recreation, and Natural Resources at Sarasota County, said due to the city of Sarasota offering the park facility, which includes ramps into the water, and Diveheart bringing the expertise to the event, which she herself coordinates, "the magic happens."
For many participants, that magic is the freedom of movement and weightlessness that divers experience. Kenny Menendez, who has been involved with Diveheart extensively, including on a trip to Cozumel, said it provides him with an experience that contrasts with being in his wheelchair.
"It's just nice to be underwater and stretch out, and not be in that seated position," Menendez said. "It's freeing, because I'm able to position myself in different ways. I can be upside down; I can stretch out my legs."
Yet at the same time the programs offer freedom, they also provide a helping hand. While some participants, such as Menendez, can propel themselves, he said, they still require assistance, especially getting in and out of a boat.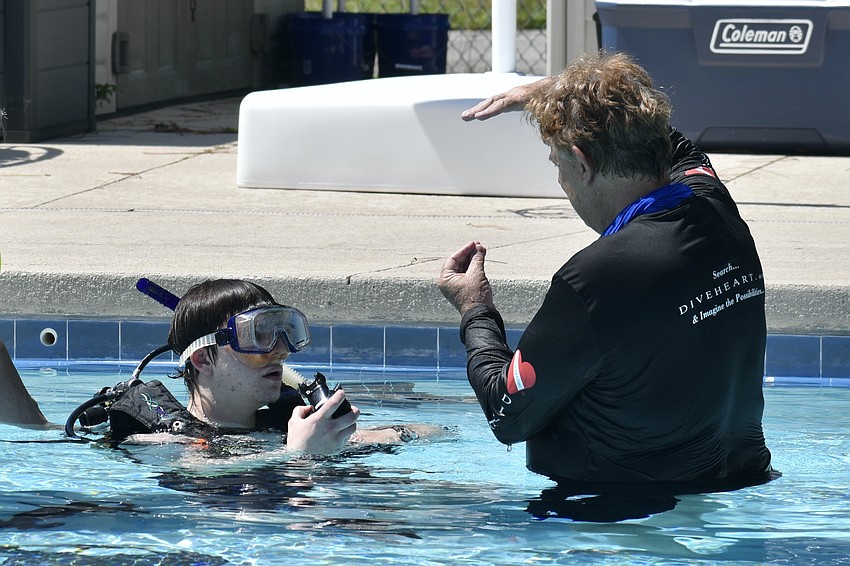 "Any group that takes people with disabilities, I want to be a part of," he said.
Griffin Black, a first-time diver, was left impressed by the experience of scuba itself.
"It's pretty surreal to be able to breathe underwater, and it's very relaxing," he said.
King said she enjoys coming out to the pool to watch people discover scuba, who may not have had the chance to do so before.
"It's pretty cool to watch someone in a wheelchair get in the water and do something that maybe able-bodied people take for granted," King said.
While the organization benefits anyone learning how to dive, Leung said, it is also for those who haven't been in the water due to an illness or an injury.
"We love having them come out, because we can show them how easy it is to get back in the water," she said.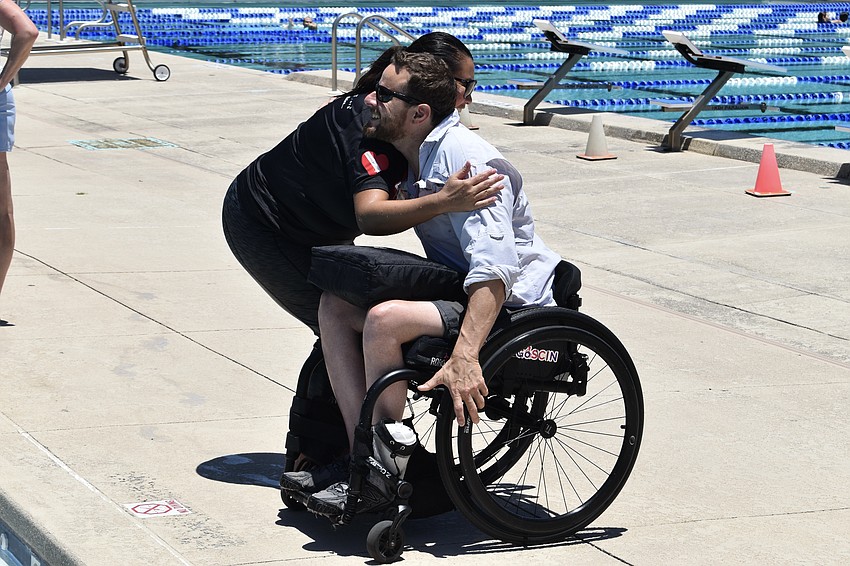 Attendee Jared Beck said he enjoys spearfishing, lobstering and scalloping — activities he is looking forward to resuming.
"This will allow me to get back into that," he said.
None of the divers' experiences, however, would be possible without the commitment of staff at the organization, which is volunteer-driven. Tom Trinch, who is in the process of becoming an instructor with Diveheart, said he has found the opportunity to work with participants immensely satisfying.
"It's a little different than certifying just anybody, of course, but it's so much more rewarding," he said. "Anybody can dive. You just need to get people out and show them."
He said while many think of diving as an extreme sport, this is not the case.
"It's easier for younger kids, because as adults, we think about it too much," he said. "Kids — they just go out and it's natural for them to have fun."
"What I like about scuba is there is no lack of volunteers; anybody who helps us out gets to go diving, too," said Menendez.
Callahan hopes that others have the chance to discover what the experience has to offer.
"This is a great opportunity for Claire. It's a well-run organization, and I would recommend it for folks similarly situated, to give them the same opportunity," she said.