A May graduate of The Out-of-Door Academy helped her Sarasota Crew teammates earn a fifth-place finish at the 2023 USRowing Youth National Championships, held June 8-11 at Nathan Benderson Park. 
Giraldo took the No. 5 seat in the women's varsity 8+ boat, which finished its race in 6:41.30, approximately 13 seconds behind winner Marin Rowing Association. It was the culmination of Giraldo's high school rowing career.
She began her career at a Sarasota Crew summer camp as an incoming freshman, going with friends who were looking for new sports to try. But Giraldo didn't find out much about rowing at the camp as it rained every day, she which meant rowing was scrapped in favor of kickball or other indoor games. 
At the end of the camp, Giraldo decided to join the Crew anyway. 
"I had nothing else to do," Giraldo said with a laugh. "But when I actually started rowing, it was a bit of a shock. I was not a person who worked out a lot. I guess I was not that fit. But it was exciting, and I liked having something to work at and improve."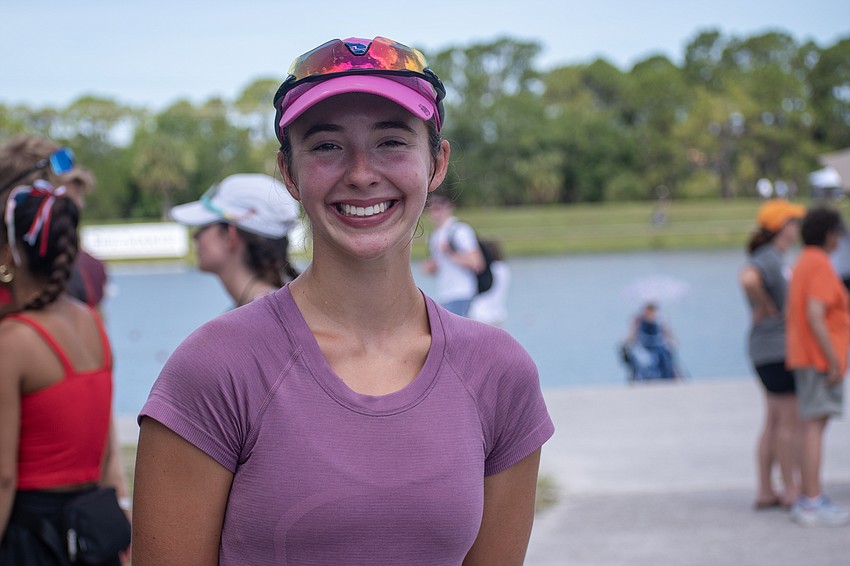 Giraldo did improve. After learning the ins and outs of the sport her freshman year, she accumulated valuable experience as a sophomore in 2021. That year, the Youth Nationals were open to anyone who wanted to participate because of the COVID-19 pandemic, when restrictions made it difficult for teams in some states to train as much as others. Giraldo rowed in the newly-created U17 8+ boat event and earned bronze (6:56.77). It was nice to have a medal, Giraldo said, but the U17 division does not carry the prestige of the varsity events, and the Nationals themselves were not carrying the usual level of competition, so she was driven for more. 
Last year, she moved to the Crew's second varsity 8+ boat, which finished 12th overall (7:04.09). The boat's finish was not what Giraldo hoped to accomplish, but her individual performance continued to improve and catch the eye of Crew coaches. This year, she earned a spot on the first varsity 8+ boat, and on June 11, she helped the boat to a fifth-overall finish in one of the most competitive events at Nationals. It was the Crew's first time reaching the event's A final in nine years, and Giraldo is proud of how she and her teammates performed. 
"I think we were all a little nervous coming into the event," Giraldo said. "We knew that all we could do was try our best. Our main goal was getting into the A final, and we did that. Once that was secured, we thought, let's just have the best pace we can."
Giraldo said it is a thrill to go against the best rowers in the country, something she never could have imagined when signing up for the Crew. Giraldo said she uses the opportunity as a type of measuring stick, comparing where her skills are to the skills of rowers from other crews. She also uses it as a chance to look at how far she and her teammates have come in their own development. 
"We were saying to each other before the race, if you had told us last year, coming off a second varsity B final, that we would be in the varsity A final this year, we would not have believed you," Giraldo said. "It was an exciting opportunity."
The Youth Nationals was Giraldo's last event with Sarasota Crew, but not in rowing. Giraldo will row for Boston University next year. Giraldo said she chose the Terriers in part because of Boston's climate —"I've always wanted to go up north," Giraldo said — but also because of its reputation as a great academic school, as well as the treatment she received when talking to members of the program. 
"It seemed like a great culture and all the coaches were nice," Giraldo said. "That was a big part of the decision." 
Giraldo said she's spent a lot of time in recent weeks thinking about the impact Sarasota Crew and the sport of rowing have had on her life. She's proud that she decided to join, she said, as it not only is giving her a chance to compete in college, but helped shape her as a person. 
"Rowing has helped me with self-confidence, fitness and overall life skills," Giraldo said. "I think I would be totally different if I had never joined. The organization means so much to me because of that."