After taking the oath of office and officially becoming a Manatee County Commissioner on Aug. 1, Lakewood Ranch's Raymond Turner was asked why he would want to transition from being a successful businessman to public service.
"Maybe I am crazy," he said with a smile. "But I'm in an age group where I would like to stand up and be counted. I can't wait for other people to do it."
Turner was sworn into office before the Aug. 1 Board of County Commissioners' work session. Gov. Ron DeSantis appointed Turner, a 20-year resident of Manatee County, to fill the remainder of Vanessa Baugh's term, which runs through 2024.
After nearly 11 years representing District 5, Vanessa Baugh announced her retirement from public service in June due to family concerns.
Turner said it is too early for him to make any statements regarding his goals. He wants to first connect with his constituents. 
"I am humbled and excited to represent District 5, which is one of the most desirable places to live," he said. "I am looking forward to getting up to speed. I know no leader can do it by himself, and we have an amazing staff."
His wife of 27 years, Debbie Turner, was by his side during the ceremony.
"I'm not worried about him," Debbie Turner said. "He is good for challenges. He is a tough guy."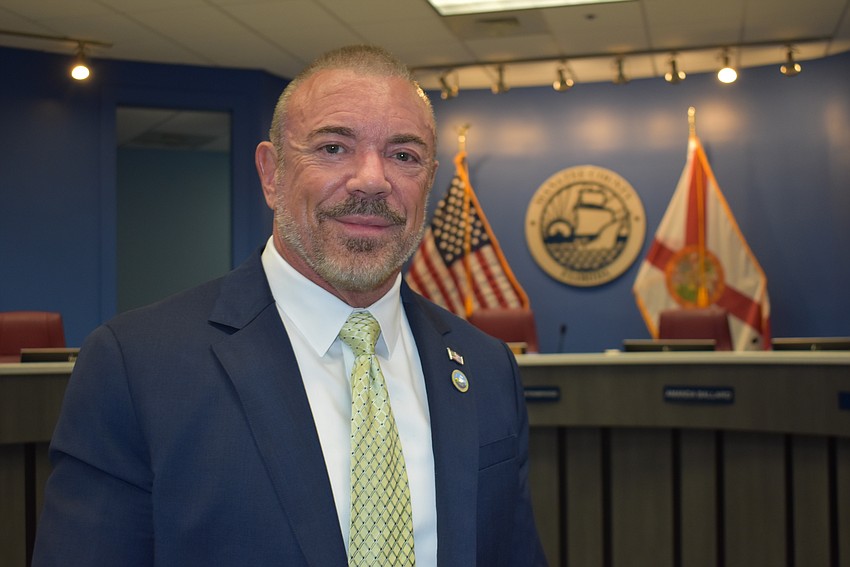 Turner was asked if he is tough enough to be a Manatee County commissioner.
"Do I look weak?" he asked.
Turner has been serving on the Planning Commission for Manatee County and is the secretary of the Manatee Sarasota Building Industry Association. A Manatee County release said he was born in Australia and educated in England and Canada, and began a real estate career in 1991, selling custom homes, before transitioning into many facets of the industry, including real estate finance, international marketing and executive management.
Baugh said he faces plenty of challenges and listed five pressing issues he might need to tackle immediately.
1. County administrator
This is an issue the commission has struggled with repeatedly since Ed Hunzeker retired in 2019 after holding the position for 12 years. 
"We've got some major issues going on in the county, and they don't seem to stop," Baugh said. "We need a good county administrator to come in and start moving the county in the right direction."
Candidates are currently being vetted through Colin Baezinger & Associates. While Baugh will not get a vote this time around, candidates will be presented to the board in August. 
2. Lakewood Ranch Library
The Lakewood Ranch Library is planned to open this fall, so the majority of the construction and hiring have been done, but Baugh said the work is not finished. 
"I think it's important that we stop and look at how that library is setting up for our children," she said. "Are they going to have a separate, safe environment for their enjoyment? In other words, make sure that the books that are going into the children's area are not sexually oriented."
While the commission declined to move forward with an added 15-member board to oversee the book selection process, they voted to expand the current advisory board to allow for more input. The prior board had five members and the new board will have nine, however, additional appointments have not been made yet. 
According to the county spokesperson, staff is working with the county attorney's office to craft the language within the ordinance "to establish more refined duties for the board."
"We've got to be respectful to all, not just one aspect of citizens, we have to look at the full picture of everybody," Baugh said. 
3. Road improvements
With so much development happening in her district, Baugh has long led the charge for road improvements. She's been a member of the Metropolitan Planning Organization Advisory Council since 2016 and has moved up the ranks since 2020 when she served as secretary. She then moved into the role of vice chairman for two years and is now the chairman. 
Baugh didn't want to rattle off a list of projects, but said that there are road improvements on the books that need to move forward. The one road she did have more to say about was Lorraine Road.
"With Sarasota four-laning Lorraine Road down through to Laurel Road, which is already under construction, we're going to start seeing more and more traffic on Lorraine Road," Baugh said. "It's imperative that we start on that road to make sure that it's safe for our citizens here in the county, in District 5 and other citizens that use that road as a pass through going to other parts of Florida. We've got to make sure that road is safe."
The approximately 2.76 miles of Lorraine Road between State Road 64 and 59th Avenue East is already set for an upgrade in October. The road will be widened to four lanes and include a median, bike lanes, sidewalks in each direction and street lights.
4. Premier Park
Baugh has long said that Premier Park will stand by the word "premier," and a premier facility takes time. However, Baugh would like to see her replacement and the entire commission push for the courts to be started before the aquatics center, so people can start playing sooner than later.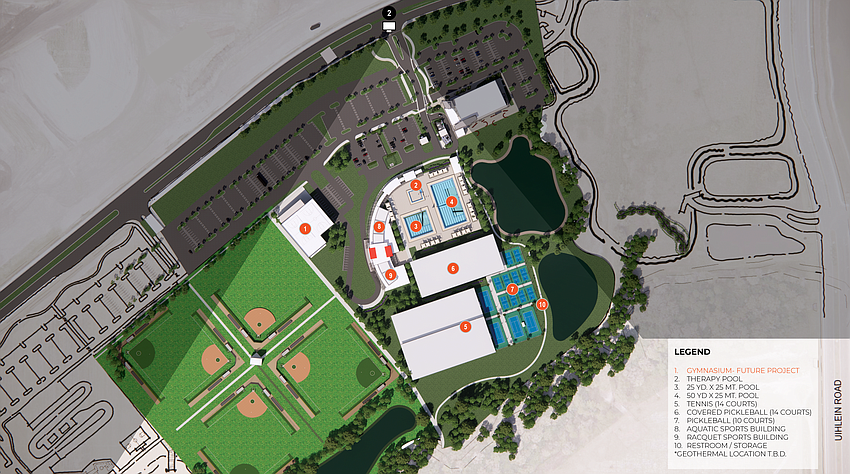 The pickleball courts were originally slated to be open last summer. As of April, the courts had a new completion date of November 2024, but at that time, commissioners requested county staff look into the possibility of starting work on the aquatics facility first. 
"We have such a demand for pickleball courts," Baugh said. "They can be put together so much quicker than the aquatics center. Let's get those pickleball courts done so people can be using them at the same time the work is being done on the aquatics center."
5. Infrastructure 
"The growth that's happening in District Five is more growth than anywhere else in the county," Baugh said. "We have to have the infrastructure already on the books, either starting or getting ready to start to handle the increase in traffic."
More than 60,000 people are living in Lakewood Ranch, and 1,227 new homes were sold from Jan. 1 to June 30, continuing Lakewood Ranch's run as the No. 1-selling, multi-generational, master-planned community in the U.S.
But District 5 is only one of five districts in the county. Commissioners George Kruse and Jason Bearden are at-large commissioners. 
"I think it's imperative that the board, the seven commissioners as a whole, get on the same page and move Manatee County forward," Baugh said.
In an emotional last commission meeting, all the commissioners wished Baugh well and offered their gratitude for her guidance.
"Literally every one of us is sitting up here on this board because of your help, because you helped us with our campaigns, because you advised us along the way," Chair Kevin Van Ostenbridge said. "Like it or not, I think we're your legacy." 
This story has been updated to include more information on Commissioner Raymond Turner.