Think high school coaches and teams get to take it easy over the summer? 
Think again. 
There may not be Florida High School Athletic Association games to play, but there's still work to be done. Just ask Riverview High football Head Coach Josh Smithers, who has been keeping his athletes in shape while waiting for official FHSAA practices to begin July 31.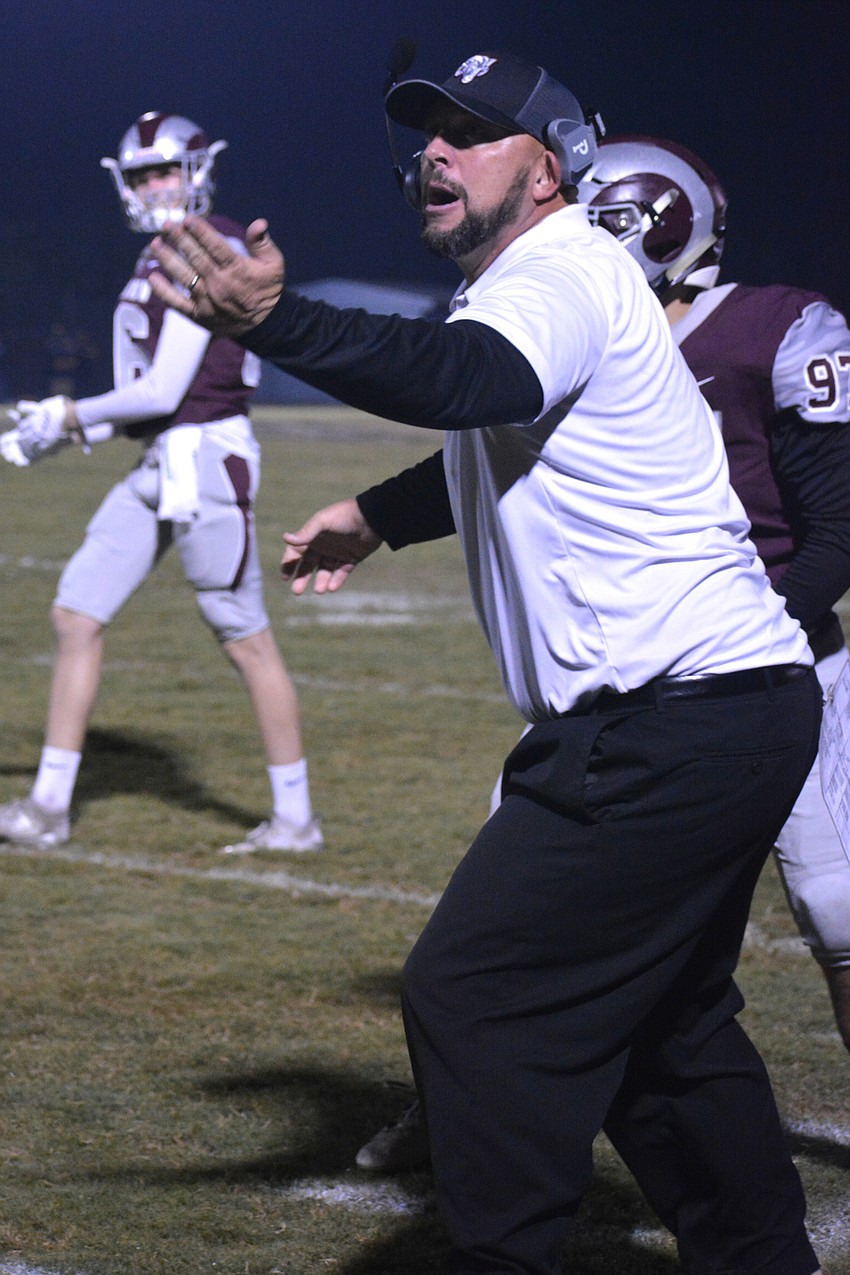 "We're going Monday through Thursday, 9 a.m. to noon," Smithers said. "We took the week of July 4 off, but the rest of the summer, we've been working. It has been the toughest summer we have had since I've been here, so eight years. Our kids have bought into it. We told them it would be tough and they went with it." 
The workouts are not mandatory, as players will occasionally take family vacations, go on college visits or test their skills at recruitment camps, but Smithers said the workouts have had a consistently strong turnout. Smithers said the team also attended a Grind It Out padded camp at Webber International University in June to get in extra work and build camaraderie, an idea first floated by new offensive coordinator Brody Wiseman. The Rams had attended similar camps in the past, but had taken a few years off. Bringing it back turned out to be a good idea: not only did it build chemistry, Smithers said, but seven Rams picked up scholarship offers from the school. 
Getting their kids recruited is another thing coaches have to do over the summer, whether that means helping kids put together film, talking to college coaches or simply spreading highlights over social media. The recruiting process is complicated and changing every day as the NCAA's Name, Image and Likeness rules get adjusted. Smithers said part of his job as a coach is pointing his players in the right direction when it comes to where they spend their time. 
"You try to steer kids away from those camps that are three or four days and cost $300 or $400," Smithers said. "Go to a one-day camp that costs $30. The mega camp at USF, that's an easy one for kids to get to, and they don't have to miss any workouts to make it. And when visiting schools, only go to a school that is actually interested in you. If you have been talking with the coaches and you have a good relationship and you think you might get an offer if you go, then go. But don't go take a tour of a bunch of schools just to go. It's a waste of time and money." 
It is not just football coaches keeping their teams right. Basketball coaches have stuffed summer schedules, too. At Cardinal Mooney High, boys basketball Head Coach Vince Cherry ran his Cougars ragged while he had the chance. 
"The whole month of June, I was here at 6 a.m. for practice," Cherry said. "We went from 6-8 a.m. Monday through Thursday. On the weekends, we were playing tournaments or camps."
Cherry and the Cougars played in events as far out as Gainesville and Tallahassee in order to get right. They had to work fast: July is a big month for travel team basketball, so June was the time for Mooney to gain chemistry before everybody headed their separate ways for a while. Cherry said he does not mind the July separation, as getting to hear from different coaches is beneficial to players in the long run. And for a player like Mooney rising senior Connor Heald, Cherry said, getting to play in front of as many college programs as possible can only help him in his search for the right next-level fit. 
Even though July will be a travel-basketball heavy month, Mooney's gym remains open two days a week, Cherry said, for the players who just can't get enough and want to maximize every opportunity they have. 
"My biggest philosophy is that if you love basketball, I shouldn't have to reach out to you to get you in the gym," Cherry said. "You should be the one saying, 'Coach, I want to get in the gym today. What do I need to work on?'"
But Cherry is also using this part of the summer to — get ready to gasp — take it relatively easy. He's overseeing a few youth camps, but he's also preparing to take time for family vacations while he can. Once late August hits, school has started and high school teams are focused on season prep. Cherry said members of the team will play in a Saturday league in Tampa to stay sharp until official practices begin in October. Time away from the game will help Cherry reenergize for that long season haul, he said. 
It's a relatable stance. We all need to get our minds right sometimes. And the start of the 2023-2024 season creeps closer; fall sports can start holding preseason contests in approximately one month, and regular-season contests one week later. High school coaches and athletes put in more work than we usually get to see to find success, but it's worth it, even if it goes unnoticed.