Since Carol Probstfeld became president of the State College of Florida 10 years ago, she's wanted to at least double the number of nurses the college could accept in its program. 
At the beginning of the 2023-2024 school year, Probstfeld's dream will come true when 350 students begin SCF's nursing program.
When Probstfeld became president 10 years ago, only about 160 nursing students could be accepted. 
Now with the help of 11 health care organizations throughout Manatee and Sarasota counties and the state legislature, SCF will be able to better serve a community that has a nursing shortage.
"I've always wanted to be able to take every student who applies and who's qualified," Probstfeld said. "In two years, if all goes well with that student, they'll graduate, and we'll have additional nurses available."
The State College of Florida thanked representatives from health care organizations, including Lakewood Ranch Medical Center and Tidewell Hospice, for their partnerships with SCF during a Nursing Appreciation Reception Jan. 17. 
"Today is about celebrating the power of collaboration, community partnerships and a shared commitment to helping our community solve one of our big challenges, and that is graduating nurses for all of our benefit," Probstfeld said to attendees.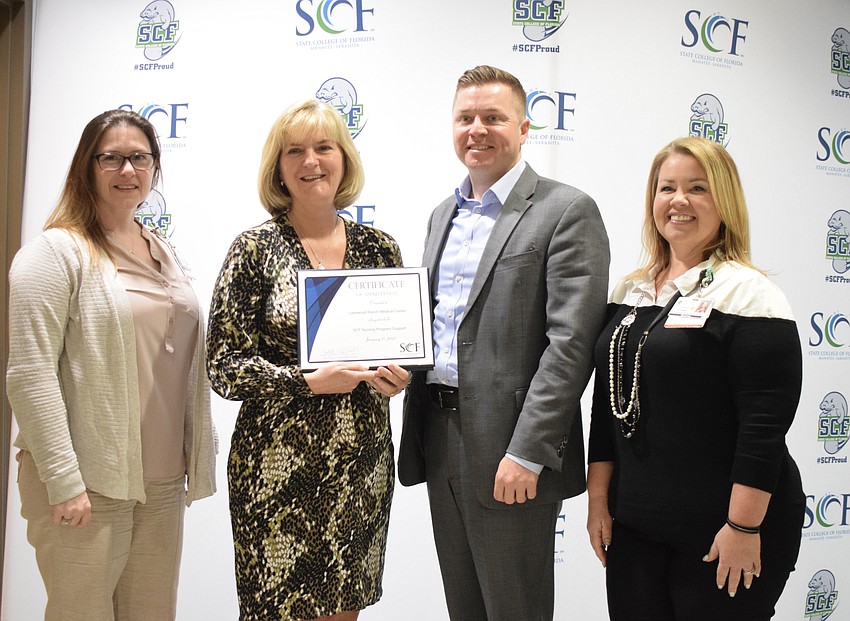 SCF started reaching out to hospitals and medical organizations almost two years ago to develop partnerships that could raise money to support the growth of the nursing program. Together, they raised $550,000, which was then matched by the state legislature through the Linking Industry to Nursing Education program as well as the Prepping Institutions, Programs, Employers and Learners through Incentives for Nursing Education program.
"It was always frustrating for me to see so many people who wanted to be nurses and couldn't through our programs," Probstfeld said. "Early on in my career, I set the goal that we were going to do everything we can to double the number of applicants we can take. This is the culminating moment of a dream I had 10 years ago. Sometimes things take time to get done, but we're here."
Probstfeld said a majority of graduates from the nursing program will take jobs at local hospitals and medical offices.
"It's not like other programs where their nursing students come from all over the state or all over the country," she said. "They come to us because they live here, they're connected here, they might have kids in school here. They're staying, and I think that's one of the reasons why our partners love working with us because they know that our nurses have ties to this community."
Lakewood Ranch Medical Center was the first to officially partner with State College of Florida. 
Judy Young, the chief nursing officer at Lakewood Ranch Medical Center, said she was excited when she first learned the hospital would be partnering with SCF.
"We see a lot of students through SCF here at the hospital," Young said. "The fact it was going to increase our nursing enrollment during this time where we have a nursing shortage was very exciting."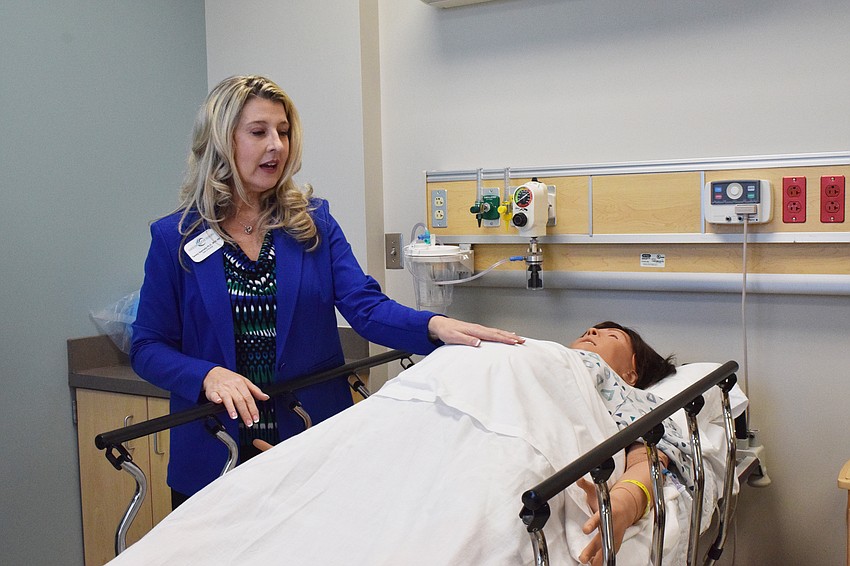 Young, a graduate of SCF, said the college provided her a good education that prepared her well for the job.
"There's a lot that comes along as you start your career in nursing and you actually work at a hospital, but it gives you a really great foundation for the nursing process and how to care for patients."
Young said Lakewood Ranch Medical Center hires between six and 11 graduates from SCF's nursing program each year, and many SCF nursing students are exposed to the hospital through their clinical rotations. 
She said the partnership between the hospital and SCF is an investment in the future of nursing. 
Young expects as more students are able to enroll in SCF's nursing programs, Lakewood Ranch Medical Center will be able to hire more SCF graduates as nurses in the future.
"With this partnership, one of the big things for us is we're going to see more students coming through the hospital," she said. "That will give them more exposure to our hospital and let them know there's a hospital in Lakewood Ranch that can fit the needs of their career as well."
As the nursing shortage continues across the country, Probstfeld and Young both said it's crucial for colleges and hospitals to find ways to increase enrollment and have more people become nurses.