Each year, artist Clifford McDonald submits pieces of art for acceptance into "Embracing Our Differences," the annual outdoor juried exhibition in Bayfront Park — 10 submissions each year to be exact, hoping that at least two will get selected for the show.   
So far, McDonald has been successful. For five years in a row, the 35-year-old Booker High School graduate has had his art blown up to billboard size and put on display in Bayfront Park. 
"The exhibit aligns with how I think and the message I want to spread," McDonald says. "To be able to go out there and see all these different people from all over the place taking in the work on such a large scale. It's powerful." 
This year McDonald, a former art teacher at Visible Men Academy in Bradenton, did something different when the call for artists went out. Rather than turn in 10 entries hoping to have a couple picked for the show, he submitted only two — and to his delight, both made the cut.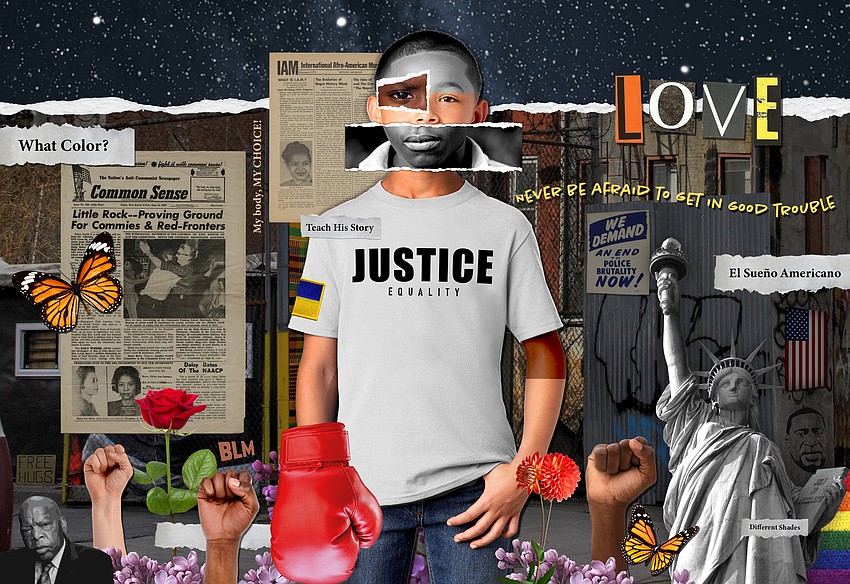 His digital collage "Good Trouble" — inspired by a phrase coined by civil rights activist John Lewis — is a mashed-up representation of social issues focused on standing up for what's right, or as McDonald says, "if you see something, say something." 
His other piece, "Free Hugs," is much more self-explanatory. "When you see it, you feel embraced. It's a simple concept that goes straight to the point," says the artist, who works full time in the marketing department at Harvest House, a nonprofit organization that provides affordable housing to homeless families. 
McDonald's pieces are just two of the 50 works featured in this year's Bayfront Park exhibition, the theme of which is "Embracing Kindness." 
"I want my art to inspire positive social change," says McDonald, whose little sister, Katrina Kinsey, a ninth grader at Booker High School, also has work featured in the show. "I'm in the beginning stages of growing a nonprofit arts organization with that same objective in mind."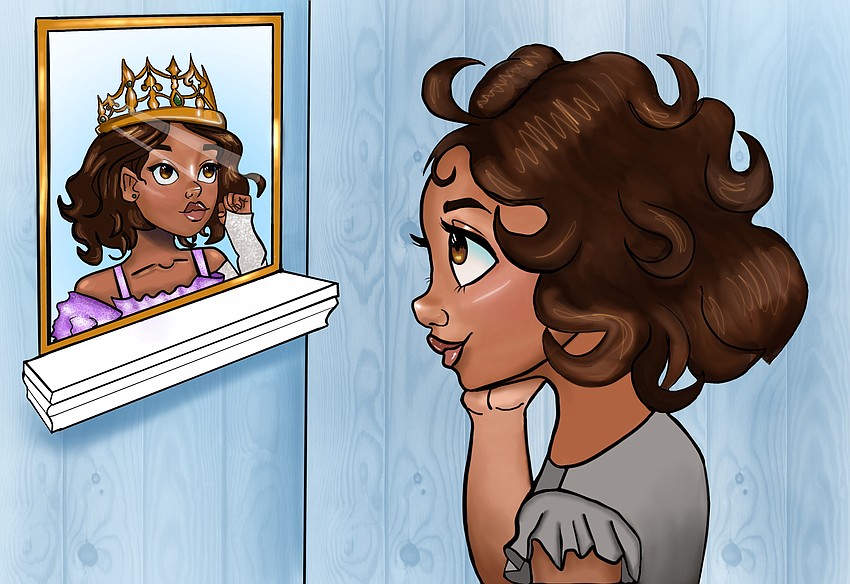 For the first time since launching 20 years ago, EOD, which opens Jan. 22 in Bayfront Park, will pack up its billboards and travel to two other outdoor venues over the course of the spring. On March 25, the show will open at Butler Park in North Port, and on April 29, it will open on the grounds at State College of Florida in Bradenton. 
Taking EOD on the road is no small feat given that each work of art is printed on a 12-and-a-half-foot by 16-foot vinyl banner that's framed and anchored four feet into the ground. Setting up the large-scale exhibition takes a full day and requires good weather, no wind and a crew of about 10-12 people. 
But it's worth it for the exposure, says EOD Executive Director Sarah Wertheimer. 
"Being that it's done on such a large scale, you're able to get up close and personal with the art," Wertheimer says. "It's a much more approachable feeling for a lot of people. A lot of times art can feel intimidating, and this can hopefully take away the intimidation factor."
Wertheimer says EOD's ongoing educational initiatives continue to grow the scope of the project. Case in point: In its first year, the organization received 124 submissions when it put out its original call to artists. This year, Wertheimer says she received 13,733 submissions from 119 countries. What's even more impressive, the exhibition quadrupled its visitor attendance in the past two decades, from 100,000 attendees in its inaugural year to 400,000 attendees in 2022.
"I would say that since our organization was founded, the mission has become even more needed today," Wertheimer says. "Treating one another with kindness and respect … considering where someone else is coming from … it seems so simple. But why is it so hard?" 
In an effort to reach more local students, EOD has added more educational programming, including two different reading programs in Sarasota and Manatee County schools, scholarships and a docent-training program open to high school students and teacher workshops providing area educators with skills, strategies and resources focused on art appreciation, character building and diversity education.