Shuffled feet brought bodies into the perfect defensive position, leaving no room for a comfortable shot.
Well-timed swipes knocked away the basketball, either out of bounds or into the hands of defenders.
A willingness to be physical in the paint left driving guards battered.
The Out-of-Door Academy boys basketball put their brand of defense on display Jan. 6 in the first half of their home game against Sarasota Christian. The result was the Thunder's 16-2 lead.
They couldn't quite keep the two-point defensive pace in the second half, and faced some offensive struggles of their own, but the Thunder figured things out when it mattered most to secure a 30-26 win over the Blazers (6-8).
While ODA's record is middling at 7-6, it represents a meaningful jump from where the program was a season ago, when they finished 7-16. Having already matched that win total, ODA has its sights on more. 
ODA's turnaround has come under the tutelage of first-year Head Coach Neil Berkman, but Berkman was not present at ODA's win over the Blazers to attend to a personal matter, according to athletic director Andres Parra.
The win was directed by Assistant Coach Freddie Morris, who is in his first year at the varsity level and is also the coach of ODAs middle school program. Morris said he and Berkman share a love of old-school basketball, which the duo has preached to its players all season. If the team's fundamentals are not good enough, nothing else will matter, Morris said. Play tight defense and get the ball to the basket and good things will happen. 
Morris said he saw a lot of those old-school qualities shine in the first half against Sarasota Christian. The Thunder players squared up and moved their feet, he said. He also saw the team playing physical, which is another part of the team's long-term vision.
"We don't want to be that game on the calendar that everyone circles and says, 'That's a win,'" Morris said. "We want to always compete. Even if we don't get a win on a night, we want teams to know that it's going to be rough coming into this gym and playing us." 
ODA senior Zach Fox said the biggest change from a season ago has been a wider use of the team's personnel. Last year, most of ODA's offense was filtered through two players, forward Kevin O'Donoghue (16.7 points per game) and guard Henry Ye (15.9 points per game). Both left in the offseason. O'Donoghue is a junior at Cardinal Mooney High and Ye is a junior at Lemon Bay High.
Fox said the challenge this year has been returning players figuring out how to create opportunities. While the growing pains have resulted in some low-scoring games, it has also helped the team's chemistry, as everyone feels more involved.  
He said the team has tried to never get too high or too low this season as players have adjusted to the new coaching staff and the players' own responsibilities. A four-game losing streak in December, including a tough overtime loss to the Academy at the Lakes (10-4), 63-57, didn't rattle the team, which has now won two games in a row to start 2023.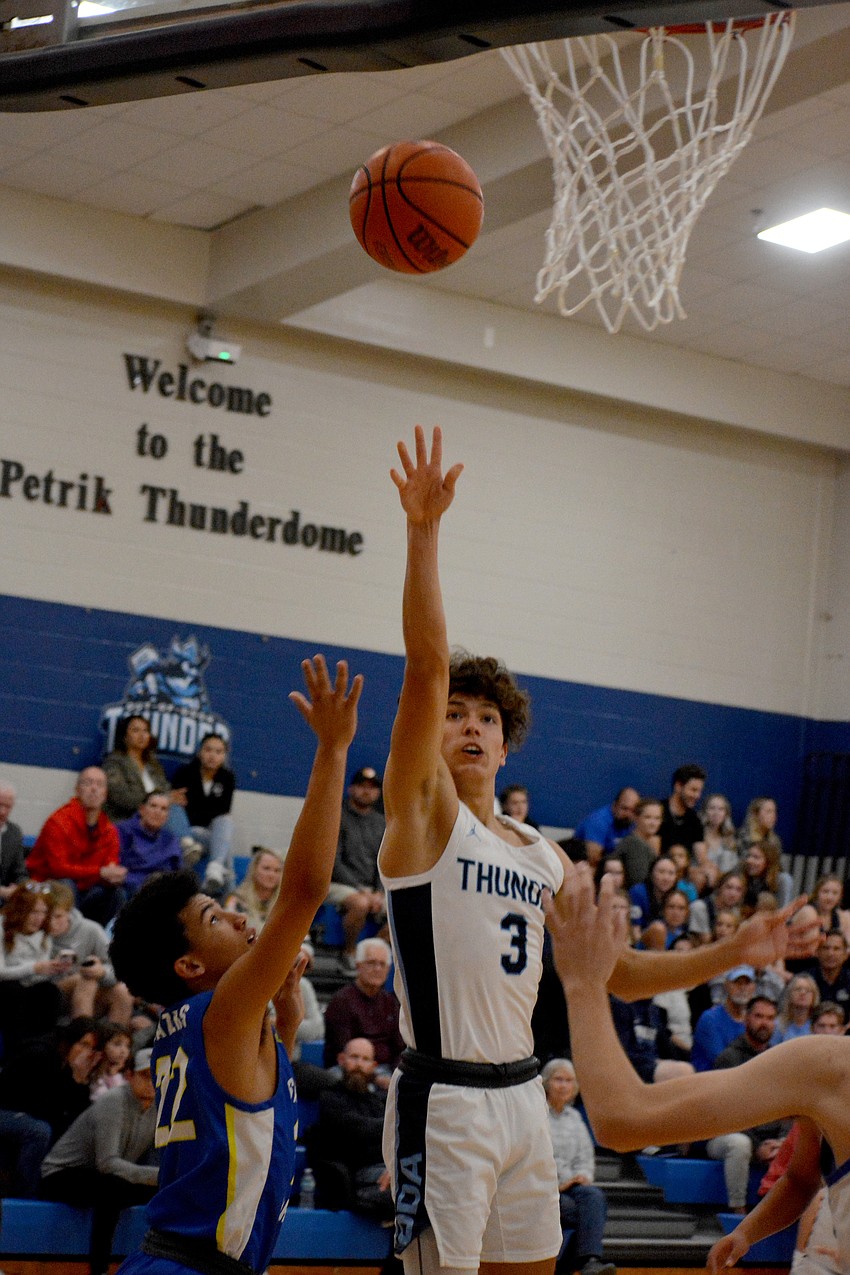 Against the Blazers, 6-foot-1 senior guard Michael Luedeke led the way with nine points while the 6-foot-5 Fox added eight points and the 6-foot-2 senior center Oliver Giraud added five points. Fox also hit a 3-pointer with approximately a minute remaining and sealed the game with a late steal off a Blazers' inbounds play, which he followed up by heaving the ball down the court to run out the clock. 
"I'm not usually a 3-point guy," Fox said. "I'll take one or two a game if I'm open. That one (late in the game), I felt confident when I shot it for some reason. That was probably my favorite moment of the season, hitting that and then getting the win." 
As of Jan. 7, ODA has 11 games left in the regular season, including two district games against The Imagine School at North Port (4-11) and Sarasota Military Academy (0-7). Those three teams trail behind Cardinal Mooney High (10-4) and Bradenton Christian (9-6) in the district. Thus far, there has been a clear divide between those two teams and the other three. ODA has not played Cardinal Mooney this season, but lost to Bradenton Christian by 25 points, 61-36. 
ODA's hope is that the gap is closing. The Thunder players and coaches are focused on getting better as the season progresses. One year removed from being 10 games under .500, it's a goal that appears achievable — and that, to them, is worth celebrating. 
"Our coaches always tell us to just do what we do (well) and we can win games," Fox said. "It's working right now."