Two new businesses have recently opened their doors on the north end of Longboat Key. One is a coffee shop in Whitney Plaza. The other is above the Lazy Lobster. 
Sips
A diary entry about a childhood dream to own a coffee shop has become a reality for Justina Condensa with the opening of Sips coffee shop.
The dream started coming to fruition when her parents, Mike and Emily, who own Performance Pilates in Whitney Plaza, heard of an opening and encouraged their daughter to take a look at the property. 
After touring the property with her fiance, Chris Carter, he recalled saying to her "let's just do it." 
"It was kind of a spur-of-the-moment decision," Carter said. 
The pair had been living in Atlanta working within their joint passion — fitness. 
Condensa worked as a Pilates instructor and Carter as a personal trainer. They recalled growing tired of the hustle and bustle of the city and knew they wanted to look elsewhere. 
The couple moved to the area in late July while the shop was being built out how they envisioned it. 
"It took longer than I initially expected," Condensa said. "We really learned the value of patience."
She did not recall facing any particular hiccups in the process, but when entering it, did not realize what opening a business on the barrier island would entail, such as permitting and the town's approval process.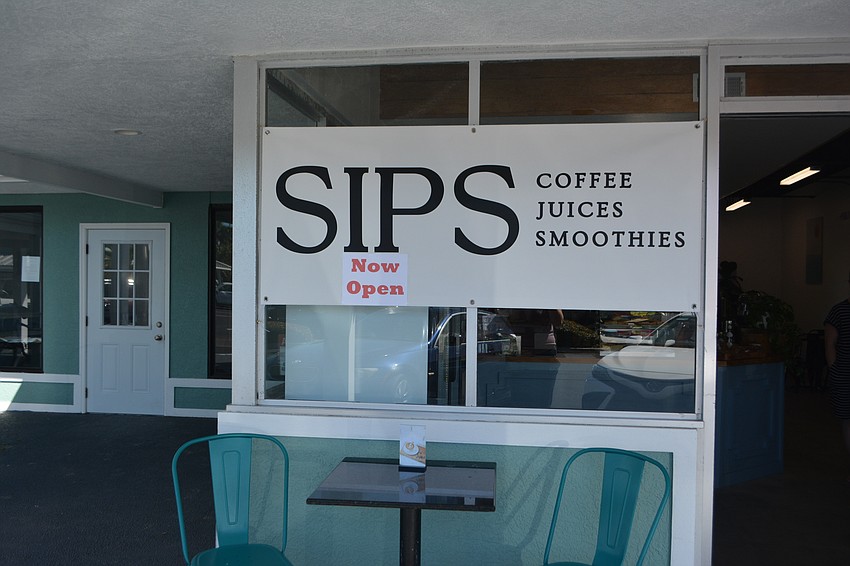 While the coffee shop is in its early days, the couple continues to do fitness instruction at Performance Pilates when the coffee shop isn't open. 
Condensa's coffee shop, which is run with the help of Carter, celebrated its soft opening Feb. 13 in Whitney Plaza, 6828 Gulf of Mexico Drive. 
The shop specializes in coffees, smoothies and juices, leading to the name Sips. 
"We were in the car moving down here brainstorming ideas (for the shop name)," Condensa said. "We had this giant list." 
When brainstorming, the couple continued with the notion "everyone can sip something" at the location, she said. Taking that idea literally, the couple decided to move forward with naming the shop Sips. 
The official grand opening of the coffee shop is going to be held March 1. Currently, the shop's hours are from 7 a.m. to 3 p.m. However, the couple says they have consistently stayed open later to meet the demand of customers happening upon the shop. 
In the few days the shop has been open, the couple agreed the powerhouse smoothie has likely been their most popular menu item. It includes banana, strawberry, blueberry, cherry, almond milk and vanilla protein powder. 
Other popular items include lattes and avocado toast. Condensa makes the mash for the toast before opening each morning to ensure freshness. 
Mental health private practice
Danae Koeper hopes to meet the needs of Longboat Key's residents with her new private practice located about the Lazy Lobster, 5350 Gulf of Mexico Drive. 
"There's not a lot of mental health care on Longboat," she said. "Mental health can be a stigma and can go unaddressed at times ... there's a definite need for more mental wellness on Longboat Key."
The practice has only been open for a few weeks. 
Koeper has been a licensed therapist for over 20 years. Nine of those years were spent in the center of a lot of grief as she worked with hospice patients and their families. 
"There is a lot of grief and loss out here," she said of the barrier island's demographic. 
She is hopeful that her practice, and the convenience of not having to leave the island, will help residents improve their mental health. 
Much like Condensa, she has known since she was young that she wanted to pursue a career that would link her passions of helping people and psychology. 
"I've always had a passion for helping other people," she said.
Koeper received her Masters in Social Work and license for therapy from the University of South Florida. She has lived in the area since 1976 with some time spent in Sarasota, Siesta Key and Lido Key before she made the move onto Longboat Key just under a decade ago. 
Individuals or couples seeking therapy can make a free 15-minute consultation with Koeper before deciding whether to pursue full-time care with her. She is accepting new patients and urges anyone interested to check out her page on Psychology Today, which also lists her contact information. 
This article has been updated with the co-owner of Performance Pilates.