Kelly Smith-Williams had wanted to be a teacher since she was 14 years old.
So when the School District of Manatee County named her the 2023 Teacher of the Year Feb. 9, it put an exclamation point on a dream come true. 
"It was humbling, incredible and overwhelming," said Smith-Williams, who teaches anatomy and physiology at Lakewood Ranch High School. "This is the best thing that's ever happened to me in my career. I wanted this award more than I've wanted anything else throughout my entire (seven-year) teaching career."
Smith-Williams was one of four Teacher of the Year finalists, along with four Support Employee of the Year finalists, being honored at the district's Excellence in Education Awards at Parrish Community High School.
Other Teacher of the Year finalists were Parrish Community High School's Kendall Carrier, Palmetto High School's Michelle Dowell and Braden River Elementary School's Tiffany Barrett-Greer. 
Support Employee of the Year finalists were Myakka City Elementary School's Gena Case, Lincoln Memorial Middle School's Brianna Hall, Braden River High School's Marisol Hernandez and Southeast High School's LaTisha Jones. Hall was named the 2023 Support Employee of the Year. 
When Smith-Williams was announced as the winner, Lakewood Ranch High administrators, staff members and students cheered. They even set up Lakewood Ranch High School inflatable tubes that waved in the wind outside the auditorium to celebrate.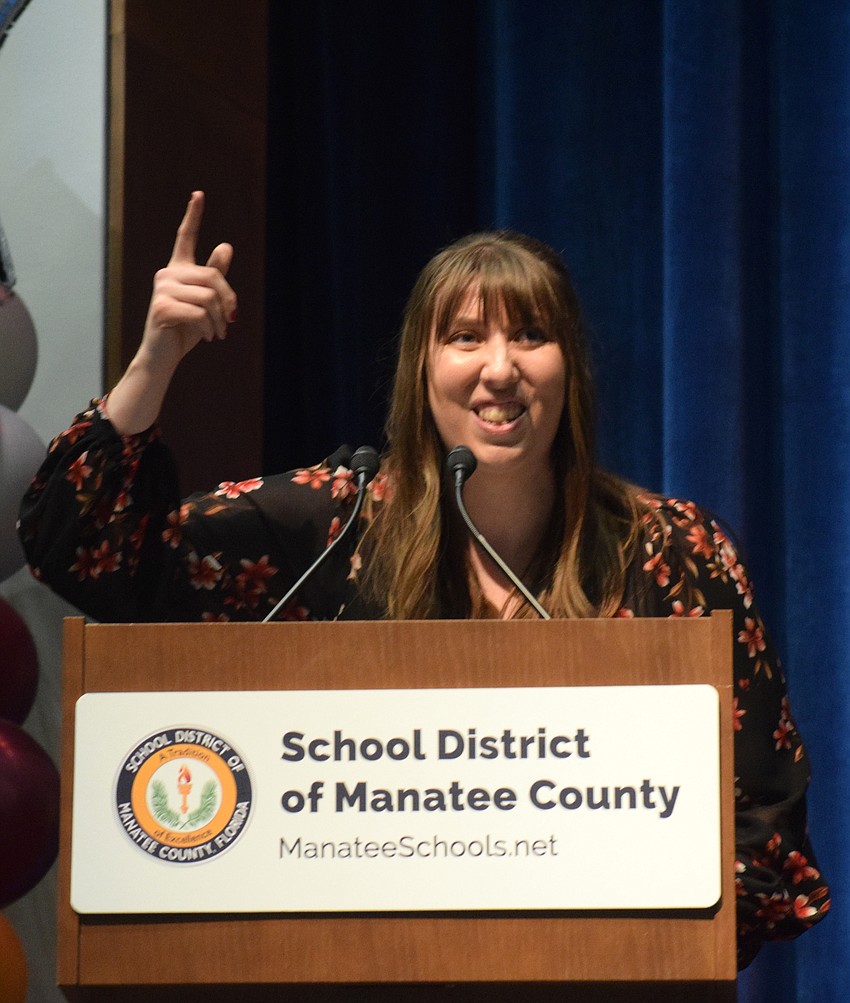 "(Being a teacher) is what I've wanted to do my entire life," Smith-Williams said. "I couldn't wait to get through college. I couldn't wait to get my first job. I couldn't wait to get my first classroom. I've just been given the most amazing opportunities in Manatee County. I'm forever grateful for all the principals, administration and all of my co-workers who believed in me."
Dustin Dahlquist, the principal of Lakewood Ranch High School, said Smith-Williams represents the group of "exceptional educators" at the high school.
"She is so positive," he said. "She has a passion for teaching. She's always wanted to be an educator, and that shines through each and every single day. She is there for students before school, after school, and she comes during the summer."
Senior Omar Rabah, who nominated Smith-Williams for the award, was thrilled to know the teacher he met three years ago was named Teacher of the Year.
"She genuinely changed my life from me not even knowing if I would stay in school, to going into the medical field," Rabah said. "She has shown me how important it is for me to be my own person and how to deal with social issues as well."
Rabah and senior Naika Dumorne said it's Smith-Williams' genuine interest in students and their lives that makes her an excellent teacher. 
"She doesn't just care about academics but our personal lives and how we're actually doing," Dumorne said. 
"Honestly, the best thing is she looks at students as people and not as students," Rabah added. "You feel like you can trust someone in the education system, which is really hard to find nowadays."
Senior Logan Reynolds said he can go to Smith-Williams any time for anything. 
"I've come into her class crying, needing help and she's been there," Reynolds said. 
Smith-Williams said having some of her students at the Excellence in Education Awards was a reminder of why she's a teacher, and she was honored that a student nominated her.
"It's the best to be nominated by a student because that means they believe in you just as much as you believe in them," she said. 
Smith-Williams, who has been teaching in the School District of Manatee County for seven years, started out as a physical education teacher before being asked to teach anatomy and physiology in the 2021-22 school year. 
Dahlquist said she stepped into a position that was previously taught by Faust DeLazzer, who had been teaching for 46 years and was considered a legend on campus. 
"She didn't even hesitate," Dahlquist said about Smith-Williams becoming the anatomy and physiology teacher. "She accepted that she had a lot to learn in her own classroom. She took it upon herself to take on professional development and seek out different resources to assist her. She's always looking to improve. She's a true lifelong learner."
Smith-Williams will go on to represent Manatee County in the Florida Department of Education Teacher of the Year Program, which selects the top teacher in the state for 2023.