If college interest is a measure of a high school football team's talent, it's not a stretch to call Cardinal Mooney High's roster the most talented the program has ever had. The talent is found on both sides of the ball, and it could allow the Cougars to reach a level they never have. 
But as Mooney learned in 2022, a paper roster only goes so far. On the field, teams still have to perform at a high level to come home with victories. Mooney struggled early in the season: after escaping with a 10-9 home win over Booker High in week one, the Cougars lost six straight games, four of which were by 20 points or more. Mooney managed to turn things around at the end of the year, closing the regular season with three straight wins — including a gut-check 14-7 road win over Riverview High — and did just enough to reach the Class 1S postseason, but lost 38-7 to John Carroll Catholic in the first round. 
The Cougars believe 2023 will be different. 
"We're excited for the season," Head Coach Jared Clark said Aug. 12 at a Suncoast Media Day press conference, held at The Mall at University Town Center. "We worked our tail off this summer. It was hotter than heck. (Strength coach) Jon Haskins does a great job with these guys, giving them a bunch of functional lifts and movements and comes up with ways to get these guys in shape. I think we're an incredibly talented group, no doubt about it."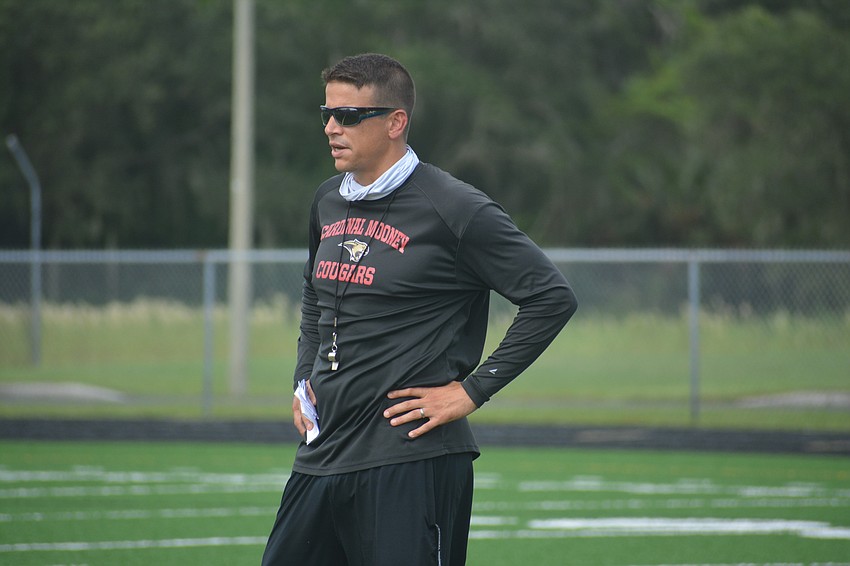 For Mooney, it starts on defense, particularly in the secondary. Senior cornerback Teddy Foster committed to the University of Florida on July 14. Foster, who is 6-foot-2, 170 pounds, is a three-star player and the 68th-ranked cornerback in the national Class of 2024 according to the 247Sports Composite. On the other side of the field will be 6-foot-1 junior Chris McCorkle, who is uncommitted but holds an offer from Florida, as well as Michigan State University, West Virginia University, Boston College and other NCAA DI schools. 
The program is also excited about defensive back Macaiden Brown, a sophomore, who picked up his first NCAA offer from Georgia Tech University on July 27. Brown, who is 5-foot-11, 175 pounds, had a pick six in the Cougars' 24-20 preseason win over Booker High on Aug. 18. 
The team's pass-defending abilities are enhanced by its defensive front seven. Senior linebacker George Leibold had 117 total tackles (eight tackles for loss) five interceptions and two sacks in 2022. He holds an offer from Stetson University. Senior linebacker Jacob Brown also returns after racking up 68 total tackles (three tackles for loss), a sack and two passes defended in 2022. On the line, sophomore Blake Roulund (34 tackles), junior Scott Silva (30 tackles) and senior Lorenzo Walls (17 tackles) should provide a steady base. 
The players in the front seven may not have the external hype the secondary carries, but they're just as hungry for results. 
"I just like playing football," Leibold said at Suncoast Media Day. "I like it all. Blitzing and making plays."
On offense, Foster and McCorkle will use their natural athleticism at wide receiver, and they won't be alone. Zy'marion Lang, a transfer from Palmetto High, will be another dangerous option on the outside. Lang, who is 6-foot-2, 170 pounds, is a three-star player and the No. 76 wide receiver in the national Class of 2024 on the 247Sports Composite. He committed to the University of South Carolina on July 30. He had 28 catches for 470 yards and five touchdowns at Palmetto in 2022. The team will also feature running back Carson Beach, a senior who earned the starting job as a freshman and has produced ever since. The 5-foot-10 Beach had 952 yards and eight touchdowns in 2022 and holds offers from West Virginia, the University of Tennessee and the University of South Florida, among other schools.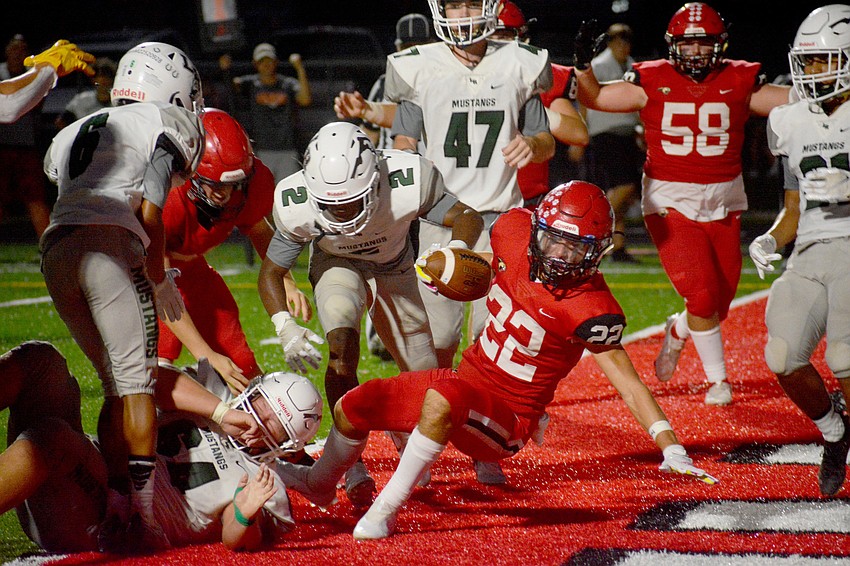 Getting all these weapons the ball will be senior quarterback Michael Valentino, a transfer from Charlotte High. He threw for 1,090 yards, nine touchdowns and 10 interceptions in 2022. At Suncoast Media Day, Clark said Valentino won the job over the course of spring practice, beating out sophomore Devin Mignery — though Clark also said the team will find ways to get Mignery on the field this season, as Clark believes Mignery is varsity-ready right now and wants him to get game experience for the future. 
At Suncoast Media Day, Valentino credited seven-on-seven tournaments with developing chemistry between him and his wide receivers, which led to improved learning during spring practice. Valentino completed six of 17 passes for 64 yards in the team's preseason win over Booker, but he also added 99 rushing yards. 
The Cougars also made a significant addition on the sidelines, bringing in former Palmetto High Head Coach Dave Marino as the team's offensive line coach. Marino stepped down from head coaching duties following the 2022 season. Marino went 100-57 over 13 seasons at Palmetto. 
Along with the Cougars' talent explosion comes an increase in strength of schedule, something Clark said was intentional, as a challenge to his players and a chance to prove the doubters wrong.
"One of the knocks on Cardinal Mooney is that we're a small school and we can't compete with the big schools," Clark said during his press conference. "We wanted to play all the area schools that we could. So we're playing Booker and Lakewood Ranch and Sarasota and Riverview this year and we're going to see what happens." 
The Cougars will also play district foe John Carroll Catholic again, plus rival Bishop Verot High, who went 10-3 and reached the Class 2S state semifinals.