A new attainable housing development on North Tamiami Trail made its first appearance before the Sarasota Development Review Committee on Tuesday. Blue Sky Communities of St. Petersburg is proposing a 96-unit project on Sarasota County-owned property at 4644 N. Tamiami Trail.
The county selected Blue Sky to build a four-story, 90-unit residential building and an accompanying three-story, mixed-use building with 3,040 square feet of commercial space on the ground floor and six apartments above.
The development will occupy just less than 3.5 acres of the 6.3-acre site fronting Tamiami Trail. The project site has a future land use designation of urban mixed-use and will be developed under North Trail Overlay District standards. The eastern 2.8 acres is designated as Single Family-Low Density Residential. The county currently has no plans for that portion of its property.
"The majority of the rents are going to be below 80% (area median income)," said project consultant Joel Freedman. 
The L-shaped main building will partially front Tamiami Trail, separated from the mixed use building by a driveway. Consistent with the North Trail Overlay District, the parking will be located internally to the project. A retention pond will separate the north-facing frontage from adjacent single-family residential.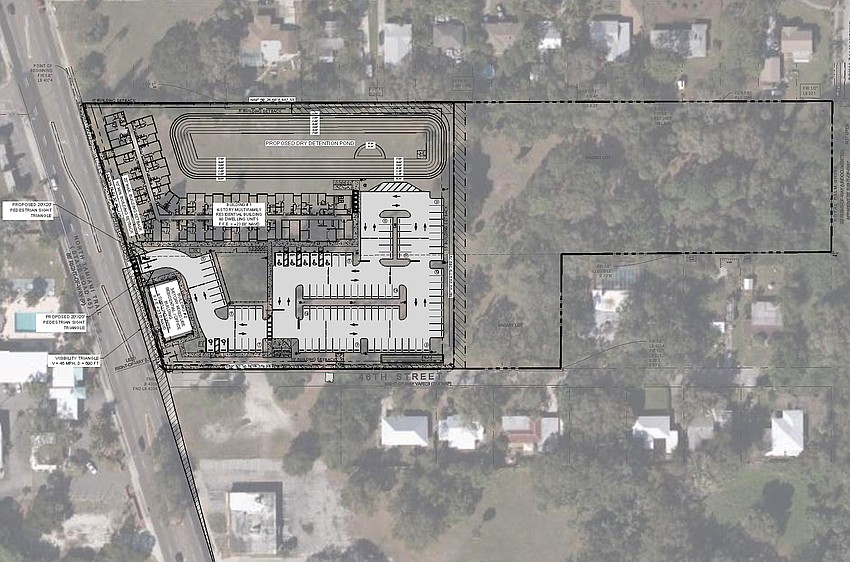 Planned is a mix of one-, two- and three-bedroom rental apartments, all developed as attainable units per the city's definitions at 80% AMI, which includes rent and utilities. Although the project is required to have a minimum of 57 parking spaces, there will be 106 spaces, in addition to bicycle racks. A single vehicle access is proposed directly from Tamiami Trail.
More downtown condos
On the opposite end of the multifamily spectrum, the DRC discussed a new submittal for a 10-story, 16-unit condominium development at the southwest corner of Cocoanut Avenue and Fourth Street. 
Also representing developer 4th Street LLC, Freedman told the DRC the project will seek Planning Board approval for adjustments once it receives staff sign-off. The 0.36-acre site comprises two vacant lots and one single-family dwelling. Zoned Downtown Core, the site has a maximum density of 18 units, two more than planned.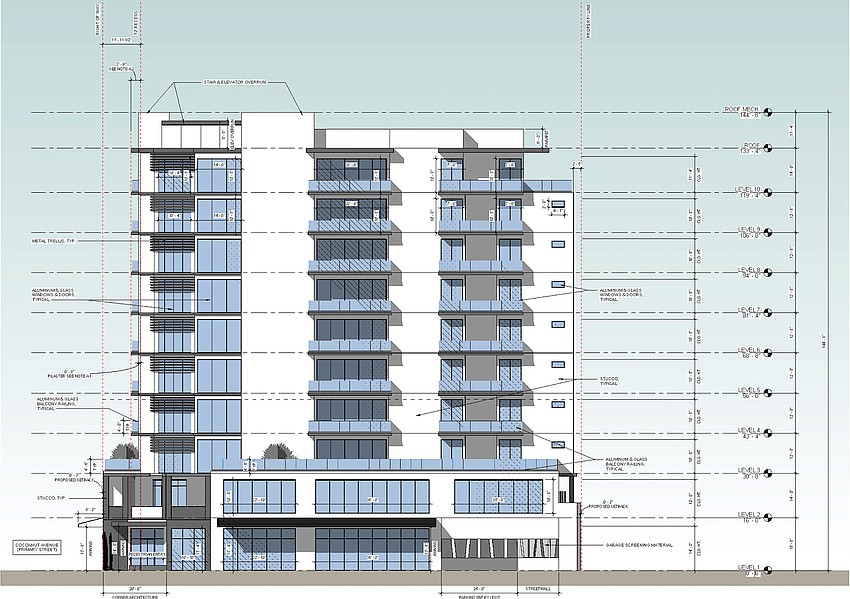 As a result of input from community workshops, the project will seek Planning Board approval for vehicle access from Fourth Street rather than via a 20-foot alley on the south side.
"We have requested a Planning Board adjustment to do that," Freedman said. "That is being driven quite frankly by a lot of the neighbors' comments from the couple of neighborhood workshops. We think it will lessen the impact on the alley."
A second adjustment is to allow for a reduction to the habitable space requirement along both Fourth Street and Cocoanut Avenue, which is necessary for the parking access and required utility access along Cocoanut. 
In addition, a third adjustment will be sought to permit parking to be located on the ground floor, which will allow for two additional parking spaces. Although the project exceeds required parking, the two additional spaces are needed to minimize on-street parking, a concern raised by surrounding residents.
To address multiple comments raised by staff, the project will require resubmittal and at least one more appearance before the DRC.