There are master swimmers, and then there are Masters swimmers. 
This week, Sarasota will be home to athletes who meet both qualifications. 
The United States Masters Swimming Summer National Championships will be held Aug. 2-6 at Selby Aquatic Center. It is the first time the event has been held in Sarasota, though the city has held other large-scale swimming events, most notably the 2020 Toyota U.S. Open Championships and the 2013 Pan American Masters Championships. 
Sarasota Sharks Masters Coach Rick Walker said the event is expected to see approximately 1,200 swimmers compete, 228 of them from the Sharks. Walker, who is also serving as a meet director, said the event has been a lot of work to put together while also getting his swimmers ready to perform, but he enjoys the challenge. He's also competing in the event himself, in four solo events and four relays.
"I'm trying to figure out how that's going to go," Walker said with a laugh. "My legs are already shot." 
If someone can keep up with all the commotion of the week and still perform at a high level, it's Walker, who swims not because he loves the feeling of it — though he does — but because of what it allows him to do. 
"Any sport can be addicting, the training part of it," Walker said. "I typically swim six days a week, taking Sunday off. I started doing this when I was 35. I'm now 73. As you get older, you reach a point when you realize you have to keep doing this (swimming) if I want to keep the lifestyle and health that I have. Swimming is a fountain of youth. Do I get tired of it? Sure, sometimes. But I also know that if I stop, I won't be as healthy in the future." 
Walker's dedication to the sport has led to success. He currently holds 10 USMS relay records, including the long course X280-319 400 Freestyle Relay (4:45.34), which he set July 9 with teammates Karen Einsidler, Jami Gray and Lee Childs. Walker said he expects many records to be broken at the Summer Nationals, as swimmers get faster and faster with each passing year.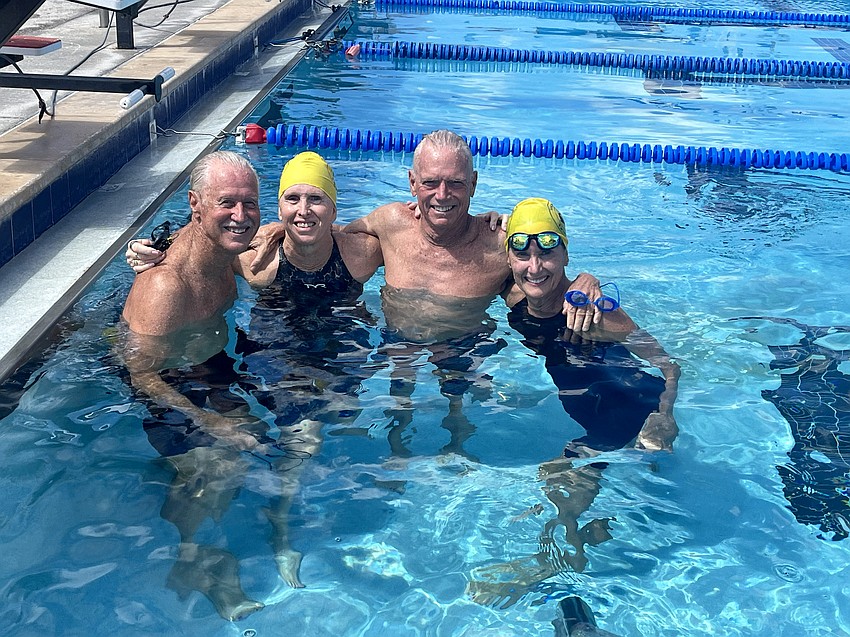 For Walker's relay teammate Gray, swimming has become a privilege, even if it was not always that way. She grew up swimming during Ohio summers and competed at Bowling Green State University in the 1970s. She loved it until she didn't. Thanks to constant over-distance training by her coaches, Gray's body was getting tired. Once she graduated and began a teaching career in Houston, she gave up on the sport entirely. 
In 2009, now living near Traverse City, Michigan, Gray was diagnosed with breast cancer. She beat it, but the experience left her with a different perspective on a lot of things in her life. She wanted to get back to pleasure. When a co-worker suggested Gray pick up swimming again, she was intrigued. She had not thought about doing so for a long time. It took time and a few more conversations to get Gray back in the pool, but once she tried it, she knew she was never letting it go again. 
"When I jump in the pool (now), all I feel is joy and happiness," Gray said. "It's odd to say, but it almost feels meditative, the rhythm of my strokes and my breathing. I count my strokes. I don't listen to music or anything. I feel the rushing of the water by my ears. I feel like I have my power back. Competing again is so scary for me, but when I'm done, I feel badass." 
Gray will represent the Sharks in her age group's 50 butterfly and 50 freestyle, plus four relays. She's been back in competitive swimming since the Sharks' "Take a Bite out of Covid" meet in 2021, but the Summer Nationals will be a good chance for Gray to test her skills against top competition. Gray said she's excited to see other swimmers whose names drape over the top-10 times lists for her events.
However Gray does in her events, she's going to feel like a winner. It took a lot of hard work to get back in competitive shape after 41 years away, Gray said, but she's glad she put in the effort. 
"Every human needs to be challenged and not just sit back," Gray said. "Everyone needs to be challenged and get comfortable with that challenge. Even if you're 85 years old. That's the biggest thing, because man, I feel so good."