If you like a good Donald Trump joke, then the Sarasota Yacht Club was the place to be on April 4. Rick Wilson was the guest speaker at this month's Longboat Key Democratic Club luncheon. 
Wilson is a political strategist, a former Republican and a cofounder of The Lincoln Project, formed in response to Donald Trump's reelection campaign. 
Wilson has a few traits in common with the man he describes as hating with the fire of a billion suns. Both men know how to draw a crowd — 200 seats sold out and disappointed Democrats were turned away at the door — and neither man is opposed to name calling. 
Wilson said Republicans can't be shamed, but they can be mocked. Then, the roast of Gov. Ron DeSantis commenced. Wilson called him "Diet Trump" and told the audience that talking about the lifts in his boots drives him crazy.
"You've got to mock these people, too. Yes, he's a monster. He's a bad man. He's a terrible human being," Wilson said, "But he's also a whiny weirdo with a chip on his shoulder."
When an audience member questioned why he was so sure DeSantis couldn't beat Trump for the Republican nomination, Wilson cited the project's latest survey that said Trump has 56% of Republican voters, then he painted the image of DeSantis on a "sewage chute headed South."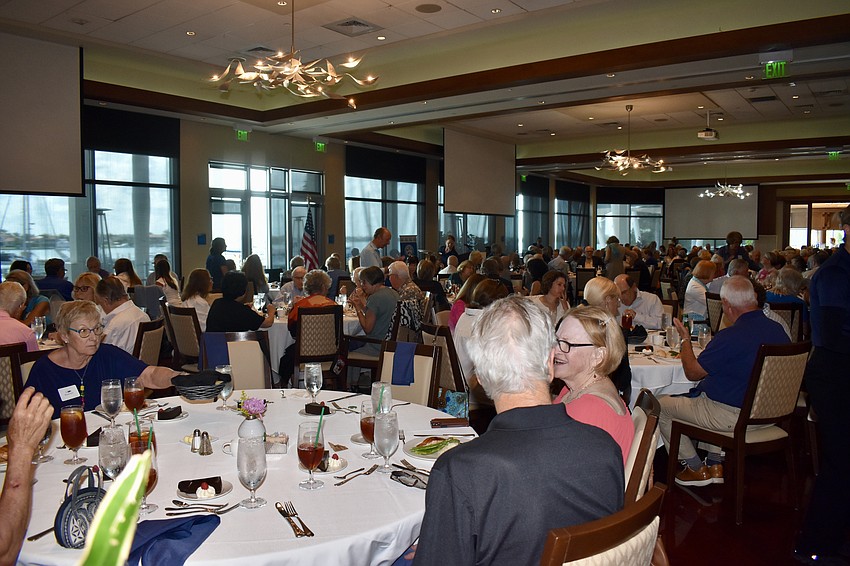 "Make no mistake, Ron DeSantis is the most dangerous Republican governor in the country. He is an autocrat. He is a bully. He is a punk. He is a thug. And as I said earlier, he has a voice that's the mansplaining voice of every woman's first husband," Wilson said. "You guys have a lot of work to do, not just in Florida, but across the country. Democrats need to learn a couple of simple rules to win in 2024."
The first rule was more of a credo that he continued to repeat until the audience laughed: The race isn't about policy. Wilson posed two outcomes. In the first, the country survives as a democracy with free markets and individual liberties. In the second, the country descends into authoritarianism, chaos and oppression. 
"When you look at a guy like DeSantis, the establishment, for a minute, thought he's Trump without all the rough edges. He's Trump without all the problems," Wilson said. "No, he's much worse. He's Trump with more discipline. He's Trump with people around him who are smarter and more evil." 
The guest brought his own guest — Andrew Warren, the Hillsborough County state attorney who was fired by DeSantis last August and has been fighting to get his job back since. While a federal lawsuit ruled that Warren's indefinite suspension violated both the Florida and U.S. constitutions, the court also ruled that it didn't have the authority to reinstate him. 
"That was so unbelievably unconstitutional and so authoritarian. He removed Andrew from office because he thought Andrew might do something someday that he didn't like. That's Fidel Castro. That's Stalin. That's Kim Jong-un," Wilson said. "This is insanity, and the way to fight back against it is to start reducing their ability to use super majorities to abuse power."
The rest of Wilson's rules focused on increasing voter registration and finding ways to slowly but surely take back local government and then Senate and House seats. He warned not every candidate will share your every view. 
Club President Arlene Skversky is ready to hit the ground running this summer with precinct captains and volunteers, but she'd like to see more Democrats join the fight. 
"There are 1,250 Democrats at the southern end of Longboat and another 800 on the north end, but we don't have that many members at all," Skversky said, "But they come to the luncheons. That's good, but it would be nice if they were members." 
Visit LBKDems.com to become a member. The cost is $50 to join.