It was obvious Rob Hollway couldn't do any worse in his first season as the head coach of The Out-of-Door Academy's varsity football program.
The program was coming off of back-to-back winless regular seasons.
Of course, Hollway wanted more that just snapping the long regular season losing streak. Hollway, who played college football at the University of Wyoming, had excellence in his background. He earned the 2016 Independent Football Coach of the Year award from the Florida Athletic Coaches Association after leading All Saints' Academy to its first-ever Sunshine State Athletic Conference state championship win, 25-16 over Canterbury High.
Hollway wanted that kind of success for ODA. 
But even the most optimistic ODA fans couldn't have expected what Hollway has accomplished since the 2022 season began.
The Thunder (8-0) completed a perfect regular season Oct. 21 with a 37-21 road win over Bradenton Christian (2-6). Stats from that game mirror what has been happening all year.
Senior running back Griffin DeRusso, a transfer from Berean Christian in Walnut Creek, California, amassed 160 yards and a touchdown on 26 carries. Senior running back (and linebacker) Luca Marino had one rushing and one receiving touchdown, the latter on a pass from senior quarterback Jack Hobson. Senior wide receiver/running back Giovanni Giuliani, whom Hollway called the fastest player he's ever coached, also had a rushing touchdown.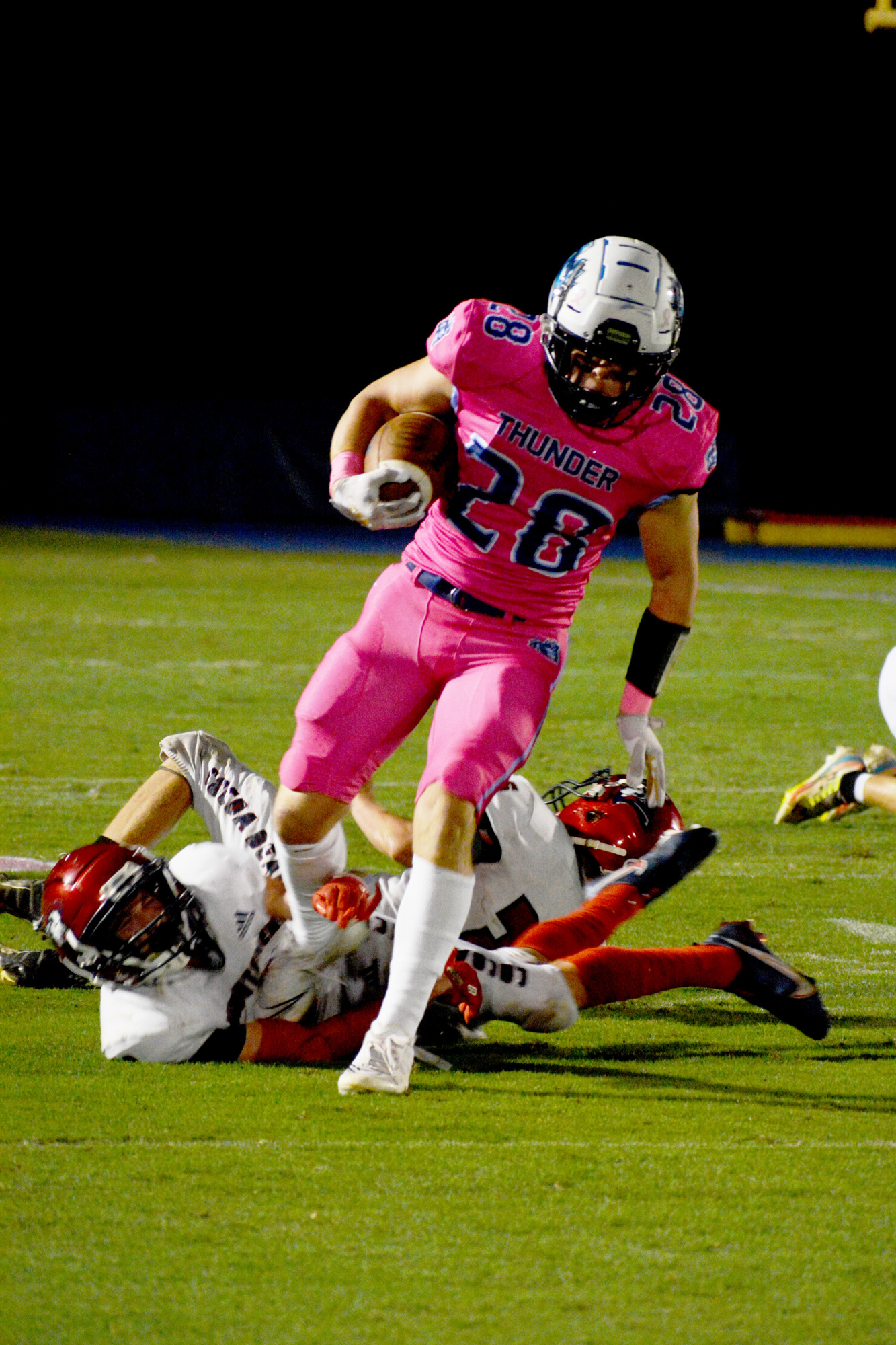 ODA has established itself as a heavily run-first team, yet even with that knowledge, no one can seem to stop them. The Thunder had 384 rushing yards as a team against Bradenton Christian. 
The Thunder are making the winless-to-undefeated turnaround look easy.
The players and coaches said a lot of work has gone into the rebuild, starting with the program's culture. Hollway began to change that immediately, making sure the players would have fun while training for the upcoming season.
"I admire fun coaches, like Dabo (Swinney) at Clemson," Hollway said. "That is who I want to be. I'm a loose guy. I'm a good vibe guy. The reason I played sports was to have fun and be with my teammates, so I try to emphasize those things. I think it is having a positive impact here." 
The sentiment from the players is that Hollway understands them like past ODA coaches have not. Hollway plays modern music from a boombox at practice. He talks to players like they are on his level, not beneath him.
Hollway rarely, if ever, raises his voice, preferring to calmly explain any mistakes a player makes. He then suggests a fix, before sending the player off with a fist bump or a tap on the helmet. 
After ODA's 54-10 home win over Cocoa Beach High Oct. 14 — the team's Senior Night game — Marino called Hollway "the best coach in the nation." 
"He's fun and he's there for us," Marino said of Hollway. "What more do you need?"
A lot of the attention during the turnaround has gone to the ODA baseball players pulling double-duty on the football team, including Marino, Hobson, Giuliani and linebacker Brandon Beasley.
Some of them, like Marino and Hobson, played a few games at the end of last season, but were unsure about returning, while others are brand new to the sport, at least at the high school level.
The baseball players joined the football team for summer practices, changing Hollway's perception of the team's 2022 expectations after not having them for spring practices.
Certainly, the Thunder's skill positions have received a speed and athleticism boost from those players. But the foundation of the program is the returnees, players like junior linebacker Charlie Tack, sophomore offensive linemen Chase Polivchak, senior cornerback Drew Hill and junior linebacker/running back Jack Meyers. All four players endured at least one winless season at ODA, and all four said there were tough moments when they questioned if the program would ever get going in a positive direction.
The team had just eight players listed as offensive linemen in 2021 and one of them, Max Polivchak, was an eighth grader. Injuries to the line and other positions decimated the team and turned each game into an impossible uphill climb.
While Tack said he's too much of a football nut to give up the sport, no matter what the situation was, Hill said after the 2021 season-ending game against rival Saint Stephen's Episcopal was canceled because of ODA's lack of healthy bodies, he thought he might have played his last football game. The program was low on athletes wanting to play, and after Head Coach Jon Haskins stepped down to take an assistant position at Cardinal Mooney High, it was unclear who would be leading the program. Why return to such uncertainty and such little reward?
"There was nothing positive happening," Hill said. "We were stuck in that cycle (of losing)."
Ultimately, Hill decided to stick around when he attended the team's seven-on-seven practices in July. He saw that Hollway was upbeat about the team's chances and he saw his friends, including the baseball kids, back on the field. The stress of previous seasons was gone, replaced by a back to basics attitude and a renewed sense of enjoyment. 
Polivchak, who is 6-foot-4, 265 pounds, was one such player to suffer a leg injury and miss most of the 2021 season. He's back now, and he said getting to play in Hollway's run-heavy scheme is allowing him and his fellow linemen to thrive. Polivchak's size gives him an advantage over most Sunshine State Athletic Conference defensive linemen. The Thunder does vary its running scheme to keep defenses on their heels, utilizing reverses, counters and options, but no matter what play is called, the Thunder lets its linemen pound away while the skill position players make plays in space.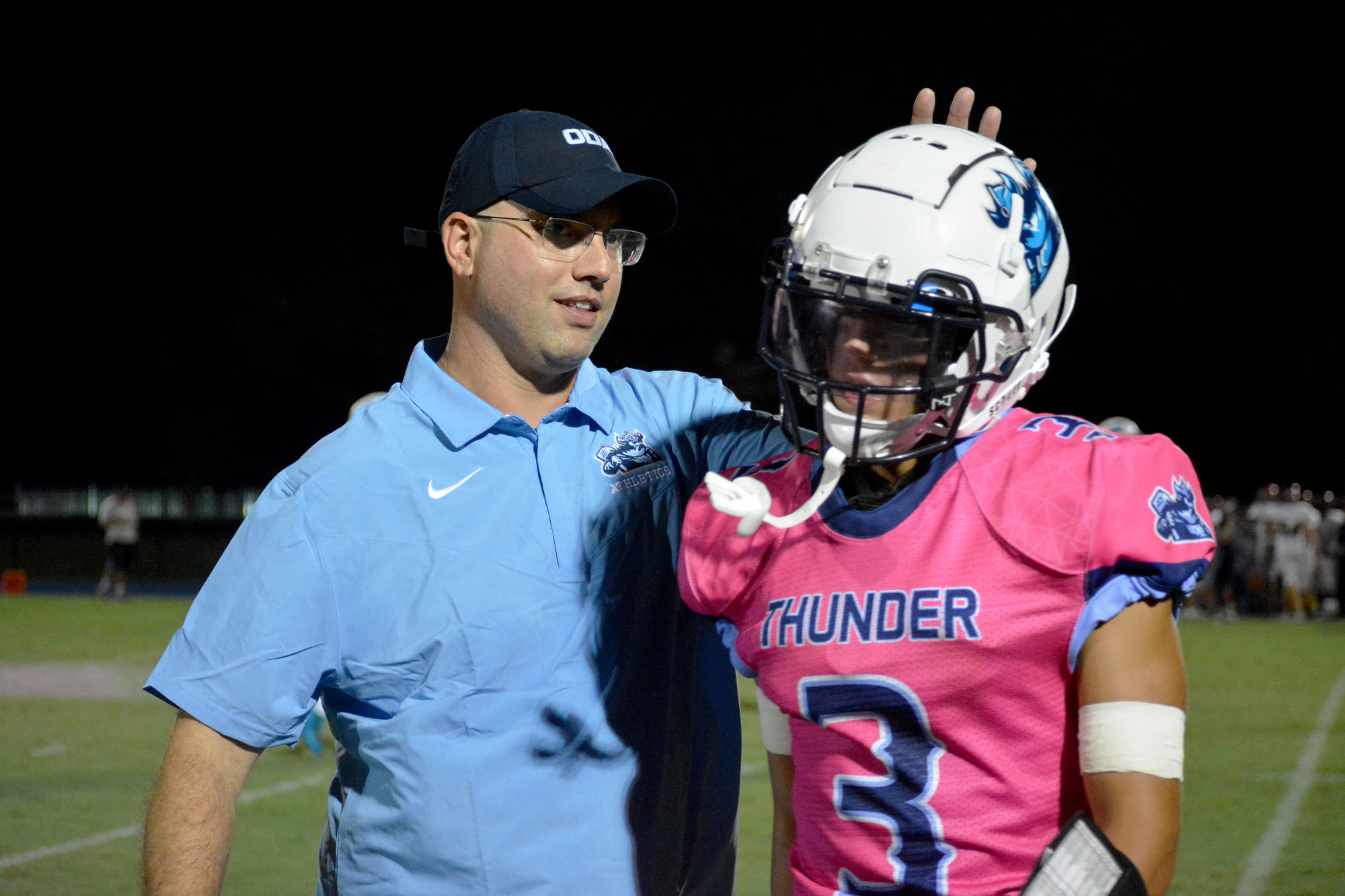 It's not only the varsity football players benefitting from the team's success. Jay Mahn, the head of ODA's middle school — located on the same campus as the high school — said the team's success has sent good vibrations through the entire school.
Mahn said seeing the players walking through campus each Friday wearing their game jerseys gets the students fired up for that night's game. When athletic teams are good, Mahn said, everyone has more fun. That includes the players on ODA's middle school team. Mahn said he has noticed such players talking about the varsity team's success and counting down the days until they are the ones getting to represent the Thunder on Friday nights.
Middle school football players were picked to be ball boys during the Cocoa Beach game and were honored at halftime over the PA system for the hard work they had put into their season. 
Hollway wants to strengthen that pipeline. While this year's ODA varsity team is relying on multi-sport athletes who recently learned their positions, the hope for the future is that the middle school team becomes a foundational pipeline that the varsity program can use to develop players in a more natural way, like how public schools use junior varsity teams. 
Now the playoffs have arrived, and the players said their toughest tasks lie ahead of them. Ranked as the No. 1 seed on one side of the SSAC 11-man playoff bracket, the Thunder will host No. 4 seed St. Edward's Academy (3-4) Oct. 28. A rematch with rival St. Stephen's (3-5) is possible in the next round as the No. 2 seed Falcons will have to beat Santa Fe Catholic (5-2) to reach that game. 
The Thunder is confident they can handle any challenge.
"We're locked in," Tack said. "Everyone in that locker room is confident in what we can do."