Whew. That was a close one.
It's a sentiment we're familiar with here in Sarasota, because as many times as we have been targeted for direct hits or scathing blows from storms, we have really lucked out.
But just as we are counting our blessings from Hurricane Ian, another sentiment hits: There are people all around us who were not as lucky.
A Facebook post from one of our colleague's said it best: "We have gratitude, but know that our relief is someone else's loss."
Indeed, and as we see the photos of destruction and stories of heartbreak coming out of areas around us, this thought carries a lot of weight.
There's still a lot of work left to be done and a lot of need out there.
But the silver lining to any of these storms is the response we see from our community members reaching out to help those in need. Disasters like this always attract the tried-and-true forces of national nonprofits, and it certainly takes their scale and heft to help all those in need.
But it also takes local efforts — both large and small — to rebound, and those are the stories that give us faith in the well-being of our community and the feeling that no matter what happens, we can get through anything — together. Here are just a few of the efforts we've witnessed of neighbors helping neighbors.
Meals on the move
On the large-effort side, at Michael's On East, which is usually packed with more than 300 businesspeople for lunch or serving cocktails to guests at a charity ball, the ballroom was in business for a much different reason after Hurricane Ian hit.
In past hurricane disasters, Michael's On East Co-Proprietor Phil Mancini and his catering staff would go directly into the devastated areas and set up buffet meals.
This year, they partnered with World Central Kitchen founded by José Andrés, who will be a part of Ringling College Library Association's Town Hall lecture series on March 13. World Central Kitchen is a nonprofit organization that is the first to the frontlines, providing meals in response to humanitarian, climate and community crises. Instead of a buffet, World Central Kitchen has specific guidelines and requires individually packaged meals.
Even though Midtown Plaza lost 30,000 square feet of roofing, the Michael's kitchen, ballroom and restaurant never lost power, which meant Mancini was ready for action. After learning that Restaurant Depot was open at 9 a.m. the morning following Ian's landfall, Mancini decided: "I'm going to go shopping. I called a bunch of my guys in and we started prepping. We gave them 3,000 meals by noon on Friday."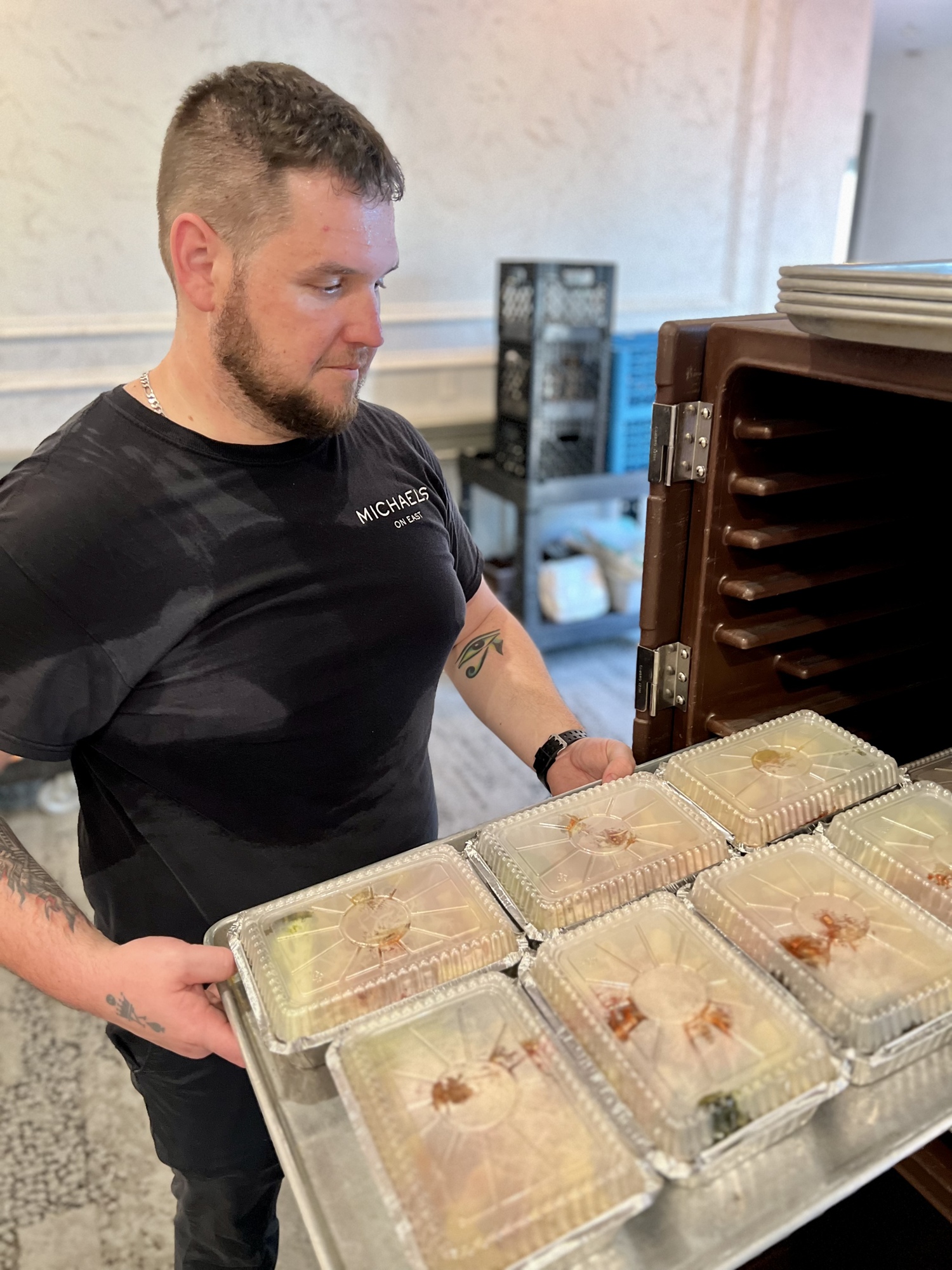 Thankfully, Michael's On East had staffed up just in time for catering season and had nearly 40 people working assembly lines in the ballroom. Mancini said they had 20 people working in the kitchen and 15 people in the ballroom plating, utilizing every piece of equipment around the clock. Starting at 6 a.m. every morning, the Michael's team had eight convection ovens running in the kitchen and six convection ovens outside cooking food. "We got it down to where we can package 1,000 meals every 45 minutes," said Mancini.
This operation, which was led by Executive Chef Jamil Pineda, went through 5,000 pounds of chicken, 2,000 pounds of hamburger, 2,000 pounds of pasta and more than 200 cases of produce, to deliver more than 10,000 meals to Port Charlotte and Fort Myers. Pineda worked 15-hour days for six days in a row.
But they're not stopping there. On Monday, 15 minutes after breaking down the assembly tables and ovens, Mancini received a phone call with a request for 1,500 more meals. "I will do as much as I can," he said.
Pups on planes
Just up the road at the Humane Society of Sarasota County, another crew of people was working around the clock for a different purpose: transporting and caring for animals coming in from damaged shelters down south.
The day after the storm came through, HSSC put out an all-call for volunteers in the community on its website and social media to clean up the shelter property and keep operations running. About 20 people responded outside of HSSC's regular volunteers, and they got to work doing everything from cleaning up storm debris and clearing walkways to cleaning kennels.
"We had a lot of our regular volunteers who couldn't be here because of damage to their homes, as well as staff members," said HSSC Marketing Coordinator Alissa Jackson. "So it was really great to see people from all over the community coming to help."
Tapping support from national organizations such as the Bissell Pet Foundation, Best Friends Animal Society and Race for Life Rescue, the shelter became a regional hub for animal rescue and transport efforts, coordinating with shelters down south, particularly Humane Society Naples, to evacuate animals from damaged areas and fly them to safety, including in other states.
As of Tuesday, HSSC has helped transport more than 198 animals to states ranging from Pennsylvania and New York to Tennessee, Alabama and Illinois.
In addition to the efforts to transport animals to safety, HSSC also has provided food to 30 dogs and 15 cats at the shelter at Philippi Shores Elementary school. And through all of this, the nonprofit has been asking locals to take foster pets to help alleviate the strain on the transport and shelter system.
"Right now we need to make as much space as possible" in the shelter, Jackson said. "So the less animals we have here, the better."
Jackson said the community response has been touching. This includes HSSC staff who stayed on-site during the storm and have continued to work since it passed, even after they were given an opportunity to go home.
"It really goes to show the spirit of people who love animals," Jackson said.
Police and prayer
The Sarasota Police Department and the North Port Police Department were in close communication prior to Hurricane Ian's landfall. When North Port Chief Todd Garrison advised Sarasota Chief Rex Troche that they could use some assistance, SPD sent 20 officers to help with rescue missions, amphibious vehicles and  high-water Humvees, and an additional team to help prepare and serve food and deliver water, ice and meals-ready-to-eat.
While assisting in North Port on Monday, Oct. 3, Troche, Deputy Chief Scott Mayforth and Public Information Officer Genevieve Judge pulled into a 7-Eleven with food and water.
There they encountered an older gentleman who had been trapped in his house and was seeking ice and trying to find something to eat.
"He said that God must have sent us there," recounted Troche. "We were able to give him several bags of ice and food, and you would have thought it was the biggest miracle that ever occurred."
Little things make a big difference
Although these efforts show the scale of recovery at work, there are many more grassroots efforts ongoing. All Angels by the Sea Episcopal Church on Longboat Key opened a comfort station for people to enjoy some air conditioning, charge their phones or just enjoy a cup of coffee and some post-storm camaraderie.
Christ Church of Longboat Key organized a food drive for Wednesday to gather nonperishable items, toiletries and diapers for Our Daily Bread in Bradenton.
After helping a neighbor rescue their parents in North Port who had been stranded after their roof came off, Kristy Cail, owner of Kristy Leigh Cail Creative and mother of two, Jaxon, age 12, and Caitlin, age 10, said she couldn't sit still and not do anything. But she also knew that she should stay out of the experts' way. "There were people that I knew in Venice, some of Caitlin's classmates who didn't have any power or running water. So I thought, 'Why not make a bunch of meals?'"
Cail made 25 individually packaged lasagnas and posted on Facebook that she was offering the free hot meals. Cail's friend, Tim Mitten, saw the post and collected the remainder of the lasagnas and took them to families in Englewood to whom he was already delivering ice, gas and generators.
In the Southgate neighborhood in Sarasota, residents simply ran a power cord from their house out to the street, where they set up a chair and a charging station for weary neighbors without power.
For all the bad news we're inundated with, all the images of building carnage and floodwaters and destruction, we have hope that  these large and small acts of love, kindness and generosity will continue.
So for those who feel lucky or grateful, don't forget the loss. Your community needs you, and the good news is, there are plenty of ways to help.
Kat Hughes is executive editor and COO of Observer Media Group and Emily Walsh is president and publisher.