What will the house of the future look like? In the post-World War II boom years, modernist architects across America tackled that question. Sarasota-based architects were no exception. They came up with a bold set of answers in a neighborhood just north of Lido Key.
Welcome to Lido Shores. Its subtropical streets are lined with mid-century modernist masterpieces. The nearest equivalents are the "Case Study" houses of greater Los Angeles.
So what's the story behind this place? How did a small town in Southwest Florida rival the modernist legacy of one of America's greatest cities?
The story of Lido Shores began with the story of one man.
Days of future past
Lido Shores was the brainchild of Philip Hiss. In the late 1940s and early 1950s, this visionary developer created Lido Shores to demonstrate modernist architecture. He selected visionary architects to design its original residences. The honor roll includes Ralph Twitchell, Paul Rudolph, Tim Seibert and Gene Leedy. Not all the homes they designed are still standing. Those that remain have stood the test of time.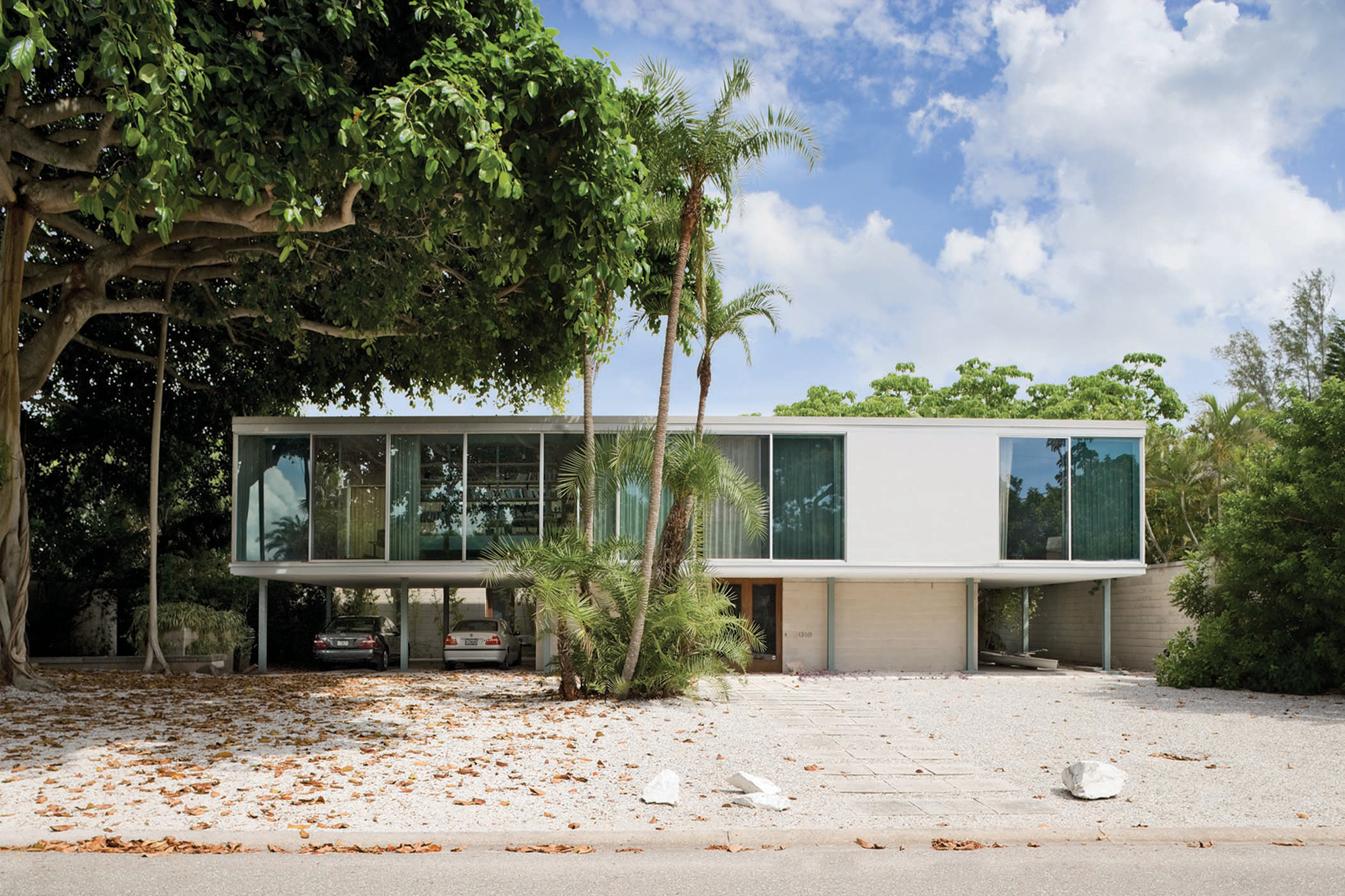 Dwellings like Rudolph's Harkavy House (1957), Seibert's Hiss Studio (1953), and Tollyn Twitchell's Zigzag House (1959), are still here and beautiful to look at. But they're not just eye candy. Lido Shores' modernist houses were proof of concept. They demonstrated new materials, new methods, and new thinking.
Back in the 1950s, "bringing the outside in" was a radical idea — not a real estate cliché. Lido Shores' light-filled houses proved it was a good idea. They also disproved the prejudice that modernist living spaces were impersonal and cold.
Just ask Susan Harkavy. She grew up in Rudolph's Harkavy House and loved every minute of it.
"Our house had large expanses of open space," she recalls. "Growing up as a kid, that was so great. I remember playing jacks on the floor of the living room."
Lido Shores' modernist houses were child-friendly. The strategy of their developer wasn't child's play. The houses that Hiss built set a standard for others to follow. Blueprints for the future, no more, no less.
Blueprints only work if people follow them. Many people did.
Lido Shores made a seismic impact in the 1950s and '60s. It galvanized the "Sarasota School" movement of modernist architecture across Gulfcoast Florida. But its influence didn't stop there. Architects and builders borrowed Lido Shores' concepts, both locally and nationally. That's precisely what Hiss had in mind.
His futuristic strategy actually worked.
At least in the immediate future.
Facing the strange changes
Lido Shores was ahead of its time. But it was also of its time. Times change — along with building codes, technology, tastes and property values.
Fast-forward to the 1980s. A new wave of modernist architects was still designing homes in Lido Shores. But they couldn't design as freely as Hiss' first-wave architects anymore. All those strange changes had made that impossible.
The internationally acclaimed architect Carl Abbott says that Sarasota School's signature low-slung floor plans were an early casualty.

"Lido Shores' original architects rooted their structures to the land," Abbott explains. "FEMA regulations pushed everything up one floor, making the ground level uninhabitable. We were able to get a variance for the Putterman House in 1986 — but it was a rare exception to the iron-clad rule."
According to Abbott, the skyrocketing value of waterfront property had the most devastating architectural impact. He designed three, state-of-the-art Sarasota School residences in Lido Shores. His stunning Putterman House is the only one left.

Abbott's homes won national awards. But eventually that meant nothing, when the land is worth millions more than the structure above it.
"Regardless of its architectural significance, a house with a view of the water has a target on its back," he says. "Buyers who can afford those sites typically want more, more, more. Small-scale homes on such lots are often demolished — and that includes my work, Paul Rudolph's work, Ralph Twitchell's work, and so many others."
Thanks to these strange changes, Westway Drive, in Lido Shores, often seems like Demolition Row. For fans of the future, that's bad news. But there's also been some good news …
Substance is coming back in style
Not every Lido Shores newcomer craves a McMansion. In the eyes of many upscale homebuyers, Sarasota School architecture is looking thoroughly modern again. Realtor and modern architecture specialist Martie Lieberman has built her business around that surging demand. For Lieberman and her clients, an open house on Lido Shores is like a visit to the candy store.
"There's been a resurgence of interest in all things modern," she says. "A new generation has fallen in love with great, mid-century design — cars, furniture, and especially houses. I love to see their eyes light up when I walk them through one of the Sarasota School classics in Lido Shores."
Instead of demolishing their legacy residences, several Lido Shores homeowners craving more living space have created additions in keeping with the first editions. These success stories include John Quinn's 2006 addition to Rudolph's Harkavy House and Guy Peterson's 2009 renovation and addition to Seibert's DeVries-Craig House. How did Peterson build on the Sarasota School legacy?
"Respect is the key," he says. "It's about being true to the principles that drove the Sarasota School architects' decisions. These include regional qualities, material choices, orientation and shading. You continue that, but in your own voice. You respect the original ideas but don't try to copy them."
Peterson doesn't just add to the work of past architects here. He's done his own work, too, and designed entirely new modernist houses in Lido Shores.
He's not alone.
Over the last two decades, a new wave of late-20th and 21st-century modernist architects has added to the Lido Shores legacy. These include Tatiana White, Joseph Orgaz, Don Chapell, Jonathan Parks, Gwen Leroy-Kelly and Joe Kelly and others.
Their Lido Shores residences look more like the Jetsons' condo, and less like Caligula's villa. It's a matter or principle, not retro-futurist nostalgia. They're reinventing modernist concepts for the 21st century, not revisiting the past.
Gwen Leroy-Kelly and Joe Kelly, the husband-and-wife team behind Hive Architects, might be the new kids on this block. In a few short years, they've designed two stunningly original 21st-century modernist homes in Lido Shores. These fit in perfectly with their mid-century modernist neighbors.
The couple's LS1 House (built in 2019) is right down the street from Paul Rudolph's Umbrella House. On the outside, the two houses look radically different. On the inside, they work the same way. How, exactly?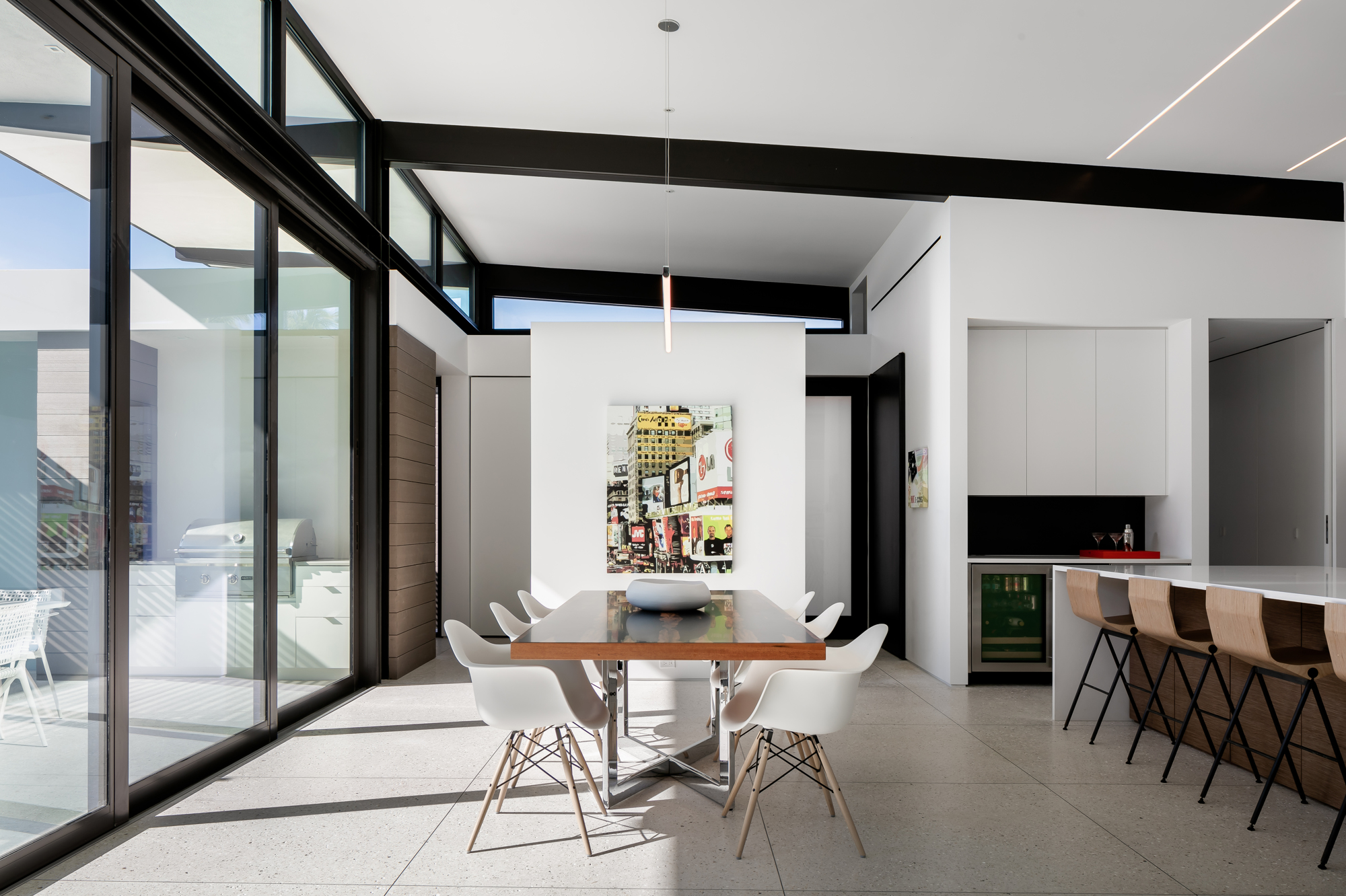 Gwen Leroy-Kelly breaks it down in simple terms.
"Rudolph's Umbrella House utilized a shading umbrella over the entire residence and pool," she says. "We adapted this idea for the LS1 house with an overhead brise-soleil defining the entry approach and tempering the sun."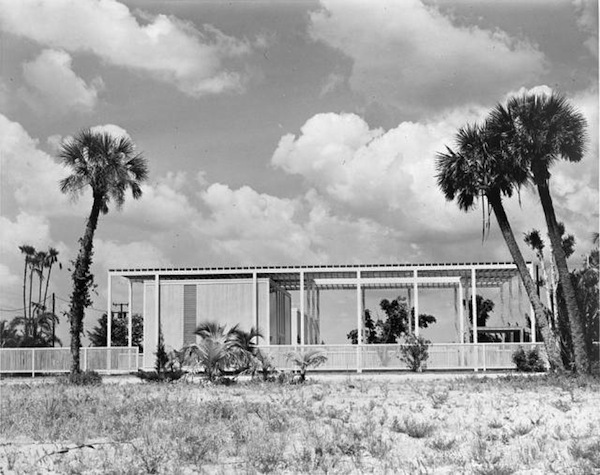 According to Joe Kelly, LS1's adapted designs reflect a shared architectural philosophy with the original Sarasota School architects. They also reveal a profound respect for their legacy.
"We're sensitive to Lido Shores' heritage of Sarasota School homes," he says. "We try to stay true to Phillip Hiss' original vision of creating modern homes for our semi-tropical climate."
Gwen Leroy-Kelly adds that Hive's architects are also informed by the visions of 21st century architects. Even so, the futuristic visions of the Sarasota School architects never get old.
"Paul Rudolph and the others got a lot right," she says. "Their ideas still work today. The Sarasota School architects pushed the boundaries of available materials and methods in their time. We'd be wise to follow their example with today's technology, materials and methods."
Fighting for the future
Lido Shores' futuristic homes are a special chapter in the story of architecture. Will those homes still be there in the future? That's a different story. But fierce local advocates are fighting for their survival.
Rae Ramos is the assistant director of Architecture Sarasota (AS), the successor organization to Center for Architecture Sarasota and Sarasota Architectural Foundation. His organization supports mid-century modernist architecture across our region. Ramos agrees that the Sarasota School residences of Lido Shores hold a special place in architectural history. He adds that reading about them in a history book isn't good enough.
Because the houses themselves matter.
"There's nothing like the real thing," Ramos says. "It's great to watch a video, read a book, or hear a lecture. But doing a walk-through of an actual residence is always the best. People from around the world make pilgrimages to Sarasota to see these awesome structures in Lido Shores. That shows how important they are."
How does Architectural Sarasota defend this legacy?
According to Rae, creating awareness is key.
"We're all about education," he says. "We open people's eyes to these mid-century modern gems with our walking tours, trolley tours and events like Architecture Sarasota MODWeekend. When more people see these residences, more people fall in love. We're just spreading the love."
Janet Minker is another long-time advocate for Lido Shores' modernist heritage. (It's not just talk. She and her husband, Elliott Himelfarb, live in a modernist home in the neighborhood — a striking Jonathan Parks' design from 2012.) Minker is adamant that Sarasota School design isn't a relic of the past.
"Lido Shores' original architects were ahead of their time," Minker says. "Architects like Paul Rudolph and Tim Seibert designed houses with passive cooling systems that didn't need air-conditioning. They were actually thinking in terms of sustainable design before the word existed. It's a beautiful idea whose time has come again."
Good to know.
The Space Age houses of Lido Shores never lost touch with the Earth. Their architects shared a sustainable design philosophy. It's just what the doctor ordered in uncertain times of climate change. But will the mid-century structures built on that philosophy endure?
The future isn't written.
But if the visionaries we spoke to have their way, the story of Lido Shores' modernist legacy is far from over.