The line of cars trying to make a left turn to go north on Rye Road out of Gene Witt Elementary School's parking lot kept building.
It was a normal occurrence for a Thursday morning, or any other school day.
At the same time, the left turn lane of northbound Rye Road traffic to enter Gene Witt's parking lot was at least 10 cars deep. 
A few times per week there has been an off-duty Manatee County Sheriff's Office deputy on Rye Road to help with the flow of traffic.
With D.R. Horton's new Coddington housing development being built across the street, Gene Witt Elementary School administrators and parents have been asking Manatee County officials to help with solutions for both vehicle and pedestrian traffic.
Although there is not crosswalk near the school, some students do cross a busy Rye Road. When more people move into Coddington and send their children to the school, the traffic figures only to get worse.
"Our primary concern is the safety of our students and our families who utilize the road," said Connie Dixon, the principal at Gene Witt Elementary. "With the extensive growth that's happening, we have to work with what we have currently."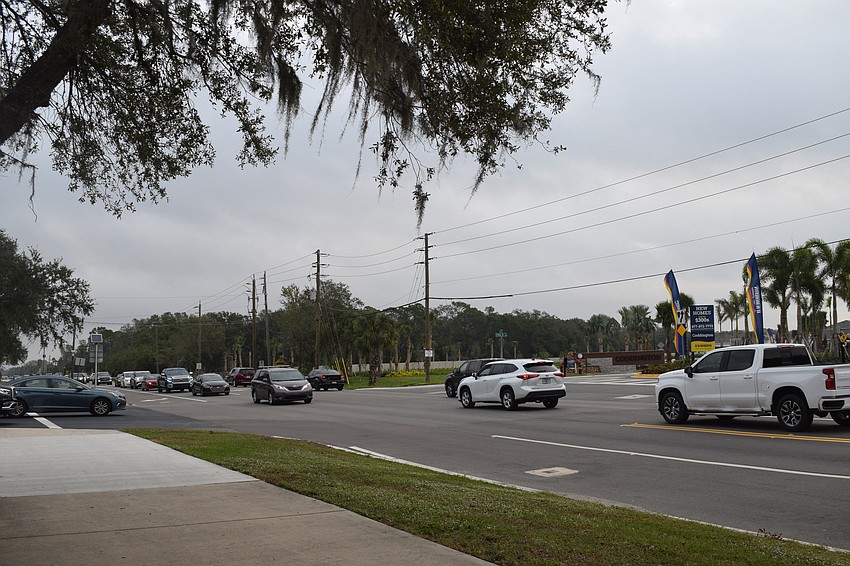 Dixon said this year, about 30 students cross Rye Road to get to and from school. 
She estimates potentially more than 100 students could have to cross Rye Road once the Coddington community, which will have 351 homes, is complete.
Mornings usually bring the worst traffic because the beginning of the school day coincides with rush hour. The elementary school dismisses at 3:15 p.m., so traffic isn't as bad in the afternoon.
"It is very hard to get out of the parking lot to make a left because you end up (feeling like you are) turning across four lanes," said Laura Anastasia, the vice chair of Gene Witt's School Advisory Council. "The amount of traffic that has been added to Rye Road through development over the past few years is overwhelming, and something has to be done to make it safe for our parents and students."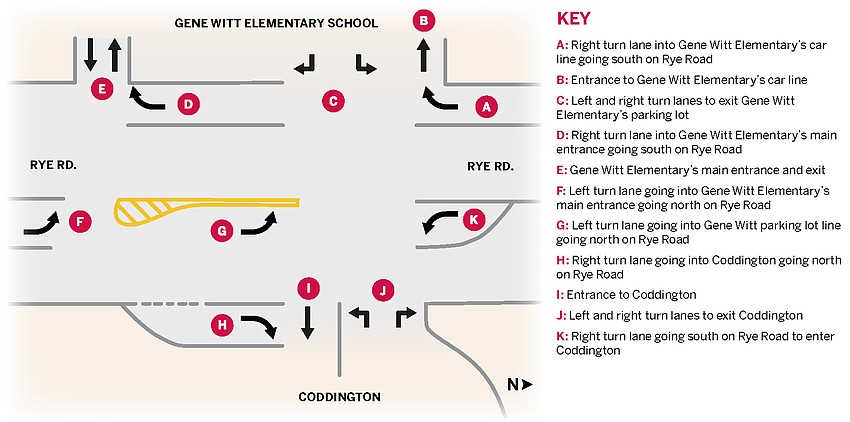 The School Advisory Council hopes to have a traffic signal installed. 
A traffic signal project starts with analysis and data collection that includes traffic counts, turn movement counts, pedestrian counts and a review of accident report histories. 
Public Works Director Chad Butzow said the county already is conducting studies on whether a traffic light is warranted in the area. He expects the data collection to be complete by January or February and expects an analysis of the project to be complete by March or April. 
After the analysis comes a construction budget that is planned and adopted, if passed by the commissioners.
Butzow notified James Satcher, the District 1 commissioner for the area, a traffic light in front of Gene Witt will be proposed for the county's five-year Capital Improvement Plan. 
Commissioners are expected to consider the traffic signal in June.
If the Manatee County Commission approves the project, a funding source must be identified. Then the design phase on the project will begin, which can take an additional six to nine months. 
Property acquisition is the next step followed by the project being advertised to possible builders. Staff and engineers will collect and review the bids. Then construction begins. 
Once a traffic light is installed, Anastasia said a crossing guard will be needed to help students cross the street safely. 
Randy Warren, a public information officer for the Manatee County Sheriff's Office, said in order for a crossing guard to be placed anywhere, the school district must conduct a study to see if a crossing guard is needed. Then the district will submit a request to the Sheriff's Office for a crossing guard.
In the meantime, Dixon asked the School District of Manatee County to provide funding for an off-duty Manatee County Sheriff's Office deputy to direct traffic in the morning and afternoon. 
"As many families that are pleased when we have an officer out there, we have as many parents concerned because it does slow down traffic from the north to the south due to the fact that we have a short southbound turning lane into school," Dixon said. "We just need to make sure that while we're waiting for a solution, we try our very best to keep it as safe as possible."