Andrew Cordani, a ninth grader at Lakewood Ranch Preparatory Academy, felt like he is part of the K-12 charter school's building process, and its future.
On Aug. 8, he walked around his "learning village" with his parents, Puli and Mark Cordani, seeing what lies ahead when the school year begins Aug. 10. 
Cordani loved that the school's leadership, principals Bradley Warren and Cheryl Cendan, asked about the interests of each individual student during the summer and then created electives and extracurriculars based on those interests. 
"It's like we're building the start of the school," Cordani said.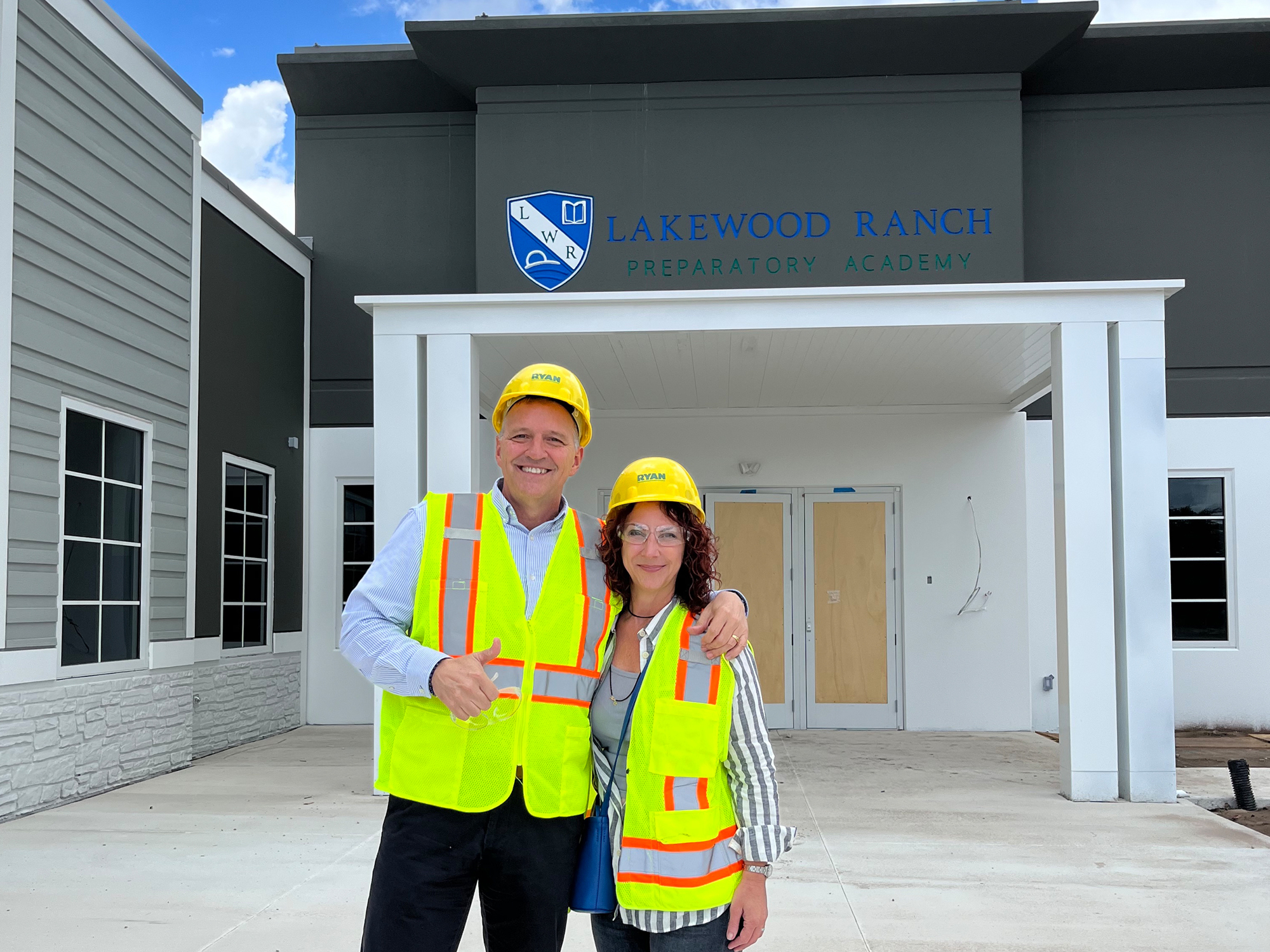 To many of the Lakewood Ranch Preparatory Academy students and parents, the 2022-2023 school year means a year of opportunities. 
The school, which focuses on science and health with a mission of its students becoming lifelong learners, was buzzing with excitement as hundreds of families walked the hallways to their respective learning villages and specials classes during the school's open house Aug. 8. 
Meanwhile, the heavy construction equipment had moved over to the high school side of the property to begin work on that building. A metal fence was erected to keep students at the existing school away from the property.
In its first year, Lakewood Ranch Preparatory will have students in kindergarten through sixth grade, and in ninth grade. Next school year, when the high school building is complete, the school will add seventh and 10th grades with eighth and 11th grades coming in the 2024-2025 school year. 
Michelle Steinberger is nervous, yet excited, to have her daughter Raelynn Steinberger, who is a kindergartner, go to a new school, especially in her first year of school.
"They are working through the kinks, but I'm excited for a school that's not overpopulated, the new innovations and everything they stand for," Steinberger said. 
The Steinbergers spent part of the time at the open house walking from the entrance of the school to the kindergarten "learning village" to ensure Raelynn Steinberger would know her way to class.
Stacy Autrey, a kindergarten teacher, said she looks forward to being a part of a small school community. Lakewood Ranch Preparatory Academy will have 740 students in its first year with just under 2,000 students when all grades are hosted on campus.
"A smaller school community is a great way to get to know families individually," Autrey said.
Beyond the core classes
In the STEM classroom, Kaycee Kaywood, the science lab teacher, had the same question for every student who walked into her classroom during the open house.
"Do you like making messes?" Kaywood said. 
More often than not, the students smiled and said, 'Yes!'
Kaywood explained to students in kindergarten through fifth grade that they would see her once per week to take the science lessons they're learning in their villages and expand on them with hands-on science experiments. 
"That's where real science begins," Kaywood said. "It's just what every kid wants to do. I feel like this is where they're going to want to be. They're going to be excited and they're going to be engaged."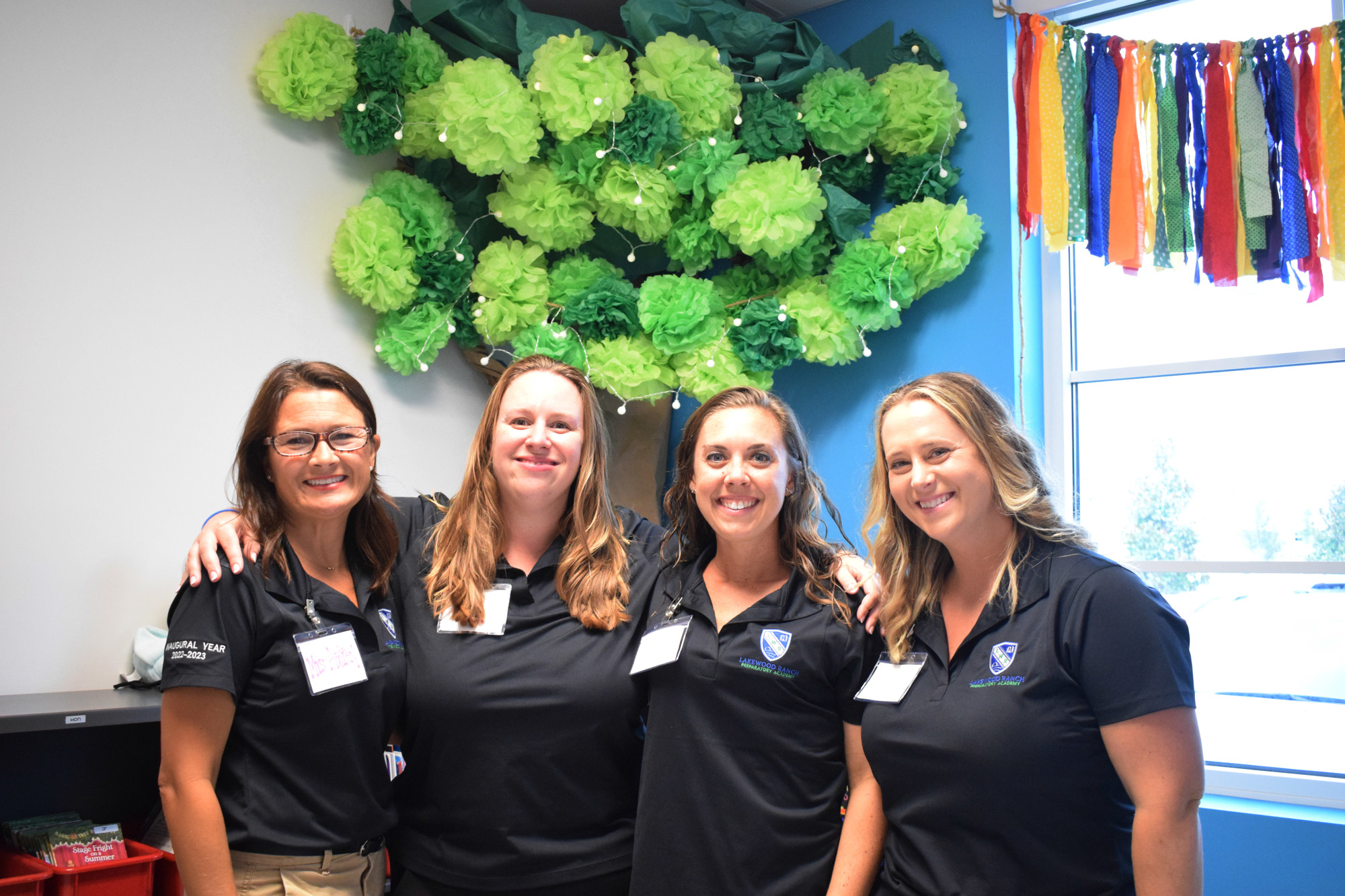 In another class, students in kindergarten through fifth grade will sing, dance and play instruments to introduce them to music concepts. Sixth graders and ninth graders will have the opportunity to join the Jazz Club. 
Jay Belmont, the music teacher, said with a new school, the opportunities for music classes and clubs are limitless and can involve as many students as possible.
"Both principals have been supportive of the arts," Belmont said. 
Belmont has plans to add a concert band, marching band and possibly a mariachi band in the future. 
"In Texas, which is a top music state, they have started off with mariachi band competitions, and I feel like if we could get ahead of the curve here and we start a mariachi band early, we can be that school that's known for it," he said. 
Extracurriculars based on students' interests
Belmont said the school decided to start with a Jazz Club because it's a smaller ensemble that could work better with the upper grades of the middle and high school not coming to campus for another year. 
"Usually the kids enjoy jazz band more than a concert band," Belmont said. "We'll get out into the community more and hopefully be able to play gigs out at different venues. They are more likely to ask a jazz band to come than a concert band."
From sports to STEM Club to Yoga Club, Jazz Club and other extracurriculars, parents and students can't wait to see what this school year has to offer. 
Sixth grader Maurizio Fornieri is excited for his science and math classes because they are his favorite subjects. He's thinking about joining the school's STEM Club on top of participating in sports like basketball. 
Morgan and David Gabrielson said their son Litton Gabrielson is looking forward to participating in the school's Coding Club.
"The way we can shape (the school) with what classes are offered and extracurriculars is going to be the best part," David Gabrielson said. "They want to know our opinions on what to do next."
Litton Gabrielson and Cordani both hope to be on the school's soccer team and in the future, the cross country team. 
Ninth grader Arianna Leo was happy to find that she will have activities related to her love of art and cheerleading.
Individualized academics
Options also vary in academics with students in ninth grade being able to take Advanced Placement courses or be a part of the Cambridge Assessment International Education Program.
"They're guiding him starting his first day of high school, making those decisions to keep him on the right track and showing him what is important to prepare," Morgan Gabrielson said of Litton. "At orientation, (Principal) Cheryl Cendan made a comment that, 'Today, you're not just beginning high school, but you're also starting your college path.'"
The learning villages provide teachers the opportunity to work together to have lessons with flexible grouping based on student needs. Teachers can split students into groups based on how they're doing on a subject to help students who are struggling, provide a refresher for students, or have students move onto the next lesson.
Stephanie Sherman, whose son Adam is in first grade, looks forward to seeing how the learning villages will be implemented. 
"(Students will) get the attention they need based on their skill set, not just the general curriculum," Sherman said. "I like their creativity and cooperation and that the teachers are allowed to work together."