The 2021 International Dragon Boat Federation World Championships were scheduled to be held in November in Hong Kong.
It won't be taking place.
The IDBF canceled the event out of COVID-19 concerns. The cancellation is a disappointment for every paddler with dreams of being named to Team USA and competing in it.
The United States Dragon Boat Federation and its members are no exception, which is why the USDBF decided to fill out its Team USA rosters anyway. The selections were primarily made based on paddlers' performances at time trials held across the country, including one at Nathan Benderson Park in July. 
Five members of the NBP Dragons team were named to Team USA. Paddlers Don Bickel and Doreen Clyne were named to the Men's Senior A (40 and older) small boat roster and the Women's Senior B small boat team, respectively. Angela Long, who is the head coach of the park's paddling program, was also named to the Women's Senior B small boat team. Mandy Kendall Boyers was named to the Women's Senior B standard team while Beth Turconi was named an alternate to the Women's Senior B standard team. Turconi was the park's first Team USA representative in 2019. 
No, this quintet will not be competing in Hong Kong. But they're part of Team USA and they're proud of that fact, as they should be. 
"It's overwhelming," Clyne said of the honor. "It's taking all of the work, all of the sacrifices and the training and the coaching, and making it a culmination. It takes a village. It's my efforts but it's also everyone who comes together on the team and pushes each other and strives to be the best they can be."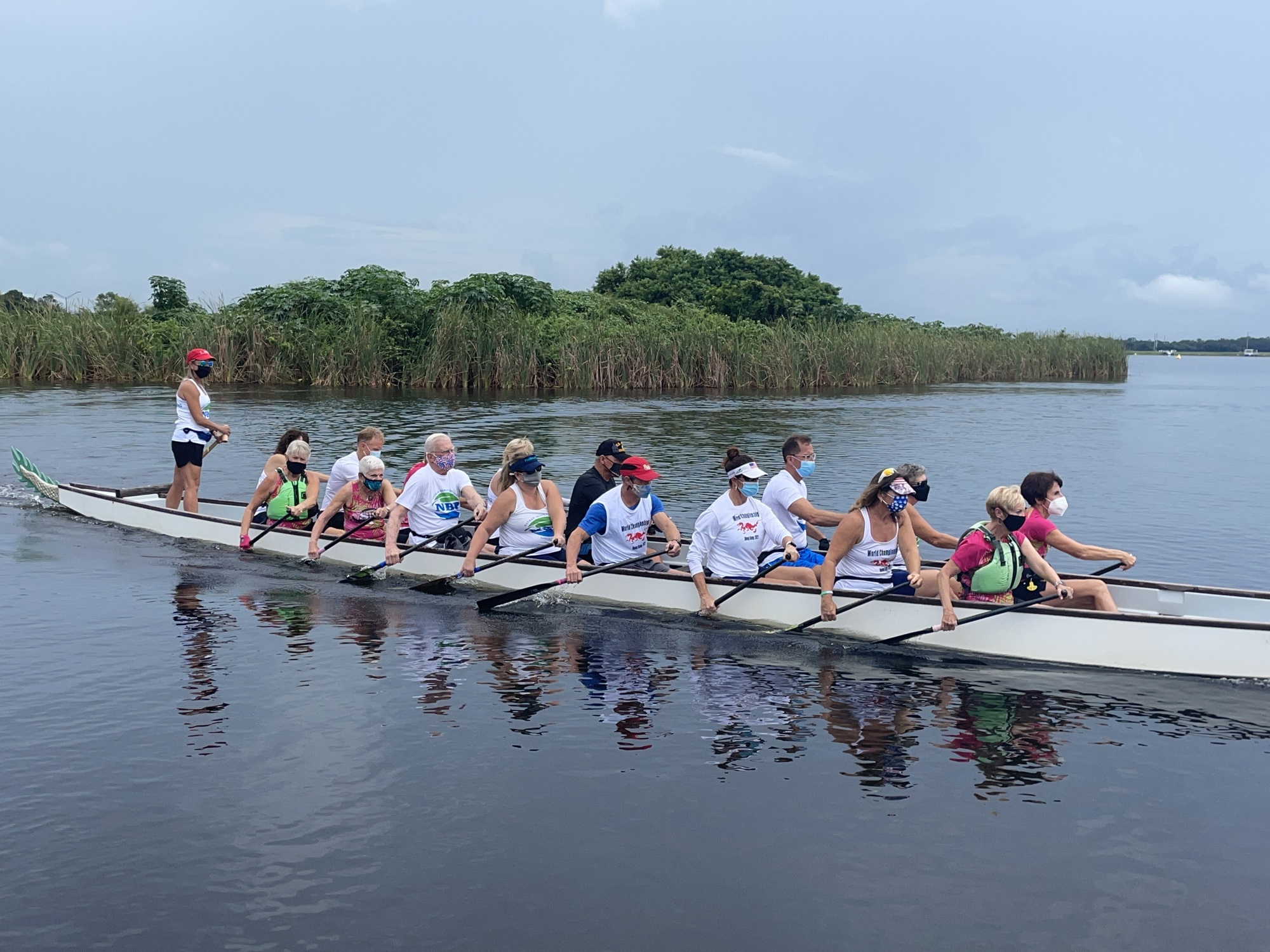 Bickel called the entire experience humbling and thanked the program's coaches, including Long, for challenging him and getting him to believe he could reach this point. All of the paddlers shared similar sentiments in that regard. It is clear that the members of this program view every individual victory as a victory for the team as well. 
Clyne was emotional when discussing the program. Even though the World Championships are cancelled, the paddlers will get a chance to compete as the Dragons at the 2021 USDBF Club Crew Championships, which will be held at Benderson Park Oct. 1-3. Clyne said it will be wonderful to race for spots in the 2022 IDBF Club Crew Championships with her favorite people after all the encouragement they have given her. 
"There is a family bond here and we are at home here (at Benderson Park)," Clyne said. "To be paddling together is going to be awesome. Hopefully we will take home some hardware. To be going for goals like that together is what means so much." 
It's a cliche for an athlete to say that their team is like a family, but for these paddlers, I can see it being true. Not only are the Dragons competing at the Club Crew Championships but so is Survivors in Sync, the park's dragon boat team made up of breast cancer survivors. Survivors in Sync doubles as a support group for many of its members. The entire sport is about encouragement and overcoming whatever is in your way as a team. It makes sense that even in individual accomplishments, like reaching Team USA, that the paddlers would have their teammates and coaches on their minds. 
The Club Crew Championships are free for spectators to attend. Approximately 90 clubs will be participating. Not only will you see high-level dragon boating if you attend, but you'll be supporting the Team USA members who had their championship experience taken from them.