Old-fashioned? Maybe. But surf and turf so perfectly describes a dish that pairs steak and seafood that it's lasted for more than half a century – and isn't going away any time soon.
Some say the festive combination made its debut at the restaurant atop the Seattle Space Needle in 1962. Others claim it first made the scene in the Boston area circa 1966. Here, on the Gulf Coast of Florida, Lakewood Ranch restaurants have no beef with authentically offering their own versions of surf and turf – even when it goes by another name. 
Inkawasi Peruvian Restaurant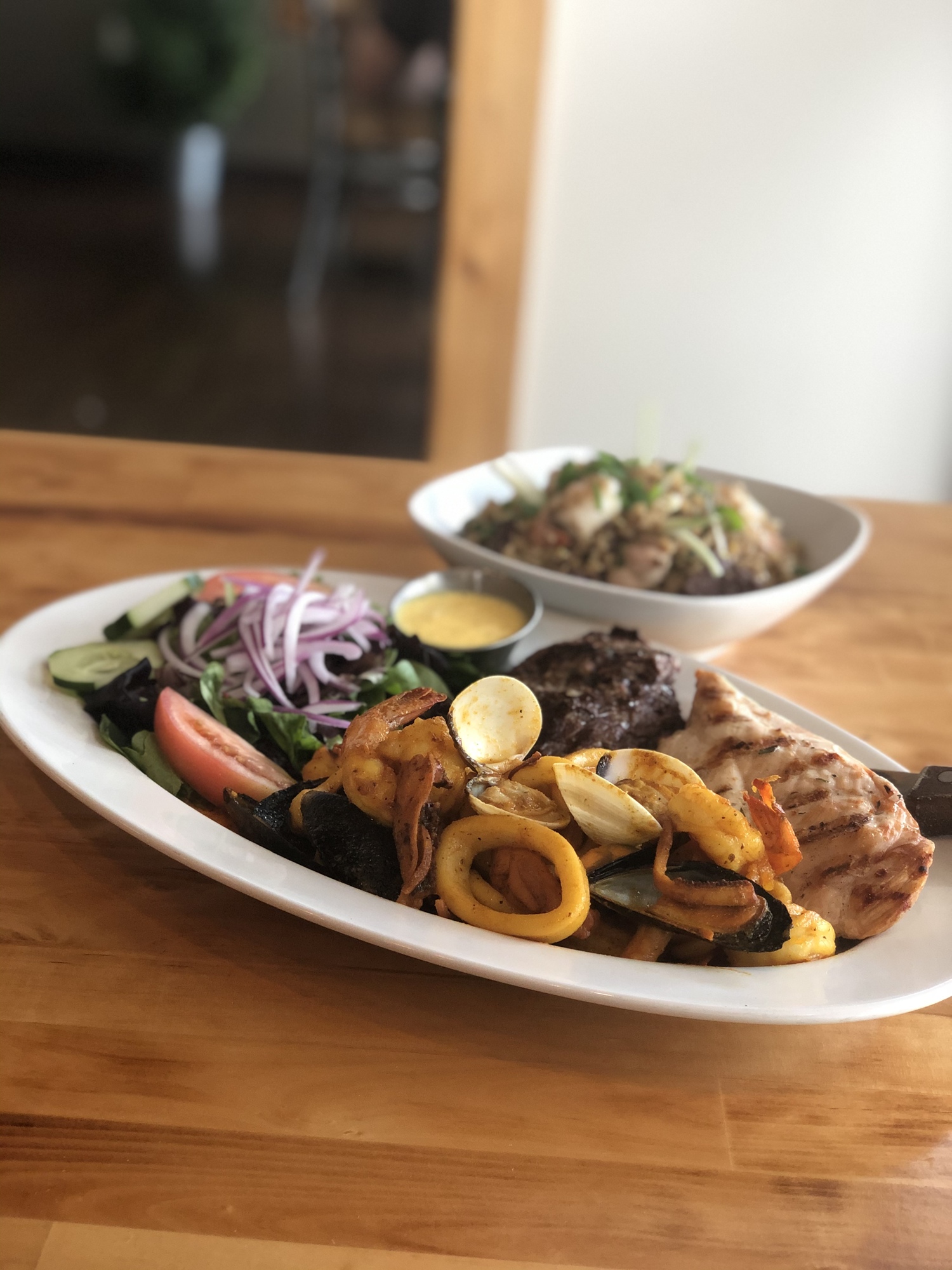 The country of Peru has coastline, mountains, and jungle – making surf and turf a natural part of the food. So naturally the menu at Inkawasi has Peruvian takes on the classic pairing.
One example is surf and turf grill (found under "las parrilas del Inka" on the menu), which has tenderloin, chicken and shellfish topped with homemade antichucho sauce.
"Antichucho is made with aji panka, or chile pepper, garlic, vinegar, salt, pepper and Peruvian herbs," explains Jimmy Arias, who co-owns this Peruvian fusion-style restaurant with his wife, Reina Pavon.
Taypa is another choice that boasts a land and sea combination with chicken, beef and shrimp. Found on the chifa section of the menu, the name means "well-served or full," says Arias, who explains that chifa are fried rice dishes that emerged because of Chinese immigration (in the mid-1800s and starting again in 1971), when Cantonese and Peruvian flavors intermingled and formed a new fusion cuisine.
Arias feels that the Lakewood Ranch area is ideal for Inkawasi because the community is open to trying diverse culinary options. "In this small area we find restaurants from different parts of the world and they are all well received. I am incredibly pleased when people tell me they've visited Peru and that they know Machu Picchu and have eaten (traditional Peruvian dishes like) ceviche, causa or lomo saltado," he says.
10667 Boardwalk Loop; 941-360-1110; InkawasiRestaurant.com
Libby's Neighborhood Brasserie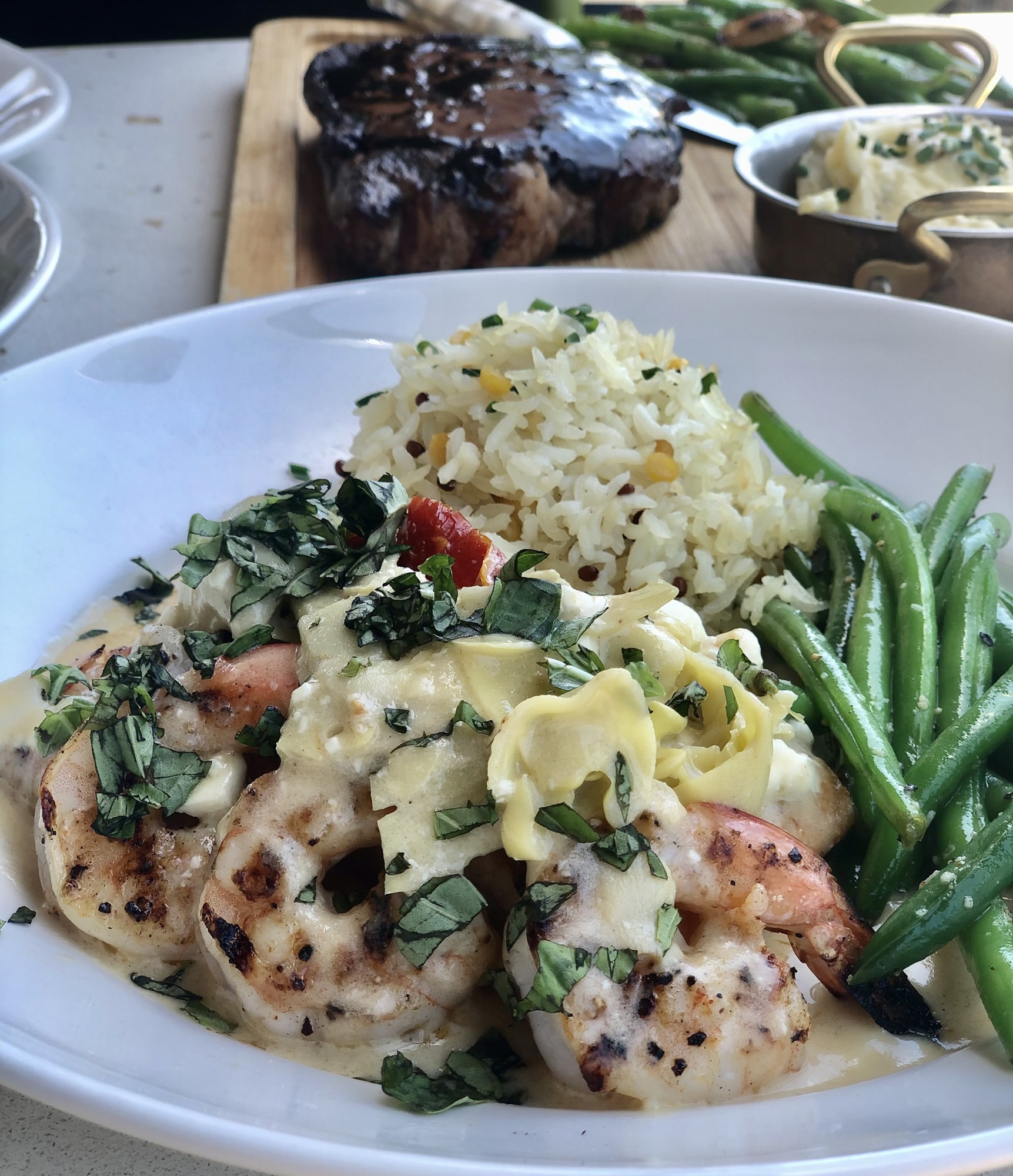 There are many ways to enjoy surf and turf at Libby's Neighborhood Brasserie, says Joe Guli, CEO of its parent company, Tableseide Restaurant Group.
While you won't find that exact term on the menu, except for holiday specials, Guli assures that he still uses it to refer to Libby's pairings. "We use different techniques and ingredients," he explains (as compared to a classic lobster tail and steak combo). But (surf and turf) applies to what we do."
Specifically, when diners order a "from the grill" selection, such as a filet or sirloin, it's easy to tag on an add-on choice of shrimp scampi or crab cake. Alternatively, appetizers such as dynamite shrimp, or even tuna tataki will do the trick.
"From my perspective as a chef, seafood is typically sweet (to the palate) and pairs beautifully with a flavorful steak," says Guli, as the reason for surf and turf's long-lasting appeal. As for preparation, "I'm a proponent of letting the ingredients speak for themselves."
To that end, Libby's partners with Day Boat Seafood of West Palm Beach to provide a same-day catch of local fish and seafood from Atlantic and Gulf waters. The restaurant is also meticulous about steak preparation. After an in-house, 40-day seasoning and aging process, "our wood grill locks in the flavors," says Guli.
8445 Lorraine Road; 941-357-1570; LibbysNeighborhoodBrasserie.com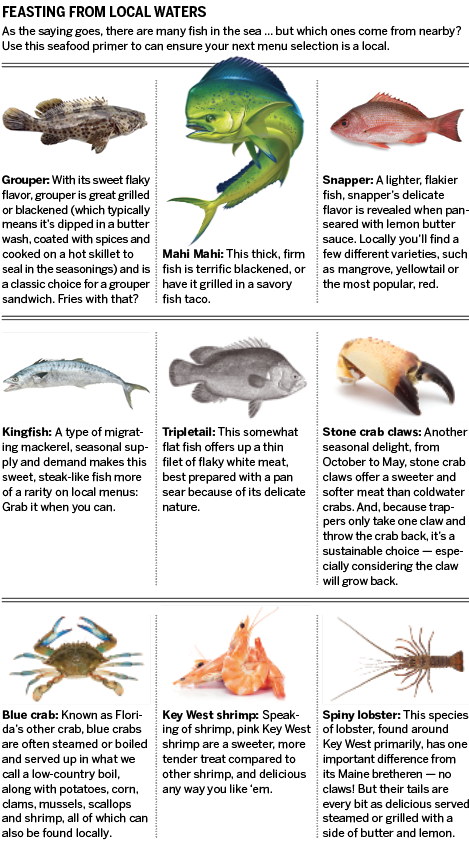 Grove Restaurant
With Grove Restaurant's emphasis on contemporary international cuisine, Chef Greg Campbell is disinclined to use the term surf and turf. "We typically don't use catchy terms for our food, which is made with fresh seasonal ingredients in a 100% scratch kitchen," says the executive chef and director of operations for Grove and its sister restaurant, Pier 22.
"We describe our food simply," he explains, according to "what the center of the plate ingredients actually are."
In fact, the simplest way to dine on ingredients from the sea and the land at Grove is to order the filet Oscar. The dish includes a 6 oz., hand-cut beef tenderloin with jumbo lump blue crab, bearnaise and demi glaze with mashed potatoes and asparagus.
However, "the sky is the limit on how many different options our guests have to mix seafood and land food together for a meal," says Campbell. "The best way to incorporate the blend of the two is to order seafood as an appetizer and land food as an entrée or vice versa."
10670 Boardwalk Loop; 941-893-4321; GroveLWR.com
The Capital Grille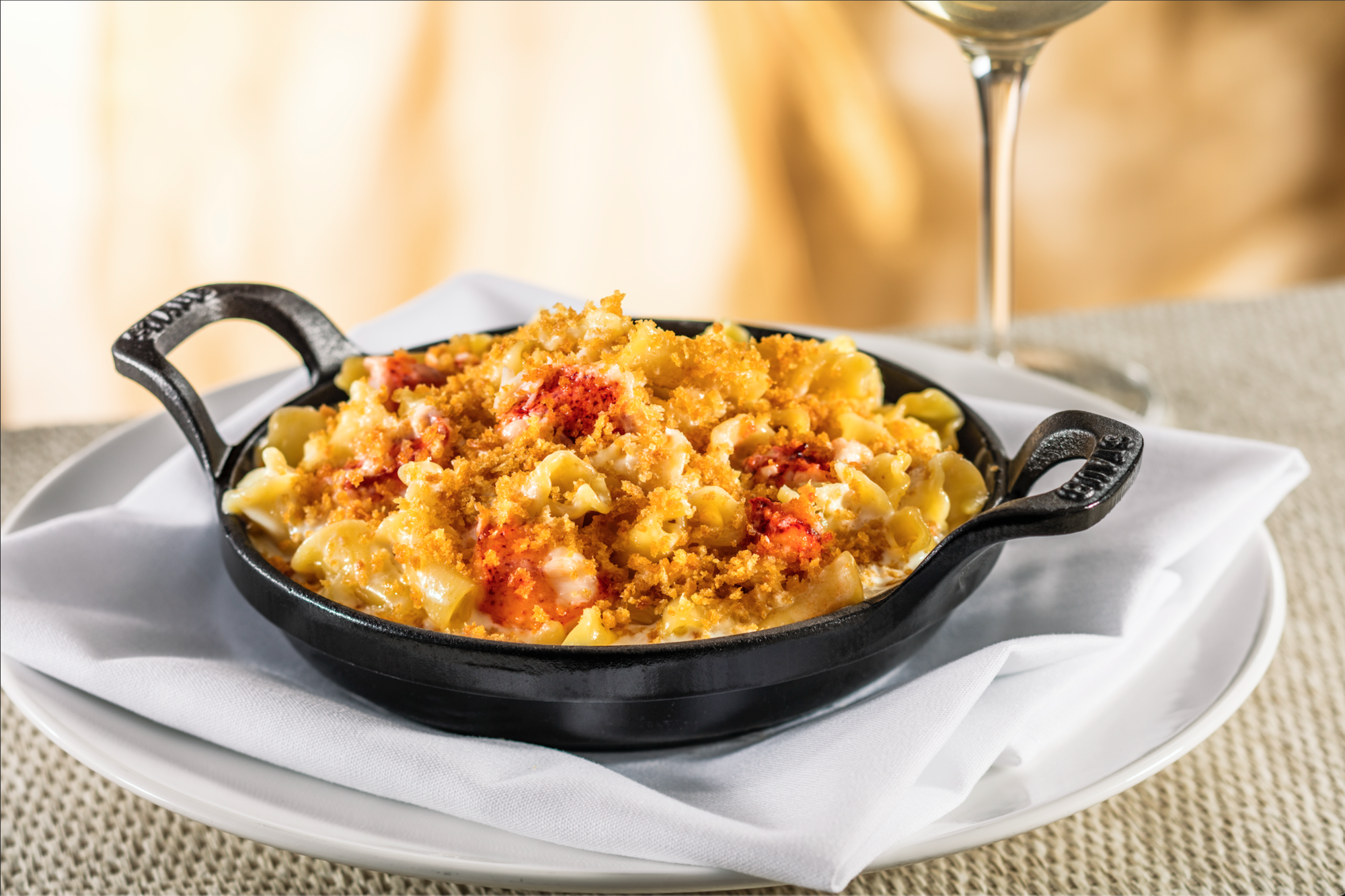 "Surf and turf is a very retro term that can span from meaning old-school broiled filet (mignon) and lobster tail in shell, to any number of other combination of menu items," says Capital Grille Executive Chef Michael LaDuke.
Luckily, you don't have to choose just one. "Guests can enjoy (our) renowned dry-aged steaks paired with their favorite seafood dish," says LaDuke.
In keeping with the restaurant's penchant for offering menu classics alongside "twists" on appetizers and sides, the combination that LaDuke most recommends is pairing one of the Capital Grille's hand-cut, dry-aged steaks with the lobster mac 'n' cheese. "Made with Havarti, mascarpone and grana Padano cheeses, with a generous serving of Maine lobster, it is the ultimate luxury side," he says.
If mac 'n' cheese isn't your thing, there are plenty of other surf starters to meet your turf, including fresh oysters on the half shell, lobster and crab cakes and pan-fried calamari.
And if it's takeout you want, the steak grille boxes offer a surf and turf option with 10 oz. filets and lobster tail to feed four.
180 University Town Center Drive; 941-256-3647; TheCapitalGrille.com