Tim Grant needed to find a basketball court.
The basketball trainer and his son were vacationing in Longboat Key, and found the facilities at Bayfront Park on Monday. It marked the first day the park's facilities were open since March 22 because of concerns related to the coronavirus pandemic.
"I ended up going to China to work with Nike and Adidas doing like consulting, player development and youth development," Grant said. "Then I started branching off doing my own thing, [but] because of coronavirus I was forced to come back to America."
Coaching at the Amateur Athletic Union level in Atlanta is where Grant started his professional career. He now operates NET Sports, INC, a basketball training program he founded in 2009. While the Grant family is currently based in Atlanta, he said they are "exploring options" in Florida.
Grant has helped train Morehouse College guard Tyrius Walker, who has played in four games for the Westchester Knicks in the NBA G League.
Grant has also worked with University of North Carolina-Greensboro guard Isaiah Miller and University of Kentucky guard Ashton Hagans. Miller and Hagans have declared for the 2020 NBA Draft, which is scheduled for Oct. 16. Both players still have time to decide if they want to return to school.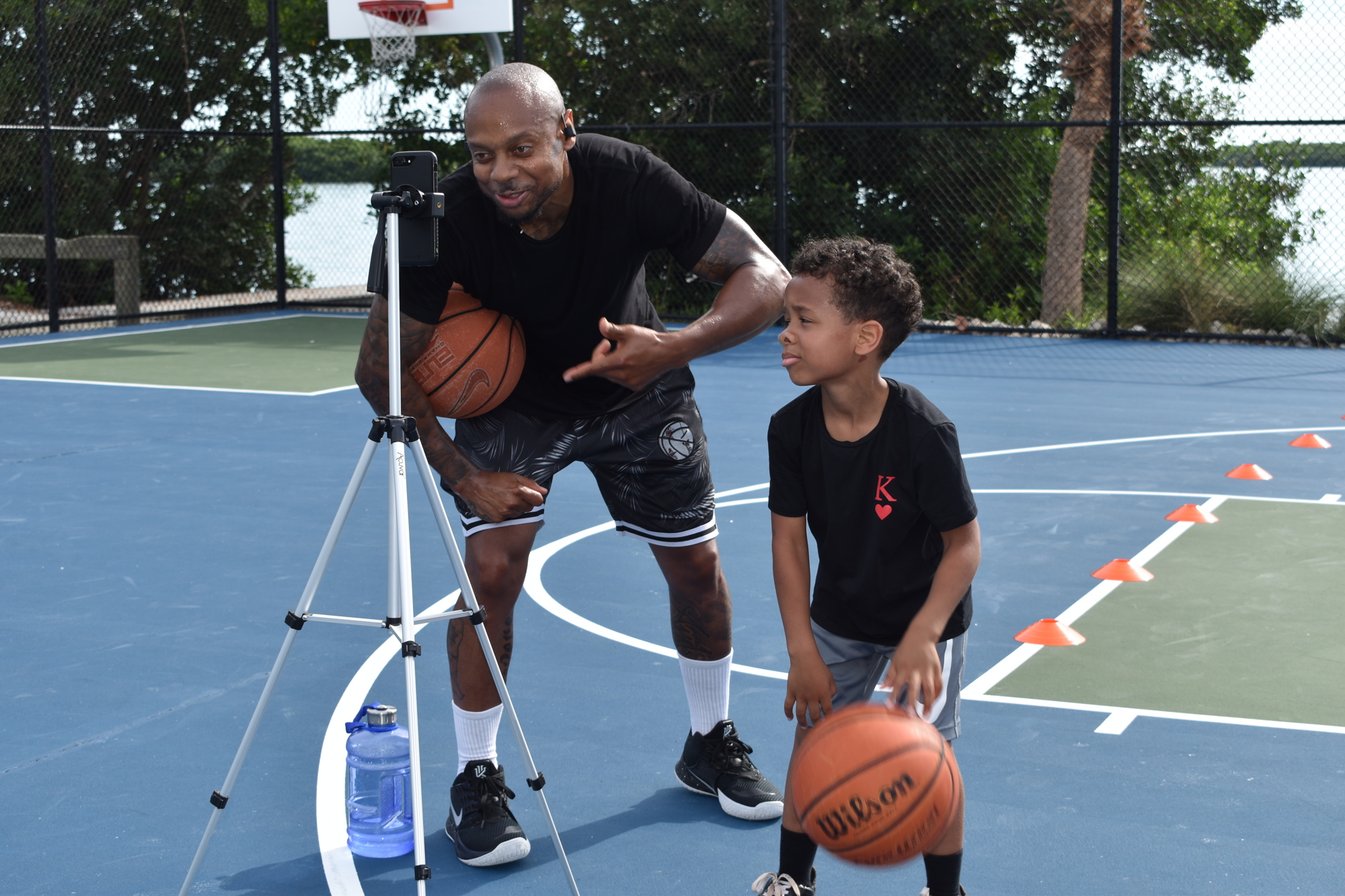 On Monday morning, Grant and his son King performed a series of crossover dribbling drills through several cones they set up at Bayfront Park. Tim Grant also mounted his phone on a tripod to live stream the workout via Facebook Live for a client of his in South Korea. He said he also works with players in Africa, Canada and China.
"Just because of the times, I'm really trying to grow the online business on the international level," Tim Grant said.
Tim Grant studied business management at Prairie View A&M University in Prairie View, Texas. His basketball expertise and business acumen have taken him all over the world, including China and Thailand. The elder Grant hopes to pass this knowledge to his 8-year-old son King, who has tagged along on many of the trips.
"My goal for him is just really to find whatever his passion is, and it seems like it's basketball,"  Tim Grant said of his son. "But my number one goal is to help him get a free education, [a] Division I scholarship, and whatever he does after that is even more of a blessing."
King Grant said his favorite parts about basketball are "shooting, dribbling and winning." It's no wonder his favorite player is Golden State Warriors guard Stephen Curry.
"My son, he's always been with me when I train players, so naturally he just kind of came out," the elder Grant said. "He's been doing since he was 3 [years old]. [He's] been coming to workouts and now he's joining in workouts with college and pros guys, and he doesn't miss a beat."
King Grant demonstrated his superb ball-handling ability on Monday at Bayfront Park. He uses both hands exceptionally well, especially for an 8-year-old boy.
"What's your favorite place you've been?" Tim Grant asked his son.
"Here," King Grant replied without any hesitation.