It was an off-the-cuff answer from a tired principal that kick-started the change.
Dustin Dahlquist had just watched Lakewood Ranch High's boys soccer team beat Winter Park High 2-0 on the road, in a Florida High School Athletic Association regional final. The Mustangs were headed back to the final four, but it was a Wednesday night — Feb. 13 — and Dahlquist was facing an hours-long drive home. Honestly, he just wanted to leave. So when boys soccer coach Vito Bavaro asked Dahlquist if the school could throw a pep rally for the team, Dahlquist answered impulsively. Yes, he said. There would be one Friday.
Dahlquist spent the next two days scrambling to throw one together, but by golly, there was a pep rally that Friday. Then another one during the spring. They were spur-of-the-moment creations, but they were things Dahlquist had been thinking about since he took over as principal in December. One of the first things the former Buffalo Creek Middle School principal did was meet with the school's student government association. It was during that meeting a senior told him she had not attended a pep rally at the school during her almost four years of attendance.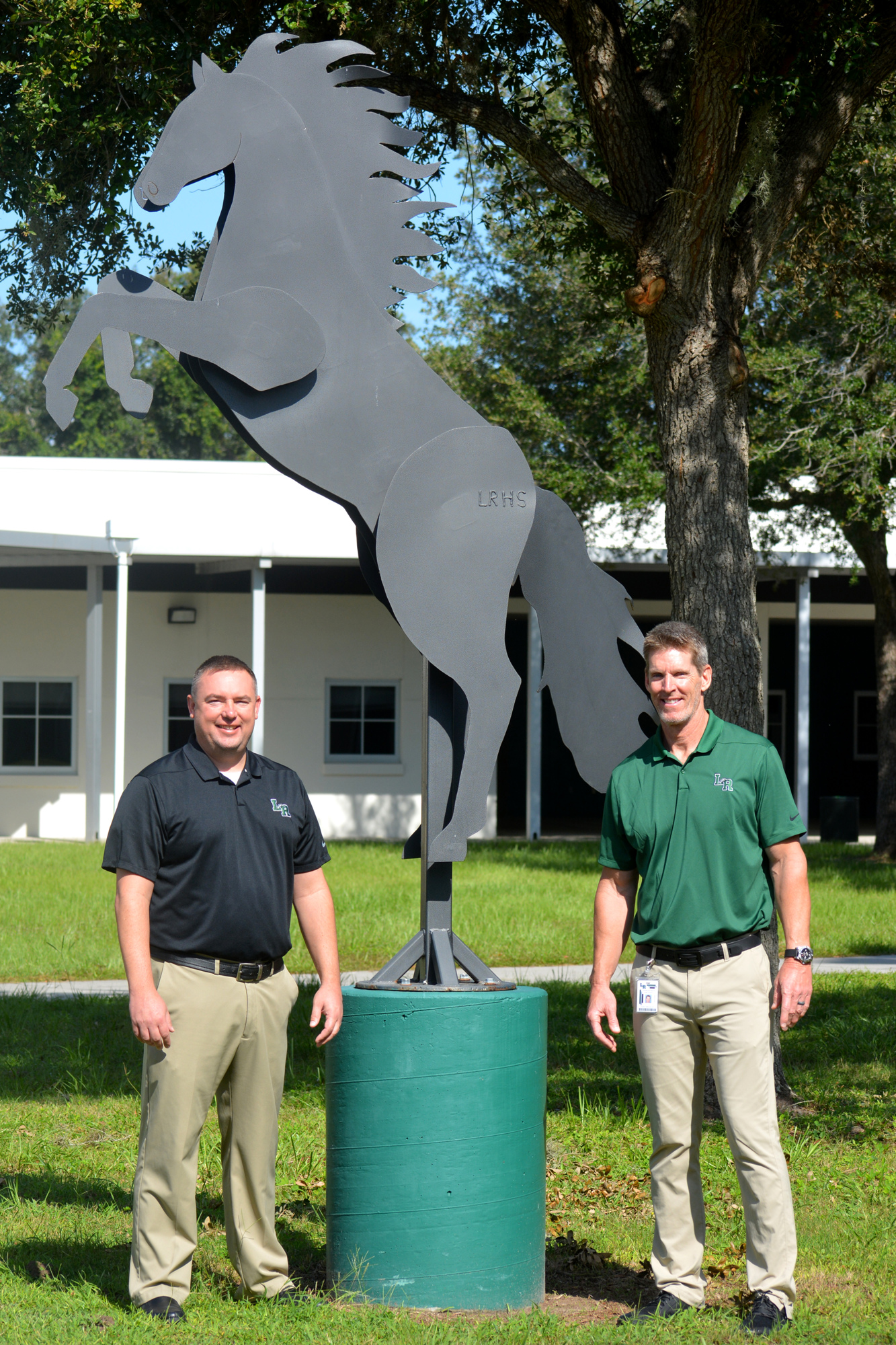 They weren't the most smoothly run pep rallies in the world, Dahlquist admits. But the students had fun, and they helped enhance the culture of support for Mustangs athletic programs, so the pep rallies are here to stay. As Dahlquist and Athletic Director Kent Ringquist, who was named to the position in February, settle into their new roles, that is their vision: Take what has been built, and use it as a base to build bigger and better things.
What was built by the previous regime — Principal Craig Little and Athletic Director Shawn Trent, both now at Parrish Community High — was a juggernaut. The Mustangs finished in the top 10 for the FHSAA All-Sports Award for its class seven consecutive times (2010-'11 through 2016-'17) and winning it in 2011-'12. The school also won the FHSAA Academic Team Champion award for its class every year over that time frame before finishing second in 2017-'18.
Dahlquist himself coached the Palmetto High boys soccer team for 12 years before stepping down in 2014. He knows a program with a strong foundation when he sees one, and he sees a lot of them at Lakewood Ranch. When he attended a late-season football game before his hiring, he says he noticed the crowd being nearly full despite the team's winless record. That support comes from deep community roots. It's something he believes will only deepen with time.
Speaking in his office, sparsely decorated with pictures of his family and school memorabilia, Ringquist emphasizes that he is looking to put a "fresh spin" on things to help Mustangs athletic teams any way he can. Ringquist believes that starts in the weight room.
Ringquist says the school is moving forward on renovations to the weight room, which will be completed by the end of the 2019-'20 school year, possibly sooner. Once that is completed, Ringquist says the school will look at hiring an overall strength and conditioning coach for its athletes, someone in touch with modern techniques who can get the most out of people and do it with safety in mind.
Dahlquist says a field house is also in the administration's plans, one located next to the football field that would suit the football, lacrosse, soccer and track and field programs. That might be two to three years down the road.
"The school's success speaks for itself," Dahlquist says. "And I believe we have everything we need to continue that success."
Outside of these macro changes come micro ones. Ringquist wants all of the coaches to communicate with one another more than they currently do. He wants the coaches to feel like they are on a team, under one roof, instead of in individual programs.
"I want them to call on each other, so they can ask each other how they handled certain situations, whether that is parents or scheduling or anything," Ringquist says.
Most Mustangs coaches have been there for years, but the school is introducing five new ones this year. One notable hire is football's Rashad West, previously the coach at Southeast High. Ringquist wants not only to get great coaches in the fold but also to keep them there.
"We want our coaches to be able to grow and be happy — that's the main thing," Ringquist says.
So yes, there will be changes coming to Lakewood Ranch. But they're not about tearing down and starting anew. They are about staying on top, where Dahlquist and Ringquist know the Mustangs belong.