As a kid, Mark Allen Baker used all his allowance money to buy baseball cards and postage stamps. He collected the cards and blew through the stamps, which were cheap (5 cents) and allowed him to correspond with just about anyone: baseball players, famous historians, politicians, astronauts, religious leaders and literary figures, to name a few.
Baker wrote feverishly, punctuating his letters with myriad questions about topics ranging from World War II to the Kennedy assassination. To his delight, many of his messages were answered. Once, he received a reply from U.S. Army General Omar Bradley, the commander who famously led the D-Day invasion of Normandy. Baker's question for the war hero: How was your relationship with U.S. Army General George Patton?
"It's worth every minute to go to the source. And if you can't go to the source, find the eyewitness accounts. Do the research." — Mark Allen Baker
"He said little about [Patton] but sent me a personalized autographed card on his stationary," Baker says. "I believe it was my first contact with a five-star general."
The author understood from an early age the significance of getting information from the horse's mouth, even if it isn't the intel you're looking for.
"It's worth every minute to go to the source," Baker says. "And if you can't go to the source, find the eyewitness accounts. Do the research."
At 62, Baker has accumulated enough source material to open a library. The author, who splits his time between Connecticut and Lakewood Ranch, has published more than 20 books, all of them tediously cited works of nonfiction. Writing fiction, he jokes, would give him, "too much freedom."
The son of a professional baseball player, Baker grew up in Central New York. He graduated from the State University of New York at Oswego and spent the first 10 years of his career working with early computer graphics at General Electric - Genigraphics (now Microsoft PowerPoint).
In 1990, he opened an 8,000-square-foot sports bar and restaurant outside of Syracuse, N.Y., which he outfitted with a full-size boxing ring and museum loaded with $500,000 in sports artifacts. The hot spot, which functioned as a kind of Hard Rock Cafe for sports fanatics, hosted a bevy of visiting athletes in the early 1990s and served as the broadcast location for announcer Mike Tirico's pre-ESPN career.
He sold the business in 1993 to focus his efforts on writing after pumping out a series of collectibles price guides. His 800-page "Goldmine Price Guide to Rock 'n' Roll Memorabilia" landed him a co-hosting spot on VH1's short-lived "Rock Collectors," an "Antiques Roadshow"-style program for rock and roll collectors.
"My kids were freaking out," Baker says. "But no one watched the thing because it aired Saturdays at noon."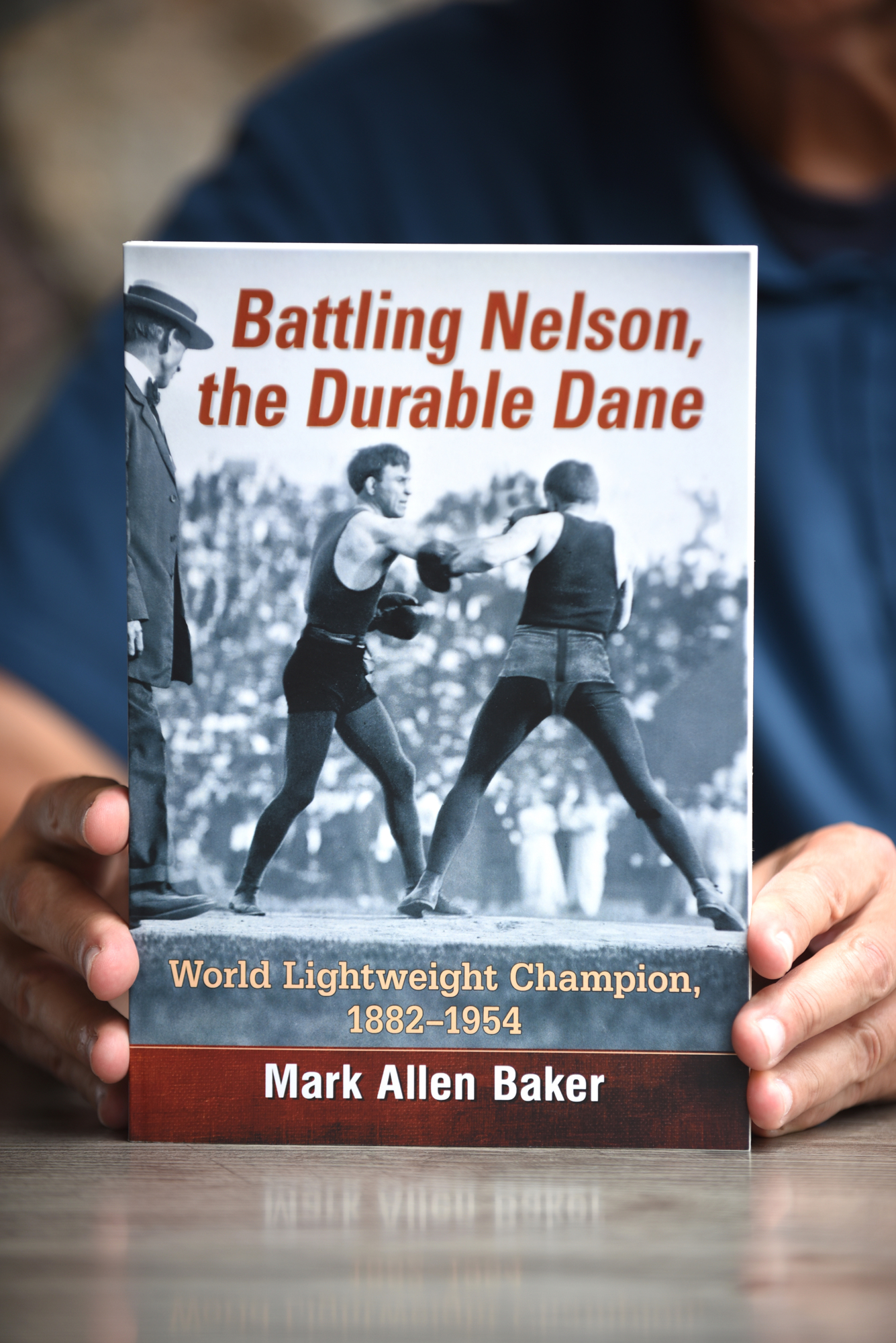 He spent the next two decades of his career writing regional history books ("Spies of Revolutionary Connecticut: From Benedict Arnold to Nathan Hale" and "Connecticut in World War II"), sports stories ("Basketball History in Syracuse, Hoops Roots") and boxing biographies ("Battling Nelson, the Durable Dane" and "The Fighting Times of Abe Attell"), among others.
In July, he published his 21st book, "Between the Ropes at Madison Square Garden: The History of an Iconic Boxing Ring, 1925-2007." The book chronicles the history of New York's famous ring from its scrappy start to its final resting place at the International Boxing Hall of Fame in Canastota, N.Y. "That boxing ring was a petri dish of our society," Baker says.
From the outside, this mishmash of book topics and multiple career detours could be mistaken for the impulses of a restless eccentric — but that's not the case with Baker. The author is one of those rare left-brained creative-types, driven equally by curiosity and self-discipline.
"He's got quite a type-A personality," says Baker's wife, Alison Long, an executive at Travelers Insurance. "I've never seen him work to a deadline. If he's not done early, he's stressed out."
Baker's system has never failed him. Like his idol, Ernest Hemingway, he always knows where he has left off. He spends the first six months of any contract researching his topic and sorting material into folders and bins that he keeps within arm's reach while writing. He goes to bed by 9 p.m. and gets up at 2 a.m., which can be a problem because the Library of Congress — his favorite online resource — often runs mainframe updates at 2:30. By 5 a.m., he's out riding his bike through Lakewood Ranch.
For his next book, Baker says he'll tackle the history of racism in professional sports, a subject that has proved difficult to research because many of the old newspapers printed biased or discriminatory accounts of events.
"As I'm putting my bins together, I'm having to double-check some of the commentary," he says. "A lot of these newspapers had an ax to grind. It's unfortunate, but our history is pretty deluded."