Stop me if you think you've heard this one before.
A new political group, whose name includes the word "STOP!" in all-capital letters with an exclamation point, says it's rallying against uncontrolled growth and the pervasive influence of developers on local officials.
The group is called "STOP! Stealing Our Votes," a political committee formed to campaign against a proposed county charter amendment that would create single-member districts for the Sarasota County Commission. Ahead of the November referendum, the group has paid for Facebook ads that claim big developers are backing the amendment.
All of this is a source of concern for a different group: STOP!, the citizen activist group formed in 2016 to advocate for changes to the city's development regulations. On Wednesday, STOP! issued a press release accusing STOP! Stealing Our Votes of intentionally misleading voters with its name and messaging.
STOP! steering committee member Kate Lowman made clear her group does not have an official stance on the single-member district referendum. STOP! has focused on city regulations, and the proposal would affect the county charter. Lowman said the name of the political committee was concerning because it potentially suggested an established group has taken a position on the issue — which could influence voters.
 "When they see the name STOP!, whether they like us or don't like us, they have a certain idea of what that means," Lowman said. "When they see what looks like an advertisement coming from us, they're going to make certain assumptions, and they're going to be wrong."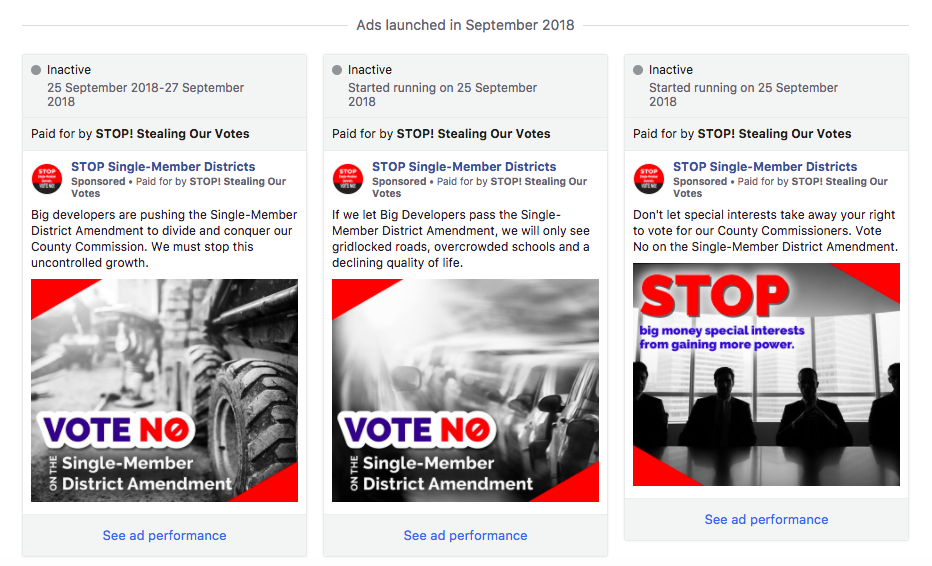 Russ Bobbitt, the chairman for STOP! Stealing Our Votes, said there was no nefarious intent behind the group's name. He said the group selected the name because it thought it was the best way to connect to voters.
"We want to stop the charter amendment that's proposed," Bobbitt said. "The best way to do that is to have an emphatic message, and that's what we've done here."
Lowman scoffed at the notion the name was not an intentional effort to conflate the political committee with STOP!.
"That's not how people normally write the word 'stop,'" Lowman said. "It's what we've been doing for several years."
Bobbitt, president and CEO of the Purmort & Martin Insurance Agency, claimed the political committee represented a broad coalition of opponents to the proposed charter amendment. He declined to name any other individuals connected to the group. The political committee has not yet filed a financial report with the Sarasota County Supervisor of Elections.
The proposed charter amendment would create a new system for electing county commissioners. Although there are five County Commission districts currently, voters countywide can vote in each race. If the referendum passes, commissioners would be elected exclusively by voters within their districts.
Bobbitt said STOP! Stealing Our Votes was opposed to the proposal because it would reduce the choices available for voters countywide. He also said reducing the number of voters in each commission race could allow for more outside influence over individual commissioners.
"We feel that if this charter amendment passes, it's going to provide an adversarial environment among the County Commission," Bobbitt said. "It's going to pit one district against another. There could be certain interests within those districts that are of concern."
According to the Facebook page "STOP Single-Member Districts," the group has run nine ads in opposition to the amendment. Eight of the ads explicitly state STOP! Stealing Our Votes paid for the sponsored post.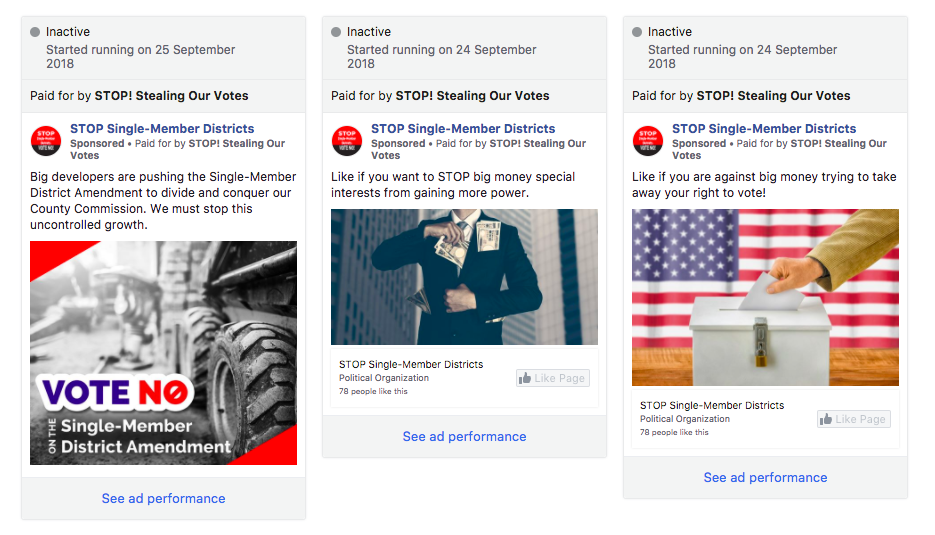 Lowman suggested the political committee was the work of hidden figures deliberately misleading voters and trying to pose as a grassroots campaign. In a release, she called the notion that developers are behind the campaign for single-member districts laughable.
The Sarasota Alliance for Fair Elections led the campaign to get the proposed charter amendment on the ballot. The group gathered more than 15,000 signatures from registered voters. As it has campaigned in support of the amendment, SAFE has argued single-member districts would be an effective way to reduce the influence developers currently have on county politics.
Dan Lobeck, a member of SAFE's board of directors, called STOP! Stealing Our Vote's messaging absurd. He said the political committee intentionally timed its formation to hide its supporters for as long as possible. He believes development interests are responsible for the campaign.
"What they're trying to do is deceive and confuse the voters," Lobeck said. "They see we have a very powerful message. They have no message of their own, so they think the path to victory is to try to steal our message, twist it around in a way that doesn't make any sense and win with those dishonest tactics."
Bobbitt, who previously served as chairman of the Gulf Coast Builders Exchange, said he had a genuine interest in opposing increased developer influence on the County Commission.
"I've been a Sarasota County resident since 1984," Bobbitt said. "I own a business here. I'm raising my family here. I do not want runaway development in Sarasota County."
Lowman does not believe there are many options available to STOP! to try to get the political committee to change its tactics. She's filed a complaint with Facebook, though she has not heard back from the social media website. She acknowledged that STOP! does not have a monopoly on a word or the use of the color red, but she believes the political committee's goals are obvious.
"We see what they're doing," Lowman said. "We're trying to educate people that it's a trick."