Kendal Kiner has a knack for making dull things beautiful — especially unwanted inheritances.
Kiner is one of more than 25 creative residents with a space at The Bazaar on Apricot and Lime, an indoor market for artists, bakers, clothing designers and more that opened in Sarasota's Park East neighborhood May 3.
Her pop-up shop (Fish Out of Water) features everything from home decor to jewelry, but its namesake is a collection of trophy fish Kiner paints with bright colors and intricate designs.
It all started about a year ago when Kiner bought a property in Georgia. With the house, she inherited an old Nassau grouper trophy fish. She couldn't stand it.
"It was just on the wall — drab, brown and ugly, and I kept looking at it," Kiner says. "One afternoon my mom and I just started painting on it and it all began."
Kiner brought her new creation home to Sarasota and hung it in her dining room, where her neighbor got a look and became her first fan. They struck a deal, and the artist received six mounted fish from Wisconsin. Kiner transformed her new canvases and successfully sold them all, realizing she could make a small business venture out of the hobby.
The retired elementary school teacher always painted for fun, but she says a new phase of her life began the day she first touched a paintbrush to that grouper.
"I've been retired a couple years, so now is the first time I've had this amount of time to play with art and explore," Kiner says. "That's kind of my next chapter — it's devoted to art."
The Fish Out of Water booth began when a friend of Kiner's told her about an indoor market being planned by nonprofit CEO turned entrepreneur Judy Alexander. Kiner and her mother went to see the property, which was at the time just a gutted warehouse, and she immediately saw its potential.
Now, it's a family (and friend) affair, with Kiner's mother selling paintings and beading work, her sister selling mosaics and wreaths and a friend selling jewelry.
"We got in together not knowing if it would take off, but we liked the idea of making it a group effort," Kiner says. "We take turns coming in but I could come in everyday. I love the live music and the atmosphere."
She says the bazaar has something for everyone, from baked goods to children's art projects to tarot card readings, and she's impressed with what Alexander's pulled off.
As for what she brings to the mix, Kiner says she gravitates to everything from aboriginal-style prints to recreations of famous works like Vincent Van Gogh's "The Starry Night." 
The process of creating each piece isn't much different than painting on a typical canvas, she says — despite what people may think.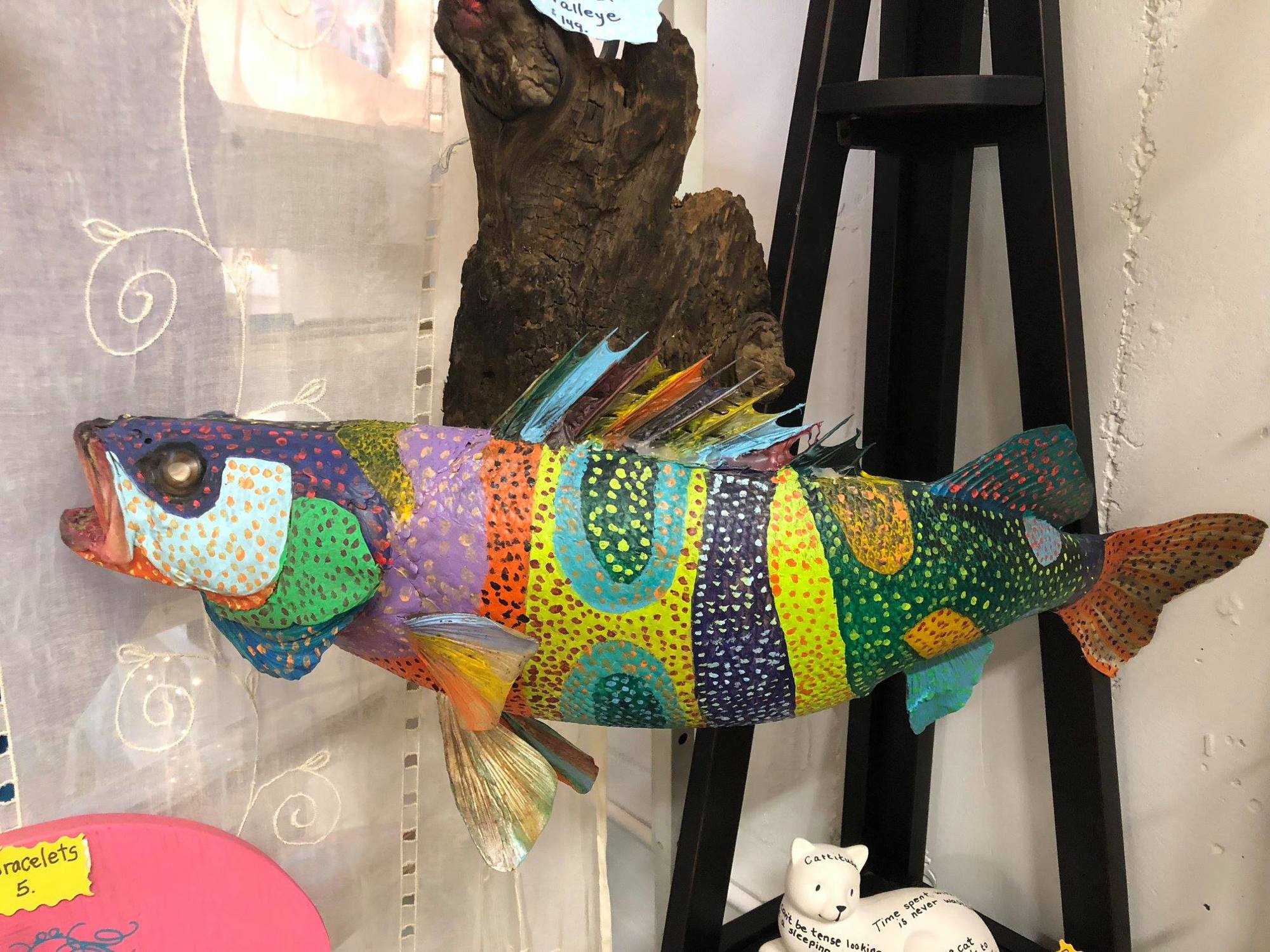 "I get funny questions," Kiner says with a chuckle. "People ask if they're stinky because they think I get them right off the boat."
First, she cleans the fish, which is important because most come from acquaintance's houses or flea markets where they've accumulated large amounts of dust.
Then, Kiner plans her design. Usually it's her own concept, but a recent customer whose wife was paying for his 25-year-old catch to be painted as a Father's Day gift said he wanted something "natural" in oceanic colors that wasn't feminine.
She's created a few sketches, but Kiner says she usually just needs to imagine the design in her head before bringing it to life on her once-living canvas.
Next, she picks out her acrylic paints, which she prefers over the oil paints she uses when painting for fun because they dry faster and allow her to add and take away elements easier. Once she picks her background color, she keeps adding layers.
The whole process typically takes several days because Kiner works on more than one project at once — she likes to keep her creativity fresh that way.
Her biggest challenge? Finding the fish, even though there's no shortage of fisherman around.
"I can't go down to Michael's and buy a canvas," she says. "It (the challenge) is getting access to a very unique canvas."
But despite the odd process of obtaining her resources, Kiner says she loves everything about painting her fish. She's allowed to be her most creative when she paints, and she likes that it's a medium that is so rarely used for artistic purposes.
"I'm in my Zen frame of mind when I'm doing this," Kiner says. "I don't see an end in sight."